The 14th Annual New African Film Festival is here, bringing fresh, innovative art by some of the fiercest crafters of black cinema.
The AFI (American Film Institute) Silver Theatre in Silver Spring, Md., is hosting the festival from March 8 to March 18; co-presenting with afrikafé and Africa World Now Project. With 20 countries being represented by the 27 films on the lineup, it's evident with each selection that spreading and showcasing African culture from all reaches of the Motherland was part of the agenda this year.

The festival opens with excellence, such as the Cannes-premiered magical-realist fable, I Am Not a Witch, by Zambian-Welsh filmmaker Rungano Nyoni, Senegal's 2018 Oscar selection Félicité by Alain Gomis, and the U.S. premiere of acclaimed Kenyan cinematographer Likarion Wainaina's feature debut, Supa Modo.
---
With so many films to see, here are at least 15 films to keep on your radar at the New African Film Festival. Below you'll find a synopses from the festival for each selected film, along with their respected directors and premiere dates.
1. I AM NOT A WITCH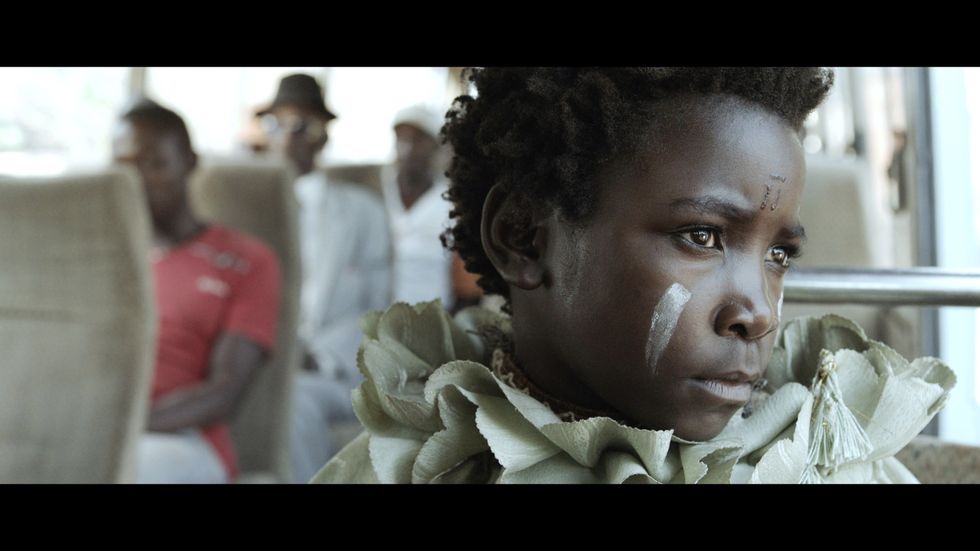 Photo courtesy of New African Film Festival.
Part magical-realist fable and part gendered social critique, Rungano Nyoni's debut feature focuses on nine-year-old Shula (an unforgettable Margaret Mulubwa). Accused of witchcraft, Shula is banished from her village in Zambia and sent to a "witch camp" to live alongside other exiled women. As is the custom, Shula is fitted with a spindle on her back, from which a long white ribbon runs: a "security measure" to ensure she won't fly off. On her first night in the camp, she's told she may cut the ribbon, but that doing so will turn her into a goat. As Shula navigates her new life, she must decide whether to accept her fate or risk the consequences of seeking freedom. Upending all conventions of onscreen sorcery, Nyoni offers a fresh cinematic vision which blends deadpan humor, surrealism and empathetic indignation.
Country: Zambia
Directed by: Rungano Nyoni
Screening Date: Thurs, March 8, 7:15 p.m.
2. BREATHE IN THE ROOTS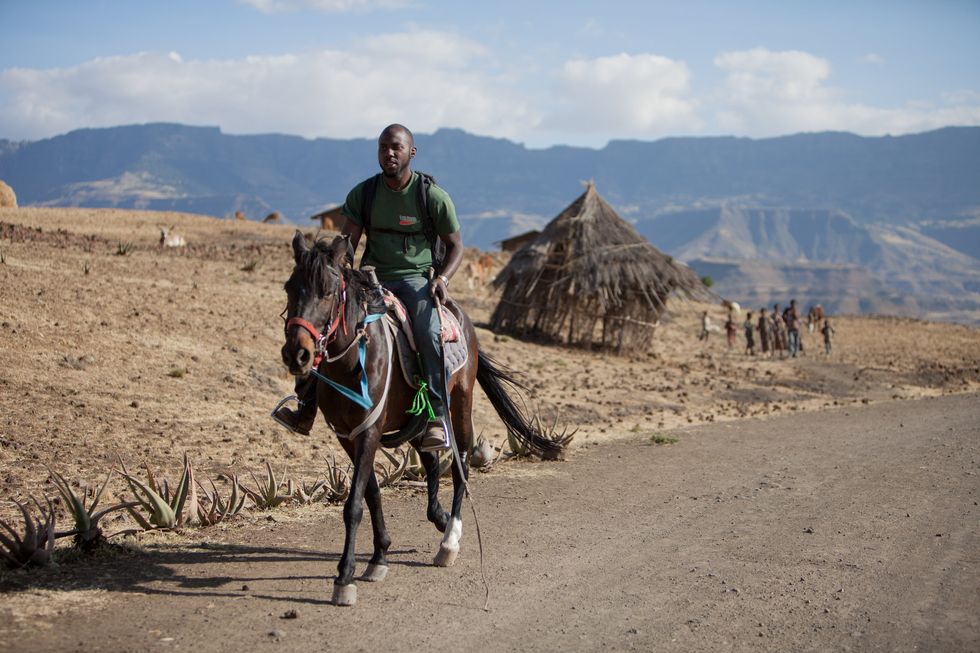 Photo courtesy of New African Film Festival.
This is the story of Ty Christen Joseph, a young African-American English teacher from Brooklyn who goes on a spiritual journey to discover more about his African ancestral heritage. The film tracks Chris' journey on horseback from Addis Ababa to Lalibela, one of Ethiopia's holiest pilgrimage sites, documenting his once-in-a-lifetime experiences and showcasing a side of Ethiopia many rarely get to experience. The film delves into what it means to grow up without knowing where your ancestors came from, and offers one man's unique path to reclaiming a lost heritage.
Country: Ethiopia
Directed by: Indrias G. Kassaye
Screening Date: Fri, March 9, 7:15 p.m.
Q&A with director Indrias G. Kassaye and subject Ty Christen Joseph
3. WAITHIRA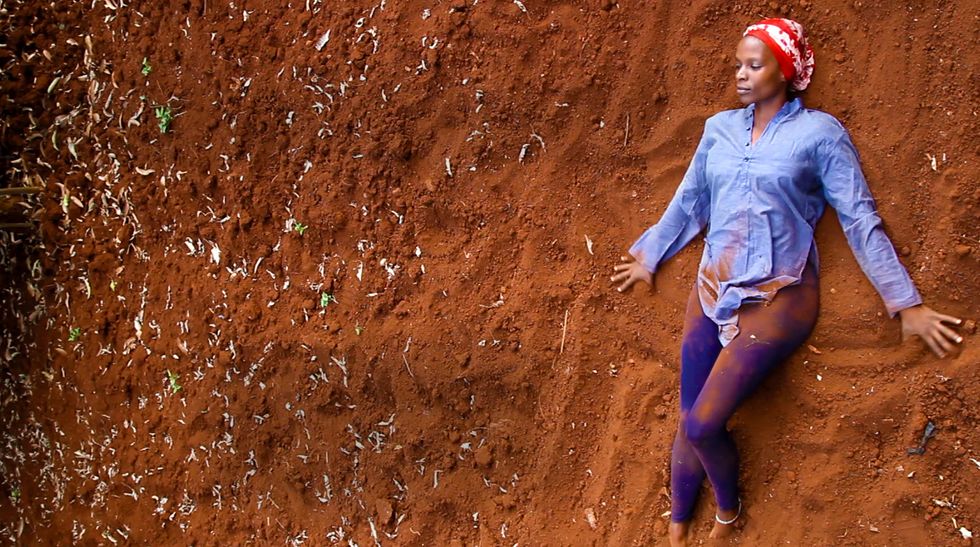 Photo courtesy of New African Film Festival.
Director Eva Munyiri left her birth country of Kenya at age 14 and has lived on three different continents since. In this autobiographical portrait of family, migration and assimilation, Munyir's journey to discover more about her paternal grandmother, Waithira, leads her to Germany, Wales and Kenya, where her two cousins and eldest sister—all named Waithira—live. Weaving a tapestry of two generations of African women from the fragments of these three women's lives, as well as the recollections of her 80-year-old uncle Kamau, who lives on the family's traditional land in Kenya, WAITHIRA explores the director's intimate history and its intersections with forgotten Kenyan history, pop culture and the diaspora. The film seeks to investigate how our known, unknown and imagined past impacts our lives.
Country: Kenya
Directed by: Eva Munyiri
Screening Date: Sat, March 10, 11:45 a.m.; Tue, March 13, 5:30 p.m.
4. LIYANA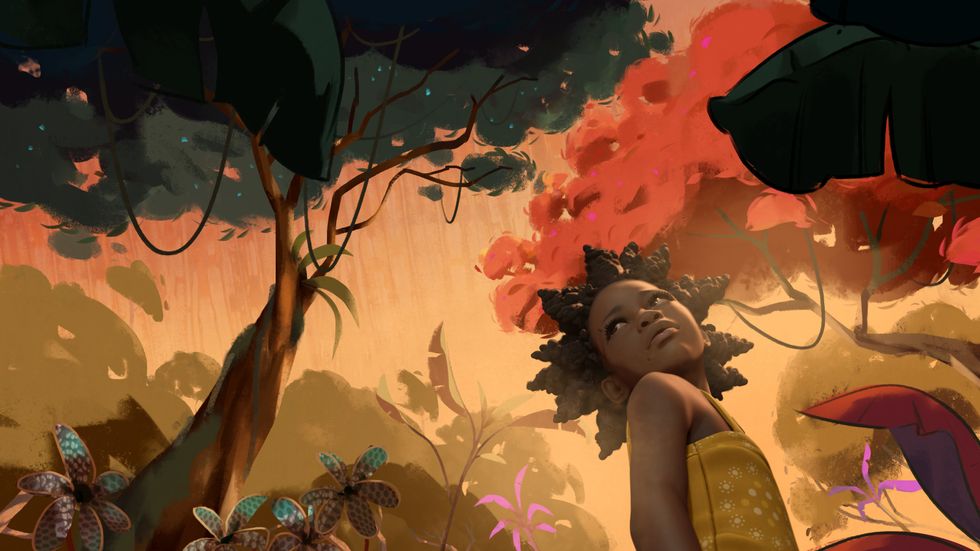 Photo courtesy of New African Film Festival.
In this beautifully animated documentary-hybrid, a Swazi girl named Liyana embarks on a dangerous quest to rescue her young twin brothers. Created by five orphaned children in Swaziland under the guidance of acclaimed South African storyteller Gcina Mhlophe, LIYANA is an incredible work of collaboration that tells a story of perseverance drawn from the children's darkest memories and brightest dreams. The fictional character's journey is interwoven with poetic and observational documentary scenes to create a genre-defying celebration of collective storytelling. As their fairytale is brought to life with colorful animation, intimate accounts of the children's daily lives echo into Liyana's fictional adventure and provide an unparalleled perspective of one of the world's most vulnerable populations.
Country: Swaziland
Directed by: Aaron Kopp, Amanda Kopp
Screening Date: Sat, March 10, 1:30 p.m.; Wed, March 14, 5:30 p.m.
U.S. Premiere
5. SUPA MODO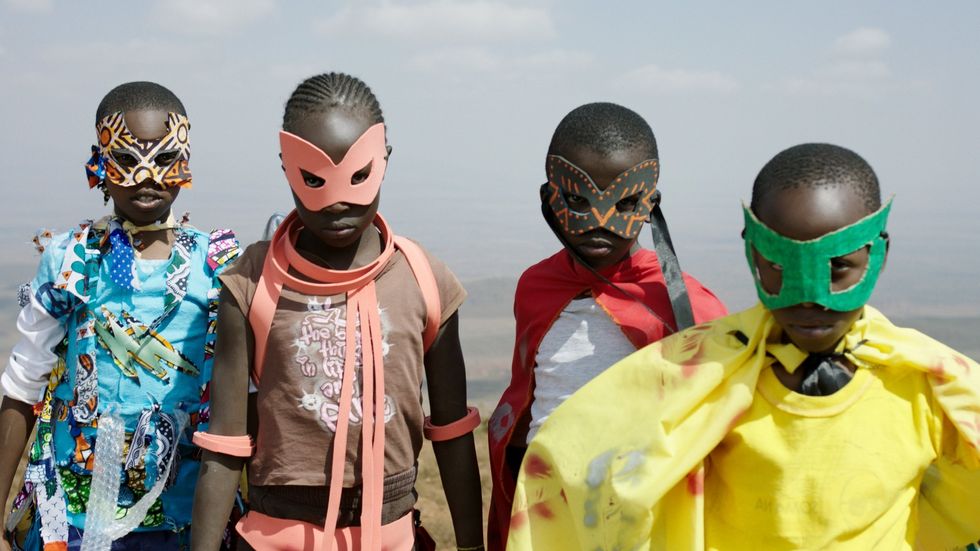 Photo courtesy of New African Film Festival.
The touching feature debut from Kenyan director Likarion Wainaina, co-produced by Tom Tykwer (RUN LOLA RUN) tells the inspiring story of nine-year-old Jo (Stycie Waweru, in her acting debut), a young woman battling terminal illness who dreams of being a superhero. Against all odds and battling the clock, Jo's rebellious teenage sister Mwix, her overprotective mother Kathryn and the entire village of Maweni come together to make Jo's last wish a reality. In the age of BLACK PANTHER, Wainaina succeeds in creating an equally compelling African superhero, as well as a deeply moving tribute to the comforting value of imagination in the face of adversity.
Country: Kenya
Directed by: Likarion Wainaina
Screening Date: Sat, March 10, 3:30 p.m.; Thurs, March 15, 5:30 p.m.
6. POTATO POTAHTO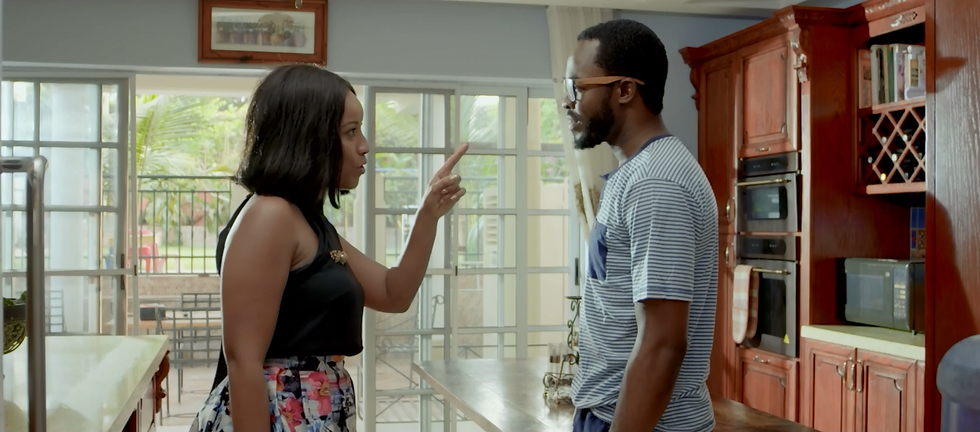 Photo courtesy of New African Film Festival.
A divorced couple who decide to share equal space in their ex-matrimonial home soon realize that this ingenious idea is easier said than done. Bent on flexing their egos and scoring points, Tony (Nigerian star O.C. Ukeje, HALF OF A YELLOW SUN, THE ROYAL HIBISCUS HOTEL) and Lulu (Ghanaian TV star Joselyn Dumas) devise various hilarious tactics that soon inflame jealousy and elevate an already complicated situation into a roller-coaster ride. Prolific Ghanaian director Shirley Frimpong-Manso reunites Ukeje and Dumas, following their roles in her 2014 film LOVE OR SOMETHING LIKE IT, and the duo reproduce their onscreen chemistry in this colorful comedy of manners. The strong supporting cast includes Joke Silva, Blossom Chukwujekwu, Chris Attoh, Lala Akindoju, Nikki Samonas, Adjetey Anang and Victoria Micheals.
Country: Ghana
Directed by: Shirley Frimpong-Manso
Screening Date: Sat, March 10, 5:15 p.m.; Wed, March 14, 9:15 p.m.
7. THE ROYAL HIBISCUS HOTEL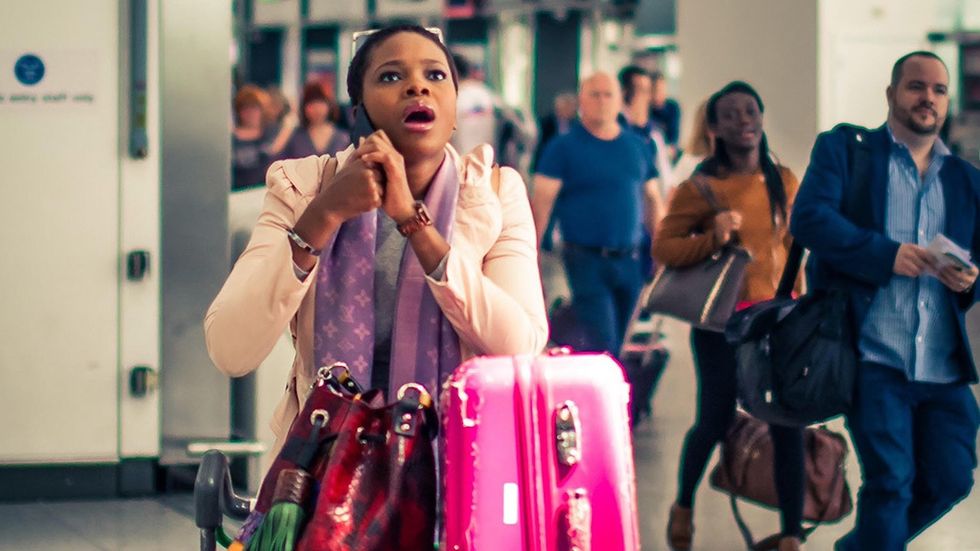 Photo courtesy of New African Film Festival.
In this sprightly Nollywood romantic comedy, Ope (Zainab Balogun, THE WEDDING PARTY) is struggling to make it as a chef in London. She dreams of opening her own Afro-fusion restaurant, but after some setbacks decides to head home to Lagos to reinvigorate her family's hotel. Little does she know, however, that her parents (played by Nollywood icons Jide Kosoko and Rachel Oniga) are planning on selling the establishment. The plot takes another tasty twist when the buyer turns out to be none other than the eye-catching Deji (former Mr. Nigeria Kenneth Okolie). Will this setup be a recipe for disaster or one for true love? Director Ishaya Bako (ROAD TO YESTERDAY) brings a playful quality to his sophomore feature and captures the unmistakable chemistry between his leads. Backed by the strong ensemble cast and executive-produced by mogul Mo Abudu, THE ROYAL HIBISCUS HOTEL is a tale of navigating careers and love—and finding a way to have your cake and eat it, too.
Country: Nigeria
Directed by: Ishaya Bako
Screening Date: Sat, March 10, 7:45 p.m.; Mon, March 12, 9:20 p.m.
8. SOLEIL Ô [OH, SUN]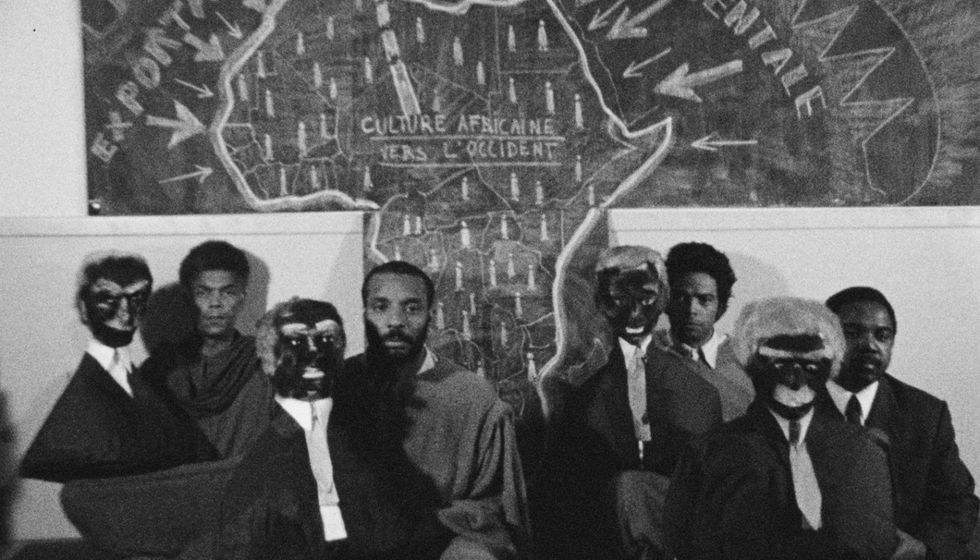 Photo courtesy of New African Film Festival.
A giant of first-generation African cinema, Med Hondo was born in Mauritania and has made award-winning films in France, Niger and Senegal, both as actor and director. Taking its title from a song sung by African captives en route to slavery in the Caribbean, Hondo's SOLEIL Ô takes place in an unnamed French colony in West Africa, where black men line up before a white priest for baptism and renaming—the first step in a process that simultaneously deracinates and subjugates them. Encouraged by propaganda, these men arrive in France to seek a better life. What they find is unemployment or a handful of "dirty" jobs, unacceptable living conditions, naked racism and bureaucratic indifference. Searching for a new form, Med Hondo has eschewed all conventional narrative. From the stylized and surreal opening sequences to the episodic adventures of a particular man, the director presents a series of imaginative set pieces, linked by voiceover narrative, that investigate and dramatize a complex of interrelated themes. A scathing attack on colonialism, the film is also a shocking exposé of racism and a brutal and ironic indictment of Western capitalist values.
Country: Mauritania
Directed by: Med Hondo
Screening Date: Thurs, March 8, 9:30 p.m.; Sun, March 11, 12:30 p.m.
9. BORDERS [FRONTIÈRES]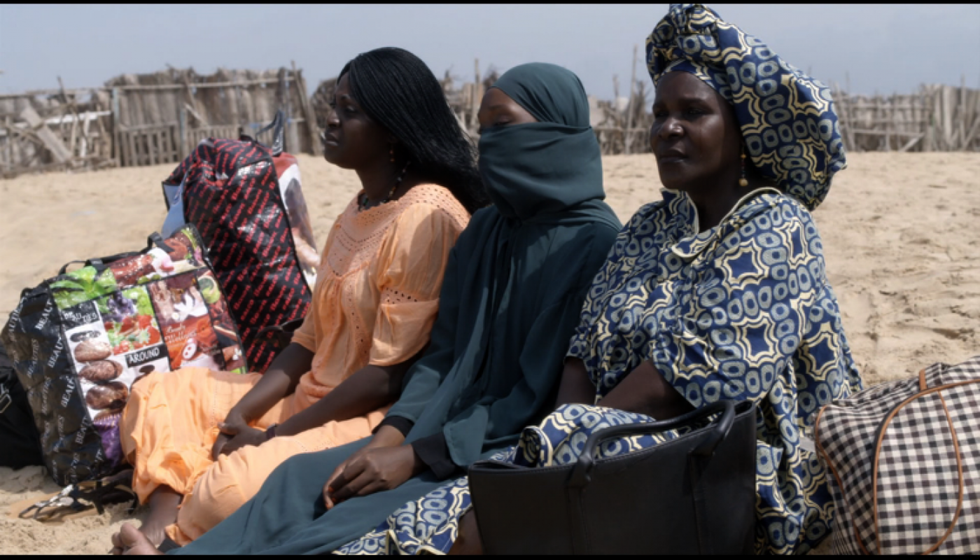 Photo courtesy of New African Film Festival.
The paths of four very different women converge in this free spirited, at times gritty, road movie set across western Africa. Each is making the long trip from Bamako in Mali to Nigeria's bustling capital of Lagos, passing through Burkina Faso and Benin on the way. Crammed together on a stifling bus, they take in the breathtaking landscapes of coastal and Sahelian countries. But when bus breakdowns, traffic jams, highway robbers, fights between passengers and, worst of all, corrupt and violent border customs officers cause problems, these initially private women join forces. BORDERS is an affecting and at times funny drama about female friendship and empowerment, which also highlights a growing regional problem in west Africa, where lack of integration is thwarting policies on the free circulation of people and goods.
Country: Burkina Faso
Directed by: Apolline Traoré
Screening Date: Sun, March 11, 7:20 p.m.
10. HIGH FANTASY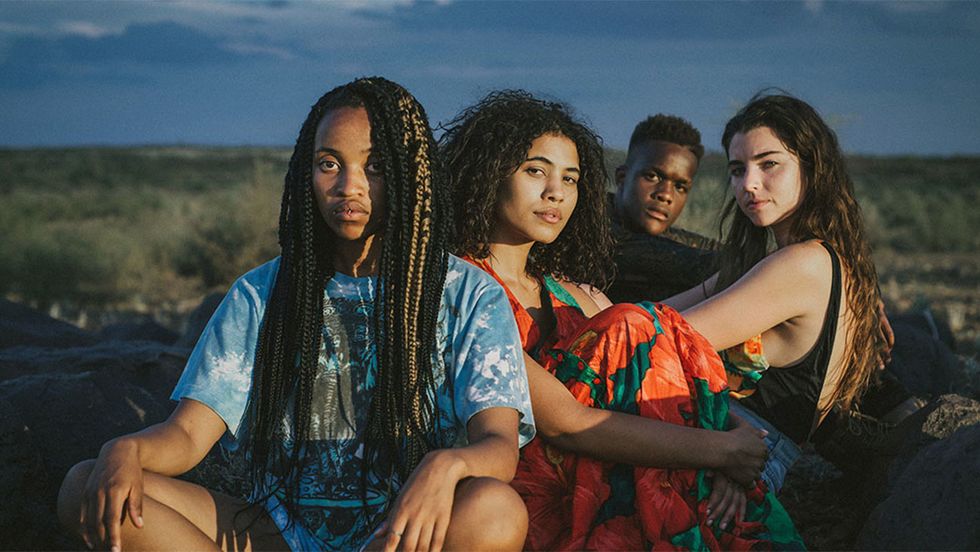 Photo courtesy of New African Film Festival.
Lexi and her friends Xoli, Tatiana and Thami head to her family's isolated Northern Cape farm for an overnight camping trip, capturing the excursion on their cell phones. When they awake the next morning to discover they've all swapped bodies, the friends are forced to examine each other's identities in the labyrinth of so-called "rainbow nation" politics. Co-written and lensed by director Jenna Bass and her actors, using an iPhone, HIGH FANTASY is an authentic look at the racial and gender politics of living in South Africa (and, really, the world) in 2017. Bass' sophomore feature is a cathartic experience that allows viewers to examine their own identity politics long after the credits roll.
Country: South Africa
Directed by: Jenna Cato Bass
Screening Date: Sat, March 10, 10:00 p.m.; Tue, March 13, 9:45 p.m.
11. SHEIKH JACKSON [AL SHEIKH JACKSON]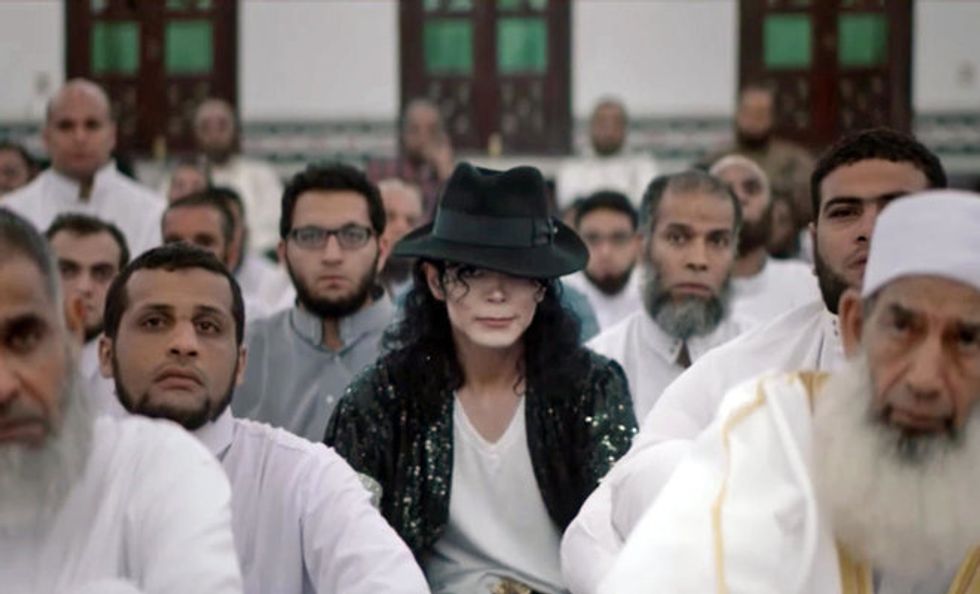 Photo courtesy of New African Film Festival.
June 25, 2009. Any Michael Jackson fan can tell you where they were on this date, the day the King of Pop died. Director and writer Amr Salama (ASMAA, EXCUSE MY FRENCH, ON A DAY LIKE TODAY) transports us back to that moment through the eyes—and the kaleidoscopic, MTV-inspired dreams—of a young imam (Ahmad Alfishawy) whose devout life is thrown into chaos by Jackson's death. The tabloid event triggers memories of his teen years (played by rising star Ahmed Malek), when he worshiped everything Jackson did, from the "Thriller"-era haircut to the bondage pants from the Bad tour. But Jackson's passing also stirs up emotions around the death of the young cleric's mother and its aftermath, when his gruff father (Maged El Kedwany) offered little support. With the sheikh's past increasingly encroaching on the present, he begins to question not just how to moonwalk but what it means to be a man, to have faith and to be true to oneself.
Country: Egypt
Directed by: Amr Salama
Screening Date: Wed, March 14, 7:15 p.m.; Sun, March 18, 9:45 p.m.
12. THE AFRICAN STORM [L'ORAGE AFRICAIN: UN CONTINENT SOUS INFLUENCE]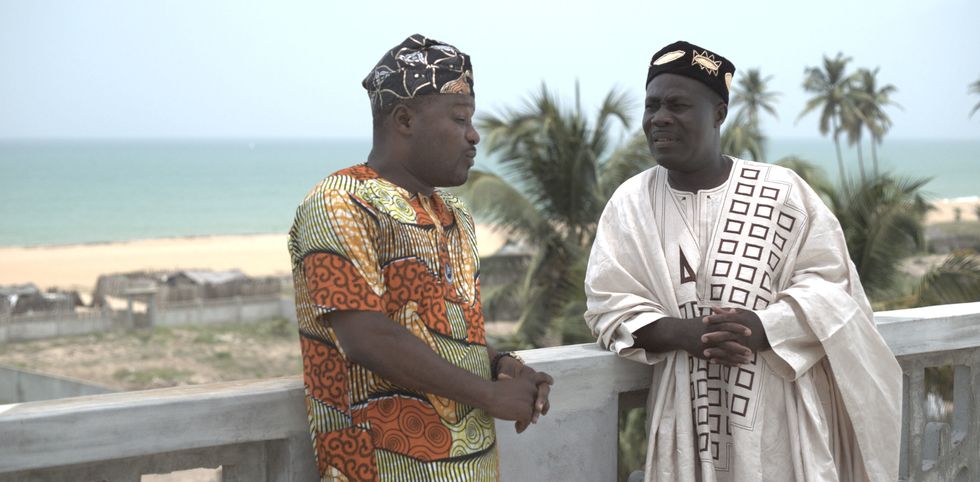 Photo courtesy of New African Film Festival.
Beninese actor-director Sylvestre Amoussou's (AFRICA PARADIS) latest feature is a bold parable about the colonization and exploitation of Africa's land and natural resources. Set in a fictitious, diamond-rich African nation called Tangara, the film charts the fallout after the nation's president (Amoussou) decides to nationalize all means of production built on its territory by non-Tangarans. Seeing their business interests slipping away, the Western corporations that have been mining the land for decades will resort to any available means to reclaim their mines, but the people and politicians of Tangara will not back down.
Directed by: Sylvestre Amoussou
Country: Republic of Benin
Screening Date: Fri, March 16, 5:15 p.m.
13. HER BROKEN SHADOW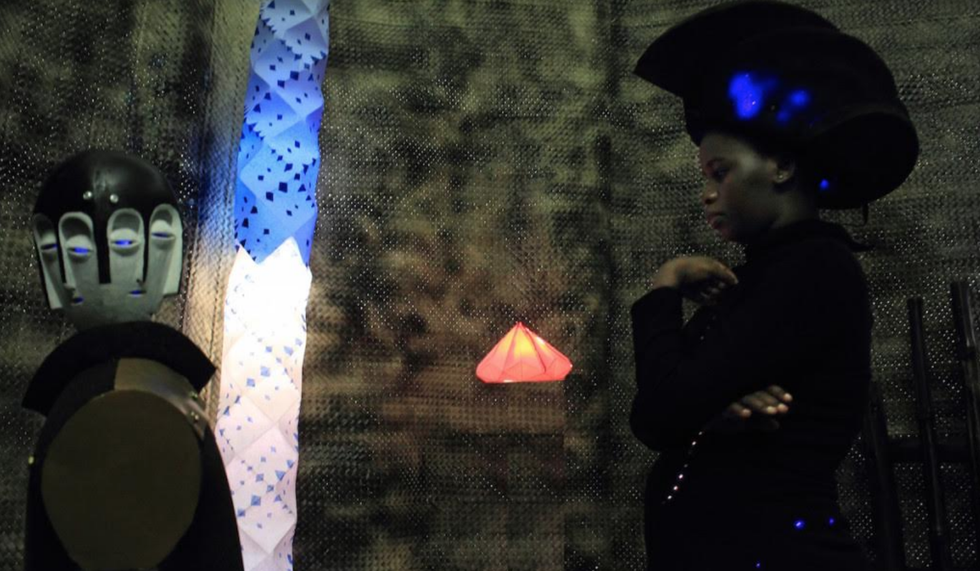 Photo courtesy of New African Film Festival.
In Uganda's first sci-fi film, two lonely writers struggle with their novels in different dimensions. Adongo lives in East Africa in the near future, while Apio lives on a distant planet far into the next millennium, but the pair are almost identical. When the boundary between their worlds collapses, the two women discover that each is the creation of the other—that they are both protagonists in the novel the other is striving to complete. As they scramble to understand the nature of their existence and the strange nature of their connection, reality and fantasy blur, and the women are tasked with finding a way to avoid descending into madness. Director Dilman Dila expertly uses his sci-fi premise to explore the human condition and the nature of communication and isolation in contemporary society.
Country: Uganda
Directed by: Dilman Dila
Screening Date: Fri, March 16, 9:45 p.m.
14. NAMIBIA: THE STRUGGLE FOR LIBERATION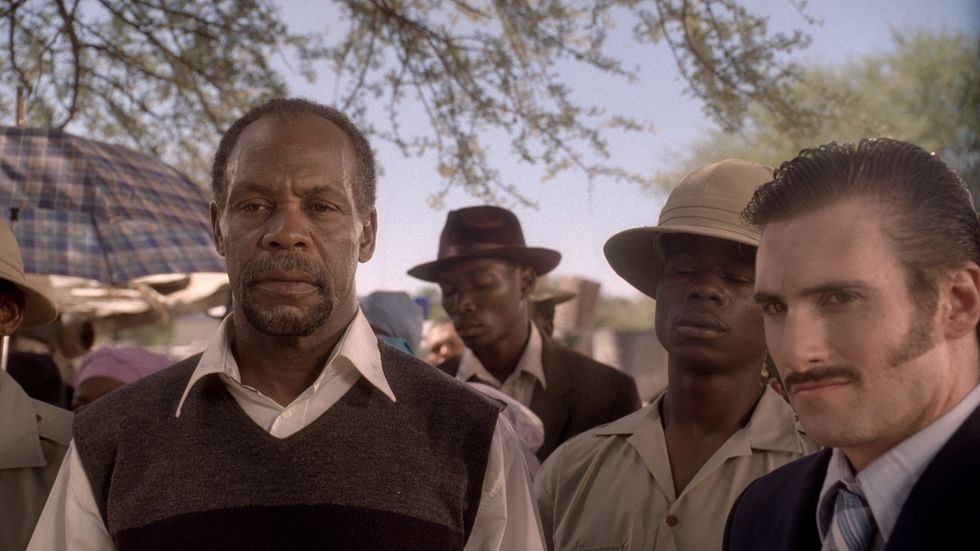 Photo courtesy of New African Film Festival.
Charles Burnett's 2007 epic, starring Carl Lumbly, Danny Glover and Joel Haikali, tells the story of the first president of Namibia, Sam Nujoma, charting his political awakening and his part in his country's fight for its freedom from occupation by South Africa. Rather than a documentary-style history of the long and brutal conflict, the film mixes real and composite characters to explore the spirit and sacrifices of the struggle that culminated in independence in 1990. Covering more than 60 years of history, NAMIBIA details Nujoma's youth, starting from age 14, and the events, people and places that shaped his political consciousness and made him the uncompromising man of action he was to become.
Country: Namibia
Directed by: Charles Burnett
Screening Date: Sun, March 18, 4:30 p.m.
Q&A with director Charles Burnett and editor/producer Ed Santiago
15. KALUSHI: THE STORY OF SOLOMON MAHLANGU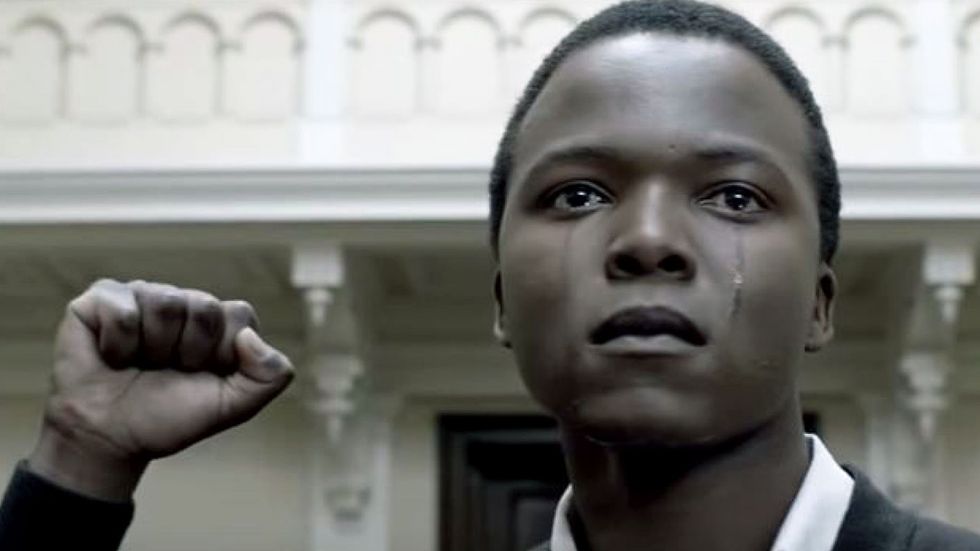 Photo courtesy of New African Film Festival.
This is the true story of Solomon Mahlangu, a 19-year-old street salesman from Mamelodi, a ghetto township outside Pretoria in the Gauteng Province of South Africa. After being brutally beaten by apartheid police during the 1976 Soweto uprisings, Solomon (Thabo Rametsi) goes into exile and joins the liberation movement, enrolling in military training in Angola. En route to Johannesburg after completion of his training, his fellow soldier and friend Mondi (Thabo Malema) accidentally provokes a shooting on the streets, killing two innocent civilians and sending the men to trial. Although Mahlangu did not commit the shooting, the state seeks the highest punishment from the court: death by hanging. A hero of the struggle against apartheid, Mahlangu would become an international icon of South Africa's liberation. With a crew and cast consisting solely of South African citizens—a rare occurrence in movies about apartheid—KALUSHI is an examination of grief as well as an historical illustration of political persecution.
Country: South Africa
Directed by: Mandla Dube
Screening Date: Sun, March 18, 7:30 p.m.