After living on three continents and traveling across 25 countries, there's one place where Essie Bartels has always felt at home—the kitchen.
---
Growing up, she helped her mother and grandmother with dinner, and developed her own stovetop experiments for her father, who graded her on a scale from 1 to 10. "There were a lot of "9's" and "10's," but every so often I'd get a "5," which only made me try harder," she laughs.
When she moved to the United States to attend college, she continued cooking for friends who soon encouraged her to think of starting her own business. But with only a little bit of capital, she wondered what to do. "I didn't see myself having a restaurant, but I did see a gap in the market for spices and other condiments," she says. "I already pre-made sauces at home to make cooking easier for myself, so launching a spice company seemed like the logical way to enter the food market."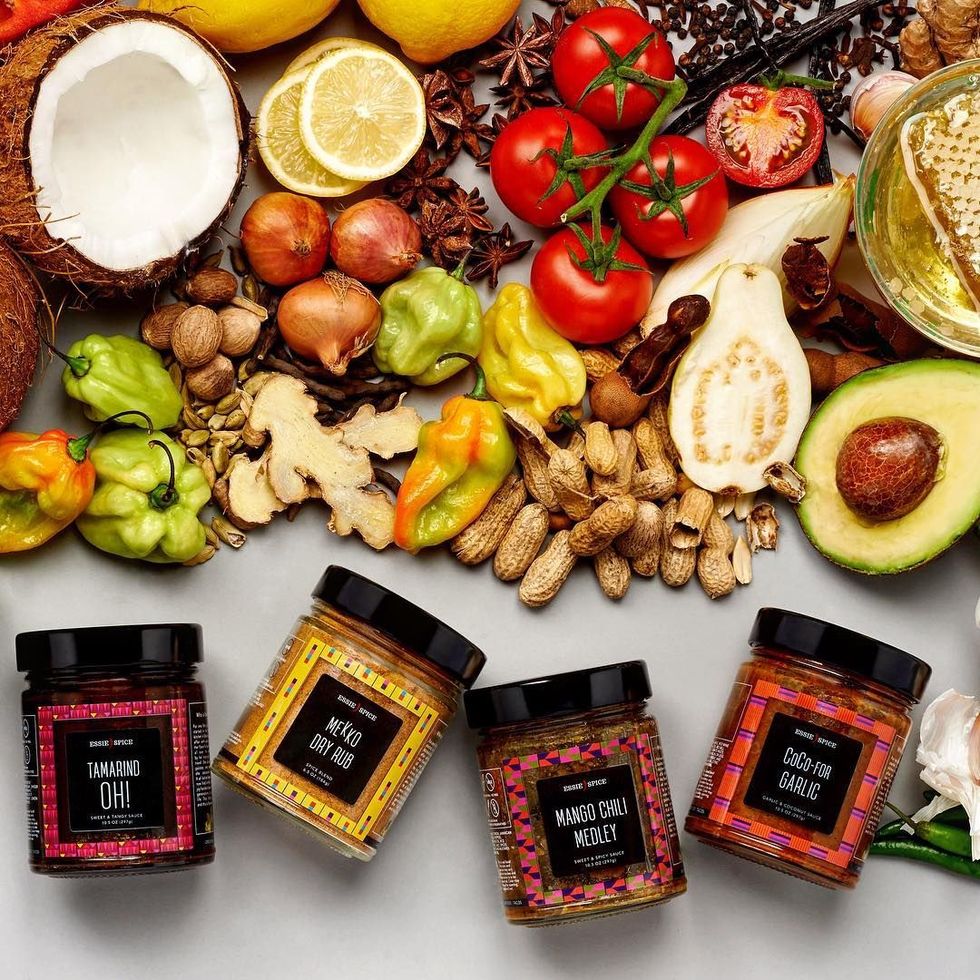 Photo courtesy of Essie Bartels.
Essiespice, her eponymous spices and sauces brand, launched in 2013 following two years of researching and refining recipes. Today, the company has four signature multi-purpose blends: Tamarind Oh!, CoCo-for-Garlic, Mekko Dry Rub, and Mango Chili Medley, its bestseller.
Fresh ingredients for the product line are sourced from produce distributors in the Tri-State Area in an effort to support local business and reduce Essiespice's carbon footprint. The uniquely African spice blends come directly from a businesswoman named Hajia Limata in Makola, Accra's sprawling open-air market.
In two years, demand for Essiespice has doubled as big-box grocery stores like Whole Foods and Shoprite take notice. But it's been hard to meet demand with limited resources.
"Essiespice is a labor of love—I depend on my family and friends to help me on production days," the spice mixologist says. "We rent out an industrial kitchen and get to chopping and blending to produce the deliciousness that is Essiespice, but it's hard to meet demand because production is contingent on their schedules."
Earlier this year, Bartels lost her corporate job. While transitioning to working on Essiespice without the cushion of a full-time salary may have been daunting, the shift turned out to be a blessing in disguise. "Since losing my job, I finally have the time, patience, and energy to fully devote myself to nurturing my brand. No one can be a better advocate for your business than you can—especially at the early stages of a company," she says.
Photo courtesy of Essie Bartels.
Now, to help take her business to the next level, she launched a Indiegogo campaign to raise $48,000 to expand production, staff, and research and development. The campaign features a wide range of rewards that give a preview of future Essiespice products: hand-stitched aprons made with Malian Bogolan fabric and brass Adinkra symbols, pottery made from red earth sourced in Kumasi, Ghana and even cooking classes with Essie herself.
In the next few years, she also hopes to expand her product line to include signature Essiespice milks, nuts, butters, and oils inspired by the flavors of Africa and its diaspora. She's also in talks with farmers in Ghana's Northern Region to introduce ancient grains like millet, sorghum, and fonio, which have high nutritional value, but aren't widely available in global markets.
With endorsements from culinary heavy hitters including Pierre Thiam, Africa's leading celebrity chef, and support from Nyema Tubman, President of Sundial Brands—the makers of crowd favorites Shea Moisture and Nubian Heritage—Bartels aims to be one of West Africa's premier culinary ambassadors.
"African food isn't visible enough on the global stage," she says. "Our voices aren't heard, so I want to contribute to that conversation so that things like millet and dawa dawa are recognizable in the same way as spaghetti or curry powder. Many studies have shown that West Africans have some of the healthiest diets in the world, so we should see our food represented more on television and in magazines."