Asake is not your regular Nigerian musician. Since he popped up on the mainstream scene, the Lagos-born artist hasn't taken a break from dominating the charts and airplay. In nearly every music-related conversation you come across on Twitter, Asake's name is likely to come up. Listeners across Nigeria, and the globe, have all collectively witnessed the singer's ascent from the moment he released his first single of the year "Omo Ope." Asake has consistently released back-to-back hits, peaking at the number one spot on various charts on streaming platforms. The recurring question on the minds of many listeners remains: How did Asake blow up so fast in such a short span of time?

Before Asake released "Omo Ope" (featuring Olamide) and signed to YBNL, he had gotten a little taste of the mainstream. His 2020 single "Mr Money" was a club banger which saw the singer performing in nightclubs all over cities like Lagos and Port Harcourt. As the song continued to rise in popularity, Asake released a remix featuring Peruzzi and Zlatan Ibile, earning him his debut on Apple Music Top 100: Nigeria chart. Even though Asake didn't exactly blow up, he gained recognition from people in the entertainment industry.
---
It wasn't until 2022 that Asake—joining the likes of Rema, Fireboy, and Omah Lay—truly invaded the music industry with a unique sound and style. On "Omo Ope," whose instrumentation leans heavily on Amapiano, Asake adopts elements of Fuji in his approach, largely using Yoruba and pidgin to craft memorable lines. There's a refreshing feeling that comes with listening to the song, which transports you to a world of high-spiritedness as soon as you hit play. It's a feeling that listeners pursue endlessly, regardless of how many times they listen to his songs. It's almost like chasing a high.
Asake's music is profoundly influenced by Fuji. Listening to it evokes a sense of nostalgia for many Nigerians whose parents played a lot of indigenous music—namely Fuji and Apala— stirring pleasant memories and feelings from the past that the throes of adulthood now makes one yearn for. His brilliant use of Yoruba is at the same time stunning and evocative. Asake's Fuji-esque style of music appeals massively to the streets, with songs like "Sungba" and "Palazzo" sounding like refreshing versions of Kwam 1 or Remi Aluko songs. However, where Asake predominantly shines is in his pop-centric delivery, gliding through beats with an infectious confidence. He stands firmly at the intersection of street pop and Afropop.
Asake's style of music is polyphonic and the singer has a flair for layering of vocals, often referred to as 'crowd vocals.' The refined use of those crowd vocals has since defined his music as he employs it to compose both his verses and choruses. Sitting and listening to Asake, one can find themselves analyzing his ability to arrange the vocal components in his music and the intentionality that comes with his craft. Asake's music is also greatly characterized by live instruments such as the violin (on songs like "Omo Ope" and "Sungba") and the saxophone (on "Dull" and "Nzaza").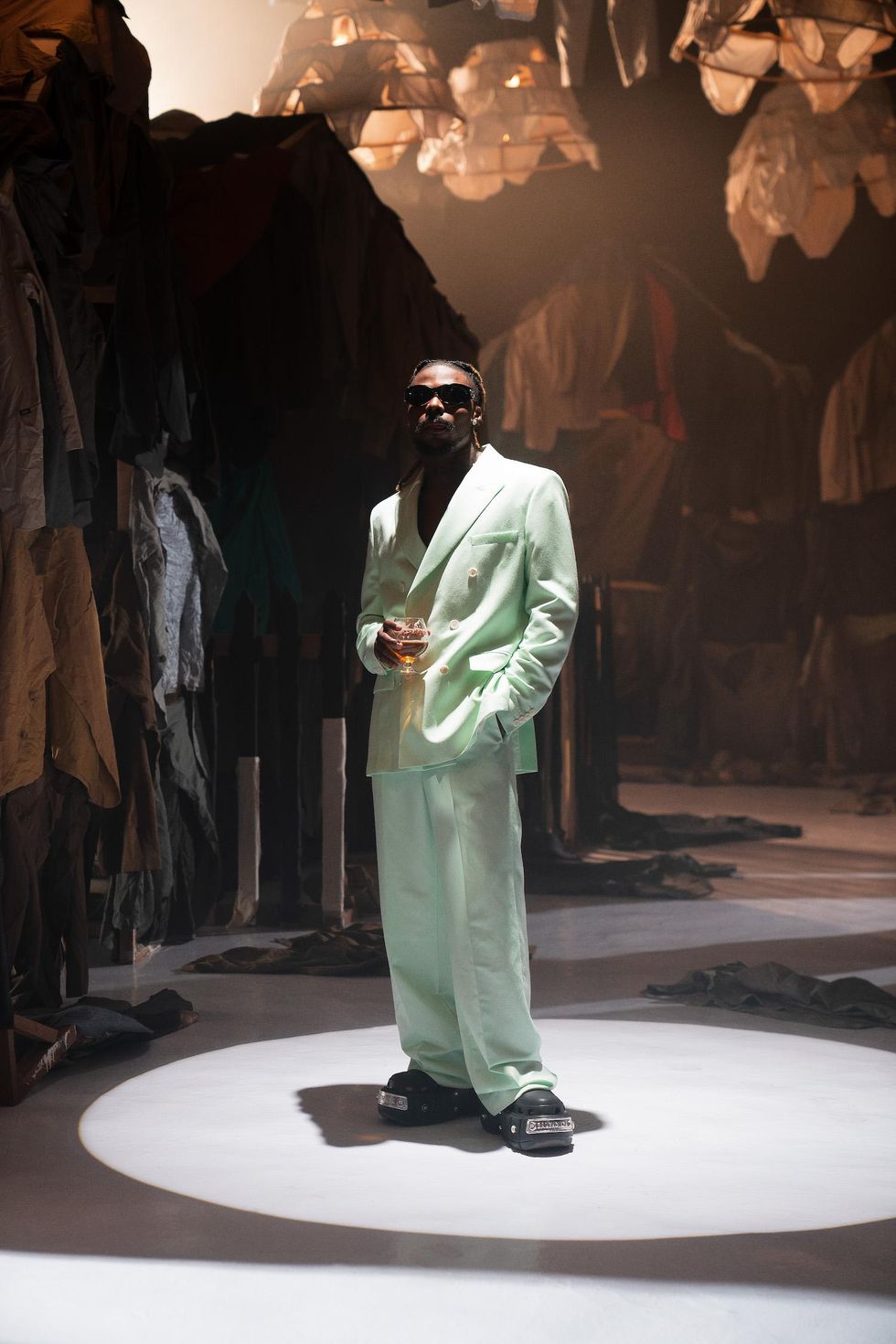 Asake.
Image courtesy of the artist/DNA Brand.
There's a resounding relatability to Asake's lyrics. On "PBUY," he sings "Mo ta ka oshi danu. Oluwa shower me your blessing times two" which loosely translates to "I rebuke poverty. Lord shower me with your blessings in two folds." Asake assumes the role of a preacher, chanting a mantra for every regular young person living in a fast-paced city like Lagos, hustling to escape the crushing jaws of poverty. That relatability that comes with his music is the bedrock of the unswerving loyalty that listeners devote to his music. His experiences as a hustler in Lagos have morphed his perspective on Life, as he moves with a sense of gratitude and the spirit of a hard worker.
Asake's success story so far is the result of his genius as an artist paired with Olamide's gargantuan influence on pop culture in Nigeria. The rapper's presence on "Omo Ope" helped ease Asake's entry into the mainstream. When Olamide announced with a video that Asake has been signed to YBNL, with a snippet of "Sungba" playing in the background, it was well received by audiences. There have been comments speculating that Asake is a replica of Olamide, as his run is reminiscent of Olamide's in the early days of his career. One could almost say that Olamide is passing the baton down. Olamide has played an instrumental role in the success of artists like Adekunle Gold, Fireboy DML, but the latest YBNL signee appears to be the biggest beneficiary of the label.
Asake's Mr. Money With The Vibe debuted as the highest charting debut Afrobeats album on the Billboard 200. The album is also charting in the US, UK, and many other countries in the western world. You can attend a party in London and hear "Sungba" remix casually blaring out of the speakers. The Burna Boy-assisted remix was pivotal in pushing Asake into American and European markets—the African giant performed the song at his sold-out concert in Madison Square Garden. Asake is currently touring in the US, performing in cities like Chicago and Minneapolis.
Asake is poised to hit international stages and it is palpable in how he carries himself during his performances, provoking conversations on social media with his fashion choices and theatrics on stage. Even when the audience can barely understand the meaning of his lyrics, they can't resist his inimitable flows.
With backing from an international label like Empire, Asake has access to resources that can propel him to towering heights. Empire has since established itself as one of the leading outfits behind the recent surge of Afrobeats, with a roster of prominent Nigerian artists like Fireboy DML, Wande Coal, Bnxn. Asake's success is seemingly a great motivation for the label to take more chances and invest more resources in the singer's career.
Listen to Asake's Mr. Money With The Vibe below.