Film
With Her Films, Apolline Traoré Wants to Highlight Stories That Often Go Ignored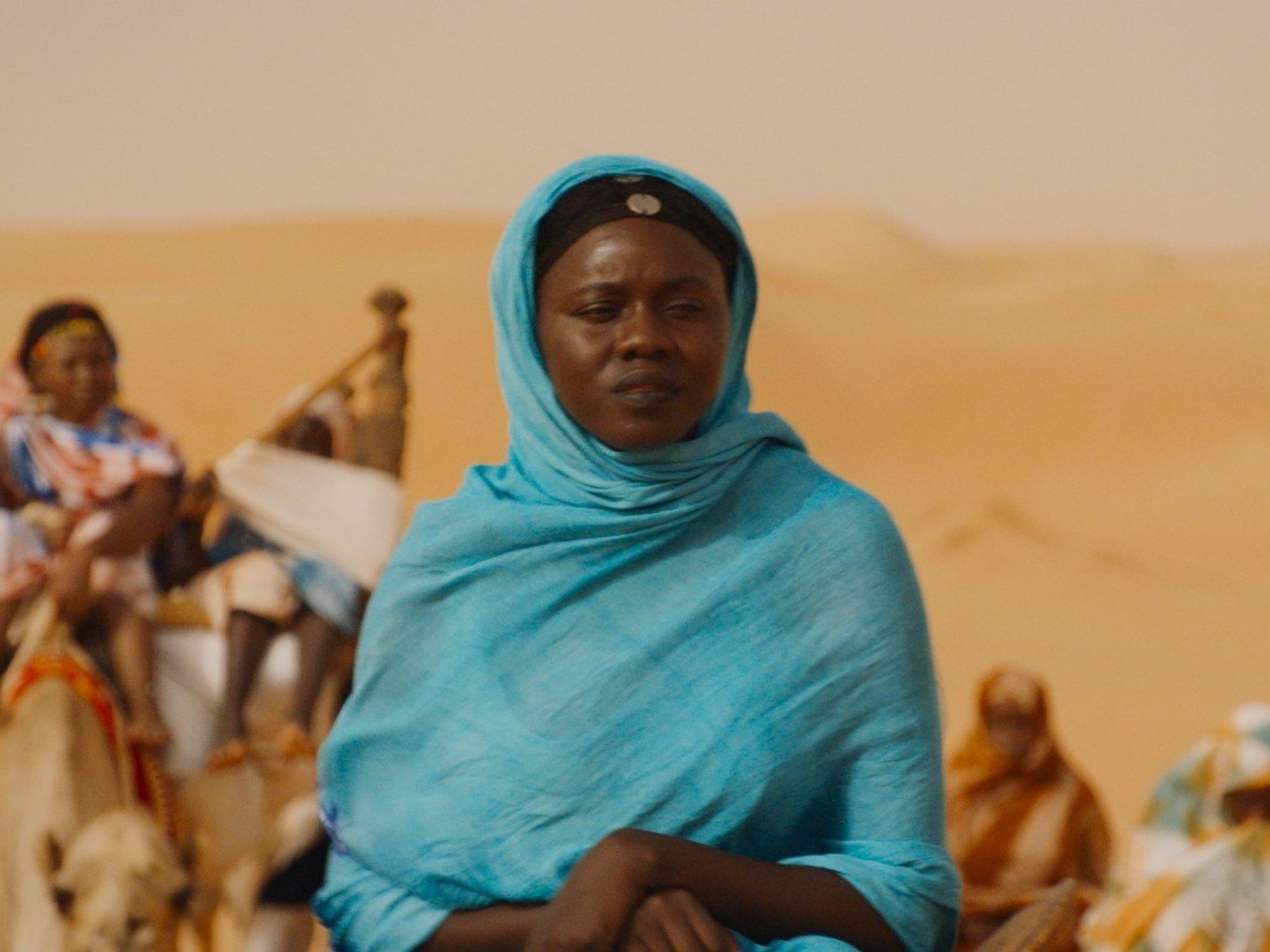 Photo: Berlinale
The Burkinabè director has picked up prizes at the Berlin Film Festival and Fespaco for her latest film, 'Sira,' but it's the need to bear witness and highlight what is going on in her own home country that drives her work.
The cinema of Apolline Traoré is one of movement – across borders, across states and in different forms. In her prolific career, she has made a film about a family fleeing post-election violence in Ivory Coast (Desrances, 2019), about West African women traveling from Dakar, Senegal, to Lagos, Nigeria (Borders, 2017), and about a determined widow invested in giving her child a life beyond the restrictions of their tiny, conservative village (I, Zaphira!, 2012). In her latest, Sira, which premiered at the Berlinale, also known as the Berlin Film Festival, the acclaimed Burkinabè director dreams up one of her most impressive heroines yet, a young nomad with an indomitable spirit caught up in the insurgency that afflicts her region. It's an effort that won the festival's sought-after Panorama Audience prize.
---
Sira (played by newcomer Nafissatou Cissé) is a young Fulani bride who is on her way to meet her suitor when a band of terrorists attacks her family's caravan. Alone and left for dead, Sira refuses to surrender to her fate without putting up a fight and takes a brave stand against Islamist terror.
After making its African premiere at home in FESPACO, Sira picked up the Silver Stallion at the film fest this past weekend.
Traoré talked to OkayAfrica while in Berlin, about the difficult road to making Sira, her affinity for stories of displacement and the importance of highlighting women's stories of war.
Every film is a long journey and I'm sure Sira is no different. Can we talk a bit about this journey to the Berlinale?
It has been an extremely long and difficult journey. I started writing this story after being shocked by the news of a massacre in my country that claimed more than 160 people from a village. When I felt that I had something good enough to start shooting, I wanted to make the film in Burkina, and in that area where those attacks were happening. I really wanted the locals to participate in the film. After location scouting - I had found the perfect place to shoot - there was another attack, and the government shut us down. We couldn't shoot there anymore and had to look for alternatives. The safest desert in that area was in Mauritania so we relocated and spent three months there. Shooting outside your country is different. You are in a place that you don't know, the budget goes up but as a crew, we believed in the story, and we knew that it needed to be told.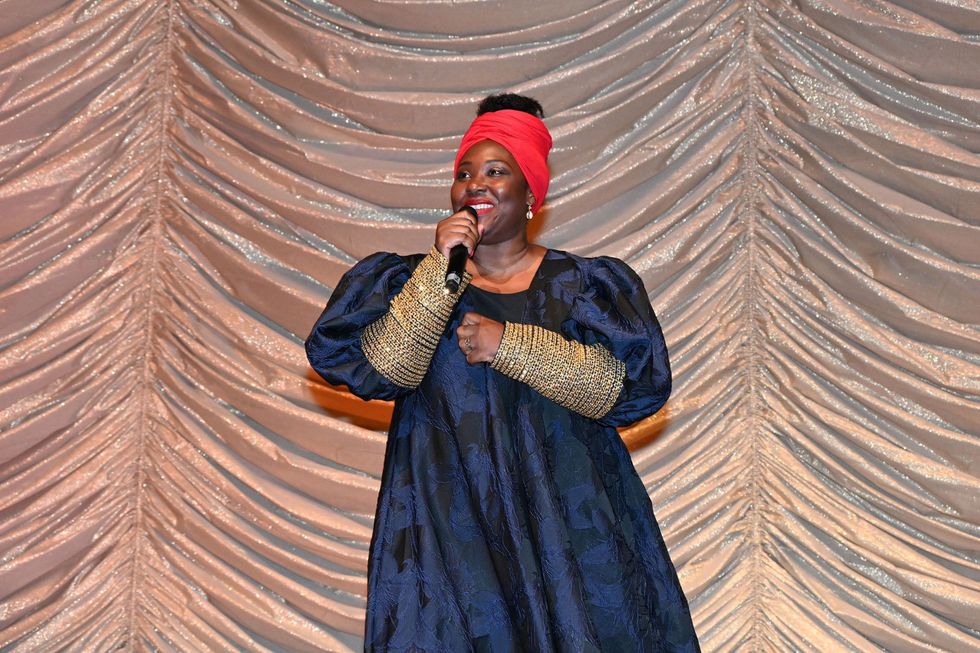 Apolline Traoré at the film's premiere at the Berlinale.
Photo: Berlinale
The film is beautiful, wide-open spaces, but also very vibrant and colorful. Was it a new form of challenge, shooting in the desert?
Yes, indeed. When we arrived, it was the dry season, and we were told that it hadn't rained over there in about five years. As soon as we got there, it started to rain and was raining heavily every two weeks. We were in an area where the terrain was sand and rocks and mountains so sometimes it would rain about 100km (over 60 miles) from us and two days later that rain would drop on us. Sometimes the temperature would go up to 50-55°C (130 F). It was hot and uncomfortable, and we had to protect the camera because too much heat and it would stop working. My actors could not bear the heat at times especially my main actress whose character had the big challenge of staying strong. I am not even going into dealing with scorpions and serpents…
Why was it important to situate the female point of view in this story of insurgency from the Sahel region?
With the war, women's voices are not heard. When you go to the refugee camps, most of the people there are women and kids. You assume that they are simply in a state of vulnerability but those women have seen so much, been through so much, done so much and crossed so much. They don't get to talk about how they got there, many of them with kids on their backs. It was important for me to give that perspective of how women are surviving this.
The film is quite graphic. Did you wrestle with how much you were willing to depict on screen?
Yes. The script is much more violent than what you see onscreen. I shot some more scenes that did not make final cut because I felt like the violence at the beginning and the end, was enough so we had to tone it down in the edit. There was already rape, massacre, it was a lot to deal with. You want your audience to feel but you want them to breathe a bit as well.
There is also homosexuality, which is going to be controversial I imagine…
There was a very big debate about the homosexual theme. It is a big deal in every Muslim community and I am ready for the talk and the debates that will come. But am I not telling the truth? It was a choice for me to put it in but I tried to be subtle.
How much research were you doing to understand the nomad community?
Nomads are common in Burkina and we coexist perfectly. My research was mostly about knowing and understanding the Fulani community. When I wrote the story, I approached people from the community to read the script and check for authenticity and correctness. I did not want to insult or create villains of any group. Right now, it is very difficult being Fulani in that region because everyone is thinking that the terrorists are Fulani, and that is a heavy load on them right now. So I did some research with them; I wanted to capture the reality in all its complexity, its not about being right or wrong. After that, I approached the army. We are artists and we invent but this is such a sensitive subject and it was important for me not to cross some lines. I worked with the army to understand how terrorists operate.
Migration shows up repeatedly in your work. Can you talk about your interest in narratives of displacement?
Migration is my life. I have crossed borders all my life, first through my father who worked for a long time in the United Nations. I left my country for the first time at the age of 7 and travelled the world with him. It has been like that all my life. I don't believe all my stories should be about Burkina Faso because I am Burkinabè. I feel like an African director and that every story that is relevant to me can be told even if that story takes me to Bangladesh. Now I am a mom, so I don't move as often as I used to.
What lessons do you want audiences to take away from Sira?
Two things, for two different audiences. For the Sahel region, I want to give hope, to show that no matter how hard it is right now, please don't give up. For the international audience, I want to share the story of what we are going through. There is war everywhere in the world, and some are more talked about than others. It is my responsibility to bear witness and highlight what is going on in my own home.