After months of anticipation, the first trailer for Black Panther: Wakanda Forever is here. The trailer made its premiere at San Diego Comic-Con 2022 on Saturday, July 23rd. Arriving in theaters on November 11, 2022, Wakanda Forever will wrap up Marvel Cinematic Universe's Phase 4 slate. This phase is only the beginning of a trajectory heading towards the Multiverse Saga. As far as MCU continuity is concerned, Wakanda Forever ushers in a brand-new storyline.
The trailer is visually stunning and grandiose, with sweeping shots of fantastical worlds and fleeting action sequences. What's more, the footage is rich in references, blink-and-you-miss-it character debuts and breathtaking stakes. Soundtracked by Tems' cover of Bob Marley's "No Woman, No Cry" segueing into Kendrick Lamar's "Alright," it feels like we are being drawn into the film's emotional core. Already, Wakanda Forever inherits an emotional currency from the tragic passing of Chadwick Boseman, the star who played King T'Challa (aka the Black Panther).
It is apparent T'Challa has died in the movie. He appears as a mural in the trailer, still lingering as the clawed African superhero. (#RecastTchalla was a hashtag that gathered some momentum online.) With fans unsure of what Marvel would decide then, the sequel now seems to have found a maneuver.
We look deeper into this development, breaking down highlights from the trailer.
Who is the new Black Panther?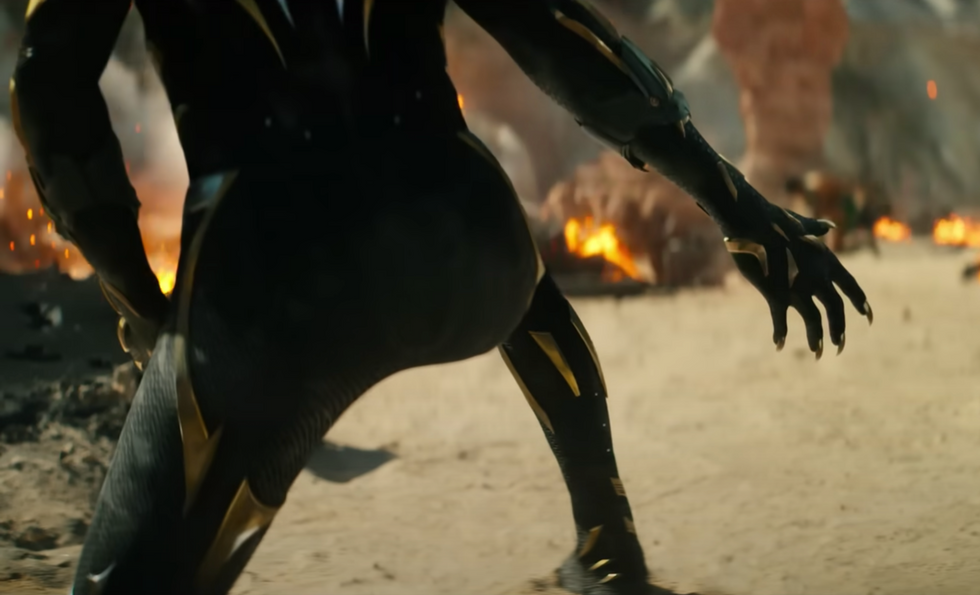 It is still unclear who the next Black Panther will be.
Photo Credit: MCU
The MCU officially started in 2008 with the release of Iron Man. But nothing has thrown a cog in the Marvel machine like the demise of Boseman. As King of Wakanda, it has short-circuited possible character imaginings for T'Challa, including stand-alone continuity or team-up appearances. While it seemingly put director Ryan Coogler in a bind, there was a torrent of suggestions from fans on who could take up the mantle of Black Panther.
The synopsis of Wakanda Forever confirms T'Challa is dead, and Wakanda must forge ahead and protect itself from adversaries. Nothing is known about how he dies, only that his death occurs between the events of Avengers: Endgame and Wakanda Forever. Although Shuri ( played by Guyanese-British actress Letitia Wright) as the next Black Panther would be accurate to the comic (she wears the Black Panther suit after T'Challa is incapacitated), the MCU has a track record of staying unfaithful to the source material.
T'Challa's sister aside, there are competent options to choose from. A royal member of the Royal Tribe, there's T'Challa's love interest Nakia (Lupita Nyong'o); Avenger Okoye (Danai Gurira), leader of the Dora Milaje, helped protect Wakanda in Avengers: Infinity War; and Close friend of T'Challa and leader of the Mountain Tribe, Mbaku (Winston Duke), is also one to consider.
Towards the end of the trailer, we see someone in the Black Panther armor. The internet meme that this is Ryan Gosling, a running joke within comic fandom, is innocuously funny. If the identity is revealed as anything other than Shuri, then we can trust that Marvel has elaborately thought of the ramifications and planned accordingly. In 2021, Wright landed in hot water for questioning COVID-19 vaccinations.
Michaela Coel is Aneka
Aneka is the combat instructor for the Dora Milaje.
Photo Credit: MCU
The long-held speculation that Michaela Coel could possibly play Storm has been dashed. When reported that the Ghanaian-British actress would be in Wakanda Forever, little to nothing was known about her mystery role. And, as an integral member of the X-Men, many thought the weather goddess in Black Panther 2 was the best way to introduce mutants into the MCU.
Given that she marries T'Challa in Ta-Nehisi Coates' run of Black Panther, Storm's relationship with Wakanda was further established. But this isn't what we see in the trailer. Coel is unveiled as Aneka, who is the combat instructor for the Dora Milaje, tasked by T'Challa to train the female warriors in techniques that could combat robots in anticipation of the "Doomwar."
In the comics, the "Doomwar" is a major crossover event that pits Doctor Doom against Wakanda, one of Marvel's biggest villains. Speculations are that Aneka is setting up Doctor Doom as the MCU's next threat. If there's a sliver of truth here, we might see a glimpse in Wakanda Forever's post-credit scenes.
Ironheart makes her MCU debut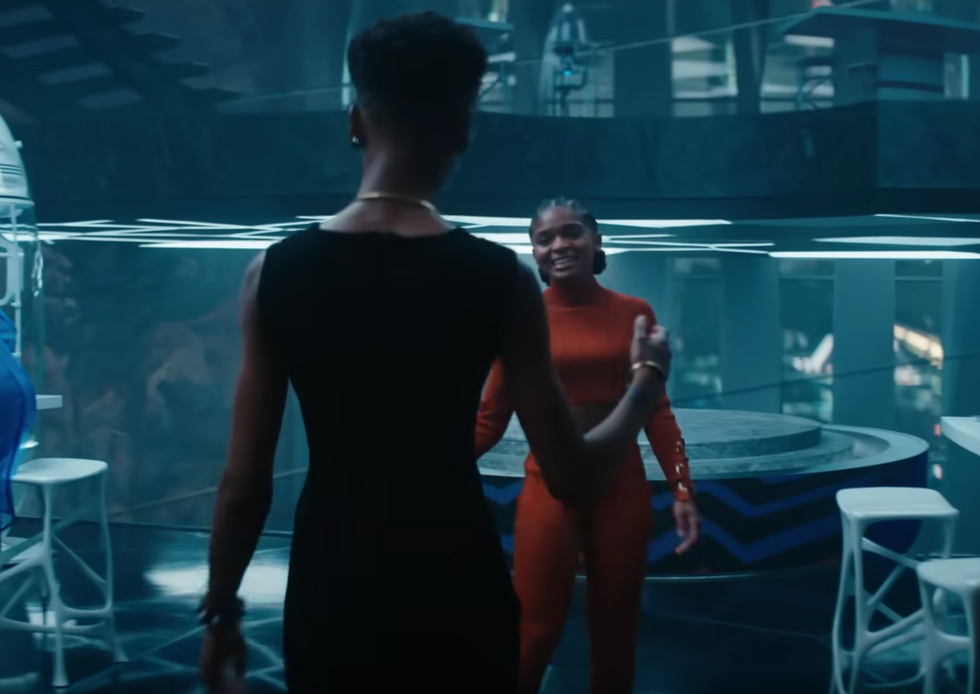 Riri Williams — aka Ironheart — is Tony Stark's protege
Photo Credit: MCU
Before the release of theWakanda Forever trailer, we have been informed about an Ironheart series coming to Disney+. First appearing in 2016 Marvel comic book Invincible Iron Man #7, Riri Williams — aka Ironheart — is Tony Stark's protege. With her MCU debut in Wakanda Forever, it represents auspicious beginnings for the character, a natural successor to Iron Man. Played by Dominique Thorne, we see brief moments of Williams casually interacting with Shuri.
Like Shuri, she's a teen genius. Her comic book background depicts her as a 15-year-old who attends MIT and builds her own Iron Man suit from scraps she stole from school. We see another striking shot in the trailer: Williams banging out her logo on a bulk of metal just the same way Tony Stark did in the first Iron Man film. It's a significant parallel, foreshadowing the role of Ironheart in this new MCU saga.
Namor is the main villain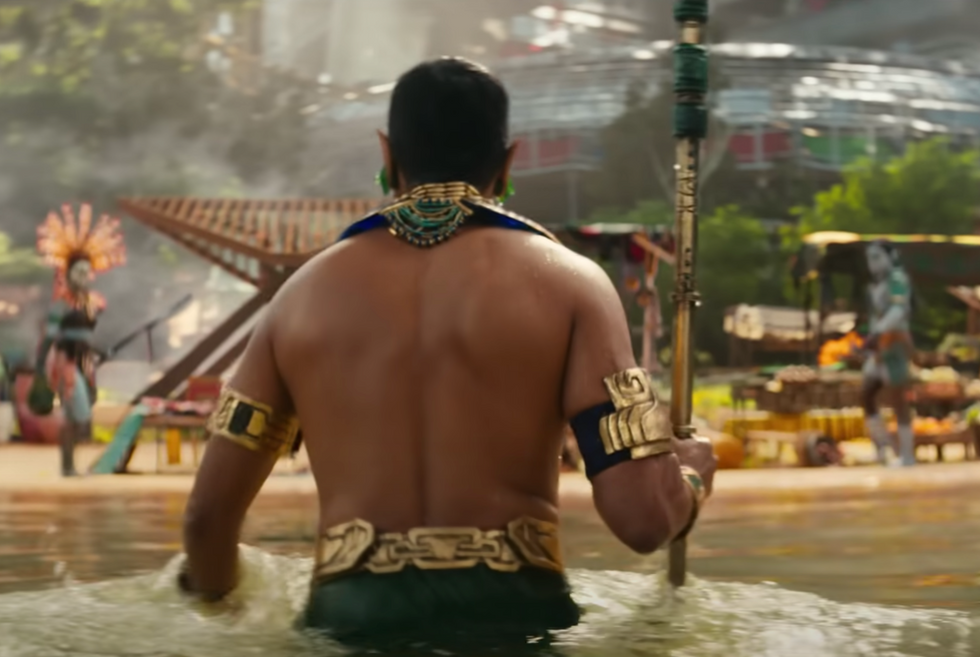 Namor is an important Marvel character with a complex mythology, who's been around in the comics since 1939.
Photo Credit: MCU
For the longest, fans have dreamed about the appearance of Namor in the MCU, aka the Sub-Mariner. He's an important Marvel character with a complex mythology, who's been around in the comics since 1939. He has yet to make a live-action splash in the MCU — until now.

In the comics, Namor's human father was sent searching for Vibranium in Antarctica when his path crossed with Princess Fen, daughter of Emperor Thakorr of Atlantis. In the trailer, Namor is born as a hybrid son from the union, half human and half Atlantean.
We see gliding shots of Atlantis brimming with underwater life. Namor emerges to wage war on Wakanda, clashing with the Dora Milaje. From reactions online, fans are thrilled to see Namor as a villain, played by Mexican actor Tenoch Huerta. King Namor and King T'Challa have a complex relationship in the comics, one of which includes sparring with each other to defend their sovereign nations. With T'Challa gone, we aren't sure of the exact circumstances of why Atlanteans are invading Wakanda. If anything, it makes the film's release date too far to wait for.