Noxolo Mabona; Nonkie Smous; Noxolo Nogwaza Lerato Moloi; Noluvo Swelindawo; Phumeza Nkolonzi; and Zoliswa Nkonyana… this list is unfinished. While some of us know these names, countless other murdered queer people in South Africa go undocumented as victims of hate crimes. To say that "queer lives matter" in South Africa right now, is an aspiration. Black queer women are being abducted, assaulted, burnt, gang raped, stabbed, stoned, and shot. It is a war and we are being killed for not conforming to society's expectations around sexuality. Homophobia has a powerful grip on South Africa—a threat of violence that looms over personal struggles around sexuality and gender expression.
---
I've always thought of myself as brave and even audacious but for a long time that side of me—my queerness—existed silently, petrified of becoming a statistic. Since high school I've wrestled with feelings for other women, feelings I didn't initially recognize. With time they grew from a non-platonic fondness into what I can now call attraction. I fought myself against these feelings. I used my tyrannical will to box them deep within. I desperately hoped that if I suppressed it enough my claim to heterosexuality wouldn't be a lie. I was the battleground for a self-inflicted war against my sexuality. My resistance was in the form of a propaganda war aimed at myself.
Tonl
While I was afraid of how the world would receive me, I was even more afraid of being honest to myself. I denied myself the power to self-actualise and secretly envied queer people who lived openly. I condemned myself before the world had a chance to and imagined disapproval from my family without giving them a chance.

The violence and discrimination against queer people in South Africa flows in part from our political leaders. In a 2014 sermon, Mmusi Maimane's, the leader of the Democratic Alliance referred to queer people as "sinners" and "the sick." This kind of symbolic violence can quickly manifest into physical harm. A report published by Love Not Hate in 2017 sheds a light on some experiences of queer people. The report showed that 44 percent of the community experiences many kinds of victimization; 20 percent are physically battered; and 88 percent of those crimes go unreported. There is also the 10 percent who are discriminated against at health institutions, a terrifying truth that gravely impacts their lives. Even stats like these aren't accurate because many of our stories live in the dark.
We're constantly involved in the battle for the power to safely and openly be ourselves and love who we want to. This struggle for power has left many bruised and homeless after being alienated by their families; burdened by having to stay in abusive relationships because they have nowhere else to go; and self-medicating with the hope of postponing the feelings of rejection and loneliness that they carry. Many struggle with mental illness caused by the unkindness the world has shown them. Some succumb to suicide.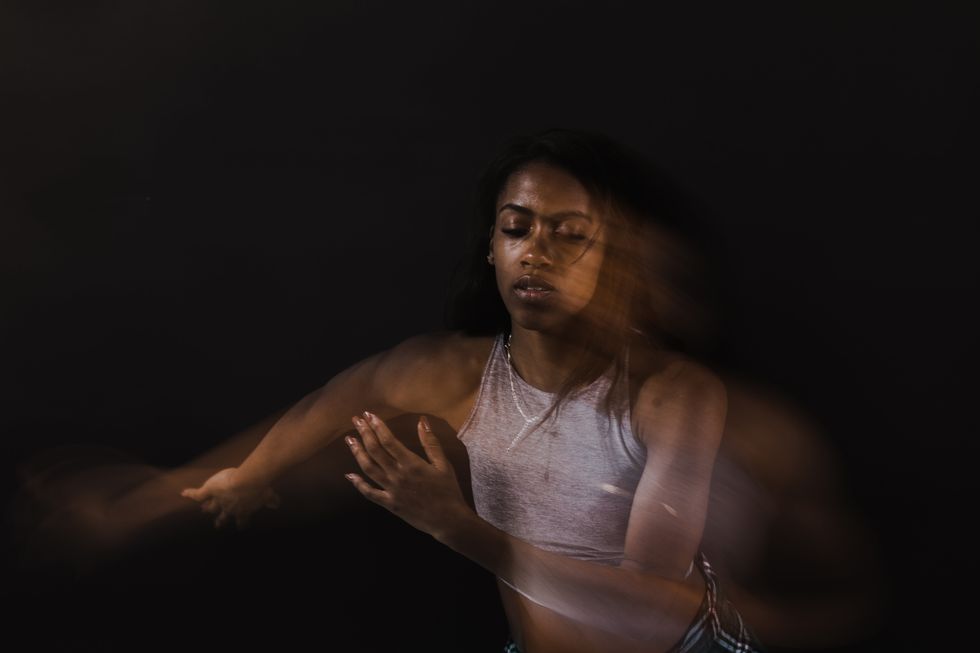 Tonl
Growing up, I didn't have a community of queer Black people that I felt I could relate with. I had little reference to understand Black womxn, like myself, who don't identify as heterosexual or bisexual or lesbian. This left me feeling like a strange deviant because I had transgressed from heterosexuality yet I was a homosexual misfit who wasn't familiar with the term queer at the time.
Things changed when I met someone, we'll call her X. The two of us started out as friends. Innocent conversations on Whatsapp eventually turned sex all the while assuring her, and myself, that I was "straight." Things between us fell apart mostly because I couldn't be honest with myself. In my battle with myself, I wasn't thoughtful about how my actions impacted her.
When things ended between us, something in me shifted and I no longer felt obliged to hide anymore. I can't explain it. There wasn't one big moment, but I do remember lying in bed crippled by heartbreak thinking "I don't want to muffle my truth anymore." I was yearning to free myself. What happened between me and X—and how it unfolded—forced me to stare myself down.
Tonl
Now, I'm at peace with who I love and I've found the courage to stop fighting myself. I know that there will always be people who believe that homosexuality can be cured with alienation, a prayer, some treatment as well as rape and/or murder. There will always be the hurtful questions and remarks. These are things many of us will always have to navigate our way around and protect ourselves from.
And, I'd love to say that I'm not afraid anymore. Sometimes I am. But, in being honest with myself there's a calm that's found me. I've fought myself for too long to live in the dark anymore.