News Brief
Oct. 02, 2017 11:50AM EST
How Emtee Found His Voice and Became South Africa's Number 1 Trapper
On his sophomore album, Manando, South African rapper Emtee finds his voice.
Emtee's success is still a bit surreal to him. "I still can't believe I've been able to acquire that amount of accolades," he tells MTV Base presenter Sandile Ntshingila in front of an audience of 100-plus journalists, media personalities and fellow artists at a fancy hotel in Rosebank, Johannesburg. "So much that I don't think it's gonna happen again. Not that I'm doubting myself or my team. I feel like Desmond Tutu, 'pinch me, let it happen again.'"
---
When the laughter from the crowd settles down, he goes on to acknowledge Ambitiouz Entertainment, the label he's currently signed to. It's a few hours before the release of the rapper and singer's sophomore album, Manando, one of the most anticipated albums of 2017, and the label is hosting a listening session. Emtee's baby mama and his son, who he named his stellar debut album Avery (2015) after, are also in the audience. In between playing songs from the new album, the rapper answers questions from Ntshingila, and later the audience. Ruff, Emtee's main producer, is sitting a few meters away from him on the same podium the rapper is seated with Ntshingila.
Emtee is awkward, and everyone knows it. Last year when he scooped four trophies at the Metro FM Awards for Best Music Video, Best Hip Hop Album, Best Remix and the Listener's Choice Award, he trended for his acceptance speech. Fans were amused by his hazy mannerism and habit of licking his lips, leading to some assuming he was high. "Most of the time when I'm nervous, I run out of saliva, and I feel like my lips are dry," he told TV presenter Pearl Modiadie in an SABC 1 interview last year.
Tonight is not different. Every now and then, Emtee licks his lips and wipes them with his hand. He's slouching in his seat, and his face is between a smile and a poker face. Ntshingila begins the session by asking the rapper what type of person he is at home, to which he responds, "When I'm with my son, let's say for a weekend, I'm sober." Chuckles from the crowd break the silence, which punctuates almost all his sentences. When someone from the crowd asks him what he gets high on, he responds, "You know what I'm on."
The rapper hasn't made it a secret that he drinks sizzurp. After all, he is one of, if not the, most prominent trapper in the country, and what's a trapper without lean? Avery was one of the first 100% trap mainstream albums in South Africa. Its success was astounding. It produced impressive singles—"Roll Up," "We Up," "Pearl Thusi," "Winning" (featuring Nasty C), and eventually went platinum.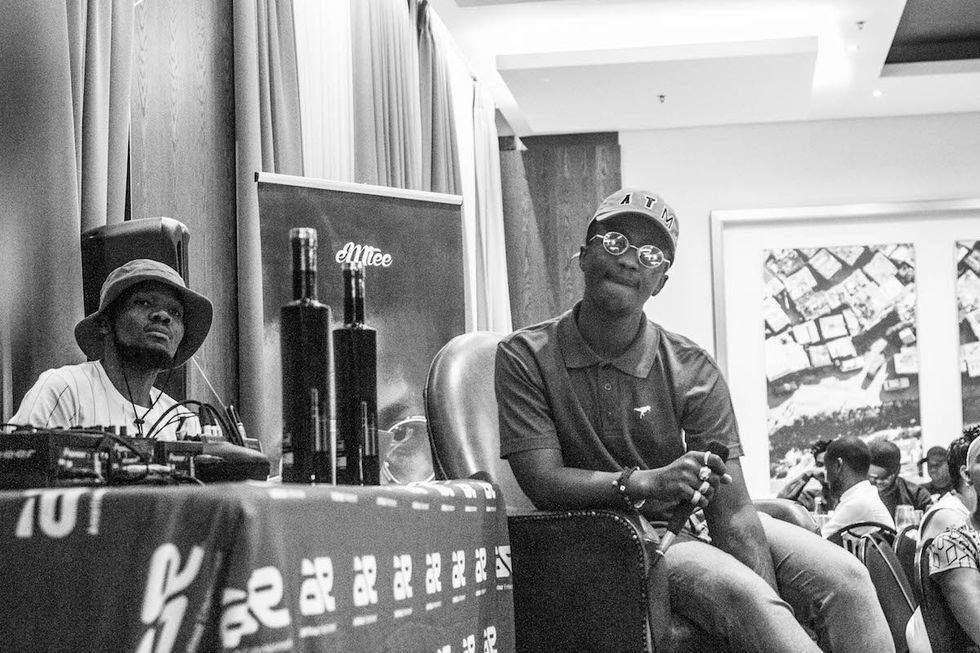 Ruff and Emtee during the listening session. Photo by Sabelo Mkhabela.
Avery won Emtee a Best Hip-Hop Album award at the prestigious South African Music Awards. It's an album that took a lot of fans by surprise. Emtee's first hit single "Roll Up" was considered beginner's luck. In an interview with SABC1, he admitted he didn't even like the song at first, and that it was just a freestyle.
"Roll Up" didn't reveal what Emtee was about, especially to the masses who hadn't listened to his earlier music such as his D.I.Y EP (2015) and his stint with the group 4Front circa 2011. "Roll Up" referenced O.T Genasis' "CoCo" flow-wise, and had some questionable lines. But it was so popular, it didn't matter what you thought of it.
When AKA and Wizkid jumped on the remix a few months later, Emtee had officially arrived. Add a BET award nomination for Viewer's Choice Award: Best New International on top of that and Emtee had graduated from SoundCloud rapper to a full-blown star.
The original version of "Roll Up" scooped the coveted Record of the Year award at the South African Music Awards (SAMAs). Last year, Emtee was what AKA was in 2012, and what Cassper Nyovest was in 2015, sweeping every hip-hop award.
Co-signs came from all directions—AKA, Burna Boy, Riky Rick, Donald, DJ Cleo, Naak Musiq and a whole lot of others showed some respek.
He was invited by South African rap veterans such as Stogie T and MaE to breathe his magic on their albums. His appearance on "By Any Means" by Stogie T silenced all his critics. He owned the song alongside one of the most respect rhymers in the whole continent–both his hook and verse were outstanding.
His latest album features Tiwa Savage, alongside his label mates Sjava, Saudi and Njabulo. Ruff, who produced most of Avery, is still the main producer on Manando. Lunatik, Tweezy, BizBoy, Christa, and Cokayn Beats also contribute some beats.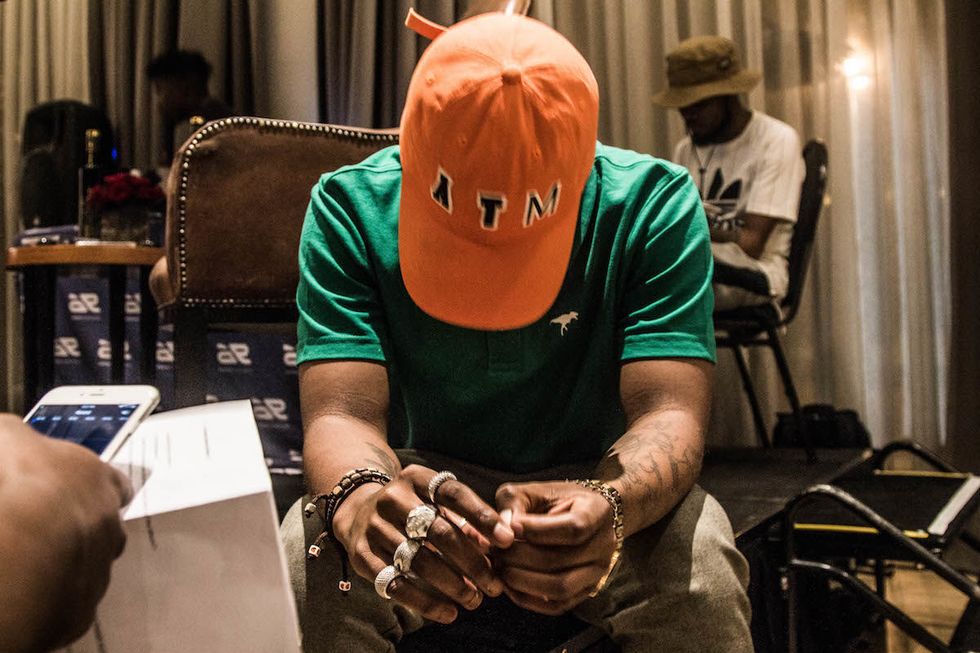 Emtee answers a journalist's question during the Manando listening session. Photo by Sabelo Mkhabela.
AKA, in an essay he recently wrote for the website The Plug, used Emtee as an example of the few original South African hip-hop artists active right now. "Look at Emtee for instance," AKA wrote, "yes [his music is] trap-influenced, but what is it really? It's the story of a young man in Africa, speaking his lingo, pushing his own sound, well-written songs about how far he's come, and where he's going."
The 25-year-old rapper's come-up story is inspiring. It's one of the few rags-to-riches South African hip-hop tales. Emtee is from the Jo'burg township Tembisa. He has his roots in the small rural village called Matatiele in the Eastern Cape, one of the poorest provinces in South Africa. A few years ago, he was just another hopeful, going from one studio to another trying his luck. But today things are different. He just signed his first artist, Sims, to his label, ATM (an acronym for "African trap music"). He's also a shareholder for AU Gold vodka.
The rapper's aware that his story is special, and that he is a ray of hope of some sort. He raps on "Platinum," the opening song of Manando, "Same lame from the village/ Now I'm worth a couple millions."
"If you don't believe in dreams, look at me, man. I'm living proof of that dreams do come true," he said during his acceptance speech at the Metro FM Awards last year. At the South African Hip Hop Awards last year, he took Best Male and Best Remix (for "Roll Up Re-Up"). During his acceptance speech, he told the audience that, just a year ago, he had an All Star that he wore "till it didn't exist."
"Trust me," he emphasized. "I walked the whole of Joburg hustling. There was a point when I didn't have shoes. I borrowed shoes from one of my homies. Now I got like 60 pairs. This right here was the shit I was praying for, day and night. Y'all better stay praying. And if you don't believe me, dreams do come true. My name is Emtee, believe it or not, I'm from a village out there called Matatiele. So a lot of the things that are happening to me are new to me."
Songs like "We Up," "Dreams," "Where Were You," on Avery, see him chronicling his transition from a nobody to the head honcho. He does the same on songs like "Platinum," "Ghetto Hero," "My OG," "Emazweni" and "Take Flight" on Manando.
Manando sees Emtee finding his voice. While on some songs on Avery it was easy to pick up which artists influenced him, on Manando, Emtee sounds like nobody but himself. He mixes afropop and R&B with trap production, and unlike most of his counterparts, hardly ever uses auto tune.
Manando knocks really hard. At 20 tracks, it doesn't even feel long; there are no wasted moments whatsoever. Most of the songs beg for a repeat.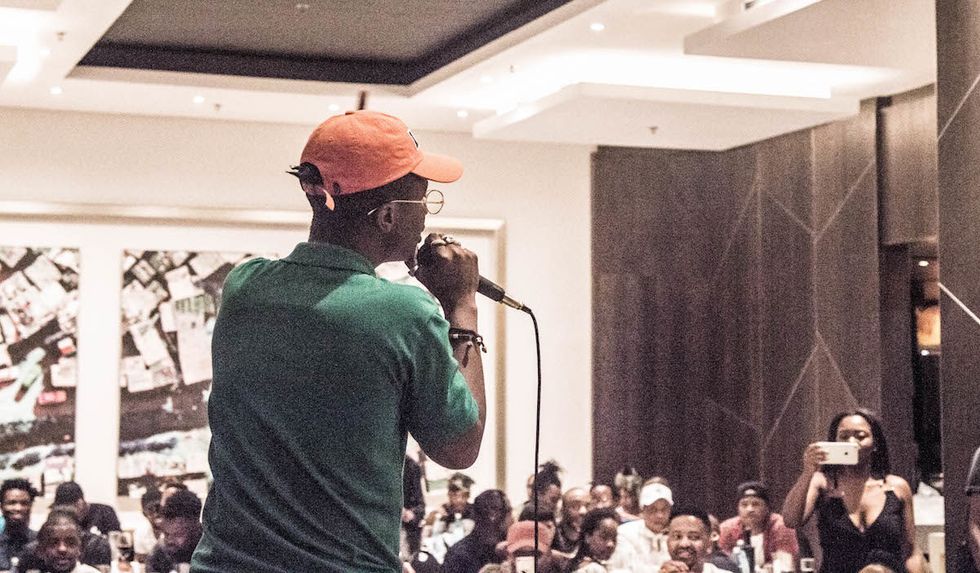 Emtee performs during the Manando listening session. Photo by Sabelo Mkhabela.
When asked what is different between Avery and Manando during the listening session, he mentions he has stepped up on his rapping. "Last year, a lot of people said I couldn't rap, so I worked on my raps. And I'm still trappin'–talking about i'nkinga zasekasi over trap beats," he says. Maybe he is not as technically proficient as a Stogie T or a Reason, but he does pack some heat on songs like "My Crown," "My OG," "Take Flight," where he sounds comfortable and raps his bars like a virtuoso, with a balanced mixture of emotion and conviction.
The storytelling on the song "Manando" has to be the album's highlight. He tells the story of the OG he named his album after. From how he used to protect him as a youngster to how he died. He paints the picture so well with the least amount of effort, you can see Manando going about his business, and follow him to his demise.
Ntshingila asks Emtee if Manando is in the room tonight. "Homie passed away," the rapper responds. "He passed away in 2011. I'm from the hood, man, people die everyday." He goes on to explain that he probably survived because he has been lucky enough to leave the hood. "I moved out the hood," he says.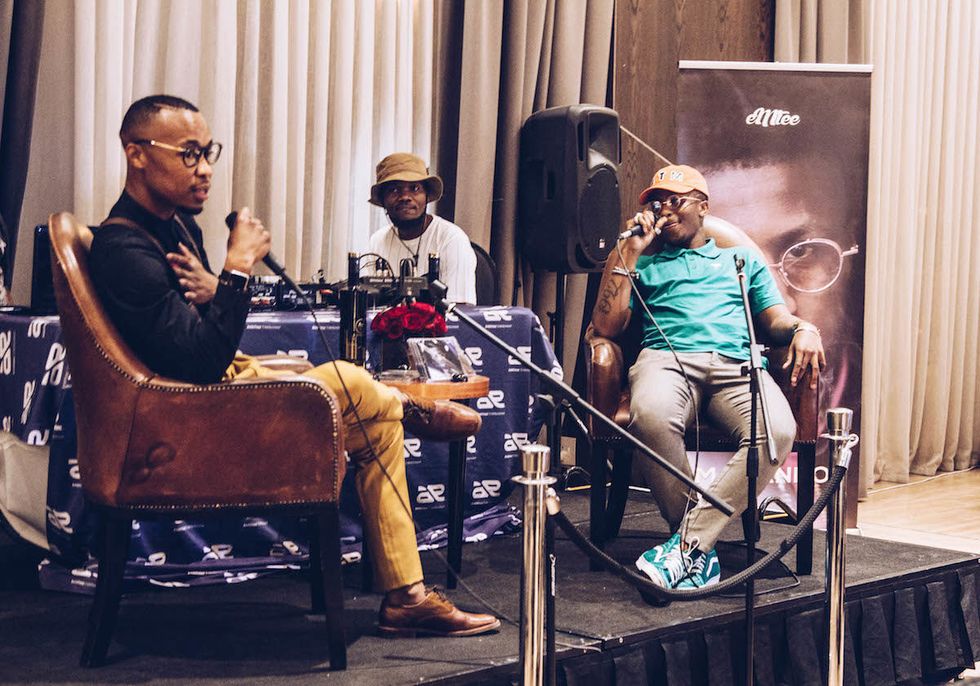 Emtee in conversation with Sandile Ntshingila. Photo by Sabelo Mkhabela.
Manando isn't the only person whose memory is being celebrated on the album. The song "R.I.P Swati" is a dedication to another fallen soldier. "There are two people who propelled my career," says the artist. "That is Ruff and SK aka Swati King. They were the OGs, they had a studio downtown Jozi. SK was the first person to say, 'get in the booth, let's see what you about.' And from that day on, I didn't play, I took every chance. Swati got sick and passed away."
He reveals "Ghetto Hero" was written for SK and Manando. "Those are my ghetto heroes," he says. "I was highly protected by them. Those were the people I was thinking of."
Emtee says he has a lot more in store. He tells the audience he has some new dance moves for his performances, and that he is getting into production.
"I wanna progress," he says about his production. "Like Dre, still taking my time to perfect the beat. So me as a producer is gonna come at a later stage. So I make beats. If you want beats, holler at me, man. I even give them out for free. I'm a come-up producer, so I just give homies beats for free."
Stream Manando below and download it here.