Yesterday would have been the South African jazz legend Hugh Masekela's80th birthday and to mark the momentous occasion, and honor his life, his family has commissioned the building of a memorial pavilion in his honor by celebrated Ghanaian architect David Adjaye (OBE).
The memorial pavilion and garden will be "a place to gather, reflect and celebrate the life and impact of Hugh Ramapolo Masekela," read a statement from the family.
"African monuments are a place of gathering and reflection, they help us edify the significance of our ancestors, our heritage and culture," says Adjaye about the cultural significance of the design. "Monuments act as a reminder of our duty in the present to honour the past, they spur us to make a better future," he adds.
---
The unique design is also meant to recognize Pan-Africanist heritage, which Masekela was a major proponent of through his collaborations with fellow African artists across the diaspora. The pavilion will borrow from African burial practices, which often include the building of distinct structures where loved ones can congregate and reflect on those lost.
The pavilion will be inscribed with a message from his family, and will also house various symbolic stones that represent the many places Masekela travelled within the continent while he was in exile, as seen in the design mockups below.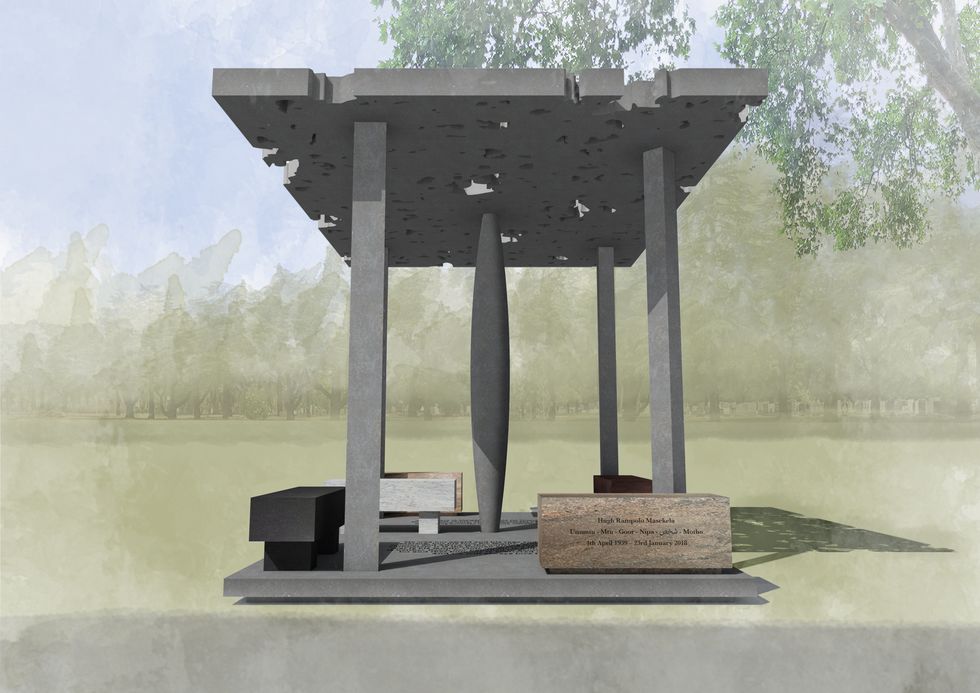 Image courtesy of Adjaye Associates
Image courtesy of Adjaye Associates
"Our family could not be more honoured to have such an iconic son of the soil, Sir David Adjaye design this immutable memorial pavilion which beautifully reflects Hugh's openness and his love of Africa," says Ambassador Barbara Masekela on behalf of the family. "A true Pan-Africanist, we are touched that the design is by a world-renowned architect born in Ghana, another part of our beautiful continent Hugh regarded as home."
The pavilion will be unveiled by his family in June, in conjunction with Youth Month in South Africa.

This is not the only exciting news happening around the artist's legacy either. Yesterday, the Manhattan School of Music (MSM) and The ELMA Music Foundation, in partnership with the Hugh Masekela Heritage Foundation have also announced a new scholarship in the musicians honor. The Hugh Masekela Heritage Scholarship, dedicated to the "life-long advocate and embodiment of African identity, heritage, and expression," will allow for six South African students to study music on a full-ride at MSM, where the artist once studied. Applications will open in September 1.
"This scholarship not only honors the great artist's legacy," said Tarik Ward, Director, Music Programs, The ELMA Philanthropies. "But also nurtures the next generation of South African musicians and upholds his vision to preserve and promote African heritage, culture, and identity."