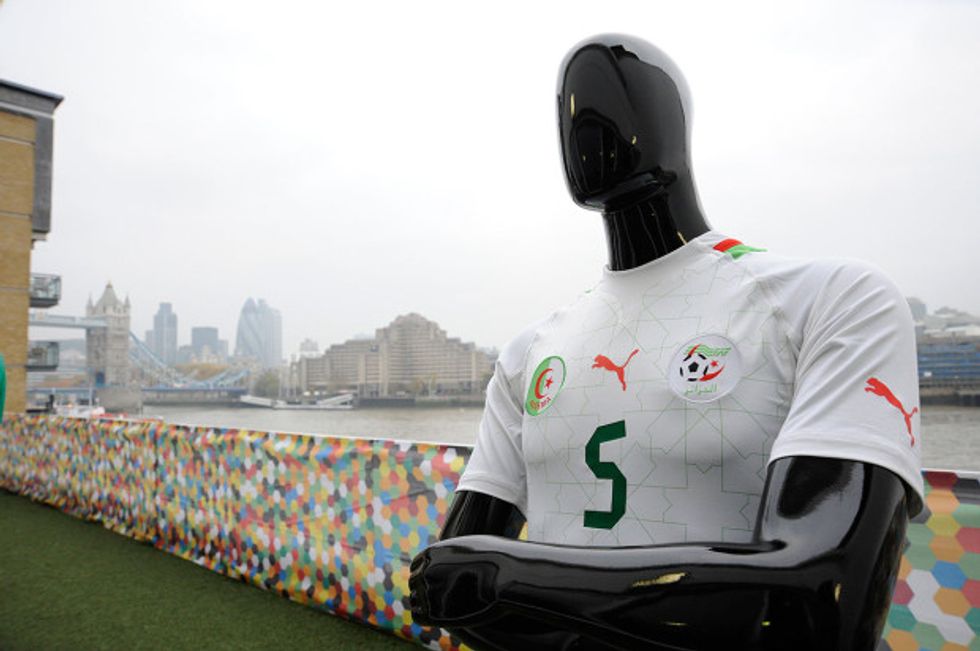 ---
African nations may never have claimed a victory at a World Cup, but football is a symbol of great pride on the continent. This month Puma announced the new kits for ten of Africa's promising teams as they approach the Africa Cup of Nations. The kits were on display at London Design Museum during the Nov. 7 launch of the exhibit — the 10 artists Puma selected from their Creative African Network as well as a player from each team were present.
Each artist was asked to incorporate national heritage and team symbolism into the new designs. Algerian visual artist Zineb Sedira incorporated Islamic-inspired geometric shapes that can be found on the team's kit. Samba Fall from Senegal chose to feature the baobab tree on the front of his jersey, explaining: "It is like seeing the good memories of all the people of Senegal accompanying their football team to international competitions." The vast majority of the kits' designs feature animals, like Gabon's panther, Cameroon's lion, Burkina Faso's stallions, and Ivory Coast's elephant.
The new kits and sketches showing each artist's creative process were on display in the exhibition. Ghana, whose loss in the quarter final of the 2010 World Cup (only the third African team to make it that far) is fresh in many minds, will be sporting a new jersey with stars on it. Artist Godfried Donker explains the national team's kit shows "Raining Black Stars." We like the optimistic wordplay. The Africa Cup of Nations will be co-hosted by Equatorial Guinea and Gabon in January 2012.
Photos by Claire McGregor.