Over 2,000 miles south of where Franco Malian director Ladj Ly earned an Oscar nomination for the internationally-acclaimed thrilling drama, Les Miserables, stands the newest of three film schools opened by the director. The Kourtrajmé film school (Ecole Kourtrajmé), named after the collective Ly co-founded in France, is based in Senegal's metropolitan capital, Dakar, and centered on a community learning concept initiated by the director himself – designed to inspire future generations of budding African filmmakers.
Situated in the fast-paced, multiple story landscape of plateau, Dakar's downtown area, the Kourtrajmé film school is sheltered inside of an art space, known as Agence TRAMES, an artistic and cultural hub founded in 2018. It's the third in a family of film schools founded by Ly and co-founder, filmmaker and actor Toumani Sangaré – after Montfermeil, in the Paris suburbs, along with another in the southern city of Marseille.
The school is open to all students, regardless of their background or level of education.
Sangaré and his wife Emma are co-directors of the school, and French Senegalese star Omar Sy is a mentor. The idea had originally been to open the school in Mali, where both Sangaré and Ly's parents are from, but as Sangaré told RFI, security problems there have stalled those plans.
"The school is free, without a prerequisite of having a diploma," says Emma Sangaré. "During the courses, they [the students] need to be available, and in Dakar. They are selected by their motivation and their originality in what they propose."
Whether these students present a point of view that's different, a character that is very strong, or a method of capturing their story that is visually compelling, 14 aspiring scriptwriters and 18 budding film producers are chosen to work together to produce several short films and a series pilot, during two six-month sessions.
Burgeoning scriptwriter Salimata Dieme is among this year's class. "The story that I want to tell is about a girl who is really passionate about rap music," she tells OkayAfrica. "You see how rap is often rejected by the elite, but the music denounces certain things in society, specifically how the bourgeoisie live. I want to show the dichotomy between these two worlds. Especially since the parents of this girl [in my story] do not want her to get into rap music."
Dieme sees herself in this storyline; she comes from a family that pushed for her professional development outside of the creative field. Her background in finance is what drove her to seek out an opportunity like the Kourtrajmé film school. She hopes that after her time there she will be able to make her mark on the African cinema scene.
Burgeoning scriptwriter Salimata Dieme is among this year's students at the Kourtrajmé film school in Dakar.
Photo: Mel Bailey
"Female directors and producers are really missing in our space [in Africa], they are really only behind the scenes; we don't really see them producing or directing, sometimes they can be found writing, but we don't really see them directing things. Not really in the way we should," she adds.
The Kourtrajmé association, which is French slang for short film, is based on the principle of inspiring a community through creativity, and providing young aspiring scriptwriters and producers with the tools they need to make it in the film world, at no cost to them.
For the first half of the year, students undergo classes that help them with techniques for advanced storytelling, including the 'big reveal,' used to create tension and act as the pivotal moment in film. Focused on the importance of community learning, classes are never all work and no play.
Resounding laughter as a result of comical feedback can be heard from time to time while class is in session, alternating with strict criticism aimed at challenging specific elements of a storyline or character development.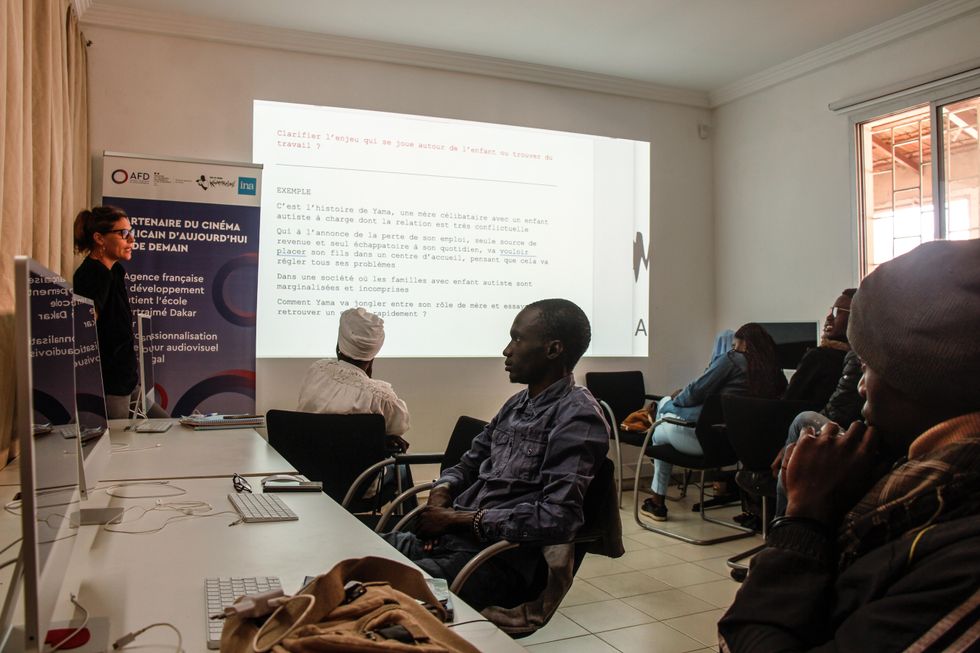 The Kourtrajmé association, which is French slang for short film, is based on the principle of inspiring a community through creativity, and providing young aspiring scriptwriters and producers with the tools they need to make it in the film world.
Photo: Mel Bailey
For Sangaré, working as a collective is essential in this industry, so it's only natural that classes be conducted in this way. "It's not a field in which we can't work alone; it's a field in which we hand off to others," she says. "Films are written, then revised, the dialogue is developed, then passed on to the humorist, who adds color and emotion, and then rewritten. If you don't have the ability to work together to take the strengths of others and their expertise, to influence your work and make it stronger, then this field isn't for you. We encourage students to understand this way of working; to listen, and do our best to arm them with the ability to work in this way."
As the months progress, screenwriting students continue working to structure the vivid elements of their scripts by undergoing different exercises, including the identification of one clear objective for their main character. Their scripts will then hopefully be selected for the next round of creative aspiring producers and directors to work on.
For students like Mamadou, this form of coaching is invaluable. "The most interesting thing that I've learned thus far is that ideas are not fixed," he says. "Despite all the preconceived notions I can have about an idea or my project, we can still do better and bring it out in a different way. This helps bring out the vision, to make it stronger."
Although the film school in Dakar is still quite new, opening its doors for the first time on January 17th of this year, its directors have already received calls by producers for proposals from the students.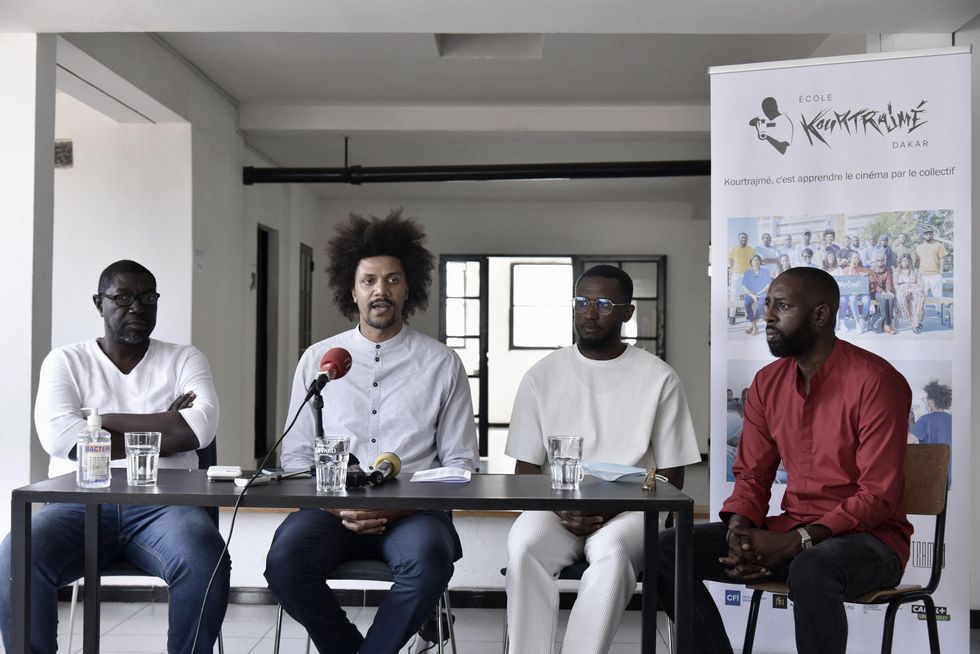 Toumani Sangare (2nd L), director and founder of the Kourtrajme Dakar film school, attends a press conference with his collaborators Modibo Diawara (L), Jean Mze Ahmed (2nd R) and Ladj Ly (R) at the film school in Dakar on January 19, 2022.
Photo: Seyllou/AFP via Getty Images
"This is really encouraging," says Sangaré. "It means that these students will have a lot of possibilities. Since we are supported by AFD (Agence Français de Développement) and L'INA (the National Audiovisual Institute), which allows us to have a status and positioning in the field, people come to us because they know that we have notoriety."
Giving students a leg-up in the industry is a by-product of the school's network, and of the support it provides once students have finished their courses. "[We] help their work be sent to festivals, and follow up on their personal projects to help them advance. This is really a family so it's not as if after the session ends we won't speak with them anymore. We will always keep in touch and give them contacts, and also give them the possibility to pitch to other large producers that they will have the chance to meet; we won't let them continue without any support thereafter," adds Sangaré.
The concept of collective, accessible learning is appreciated by all involved, but being a free school does come at a cost. "All of our financing comes from international donors, and we have difficulty finding local funding," says Sangaré. "It's a problem. It would be great to find more local funding. We are so focused on telling the stories of the continent with people from here, and we are so focused on the local environment, yet no one sees the added value to invest in this… Africa doesn't seem to want to invest in itself for itself. And this way of working – always looking to foreign investors for donations, is not durable; we're here and it's not for nothing."
Still, class goes on -- held every day of the week -- with exchanges from local professors and Sangaré herself, in a convivial environment, full of laughter, with well-placed criticism and plenty of room to question ideals and to grow.
From Your Site Articles
Related Articles Around the Web