The characteristic smell of weed was missing from the the New Afrikan Shrine, Tuesday. On regular evenings in the home of Afrobeat, built in honor of Nigerian cultural icon Fela Kuti, young men stroll up and down the street, seeking to convert tourists and visitors into buyers for their products. But today was different.

Emmanuel Macron, the President of the French Republic was on his way.
The young President of France, the poster boy for business friendly centrism, swept into Nigeria on June 3, 2018, where he sealed an agreement between Nigeria and France to carry out projects in Lagos, Kano and Ogun states at the cost of $475 million. First stop was in Abuja, the Federal Capital of the country, where the standard photo-ops and press releases were done and disseminated. But for young creatives in Lagos, State, the hub of the music, fashion, and movie industries, the agenda was different.
The cultural extravaganza at the New Afrika Shrine saw President Macron joined by 200 VIP guests and 250 journalists, who packed the hallowed music venue, home of Femi Kuti and his world-famous band. On the night, the legendary musician, and son of Fela, performed a show-stopping set, bringing Macron up for the finale, in what is the first time in the Shrine's history that a serving President has graced the stage.
---
The evening's full line-up included stars of music and screen, never before seen on stage together, including Afro-pop queen Yemi Alade, Cameroonian singer Charlotte Dipanda, talking drum performer Ara (Thunder), prominent Nollywood director Kunle Afolayan, world-famous artists Angelique Kidjo, Asa, and Youssou N'Dour, Nollywood stars Joke Silva, Rita Dominic, and Ramsey Nouah, and Kareem Waris Olamilekan, an 11 year-old genius child artist who stole the show by producing a hyperrealist drawing of President Macron in under 2 hours.
Legendary writer, Wole Soyinka was there for the show Photo: Kobi Williamz
The French President is no stranger to the country and the Shrine. In 2002, he held an internship position at the French Embassy, where, he says, he became familiar with the country, its importance in the region, and the sheer potential of the country's creatives.
"My main memories about Africa is the strength. Proud people, proud of their culture, proud of their arts, proud of their music," Macron told the crowd. "And that's why I have a very different view of Africa, than a lot of foreign people in Europe, because I was educated here."
During his return visit to the New Afrika Shrine, the French leader recollected happy times he spent there when he was working in Nigeria as a student in 2002. President Macron recognized the Shrine as a cultural and political symbol for Africa. "Let me just remind you that this place is obviously a cultural place, a music place, but it's a space about politics as well," said the French president. "[Fela Kuti] was not just a musician, he was a politician as well... He was a politician because he wanted to change society. So if I have just one message for young people here at the Shrine tonight: yes, politics are important. Yes, be involved."
16 years later, he is president of a world power, with a long history of colonisation in Africa. And while much of the young generation that he is a part of never experienced this colonialism directly, the negative effects of that chapter remain evident in numerous aspects of African lives. As more young people become aware of Africa's history, these unequal relationships stand out as a sore point in millennial conversations on international relations—especially on social media. Nigeria wasn't a French colony, but her neighbours were, and the sentiments of that era run deep. Macron recognizes this.
We have a very complicated history with Africa, especially when you speak from France…we have to recognize the bad, and the negative pages of that history. You have to recognize all the bad deeds, and face them." Macron admitted in an interview with popular broadcaster, Keturah King.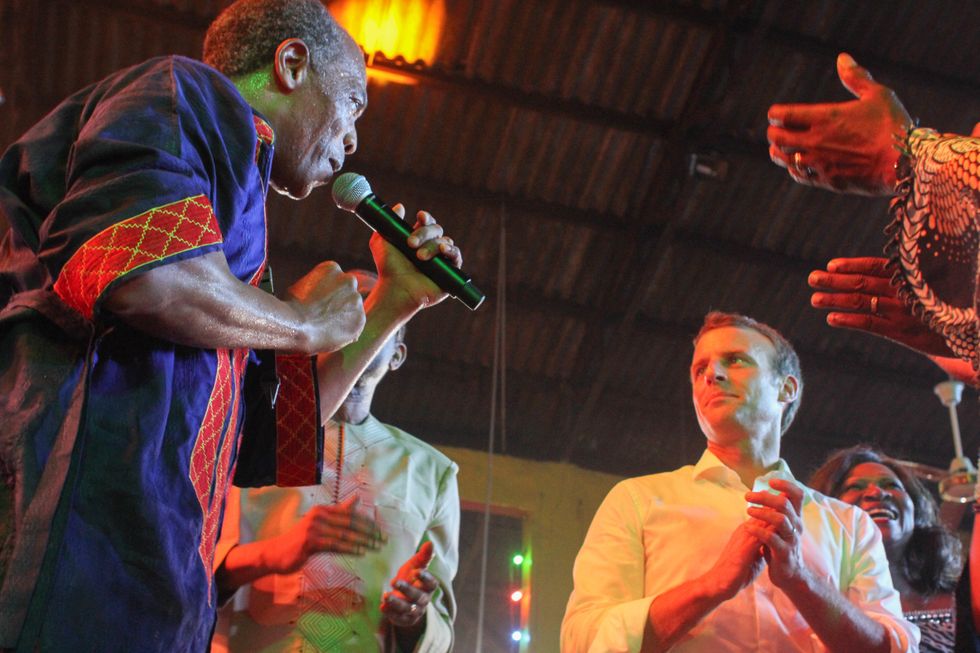 Femi Kuti meeting Macron Photo: Kobi Williamz
"But you have to move forward," he continues. "And if you are always consumed by them, and that vision, you will never move forward. Which means, how to build the future for Africa."
Macron claims to be seeking a bright future that embraces creative work, under the a new initiative named the "2020 Season of African Cultures in France." During this week long celebration, France aims to showcase the best creatives from Africa, across art, music, fashion, movies and more. Approximately 3.3–5.5 million (5–8 percent of the French population), are blacks of African descent, and President Macron intends to help build a positive narrative with this event.
He announced this after playing African drums, receiving African art, watching Yemi Alade perform and shaking a lot of African creative hands. And while on paper there's everything to love about a big event celebrating African creative life in France, there's a lot of work to be done, by France mostly, and by Africans before skepticism around French intentions in Africa can be retired.