When the metaverse became one of the buzziest trending topic of 2021, it indicated the evolving nature of technology. Tech companies and other stakeholders have been fixated on the concept of virtual realities and what it means for the future of human interactions.
The metaverse is where users can have immersive experiences via connected virtual spaces. These experiences leap from regular social media engagements to hanging out, shopping, dating, learning, working, and so on. In essence, it takes one deeper into the online world. While there isn't an app that launches one into the metaverse, access has been made possible through technologies like augmented reality (AR) and virtual reality (VR).
Gamers are already familiar with the latter, using VR headsets to better experience gaming interactions and other worlds. Fashion, these days, is tapping into this new digital regime. With parallel concepts of non-fungible tokens (NFTs) — a kind of digital ownership of products which fashion has begun to embrace — the metaverse is presenting itself as fashion's new frontier. Aspects of retailing, merchandising, influencer marketing, consumer experience, trend forecasts and more are expected to witness shifts in this regard.
While COVID-19 has made digital fashion a mainstay, fashion systems in the West have largely dominated narratives around the metaverse. One reason is that Africa hasn't squared up digitally; there are still gaps in digital literacy, awareness and reception. Despite the lack of serious digital penetration, the industry has managed to put itself on the global fashion map. African garments and products are increasingly becoming desired, thanks to buzzy dispatch of talented designers on the continent.
Already facing a host of on-ground issues, like the need to boost raw material supply chains ethically and lack of funding. The metaverse, at large, makes these constraints feel primordial. It's setting a digital race across a fashion landscape contoured with resource inequities. But a huge question remains: is the African fashion industry running at all?
Into the metaverse: small beginnings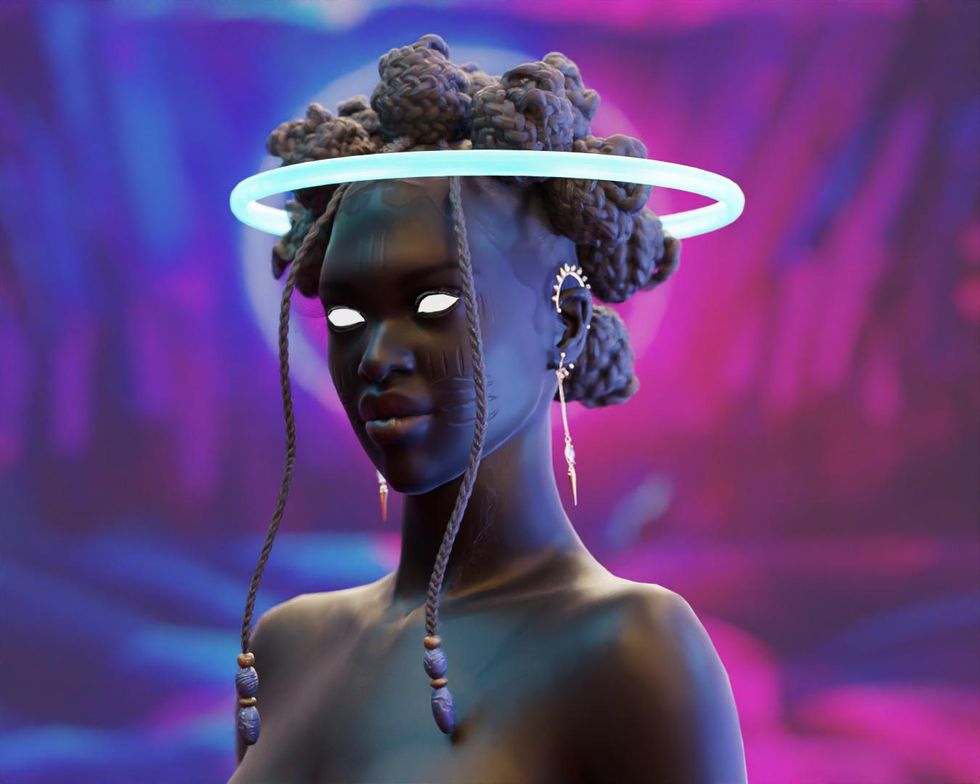 ​The black future is an embodiment of Àwèlé's journey towards the Afro-futuristic experience. It honors the black imagination, conjuring ancestral power through black dreams, and redefining black subjectivity.
Photo Credit: Hadeeart
Idiat Shiole, an independent 3D fashion designer, has been learning and creating realistic simulations of clothes since 2018. Her Instagram page, HADEEART, holds a decent repertoire of her creations — models in hijabs, evening dresses, and casual wear. Further, her rendering of African textiles is becoming a digital signature, displayed in different prints and styles.
"I wanted to create clothes that speak my own language without the fear of who will buy it or who will wear it or what people will say," Idiat said. "I really do not want to create based on any trends or reality. I wanted that creative freedom to be a fashion designer. Physical fashion in Africa possesses all these limitations but virtual clothing design does not so this really is interesting for me." With beginnings as a traditional fashion illustrator, Idiat's foray in the metaverse is marked by personal growth and creative liberation. Her works are currently being retailed at digital fashion stores like DressX and also open to commissions and collaborations. The same thing for Aisha Oladimeji, a virtual fashion designer from Nigeria who just presented a collection at the latest season of Digital Fashion Week New York.
"It was a six-look collection called ECLECTIC," Aisha said, "The idea was to merge two different outfits into one and also make it simple and fashionable. The collection is meant to be sold as NFTs on selected platforms by the DFWNYC team."
Aisha had applied for the virtual show last year but didn't get in. And while participation wasn't free, the experience in the metaverse was what mattered. Her background in architecture only naturally looped into designing fashion products. She doesn't consider it a great leap.
"There's no pivot here," Aisha said. "I have been making fashion pieces since 2014 while waiting for my university admission so adding 3D design to physical pieces was a great joy."
A world called Astra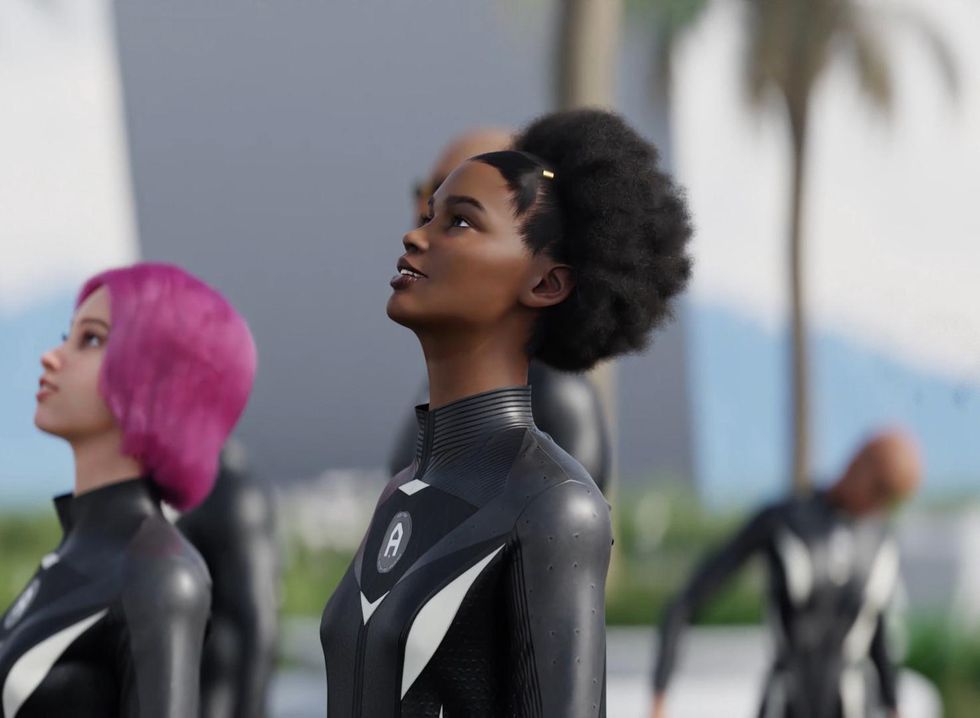 Last year, Delz Erinle and Niyi Okeowo launched Astra, a crypto-driven infrastructure that blends gaming and fashion. In this reality, players can dress their avatars in luxury clothes, interact with other players and win real-life luxury goods.
Photo Credit: Thrill Digital
While digital solutions have been a response to navigating the pandemic, UX designer Delz Erinle and art director Niyi Okeowo looked at other intersections. The idea of Astra first came to Delz who reached out to Niyi. Working in synergy with a team of 30 people, Astra was launched last year under their creative startup Thrill Digital.
But it's more complex than that. Astra was envisioned as a multi-chain metaverse, holding spaces for social events and metacommerce. The multi-chain nature of Astra means that its environment is sprawling, a wide breadth of worlds connected to each other. Metacommerce, on the other hand, is rendering shopping as an immersive virtual in-store experience. Walking into virtual stores as anyone would walk into physical stores, through the use of wearable technologies.
"You will be able to go from blockchain city to city to play NFT games and make new friends," Delz said. "You will also be able to buy NFT clothes from fashion brands for your avatar, and if the brand offers it, you will be able to receive the physical version as well. The Astra metaverse has a unique take."
Delz and his team want people to be able to enrich both virtual and physical presentations of themselves, seeing blockchains as cities with NFT tickets, and baking interoperability in their designs. They are also currently working with some African fashion brands towards creating unique metaversal experiences. On the whole, Astra connects the dots in many ways, a still-expanding realm of possibilities.
Despite the way the metaverse is expanding fashion's horizons, pitfalls exist for the African fashion industry. "In terms of feasibility, a lot of the current metaverse experiences are browser first and due to the internet issues across Africa connecting to things like Zoom is an issue. 3D worlds in the browser would also be a challenge as the best experience would only be available to users with great internet."
Intellectual property and the future
The sale of virtual fashion in the metaverse has already generated disputes around intellectual property. This year, Hermes sued a digital artist for selling unauthorized Birkin bag NFTs. Indeed, many luxury brands have the muscle to protect their digital assets at all costs. But the same can't be said about small, emerging brands.
The innovation raises many legal issues for the fashion industry. Fashion brands are to pay attention to the terms of the potential issues and protect themselves. While the laws are still playing catch up in specifically regulating the metaverse, basic principles of contracts as well as intellectual property law still apply.
"Given the territoriality of IP rights, in terms of trademarks, African fashion brands are advised to register their trademarks in their home country and foreign offices especially in countries with larger markets," Bernice Asein, a fashion lawyer, said. "Intellectual property for African fashion brands appears to have a promising future in the metaverse, which will usher in new types of intellectual property rights. However, the present legal framework is grossly inadequate and there's an urgent need to review the existing IP regime across Africa to meet the needs of the fashion industry."
Democratizing fashion still remains at the core of the metaverse. And as both physical and digital worlds continue to get blurred, the African fashion industry shouldn't be left behind.
"We in Africa no longer want to be merely consumers," Idiat said, "We want to be players, able to influence, embrace technology, and consider our own and humanity's futures."