Image supplied.
Musa Mseleku's Empire And The Cracks of Polygamy
The South African reality TV programmes 'Uthando Nest'hembu' and 'Mnakwethu Happily Ever After?' show intimate details of polygamy from different perspectives. In current seasons, one thing is clear—polygamy is a challenging arrangement.
The story of Musa Mseleku and his family evokes legends and fairytales. The businessman, his four wives—MaCele (Busisiwe Mseleku), MaYeni (Nokukhanya Mseleku), MaKhumalo (Thobile Mseleku) and MaNgwabe (Mbali Mseleku)—and children share their story in the reality show Uthando Nesthembu ("love and polygamy" in IsiZulu). Now on season four, viewers watch as Mseleku shares how he manages his empire with a strong financial muscle and a stern, yet gentle persona.
In its latest season, the show's intensifying plot is a subject of many Twitter debates viewers engage in every Thursday when it airs on Mzansi Magic (Uthando Nest'hembu also streams on Showmax). It's clear to many viewers that polygamy in Mseleku's case is a challenging set-up with too many moving parts capable of nullifying equilibrium.
---
In the current season, clashes between Mseleku and his wives and among the wives themselves are becoming many. In one episode, MaCele, Mseleku's first wife, the oldest of the three, says, "Polygamy is just like it was in the olden days, it doesn't matter if it's covered in glitz and glamour."
Mnakwethu – uThando Nes'thembu | Mzansi Magic www.youtube.com
In the show's previous season, Mseleku bought his wives Mercedes Benz compact luxury sedans each all at once. Each of his wives owns a mini-mansion where they live with their children. He's a successful businessman who, in his own words, is never unable to raise money whenever needed. In the current season, he releases a book titled How I Made My First Million.

Fifth wife
Tension has always existed on Uthando Nesthembu, but it increased when the 44-year-old businessman and family man expressed his interest of adding a fifth wife towards the end of the third season. While MaCele's stance is clear ("You are crazy," was her response), the other wives are indifferent about being joined by yet another wife. It's life, it can come at you fast—at some point, each of the three of them was a new wife in the polygamy themselves.
Dealing with an expanding polygamist household is also the underlying theme of the new spin-off of Mnakwethu. Titled Mnakwethu Happily Ever After?, the show follows a number of families who got entangled in polygamy in the last two seasons of Mnakwethu. In its first season, Mnakwethu followed the stories of different men, mostly from Kwazulu-Natal, who were, as they always say, expanding their fathers' households by marrying a second wife. Mseleku, who's the show's host, assisted the men in breaking the news to their wives, asked the men crucial questions and offered them advice as a man who, in his words, "made isithembu (polygamy) fashionable".
Mseleku remains a grootman to the men of Mnakwethu. In a recent episode of Mnakwethu Happily Ever After?, Bheki "Magaye" Cele, one of the characters on the show who are now struggling to navigate polygamy a year later, visited the businessman to ask for advice on how to deal with his situation. His biggest challenge is striking a balance between his wives. His new wife feels he spends more of his money on the first one who, has children while the other doesn't. Mseleku's advice? Magaye needs to give the new wife children. His explanation was layered, involving issues of succession and the expansion of a household.
Magaye's first wife, MaMlotshwa, is still showing signs of unhappiness with the current setup. In one episode, she confided in her son and told him she allowed her husband to bring a second wife in only because it would have been pointless to disagree as Magaye had had an eight-year-long affair with his mistress-turned-wife. Their son makes it clear he was unhappy with his father's decision and is against polygamy.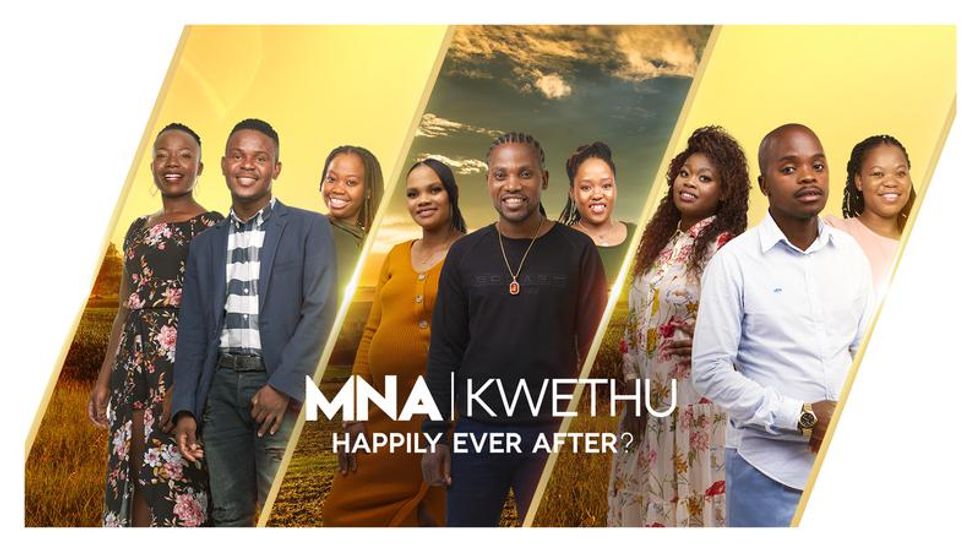 Children are always affected by the almost-standard complications of a polygamous household, and a show like Mnakwethu (and its spin-off) surely triggers viewers who grew up under the same configuration. In one case on the show, a cousin reminds one woman, Samantha, of the complications of the polygamous family she grew up in. He admits he doesn't agree with her decision but supports her as he has no business choosing a husband for her. After all, polygamy, beyond being accepted culturally, has been recognised by South African law since 1998.

Magaye's initial explanation to marrying a second wife was, firstly that he grew up in a polygamous household and grew to like the marriage system. "I like the custom very much," he said, "and I think it can keep me from cheating on my wife. I think it's better to have a person who it's known that, if I'm not with my wife, I'm with her." However, a year later, explaining to his two sons, he said, "I thought polygamy was a beautiful thing until it was my reality."
It ends in tears
Mnakwethu depicts heartbroken wives taking one for the team because they are left with no choice. A majority of them acquiesce as polygamy is a custom that's part of Zulu culture and many other African cultures. As Mseleku famously said in 2020, it's not cheating when a Zulu/African man does it. "We don't cheat, we fall in love," he said during an episode of Mnakwethu. "Cheating is for Western people."
A majority of the men of Mnakwethu hide behind customs and culture to excuse their misogyny and infidelity. A majority of them aren't financially stable enough to run a household with just one wife—concerns Mseleku raised in the early episodes of Mnakwethu. And concerns viewers always raise. Surely, whatever a man's motives are, in a capitalistic world, affordability is a key factor to always consider if his family is to live a sensible life.
So, what exactly are the grounds for a man to increase his household? According to uBab' uNdabeni Myeza, "an expert in culture, relationships, marriage, money and mental health", who Mseleku consults in one episode about polygamy, the motive should be less individualistic. "The principle of marriage under African spirituality is not about sexual or emotional adequacy," Ndabeni says. "Your intentions must be: social construction, family construction, or societal enlargement." He further adds that polygamy can help lower the number of orphans and the rate of STIs: "If a large contingent of women unites under one moral man." But, what does being a moral man entail in a patriarchal society that excuses infidelity only for men?
I want out – Mnakwethu | Mzansi Magic www.youtube.com
On Happily Ever After?, the men continue with their espoused fuckery which they showed not-so-subtle hints of on the first season of Mnakwethu—the melodramatic nature of the show since its inception has led to some viewers suspecting it was scripted (both the channel and the participants disagree). One man, named Dulas, recently impregnated a third woman, leading to both his wives walking away. Not after humiliating drama and episodes of Dulas refusing to own up to his horrible "mistakes".

Mseleku's wives aren't a fan of Mnakwethu as they feel their husband plays an enabler and encourages infidelity and men to get into polygamy, a setup whose shortcomings they have evidently experienced and clearly don't wish on other women.
Both shows, especially Mnakwethu, are part of a reality show boom in South African television. They join a long list of shows that a majority of progressives consider problematic—UyaJola 99, Seng'khathele, No Excuse Pay Papgeld etc. While a majority of those shows are based on issues many Black South Africans face such as infidelity and domestic abuse, it's their tendency to sensationalise Black pain for entertainment (similar to WorldStar Hip Hop videos) that irks some viewers.
On both Mnakwethu and Mnakwethu Happily Ever After?, it's women who are dealt the worst cards. They are the ones who have to put up with a custom that doesn't have their best interests at heart in its current form. They have to be infantilised on camera by men who complain about them not "dressing properly" the way a wife is supposed to, by simply wearing pants or "see-through" leggings. Men who themselves get away with illicit acts, with their main excuse simply being, "Ngiyindoda." (I'm a man)
Both shows are eye-opening—one gets to learn about some customs of Zulu culture and see how they fit into a largely westernised world. The shows also gauge just how much work still needs to be done when it comes to the treatment of Black women in society at large.
Meet MaShozi – Mnakwethu HEA | Mzansi Magic www.youtube.com
All three shows show different perspectives of polygamy and will sure change one's mind about the controversial marriage system. While Mseleku's family faces some challenges (who doesn't?) and has several moments of misogyny, his is still a fully functional household. The situations on Mnakwethu and Happily Ever After?, however, are nothing but a series of bad decisions—from both the men and their mistresses-turned-second wives. The ripple effects are causing damage to everyone involved including the children. All for our entertainment.
I don't know about other viewers, but I make myself feel better by reminding myself that even if the cameras were off, these stories would still be unravelling—censoring those we don't agree with makes us comfortable, but doesn't necessarily solve any problems. After all, polygamy is an orthodox and legal practice in South Africa and most African countries.
Said the Director of Local Entertainment Channels at M-Net (Mzansi Magic's parent company) Nomsa Philiso in January according to DRUM: "As Mzansi Magic, we are very excited to be showcasing content that not only entertains, but educates, and drives conversations that evoke and not provoke emotions."
Stream Uthando Nes'thembu, Mnakwethu and Mnakwethu Happily Ever After? on Showmax.