---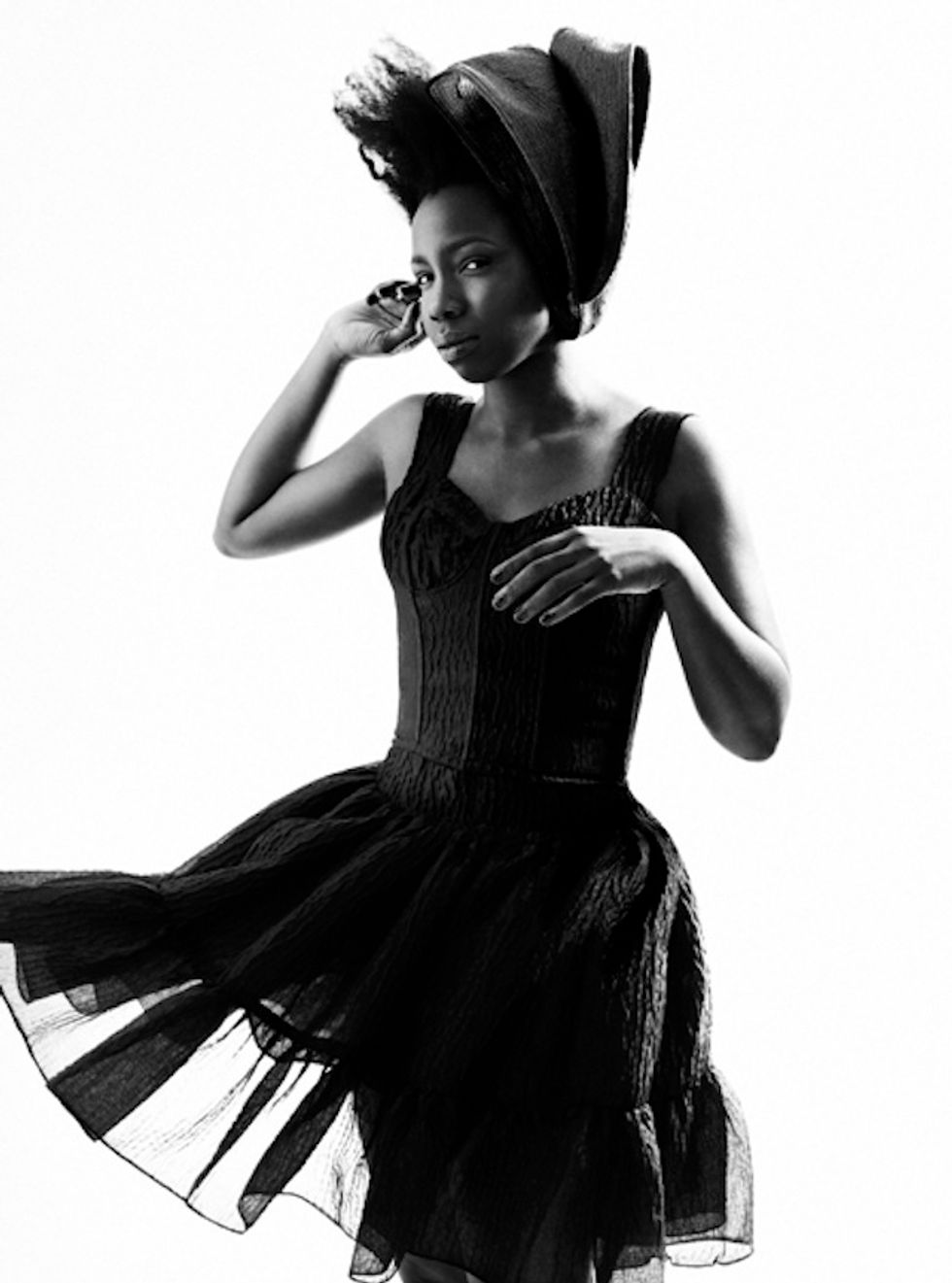 Adepero Oduye featured in Elle Magazine. Photo: Thomas Whiteside.
*Interview by Maryam Kazeem
It's been ten years since she started acting and, while Nigerian-American Adepero Oduye knows that her successes are nothing to be shy about, the actress beams with humility. Known for her performance in Dee Rees'sPariah, the progression of Adepero's career demonstrates there's not much of a gap between the kind of actress she wants to be and is. With recognition in Time Magazine's Great Performances (2012) Adepero's name has also been widely circulated for roles she hasn't even auditioned for. The controversial casting of Zoe Saldana in the upcoming Nina Simone project has come with suggestions of alternatives and without a doubt, Oduye's name is in every article, blog post, comment or rant.
In milieu of Hollywood's 'myth' of the tragic black female actor, suggestions that black women cannot succeed unless they take roles playing maids, slaves, or hypersexualized somethings, or that to thrive one must definitely pass the paper bag test, become particularly involuted when we think about a Nigerian-American actress such as Oduye. Born in Brooklyn, NY to Nigerian parents, Adepero is proud of her Nigerian heritage but also cognizant of how her identity interacts with the roles she finds in Hollywood — to others, that is. Her upcoming role in Steve McQueen'sTwelve Years A Slave highlights some of the complexities that African actors face when seeking employment in Western based film industries, particularly Hollywood (Chiwetel Ejiofor and Adepero have been somewhat questioned for being Africans, cast as African-American slaves, because that makes so much sense when you really think about it given the temporality and history of the whole thing). When we consider how the world operates in terms of race, notions of beauty and blackness, Adepero's success in Hollywood speaks to something: her will to create and engage in spaces that seek to question or problematize these ideas on a representational meta level, but also through the content of the films she has acted in thus far.
The first time Adepero and I meet we have a long discussion about hair, because let's face it, amongst "naturals" the conversation is bound to come up. This interview is our third encounter and our conversation flows as we discuss how Adepero looks back on her somewhat abrupt decision to try acting, her growth as an artist, and all that other great identity stuff. I ask Adepero about her five years in the industry, and while she corrects me that she's actually been acting for ten years, her decade of acting comes as a surprise to her as well, in the way that usually occurs when you're doing something you love.
When I'm acting it's amazing. I think ten years in what's been amazing is that when I first started I really had no idea what the journey was going to be like or what it was supposed to be like. All I knew was that I had this thing in me — this passion in me- to act. At the time it was random, but when I look back it actually wasn't random at all.  So for me to be at this point from where I started? It's surreal, especially because I knew what I wanted to do but I didn't feel like there were any examples of people who had done it before me- that were like me.

I thought for a while that maybe I was trying to do something that was impossible. I remember thinking "no one wants to see someone who looks like me on the big screen." Fast forward to being at Sundance and doing the Q&A and at that moment just thinking like "Wow. How did I get here?" Now I know that anything is possible. Right now I almost feel like "now what?" It's one thing to dream a dream and another thing to do something about it. I feel like at this stage in my life I'm interested in writing, and collaborating and creating projects.  I've never really been a person to wait so now I want to be a part of creating more work that I want to see out there. And that's a new challenge.
While her focus has been acting, Adepero has also started pursuing other aspects of her creativity which come with their own challenges:
I've been writing stories; and coming into myself as a writer is a journey I'm experiencing at the moment. I feel like everything has set me up to this point where I feel ready to try and expand and build on what I've experienced and achieved. But, in some ways, I also feel like I'm starting out new every day you know? I wrote a short film recently that I'm going to shoot — and before I would be scared to even say I wrote something, but I'm in a different place now where I'm not afraid to mess up.