Last year Nneka Onuorah debuted The Legend of the Underground at Tribeca Film Festival, earning acclaim for the searing account of heartbreak and resiliency her film in Nigeria's gay community that her film portrayed. This year, the Nigerian-American director serves up something a little different, at another high-profile film festival, South by Southwest. Episodes of Onuorah's latest project, Lizzo's Watch Out For The Big Grrrls, debuted at SXSW, before heading to Amazon Prime Video from March 25th.
---
While at first, the unscripted show, in which ten girls compete for the chance of joining the 'Good as Hell' singer on stage, may seem worlds away from Onuorah's previous work, it shares much in common. Over the course of eight episodes, the show follows Lizzo as she searches for backup dancers for her next world tour, focusing on and highlighting diverse body and racial representation. As Lizzo says in the trailer, "Girls that look like me don't get representation."
Representation is a key focus of Onuorah's projects, which champion social justice. From documentary features to streaming series, commercials to campaigns, she's always looking for ways to uplift those who aren't often given the chance to be seen and heard in the media. Onuorah, who became a filmmaker by what she calls "divine intervention," began her career as a television producer for BET Networks before pursuing film.
Her first documentary, titled The Same Difference, about internalized homophobia within the Black lesbian community, was nominated for a GLAAD award in the category of Best Documentary.
OkayAfrica spoke to Onuorah about how her latest work with Lizzo extends her aim to uplift and give voice to those whose voices we don't hear from enough.
Interview has been edited for length and clarity.
Lizzo is such a staunch advocate for representation, but what was it about the series that made you want to be involved in it?
Anytime there are nuanced stories that need a commercial platform – and we can tell them in an entertaining and compelling way, and it means something to people and it moves people, and it speaks to a bigger universal theme that the world needs to hear, that they currently aren't hearing in the right way – that's always a draw for me. I've worked a lot in activism and championing communities who are othered, and so anything that goes in that direction is definitely up my alley. And then especially if it has to do with Black women, and then taking it further, it has to do with dance. I used to be a dancer before I even started working in film and television. So when it had dance in it, that just put the extra sauce on it, and it was Amazon, who I love. It had all the pieces; Lizzo's amazing, the girls are incredible. I got to watch some of their tapes. And then when [Amazon] said that I could bring my take to it, I was, like, 'I have to do it.'
Lizzo seems like someone who really lives what she says – what is she like to work with?
Working with Lizzo is fun because she's hilarious, she just tells lots of jokes. She listens to you as a director. Working with talent isn't always the easiest but Lizzo's very easy-going onset. Any of the creative direction I've ever given her, she was open to taking, and she was very intentional about making sure that there wasn't anything negative between the girls but that they had a positive experience. That's all you can ask for when you're working with an artist, so she was amazing to work with.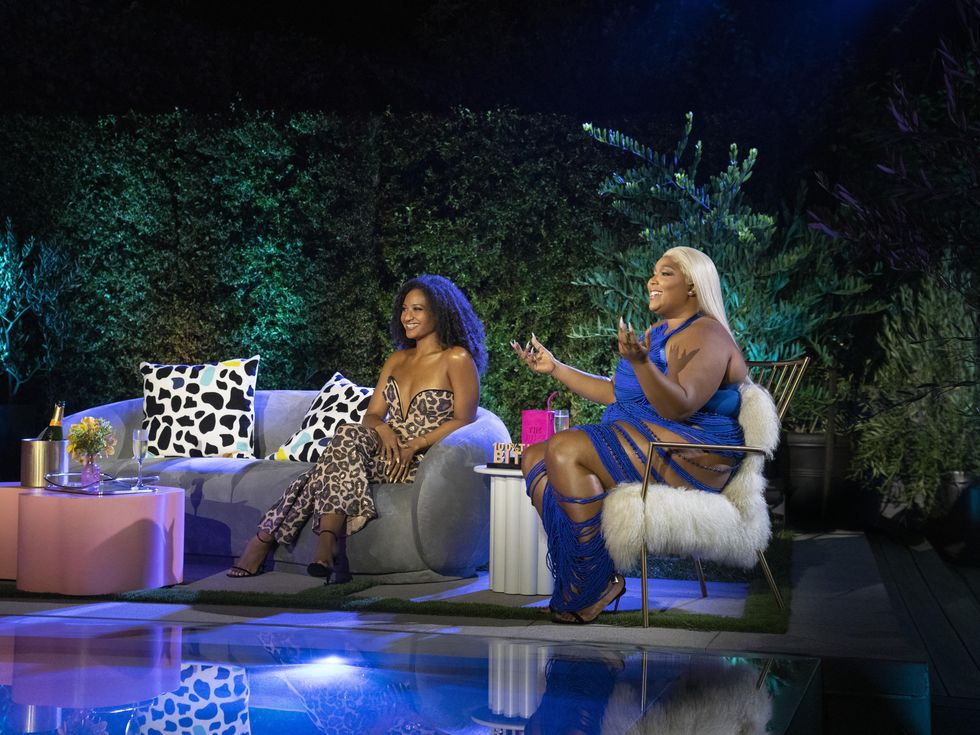 Lizzo with Big Grrrl dancer Shirlene Quigley in an episode of her reality series, directed by Nneka Onuorah.
Photo: James Clark/Amazon Prime Video

Your projects, in various ways, have ties to your activist roots and your desire to tackle stories that aren't often heard. Was there anything that was challenging about this particular way of doing that – especially the reality TV format?
Yeah, I was, like, 'How do I make this authentic to me?' And I think that making that authentic to me meant that I had to bring some realism and some beautiful visuals and documentary elements to it. My pitch was, 'This needs to feel real, and it needs to feel fresh and young.' Sometimes the challenge when you come into a new genre of television is that they might be used to things being done a certain way. I come from film, and in film, you tell the story directly with the people, and normally in a reality series there's a little bit of a separation between subjects and the actual process, but for me, I completely broke the format and went into spending time with the girls. I got from behind the control room and in with them because that's my style of storytelling.
You went back to Nigeria when you were working on the Legend of the Underground - how did that trip impact you?
I was born here, my mom's from Harlem and my dad is from Nigeria. He is Igbo, and so my father came here when he was about 16. Funnily enough, my father used to work in production in Nigeria, which I didn't even know; he didn't tell me that my whole life until I did this Lizzo project. I went back when I was six years old, for a few months. I spent some time with my grandparents and my cousins in Nigeria. So it was my first time going back when I did the
Legend of the Underground
to make the film because I felt so disconnected. I knew there was a community that was different out there, but I didn't have access to them. So when I actually met some asylum seekers in New York City, who came from Nigeria, I was, like, 'Wait, we exist?' They invited me to a party, and it was a big group of Nigerian nonconformists, and I was, like, 'Wait a second, we exist out there? And they're, like, 'Oh, yeah, let me introduce you to some people.' So it was my first time connecting with my roots in an authentic way, with my Nigerian heritage. It's such a beautiful thing to experience.
And how has that experience informed your work going forward?
It has a great impact in my life. It's funny, being raised African American in the United States and then being raised also by my father, who's Nigerian, I always had those two dual upbringings. I feel like I was able to connect with how much of our art, like dance, comes straight from Nigeria and Africa, and how so many things have been beaten out of us, how they've been systematically taken away from us, and making us feel like the credit belongs to someone else. But it actually comes from Nigerian roots. Things like dance, for this show, things like our food, the way we move, our bodies and how they're supposed to be built. Things like that, I think are inherently African, and I think expending more time there made me see it in a more authentic way. I always knew it intellectually, but until you experience something you can't really know it. Spending time in Nigeria and just immersing myself around people who are like me – from the soul, spirit and blood – really has a deep impact on me that I think will never go away. It's in the forefront of my mind now.