Collage by Ta'Ron Joyner
Reading for the End of the World
South African writer Bongani Kona gives us his reading list for the apocalypse.
This essay is part of OkayAfrica's SA Reframed series, featuring personal writing from some of South Africa's best young writers edited by Verashni Pillay.
There have been times in my life when I read as much as a book a week. But that avid reader is a stranger to me now; a stranger from a time when we could breathe in the air outside without being afraid.

That's all changed.
So is it absurd to recommend books to read during a global pandemic; when so many of us are — literally and figuratively — struggling to breathe? Or perhaps literature and art can provide the very consolation we need.
I'm too much on edge nowadays to read as much as I did before but the following are books I find myself returning to, in search of beauty, prescience, and instruction on how to live with loss.
---
​Chernobyl Prayer: A Chronicle of the Future
By Svetlana Alexievich

On 26 April 1986, at 1.23 A.M Moscow time, Reactor No. 4 at the Chernobyl nuclear power plant exploded during a routine maintenance drill. The accident led to one of the worst nuclear disasters in human history. Massive amounts of the power plant's ninety metric tons of uranium were released into the atmosphere and more than a hundred thousand people had to be evacuated from the heavily contaminated area closest to the reactor site. Belarusian writer Svetlana Alexievich counted her sister, a medical doctor, and fifteen childhood friends among the dead and her chronicle of the disaster, Chernobyl Prayer, took several years to complete.
Subtitled, 'A Chronicle of the Future,' the book is eerily prescient now, with a vast percentage of the world's population under lockdown. Police and military personnel have been deployed to all corners and the air is coarse with the language of combat. One can't argue with Alexievich when she says that 'we now find ourselves on a new page in history. The history of disasters has begun.'
The people nearest to the power plant had come closer than anyone on earth to a vision of doomsday: nuclear apocalypse. The air in the heavily contaminated area, later known as the Zone, had become poisonous; even the animals could sense the danger. Cats stopped eating the dead mice and cows stopped drinking from the rivers. 'Death lurked everywhere,' Alexievich writes, 'but this was a different sort of death. Donning new masks, wearing a strange guise.'
​Triangulum
By Masande Ntshanga

The relationship between illness and the state and society is a recurring theme in South African novelist Masande Ntshanga's writing - from his prize-winning short story, 'Space', to his acclaimed debut novel, The Reactive. It's no different in Triangulum, Ntshanga's exquisite second novel.
Like Chernobyl Prayer, Triangulum is also a message from the future, this time 'announcing the end of our world in 2050'. The novel opens with a foreword by a, we're told, once renowned science fiction writer, Dr. Naomi Buthelezi. The year is 2043 and the foreword outlines how the book in our hands emerged from a vast set of written materials and digital recordings sent anonymously to the South African National Space Agency. We're also told the book is slated for publication in 2044, fifty years after the (actual) collapse of the homelands, or Bantustans, ethnic balkans established by the apartheid government.
The novel chronicles the life of a maths prodigy who is "thought of as defective" and heavily medicated. In her early teenage years she communicates with an extra-terrestrial intelligence known only as "the machine," and grows up to become a data scientist for a government department engaged in the surveillance of citizens.
One of the big themes the author grapples with here is the 'cancellation of the future'. As academic Njabulo Ndebele has argued: when apartheid ended, in name at least, "instead of setting out to create a new reality,", the South African state sought instead to keep the structure of the economy (with its inherent inequalities) intact. Ntshanga's novel extrapolates on the kind of future that lies in wait if the country, and the world-at-large, doesn't change course.
Do Not Say We Have Nothing
By Madeleine Thien
History is also the subject of Madeleine Thien's transcendent novel, Do Not Say We Have Nothing. Thien confided in a recent essay that she felt a persistent undertow of sorrow during the writing of her second novel, Dogs at the Perimeter, which spotlights the Cambodian genocide carried out under the Khmer Rouge (1975-79), and which resulted in nearly two million deaths. Her doctors diagnosed this sorrow as depression. The depression persisted even after the novel's publication in 2011. But this all changed one morning when, out on a long walk through the streets of Berlin, she listened to Glen Gould's 1955 recording of Bach's Goldberg Variations playing in her headphones.

"These unfolding variations elicit joy, playfulness, grief, lightness, devastation, wonder, and more: a universe of feelings for which we have no names," Thien wrote. "I wept...So many things of life seemed tied together, unwilling to be seperated, shading into the next and the next."
Over the next five years, Thien listened repeatedly to the Goldberg Variations as she worked on her third novel which traces the splintered history of two families, from the Chinese Civil War and the Cultural Revolution to the Tiananmen Square protests in 1989 and its aftermath. Do Not Say We Have Nothing begins with the lines: "In a single year, my father left us twice. The first time, to end his marriage, and the second, when he took his own life." Like the Goldberg Variations, Thien's kaleidoscopic novel elicits joy, playfulness, grief, lightness, devastation, wonder and more: a universe of feelings for which we have no name.
A General Theory of Oblivion
By José Eduardo Agualusa

Although José Eduardo Agualusa's A General Theory of Oblivion is a work of fiction that delves into the war-torn history of Angola, it has its origins in the real-life story of a Portuguese expatriate who spent 28 years without once setting foot outside of her apartment in Luanda. Ludovica Fernandes Mano, the heroine of the novel, died in 2005, aged 85. Agualusa was given access to the notebooks she kept during the early years of her self-imposed confinement. He also had a cache of photographs of the apartment taken by the visual artist, Sacramento Neto, after Ludovica's emerged again into the outside world after those 28 years.
Told in fragments, Agualusa's novel traces the arc of Angola's recent history - from the dashed hopes of independence to the traumas of the civil war - through the life of a reluctant participant. In the novel, when Ludovica runs out of paper, she begins to use charcoal to write on the apartment's walls and when the space on the walls runs out, she laments: "If I still had the space, the charcoal, and available walls, I could compose a great work about forgetting: a general theory of oblivion."
A Hundred Silences
By Gabeba Baderoon

It is a difficult task to have to single out any of Gabeba Baderoon's poetry books, but A Hundred Silences contains my favourite poem, 'Give'. Baderoon was born in the late 60s, in apartheid South Africa, and her poetry explores a wide-range of themes including race, history, trauma, memory, love and loss. Yet in all her writing there exists an invitation to deepen your attention, which in itself feels like a call to prayer.
Baderoon's parents were the victims of apartheid's forced removals; kicked out of their homes by a state which didn't recognise them as people. 'Give' is a tender portrait of the poet's father, and the world he inhabited. Together with his friend, an ambulance driver, he always went fishing on his day off. Baderoon evokes the 'green and white fishing rod/whipping the wind behind the '76 Corolla,' and the good days they returned with black bream and yellowtail.
But it is the days when the two men returned empty handed that Baderoon wonders about in the poem's last stanza:
I wonder about the empty days, more frequent,
the solitary standing in the dark at the edge,
of something vast, sea and sky,
throwing a thin line into the give of it
and waiting, silent and waiting,
until something pulls
against your weight.
There's something transcendent in the way Baderoon sees the world.
Circling back to Chernobyl Prayer, Alexievich writes that the people she interviewed knew death would soon come for them and they pleaded with her to write it all down, for their descendants who would come after. Who knows how writers, visual artists, theatre practitioners, choreographers, filmmakers and musicians will document this moment in our history? But Über(w)unden: Art in Troubled Times is a useful guidebook. It details how some artists on the continent have engaged with social traumas in the past. And in her essay in the book, 'Re-dreaming a future', the South African poet Antjie Krog concludes that perhaps the "only thing art can do: try to transform pain into a kind of beauty so that one, at times, can live with loss."
Bongani Kona is a writer and co-editor of Migrations, a Short Story Day Africa anthology. His writing has appeared in Hair: Weaving & Unpicking Stories of Identity, Black Tax: Burden or Ubuntu?, Redemption Song and Other Stories and in a variety of other publications and anthologies.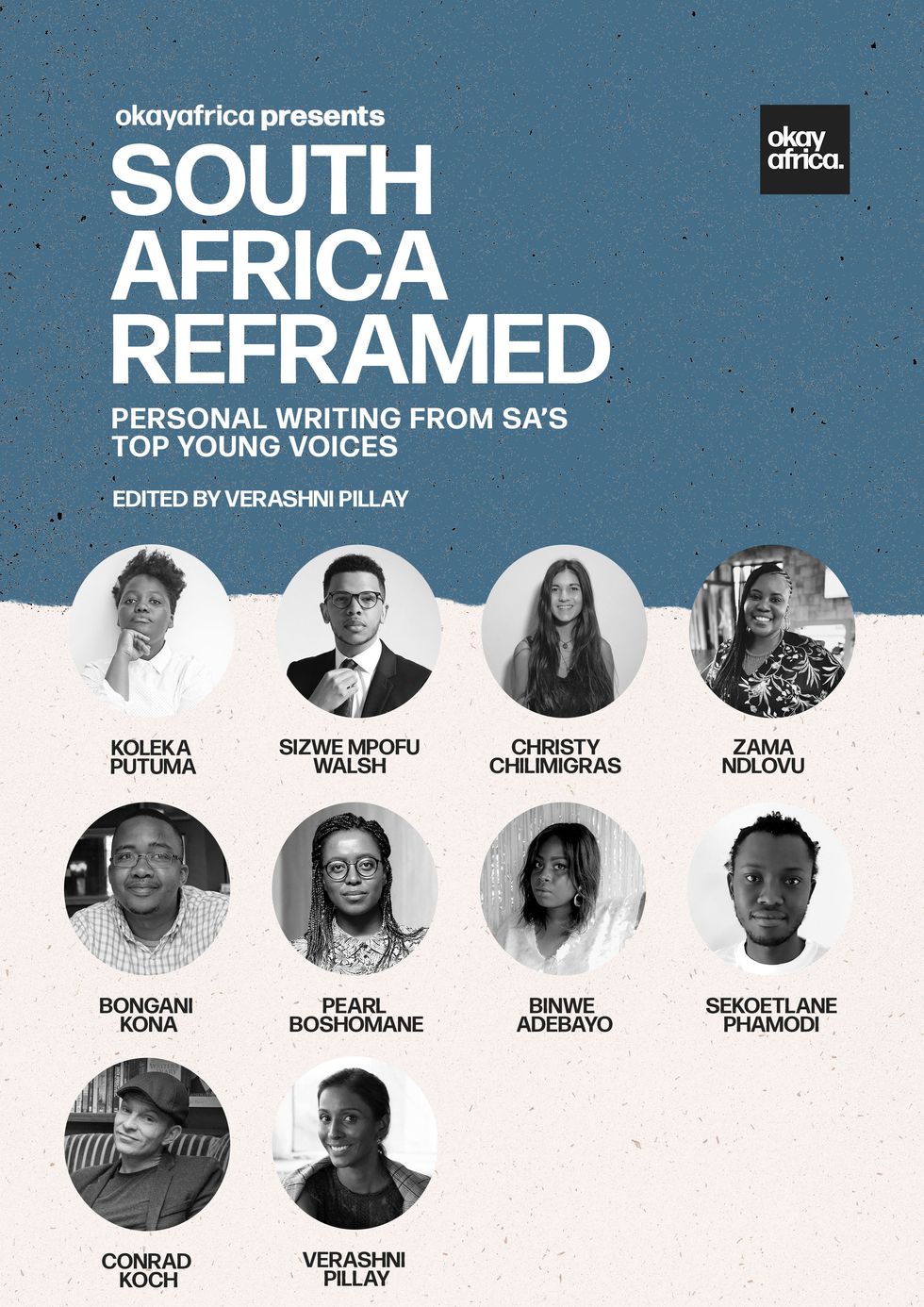 OkayAfrica presents South Africa Reframed, an ongoing series of new personal essays from many of South Africa's best young writers. Read more here.