AFRICA IN YOUR EARBUDS #31: Central African Republic-born DJ/producer BODDHI SATVA mixes African house music, centering on Angola.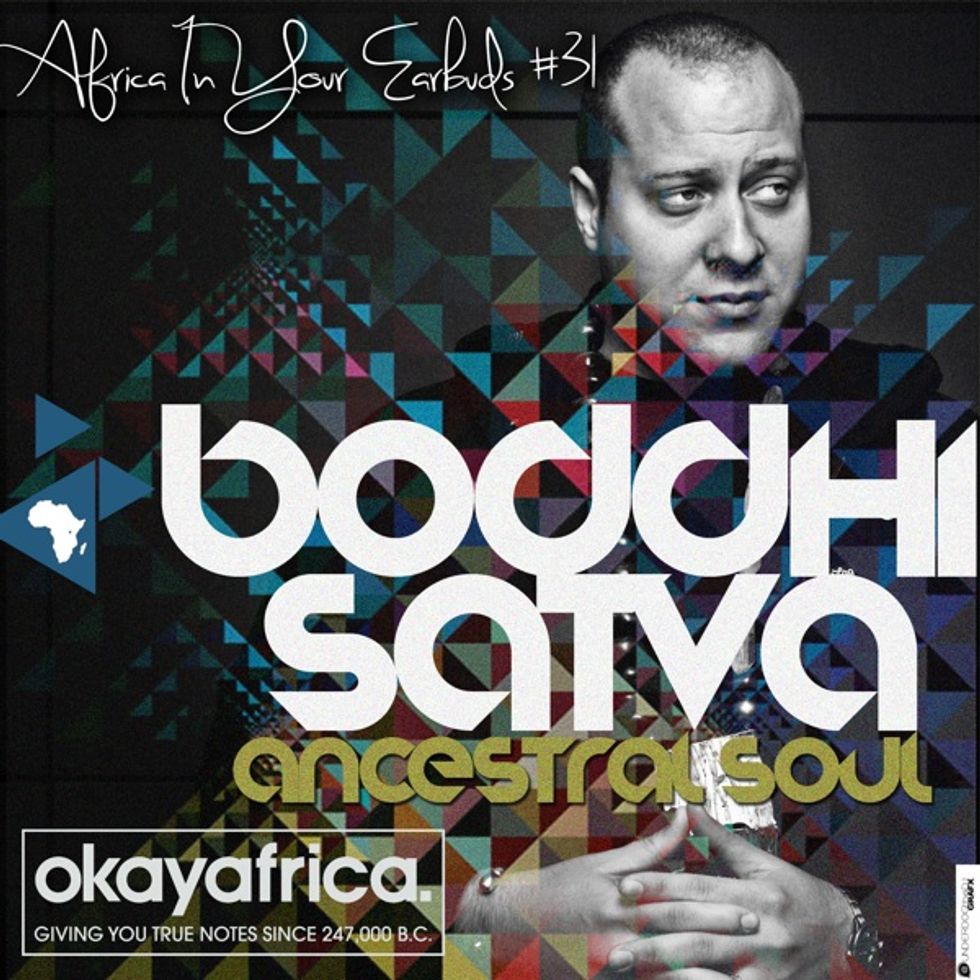 Central African Republic-born DJ/producer, and Offering Recordings head, Boddhi Satva has been fermenting a signature sound he calls Ancestral Soul — a concoction of deep house infused with Central/West African rhythms and urban R&B, all shaped by mentors and collaborators such as Osunlade, Louie Vega and Alton Miller.
In Africa In Your Earbuds #31 he delivers an hour-long excursion into the many mutations of African house music, centering on Angola. As Boddhi Satva explains:
I have chosen to take the listener on a journey with various forms of Afro House by the likes of Atjazz, Rancido and Djeff from Angola. I first heard of him when I was mixing my album at Vega Records Studios, and Anané Vega played "Tambuleno" produced by Djeff & Silyvi. I had no idea Angola got down like that! I first went to there in 2010 and I was completely blown away. Angola is where it's at pretty much. Culturally, it has a growing impact on many other regions in Africa and throughout the world. I later met Djeff & Silyvi in Luanda and put out their track "Mwini" on my label Offering.
Stream/download AIYE #31: Boddhi Satva below! Big thanks to Underdog for the cover artwork.
TRACKLIST
01. Roland Brival - Sakitoya (Yoruba Soul Remix) (Martinique)
02. Zaki Ibrahim - Go Widdit (South Africa)
03. Alton Miller feat. Abacus - Ever Wonder (Unreleased Mix) (USA)
04. Rancido feat. Kholi - Easy (Deep Journey Main Mix) (Surinam & South Africa)
05. Kerri Chandler - Rain (Atjazz Remix) (USA & UK)
06. Robert Glasper feat. Meshell Ndegeocello - The Consequences of Jealousy (Boddhi Satva Ancestral Soul Remix) (USA & C.A.R)
07. Erin Leah - Radio Billy Stere Ella (N'Dinga Gaba Remix) (USA & C.A.R)
08. Siso K feat. Tumi - Lerato (Trinidadiandeep JuJu Remix) (South Africa & Trinidad)
09. Boddhi Satva feat. Oumou Sangaré - Ngnari Konon (Ancestral Soul Remix)
10. Dj Dorivaldo feat. Dr Tchubi & Péquente - Tchamayka (Original Mix) (Angola & DRC)
11. G'Sparks - Mukubwa(DRC)
12. Boddhi Satva feat. Mangala Camara - Nankoumandjan (Ancestral Dékalé Remix) (C.A.R & Mali)
13. Dj Djeff feat. Gari Sinedima - Piluka (Dub Mix)
Previously on Africa In Your Earbuds: L'AFRIQUE SOM SYSTEME, NOMADIC WAX, THE BROTHER MOVES ON, LV, BEN ASSITER [JAMES BLAKE'S DRUMMER], JAKOBSNAKE, CHRISTIAN TIGER SCHOOL, SAUL WILLIAMS, TUNE-YARDS, MATHIEU SCHREYER, BLK JKS, ALEC LOMAMI, DJ MOMA, AWESOME TAPES FROM AFRICA, PETITE NOIR, OLUGBENGA, RICH MEDINA, VOICES OF BLACK, LAMIN FOFANA, CHICO MANN, DJ UNDERDOG, DJ OBAH, SABINE, BROTHA ONACI, DJ AQBT, JUST A BAND, STIMULUS, QOOL DJ MARV, SINKANE, CHIEF BOIMA
Keep reading...
Show less