Download Mathieu Schreyer's African music mixtape Africa In Your Earbuds #39.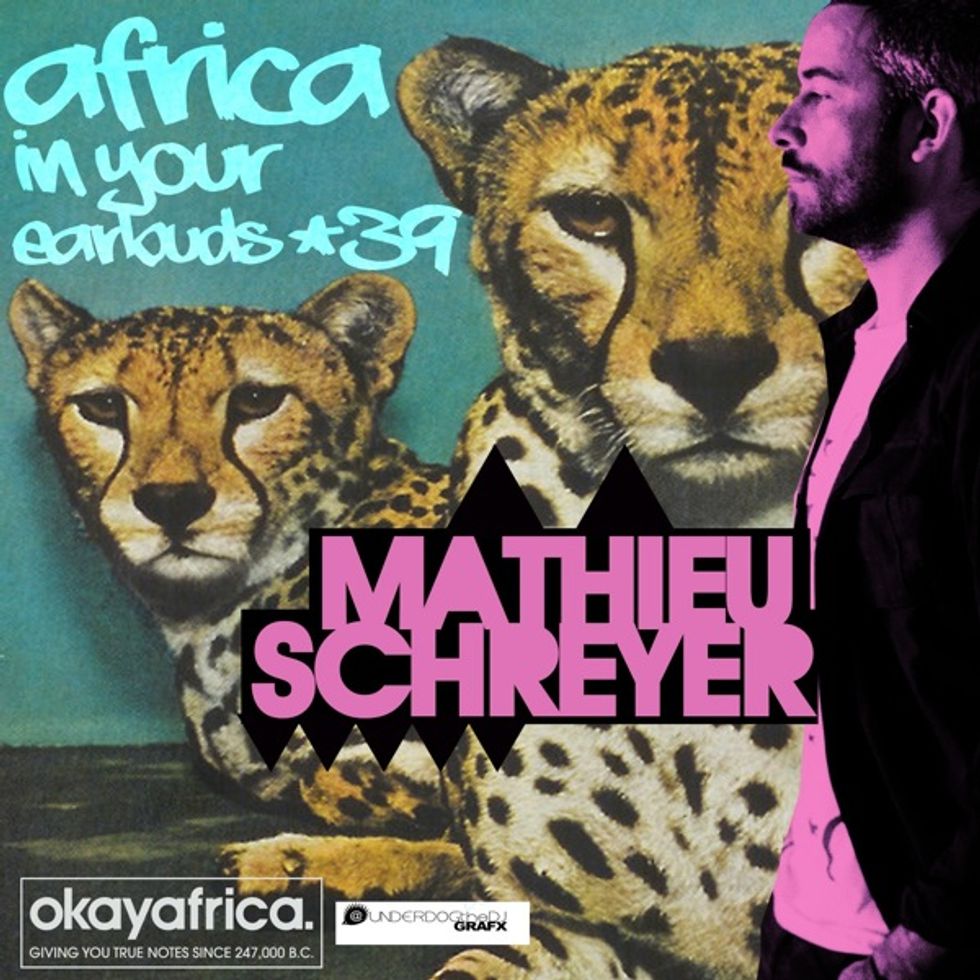 For his second instance behind the decks of an Africa In Your Earbuds, KCRW global sounds radio host Mathieu Schreyer provides a slow-burning. meditative mixtape. Don't be fooled though, by the time you get a quarter into the mix Schreyer's seamlessly flipped the initial tranquility of the tracks to infectious footwork material.
The hour-long AIYE #39: Mathieu Schreyer features a broad-base of selections from the likes of Francis Bebey, Musiques Sans Paroles, Blitz the Ambassador and débruit. Stream and download the mix below and make sure to grab Schreyer's original Earbuds mixtape. Big thanks to Underdog for the cover graphics.
TRACKLIST
Djeuhdjoah - Angelique (France)
Nasree Ndoumbe - Yone (France )
Francis Bebey - Akwaaba (Cameroon)
Musiques Sans Paroles -douga (Guinea)
Spirit Konekson - Kini Hewv (Nigeria)
Sammy Cropper and His Wire Connections - Meko a Enko (Ghana )
Blitz the Ambassador - Yɛ Da Mo Ase (Ghana Black Stars) (Ghana / New York )
Super Boiro Band - So I Si Sa (Guinea)
Fanga & Maalem Abdallah Guinea - Kelen (France / Morocco)
Dikalo - Kristo (Cameroon)
Ablaye Cissoko & Simon Goubert - Droles d Oiseaux (Senegal / France)
Debruit -Nigerian What? (France)
Like African music? Previously on Africa In Your Earbuds: YOUNG FATHERS, BBRAVE OF AKWAABA, OLD MONEY, DJ NEPTUNE, SAHEL SOUNDS, BEATENBERG, M1 [DEAD PREZ], BODDHI SATVA, L'AFRIQUE SOM SYSTEME, NOMADIC WAX, THE BROTHER MOVES ON, LV, BEN ASSITER [JAMES BLAKE'S DRUMMER], JAKOBSNAKE, CHRISTIAN TIGER SCHOOL, SAUL WILLIAMS, TUNE-YARDS, MATHIEU SCHREYER, BLK JKS, ALEC LOMAMI, DJ MOMA, AWESOME TAPES FROM AFRICA, PETITE NOIR, OLUGBENGA, RICH MEDINA, VOICES OF BLACK, LAMIN FOFANA, CHICO MANN, DJ UNDERDOG, DJ OBAH, SABINE, BROTHA ONACI, DJ AQBT, JUST A BAND, STIMULUS, QOOL DJ MARV, SINKANE, CHIEF BOIMA
Keep reading...
Show less