Video
Nov. 10, 2014 02:10PM EST
Young Fathers speak on their musical aspirations in the mini documentary series " Four to the Floor"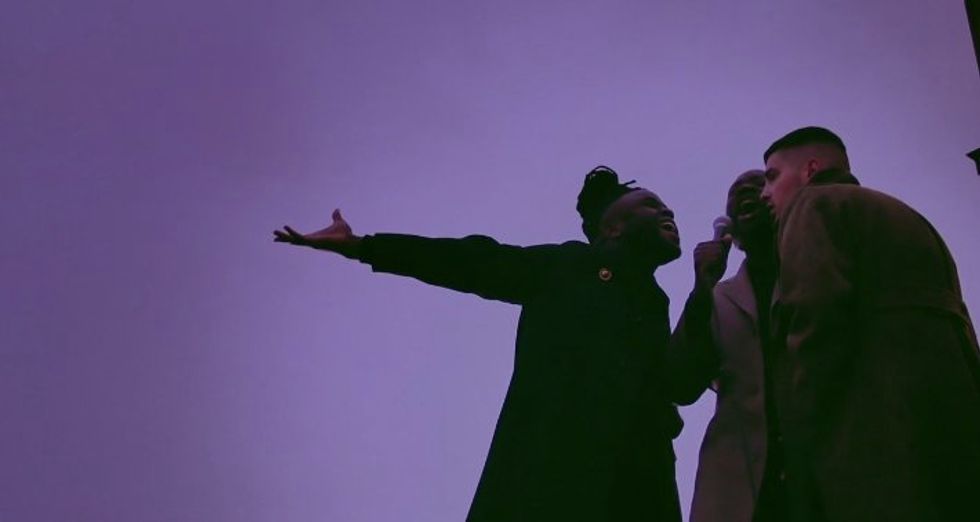 Young Fathers were recently featured on Channel 4's mini-documentary series Four to the Floor, who followed the group from a writing/recording session at their home base to an impromptu rooftop rehearsal. The episode, which originally aired in early October in the UK, is now streaming from production team Lemonade Money and director Jeremy Cole. The two previously worked together last year when Young Fathers provided the music for another mini-documentary of theirs on adolescence and belonging. Linking up once again, Alloysious, Kayus and G speak on their aspirations to rise in the charts, but by their own rules. "Top 40 is something to aspire to because we have ambition and no one here wants to hide it," they state in the video, "If were Top 40 then that's how it should be... Why Top 40? Why not Top 10?... Number 1." It's fitting that the Scottish/Liberian/Nigerian trio recently received the Barclaycard Mercury Prize for best record of 2014. Weightier topics discussed further on in the film are juxtaposed with narrator Tim Brinkhurst's lighthearted commentary throughout, such as Kayus once being voted the 22nd most eligible bachelor in Scotland. Watch Young Father's Four To The Floor mini-film below.
[vimeo_embed //player.vimeo.com/video/111089616?title=0&byline=0&portrait=0&color=ecf000 expand=1]
Keep reading...
Show less