Image via Banji Chona's Instagram
Join OkayAfrica as we celebrate love with these nostalgic photos of our parents and grandparents.
For many of us, our first introduction to love and relationships came from watching our parents. Whether or not we grew up in a traditional household, many of us, in some way or another, were exposed to older couples in our lives who radiated love in all its complexities.
Here at OkayAfrica, we're highlighting various manifestations of love throughout the month of February. In doing so, we asked our readers to send in old school photos of their parents, grandparents, aunts and uncles, and other influential couples in their lives using the hashtag #AfricanVintageLove.
What we received were timelessly beautiful images of couples from back in the day—before sliding in DMs were an acceptable means of initiating courtship—who raised proudly African children. They are pleasant reminders of how the love between those who came before us has helped shaped our identities.
Join us as we celebrate their love with the photo gallery below, sourced from both our readers and staff.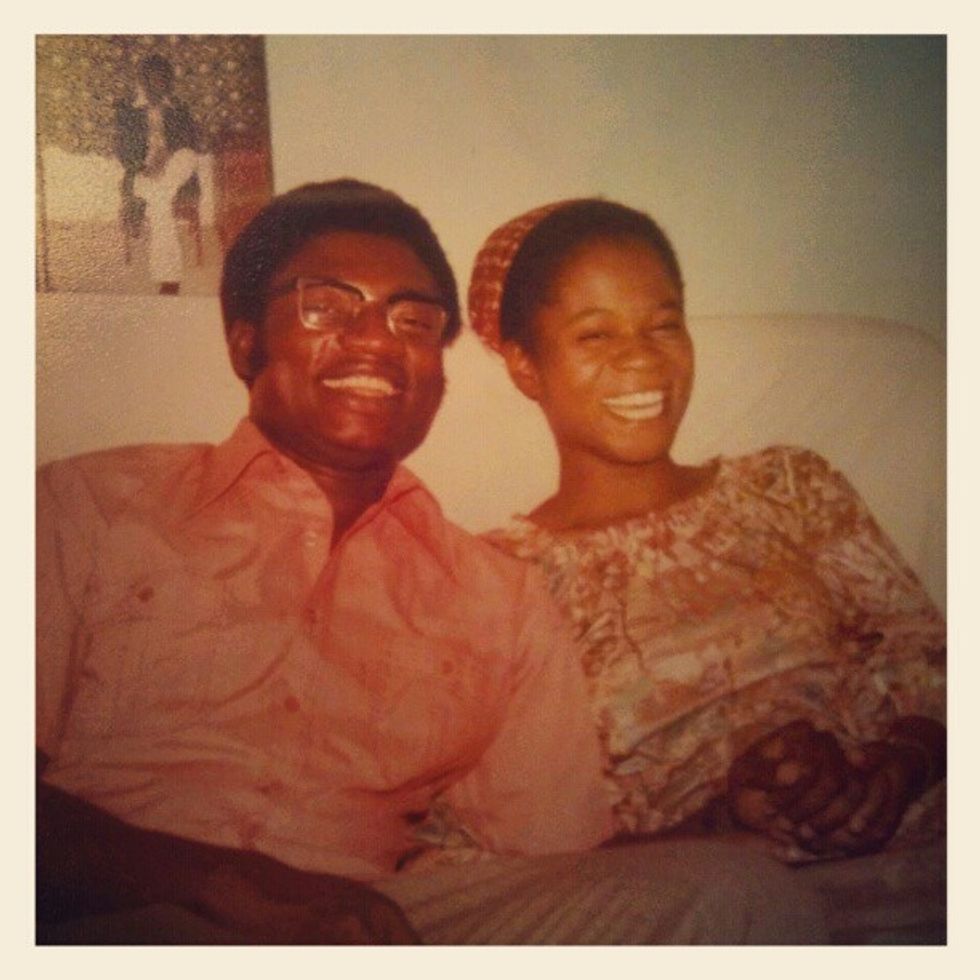 "This is my favorite vintage picture of my parents. It gives me hope for a love similar. They were still in Nigeria at this time, maybe a little while before coming to the states. My mother said they were with friends, laughing and socializing, my father was always meeting and befriending new people. My dad loved my mom very much and had always made sure she was happy, because that's what made him happy. This picture represents that selfless love. He passed away 2 years ago, and my mother still blesses us with new stories of things he did while they were together here on earth. That love was based in the love of God, and is still strong to this day. It will never die."—Nyechi Magnifique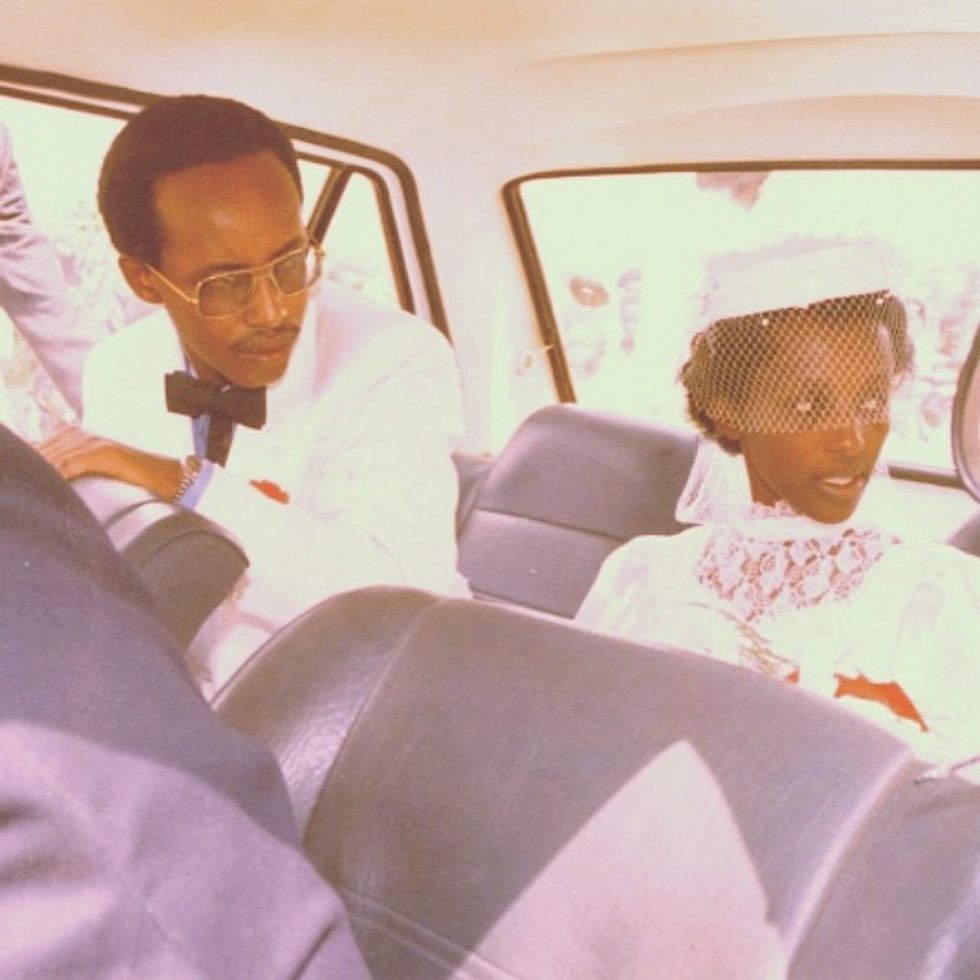 "My parents on their wedding day in Kigali, Rwanda."—Carineumu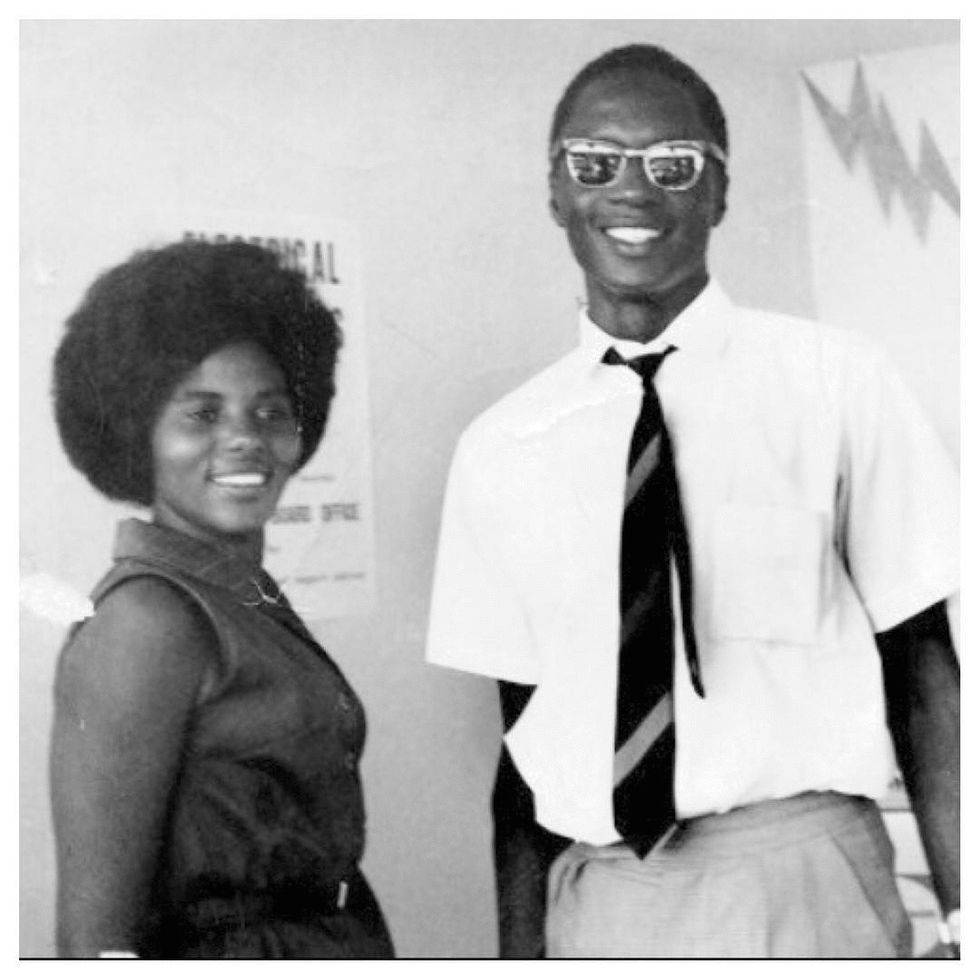 "My parents in Uganda circa '68/'69. Love this picture because not only are they happy, they look incredibly stylish as well."—Allan Kiddu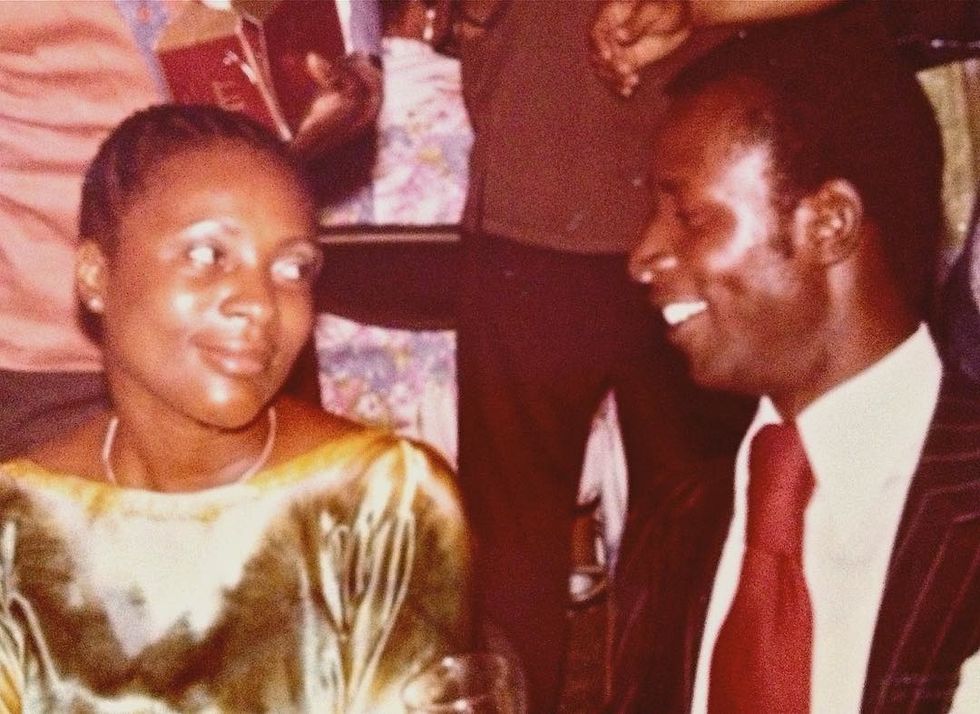 "Jamaica + Mali. My parents."—Kadidia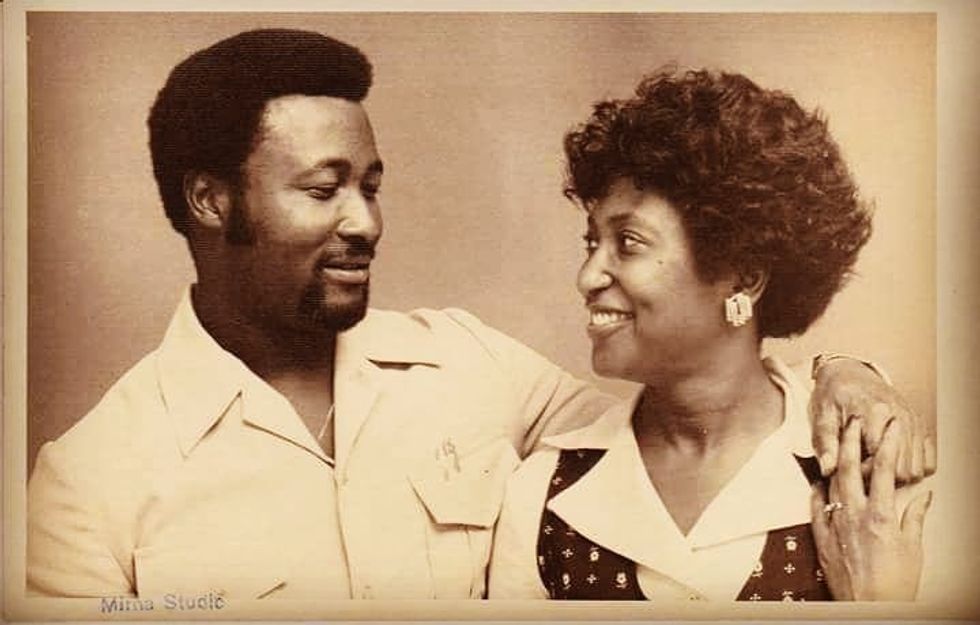 "I was going to write something clever, but how ridiculously good looking are my parents. Zoolander would be jealous. The photo above was taken in Monrovia, Liberia circa 1976 to celebrate the pending nuptials of my parents, 29 year-old Tonia King and 27 year-old Willye Mai Tolbert. In this photo you see a couple who are about to embark on a journey of forever. Although my Father has passed, his love and admiration that radiates from this photo is still felt today."—Willyann King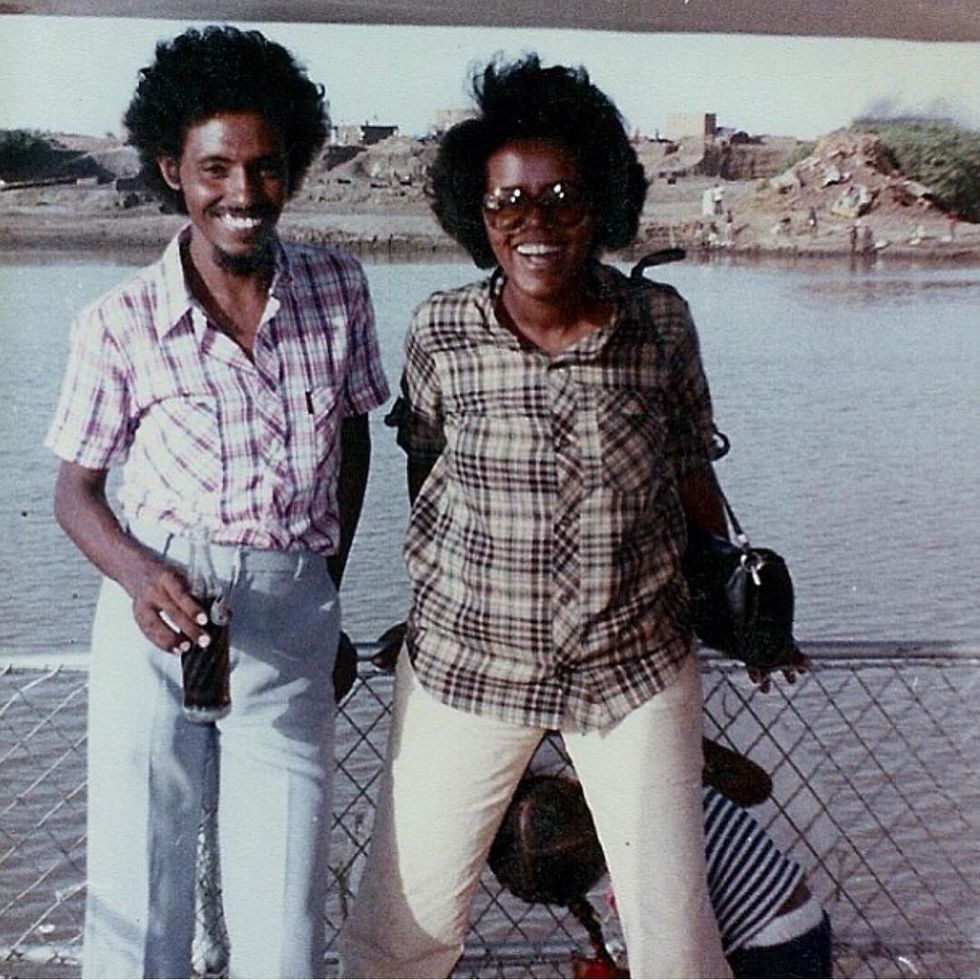 "One of my favorite pictures of my parents on the Blue Nile river. Happily married almost 40 years. My only #relationshipgoals"—Rahiel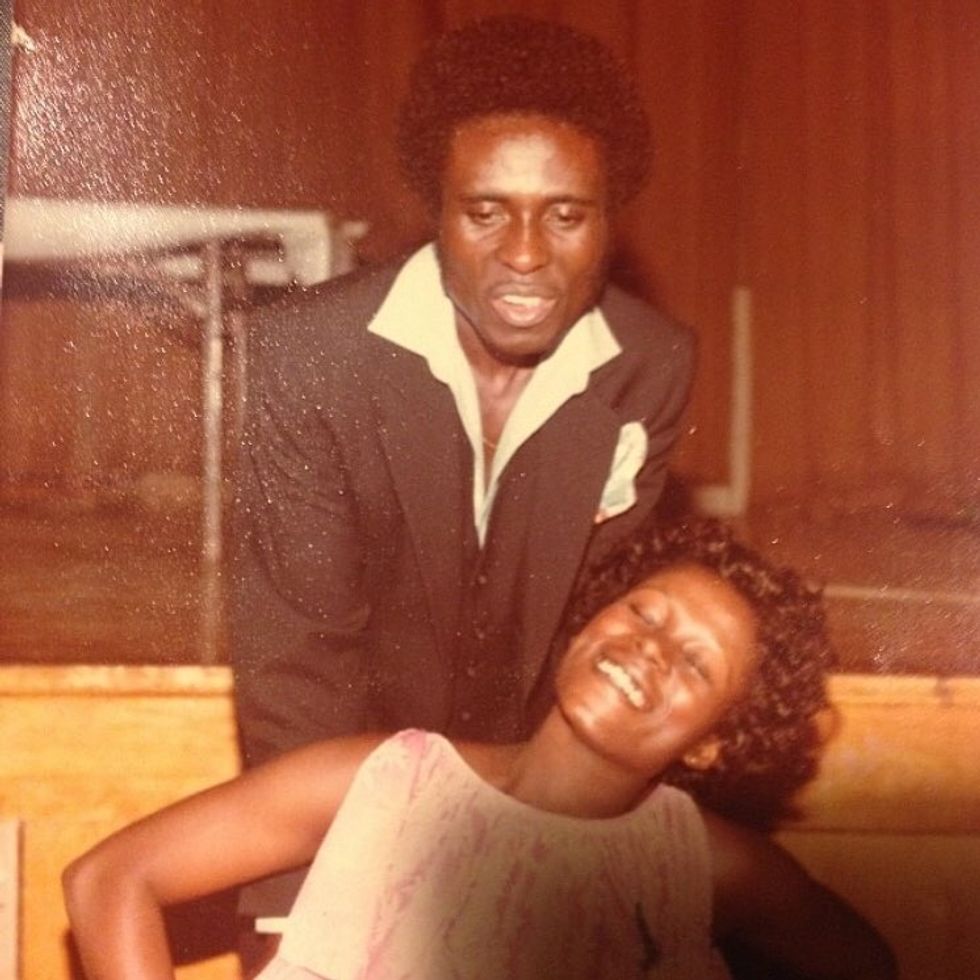 "Mom & dad caught in the moment in 1980 during my Outdooring. Newly migrated to the U.S. but despite the harshness of immigration laws at the time, nothing else mattered besides family & their happiness which is depicted in this photo."—Dufie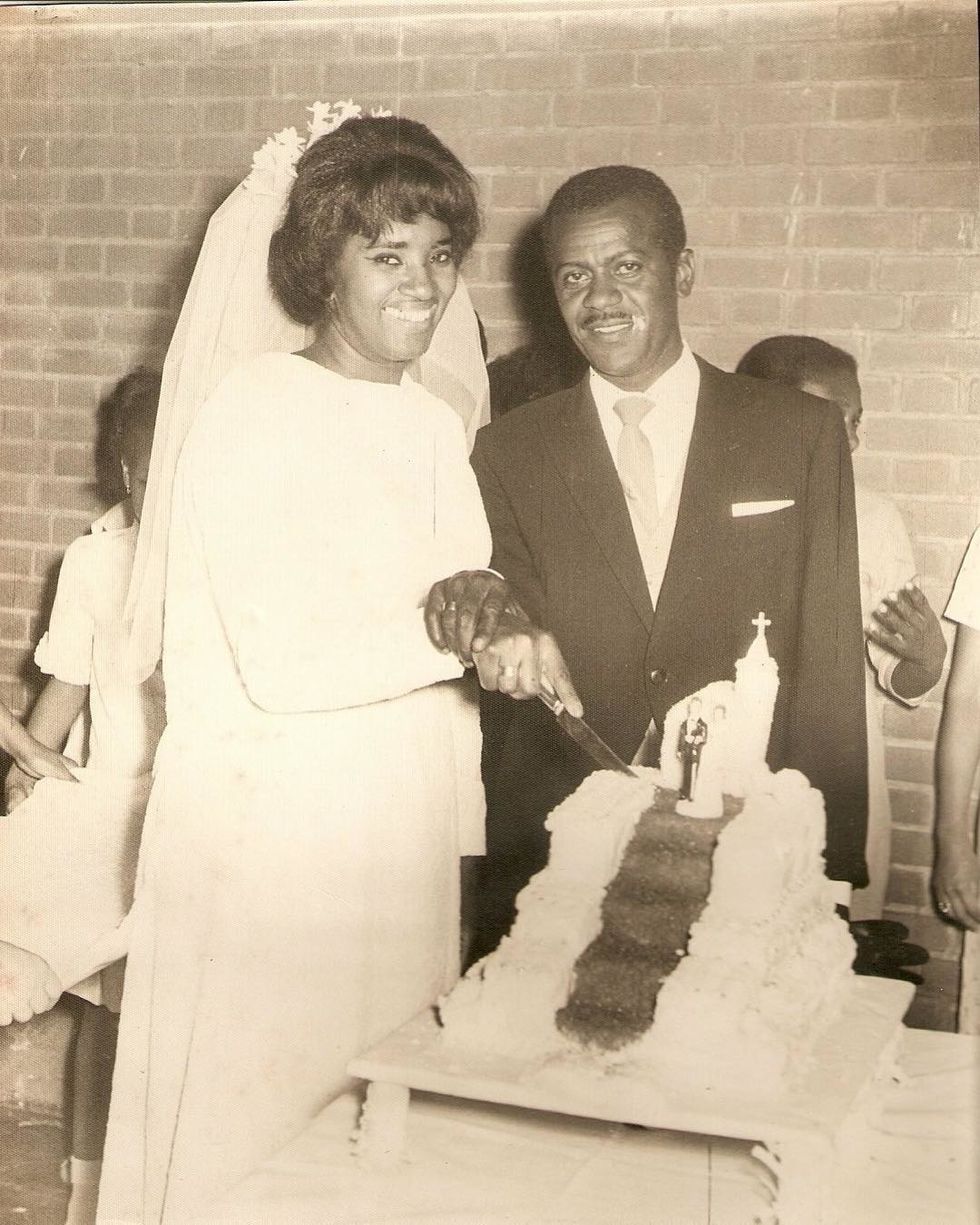 "My grandparents (Magdalena y Jesus) on their wedding day! Everything that I know about my abuelitos comes from photographs. Their personalities shine through and I feel like I know them. However, I still have so many questions to ask them. My grandma died before I had the chance and my granddad had Alzheimer's. Afro-Peruvian history isn't well documented but at least I have the images of my predecessors to hold on to. Circa1967.—Magda Uculmana-Falcon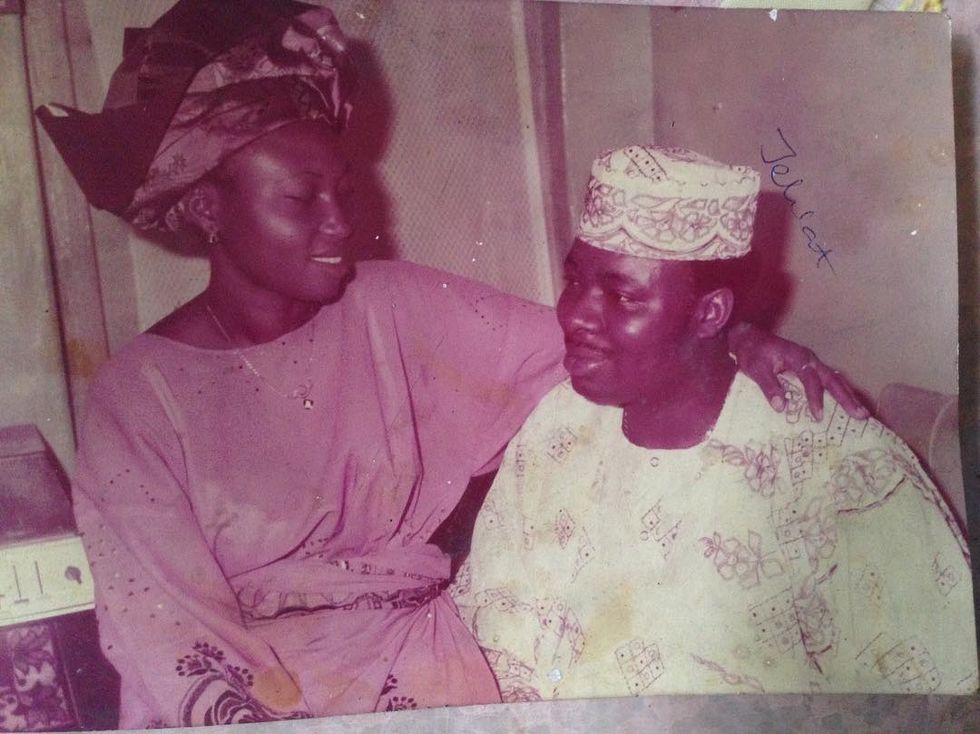 "Myy parents Alhaji & Alhaja Atanda at Ago-Iwoye, Nigeria 1984 celebrating my aunties naming ceremony."—Arc Erinfolami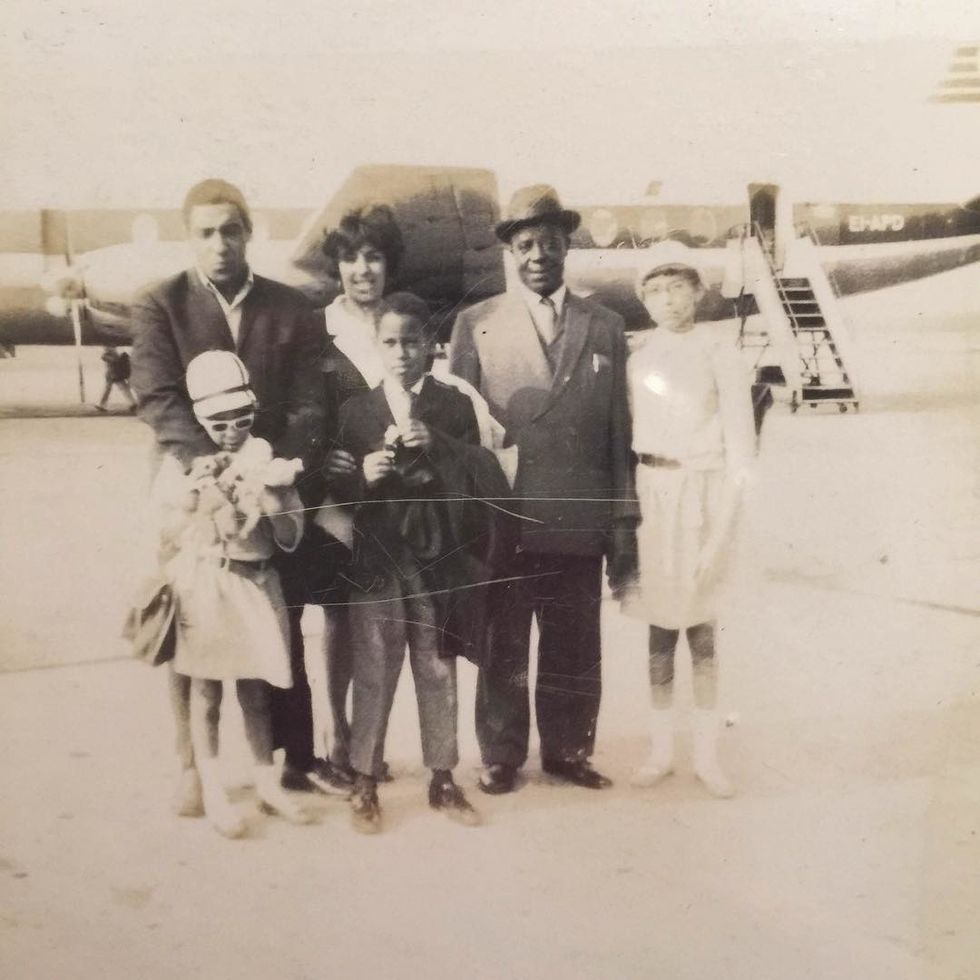 "My mom on the far right holding my great-grandfather's hand 🇨🇲 🇳🇬 🇬🇧"—Lezlie Rosa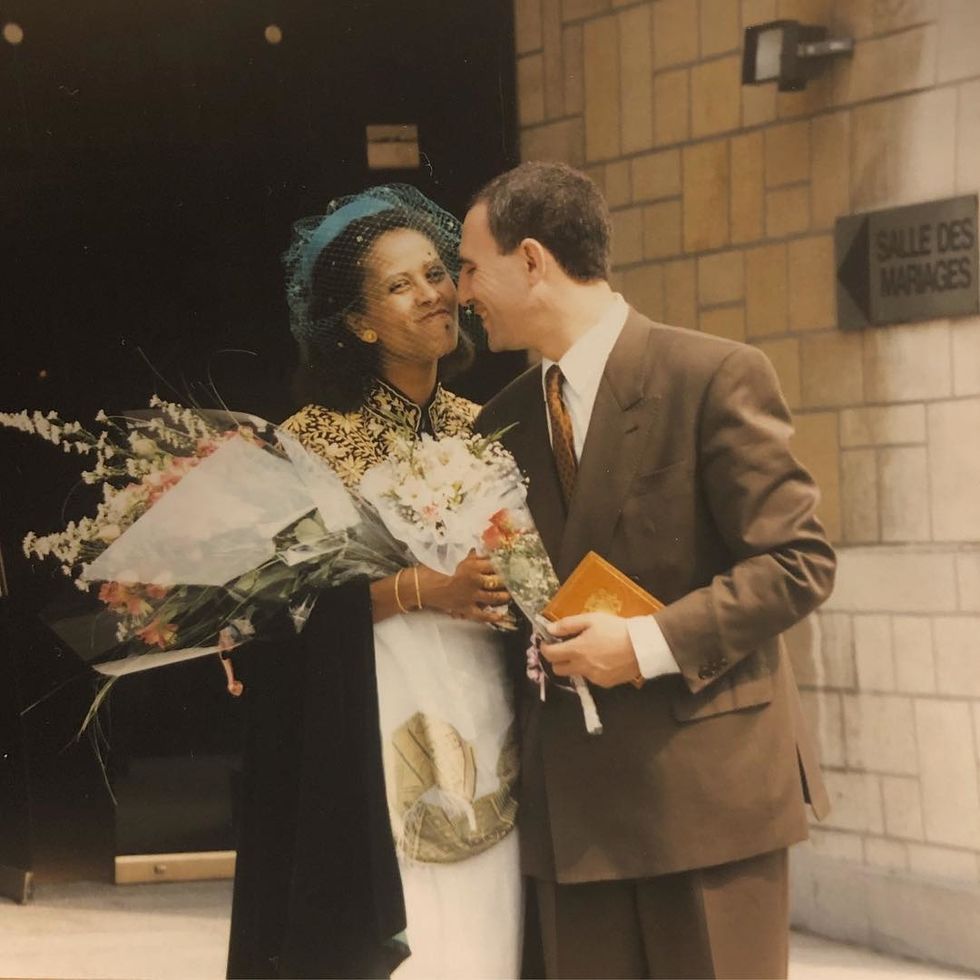 "Those who know me well know how much Brussels means to me. This is the place where my parents got married, against all odds. In the mid-80s, Algeria passed a law that forbade an Algerian diplomat to marry a foreigner (initially targeted at forbidding Algerian diplomats marrying French women). My father risked it all to be with my Ethiopian mother. After dating 3 years in Ethiopia, it took them 3 long years of uncertainty and secrecy in Brussels, including hiding the birth of my older brother, before they managed to get married. My older brother was there on that special day. He was 2 years old. It was in July 1990. A very small and very intimate wedding ceremony. This is LOVE."—Nadia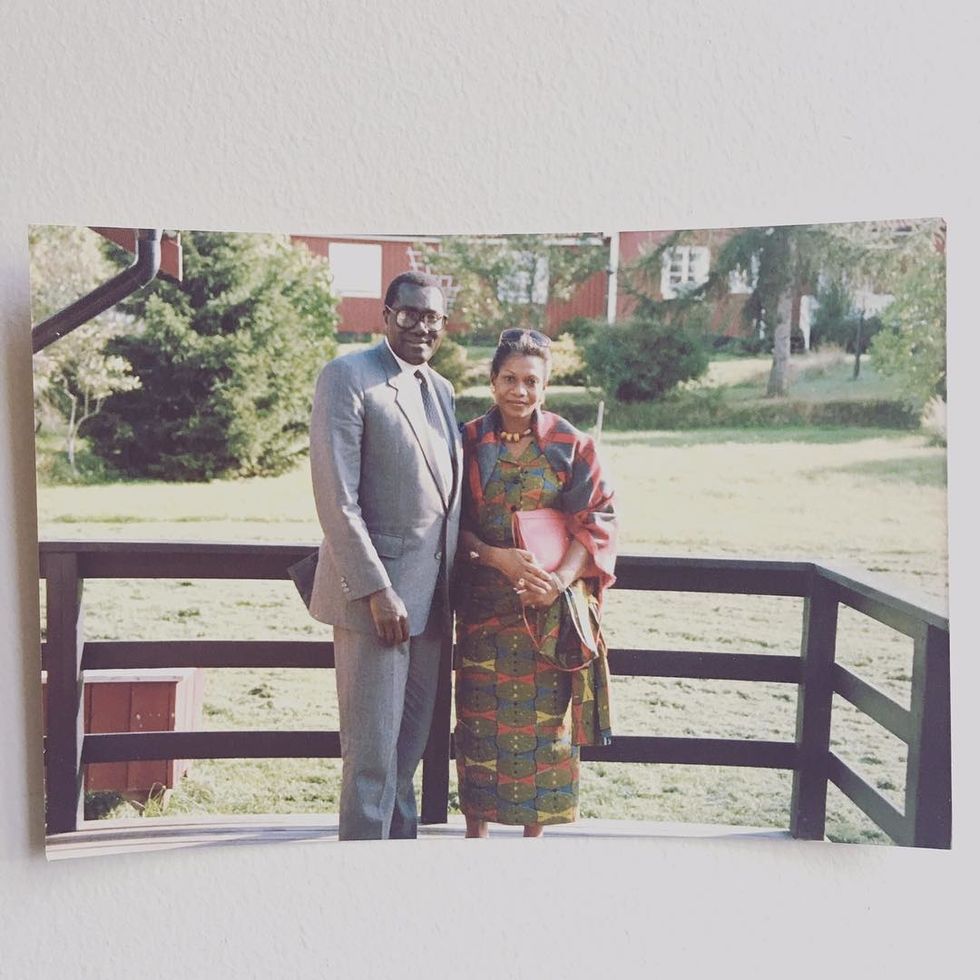 "My parents in the 80s in Sweden. One of the rarest photos I have of them together. I love how my mum was always repping her culture with finesse and style. Sweden, 1988."—Karen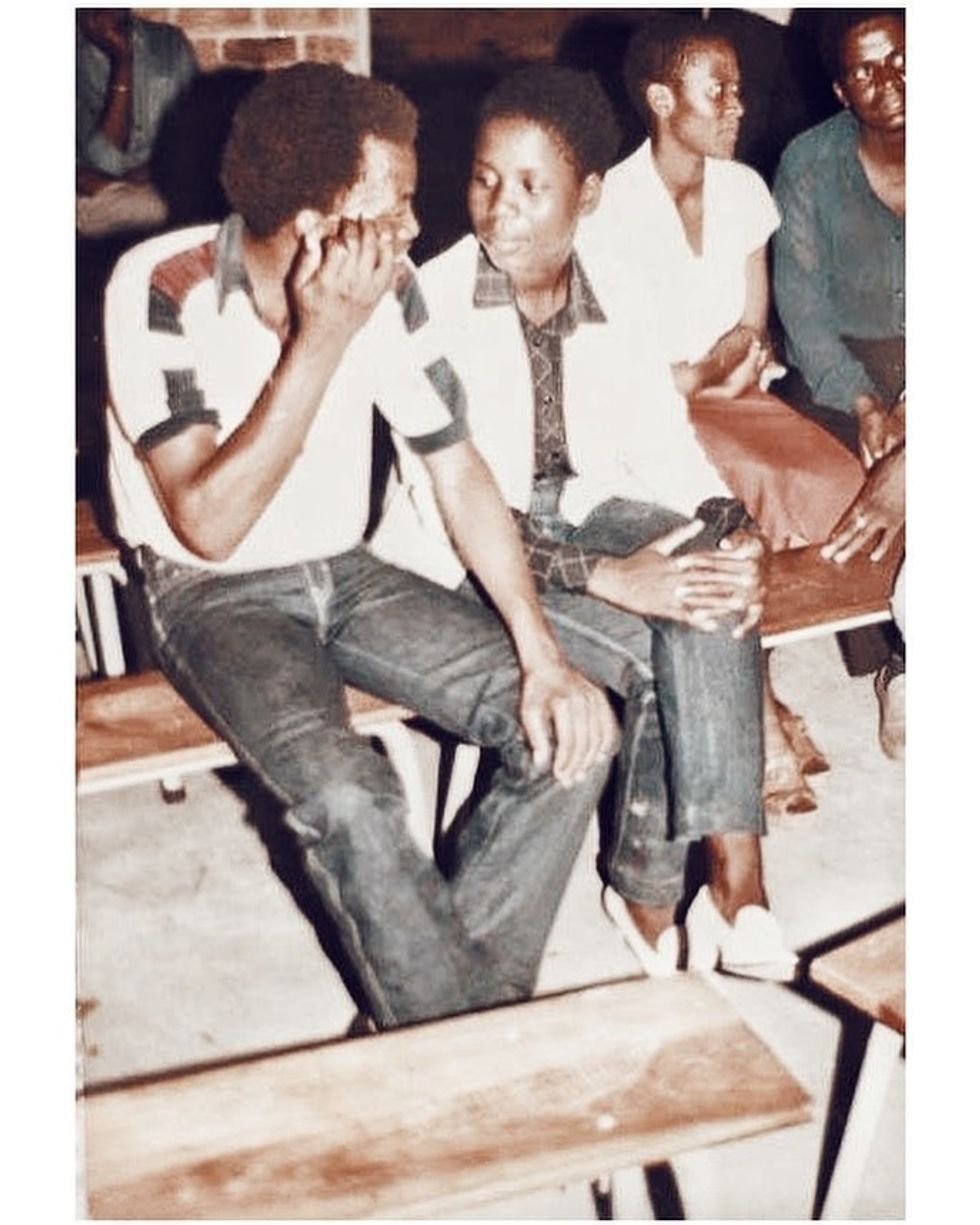 I could write a book 📚But hope they know that they are my superheroes and I hope they are proud of me someday and forever. Amen. My Mother and Father 🖤 #SouthAfrica—Katlego Eyedah Mamabolo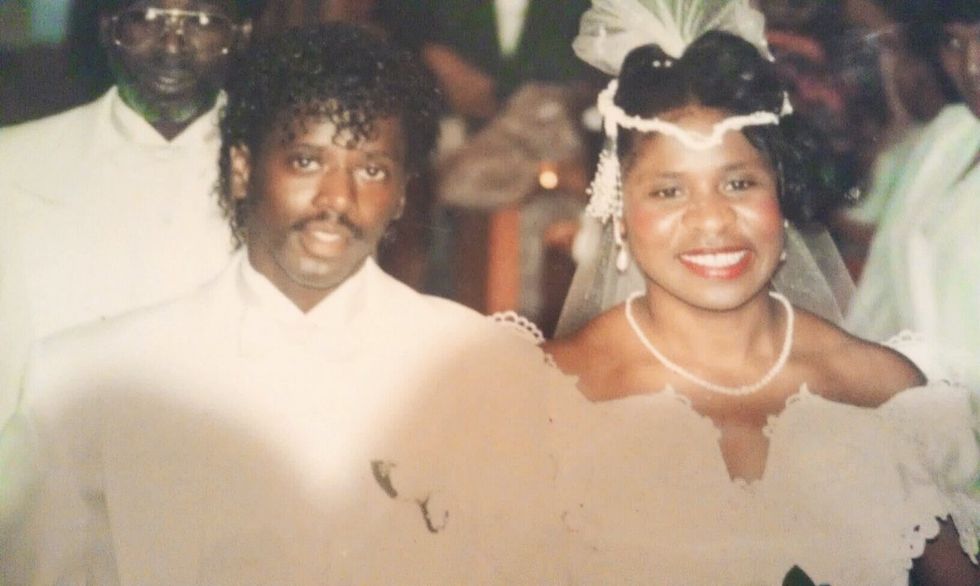 "My parents on their wedding in my paternal family's church where there's generations and generations of us who fill the congregation. I chose this because not only was it the start of a new family tree, but my dad was drunk as hell. Circa 1997"—@NetaLongg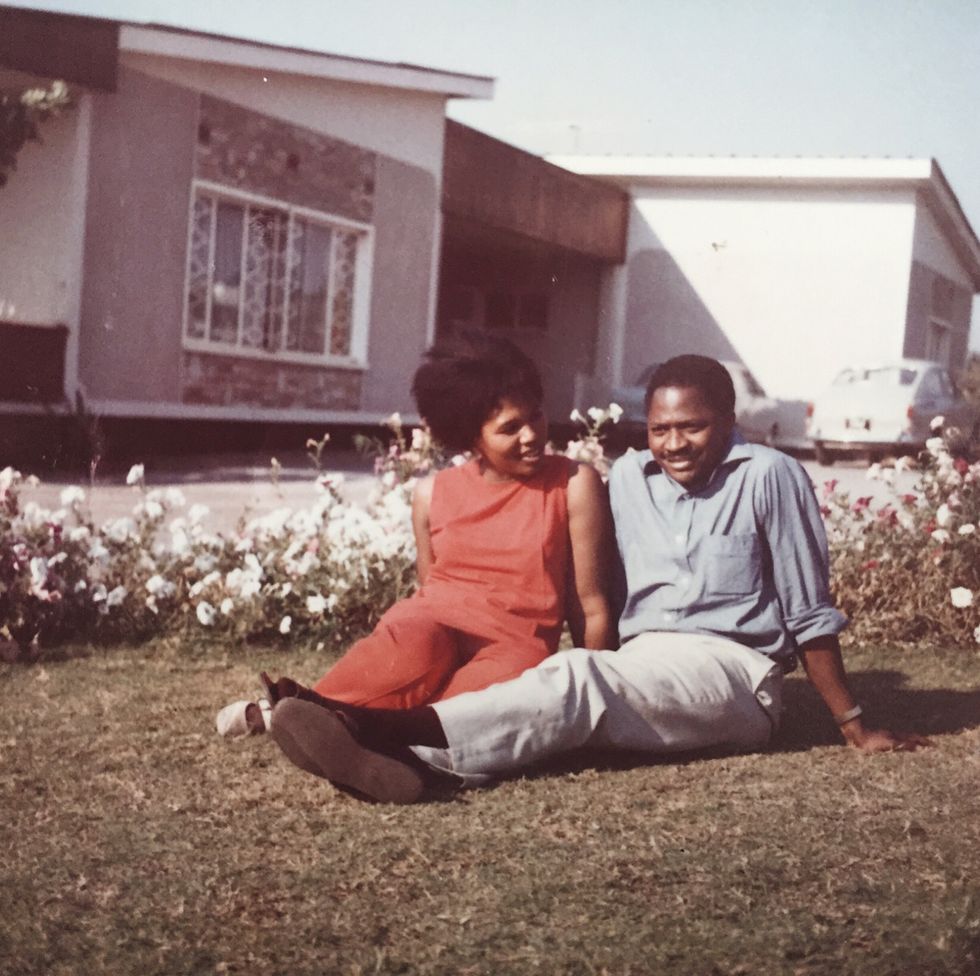 "Yo, listen. These two amazing beings are nothing short of legendary to me. My mama & my papa are the two brightest beacons of love in my sphere. I could never be able to fully encapsulate how much my little heart bursts with love for them. Also how cool are all the late 60's, early 70's aesthetic joys? You ever seen an afro pop like Victoria's? Or a "stache" like Mark's?"—Banji Chona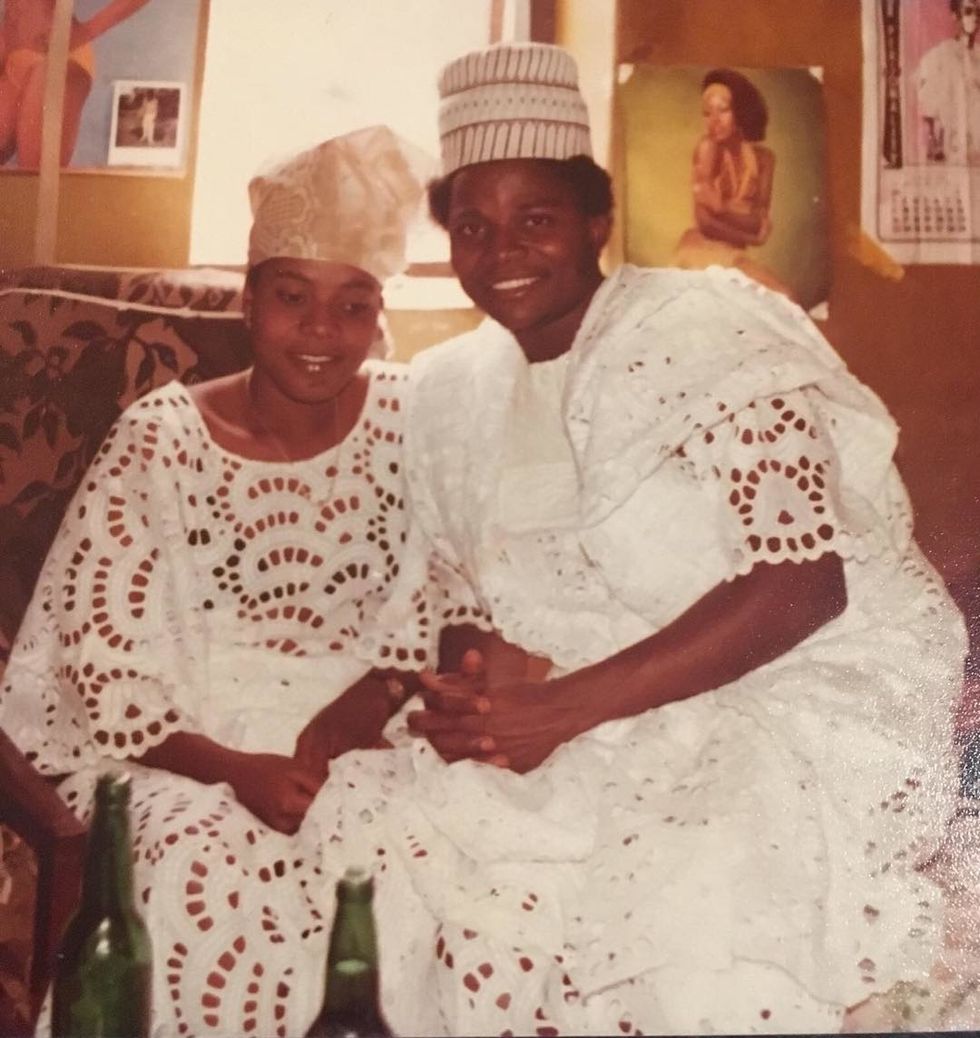 "The year was 1980, December 1980 to be exact. This picture was taken in Iseyin, Oyo State, Nigeria. My mom had travelled from from Eruwa Oshun State in Nigeria to visit my dad. My parents were still dating at this time, and the young lovers desired to take a picture at my uncle's place." —Abiola Oke, OkayAfrica's CEO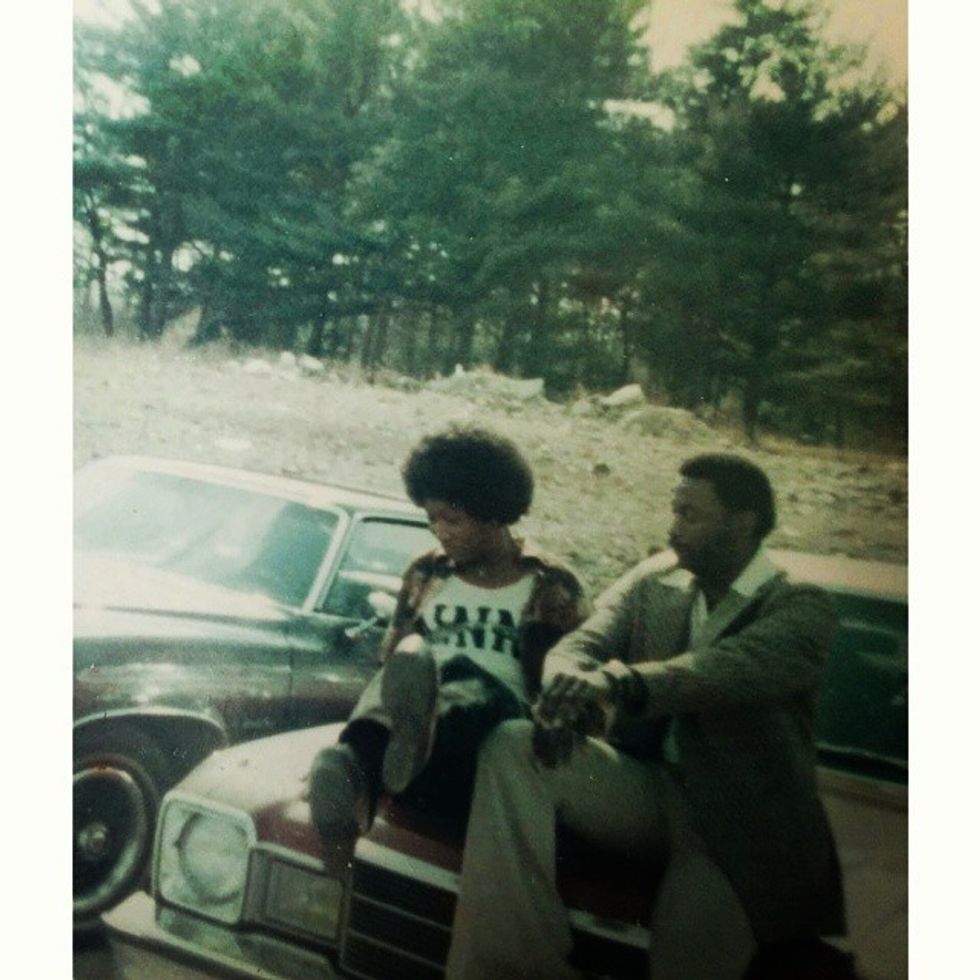 [My parents] before children.—Olachi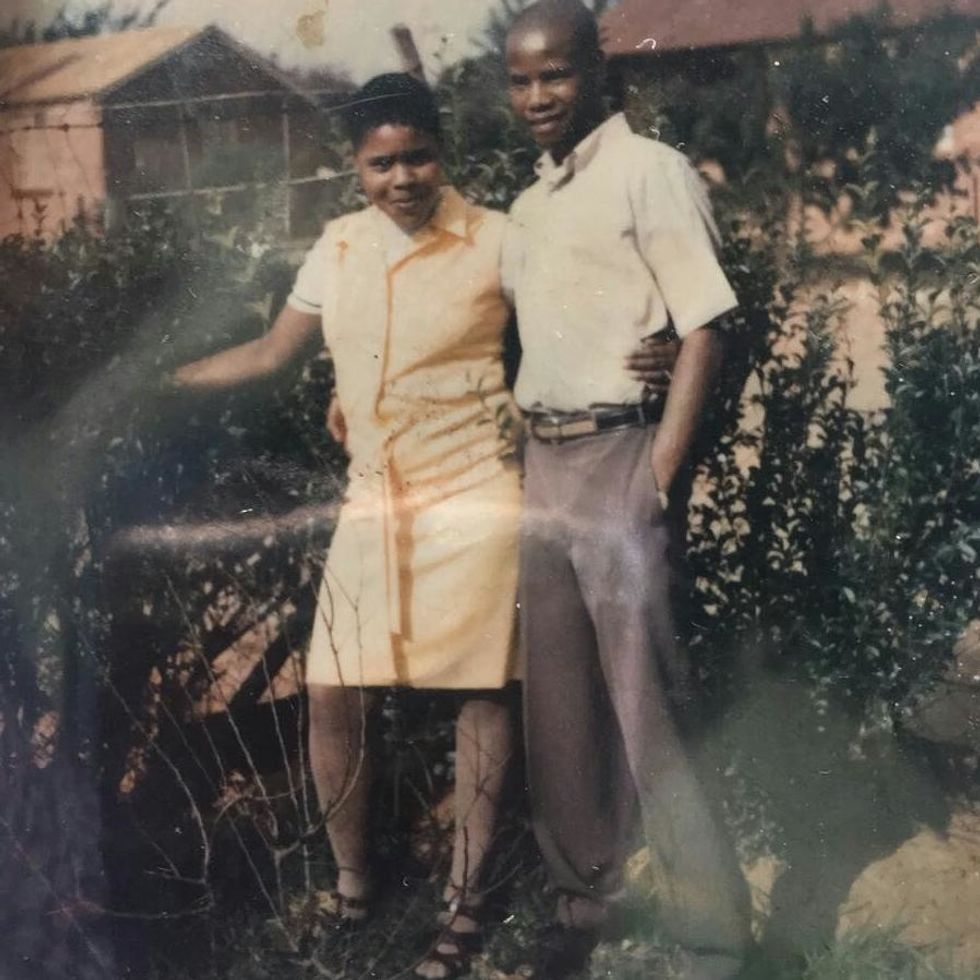 "Love before Exile. A photograph of my grandparents years before they'd be separated by the apartheid struggle. This photo was taken in the dusty streets of Soweto where they met each other. My grandfather, Aubrey Veli Mazibuko served as part of the MK, left for Angola in the time when MK members were being hunted down by the white government. It was a truly difficult time for love but they held it together and separately until he returned to South Africa."—Boitumelo Mazibuko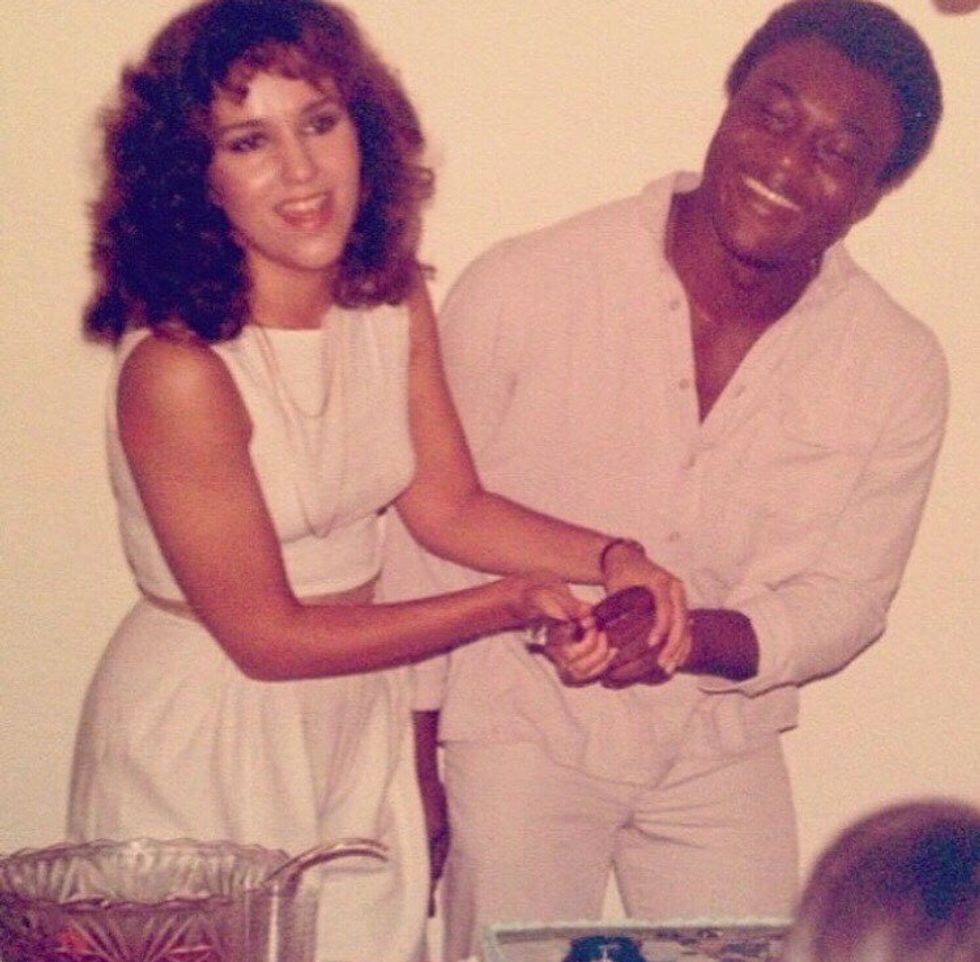 "Joseph and Olivia Ewalefo, circa 1980 celebrating his 21st birthday in San Antonio, Texas. The Nigerian-Mexican couple has since been married for 38 years blessed with six Afro-Latino children."—Vivian Ewalefo, OkayAfrica's CMO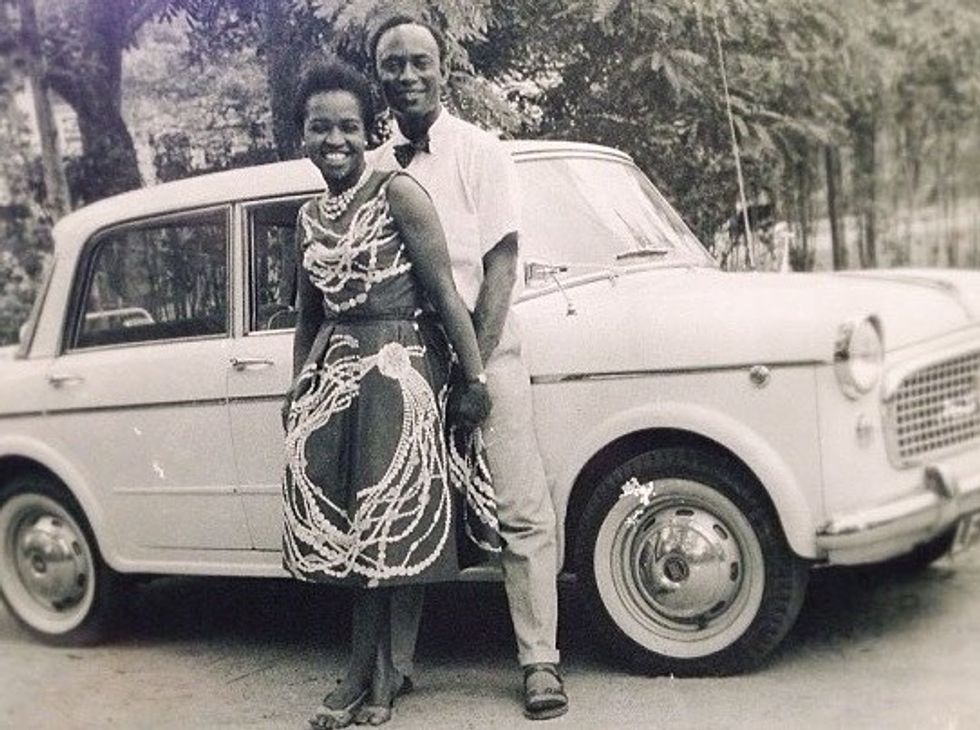 "Dr. and Mrs. Ogan, c. 1962 in Lagos. "I never met my grandfather so I love looking at pictures and listening to my mom's stories. They were the most stylish couple!"—Oyinkan Olojede, OkayAfrica's Marketing Associate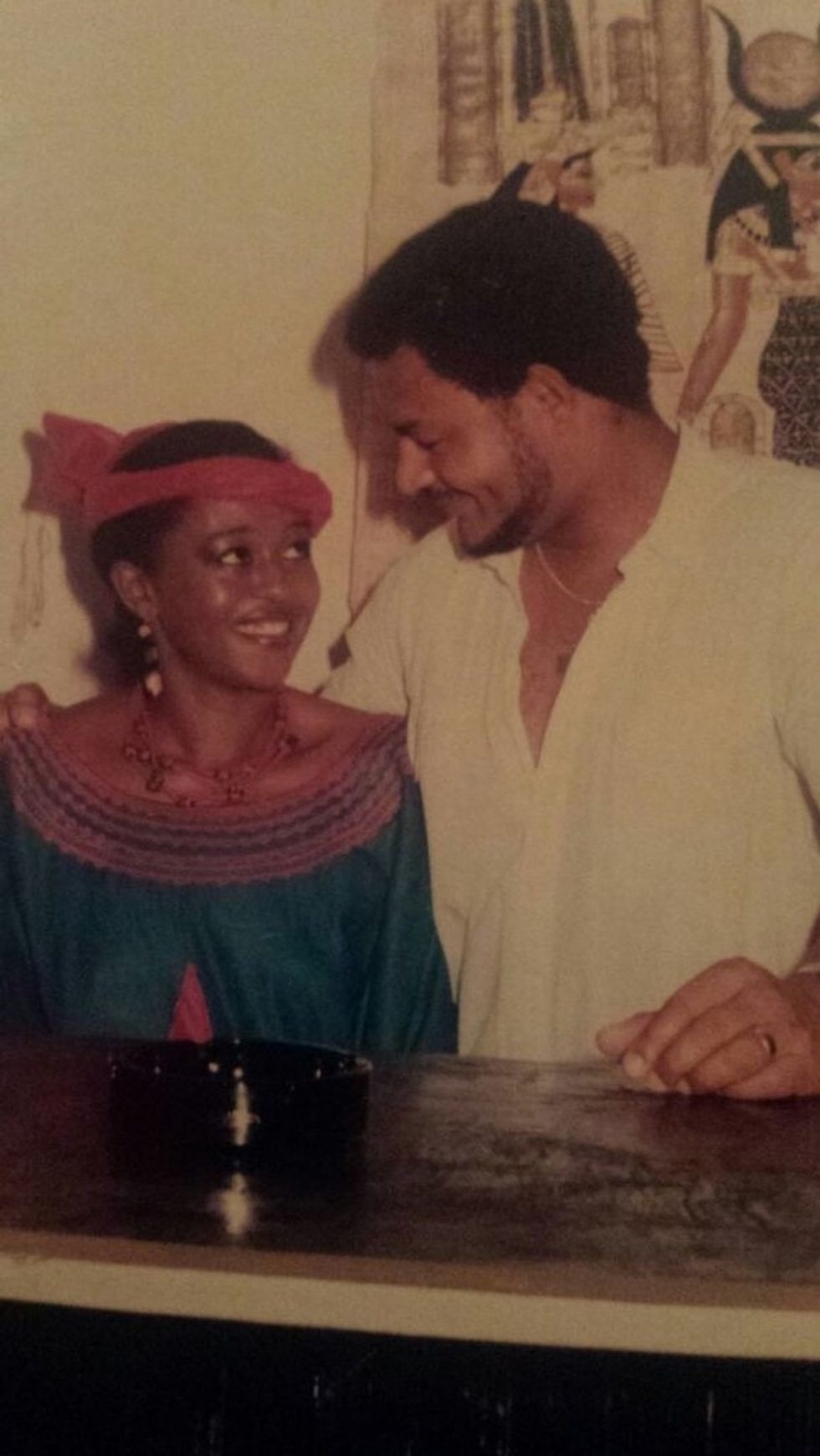 "My parents circa 1985 or 86 in Tunis. They aren't together anymore, but still a sweet photo. Proud of my lineage."—Geraldine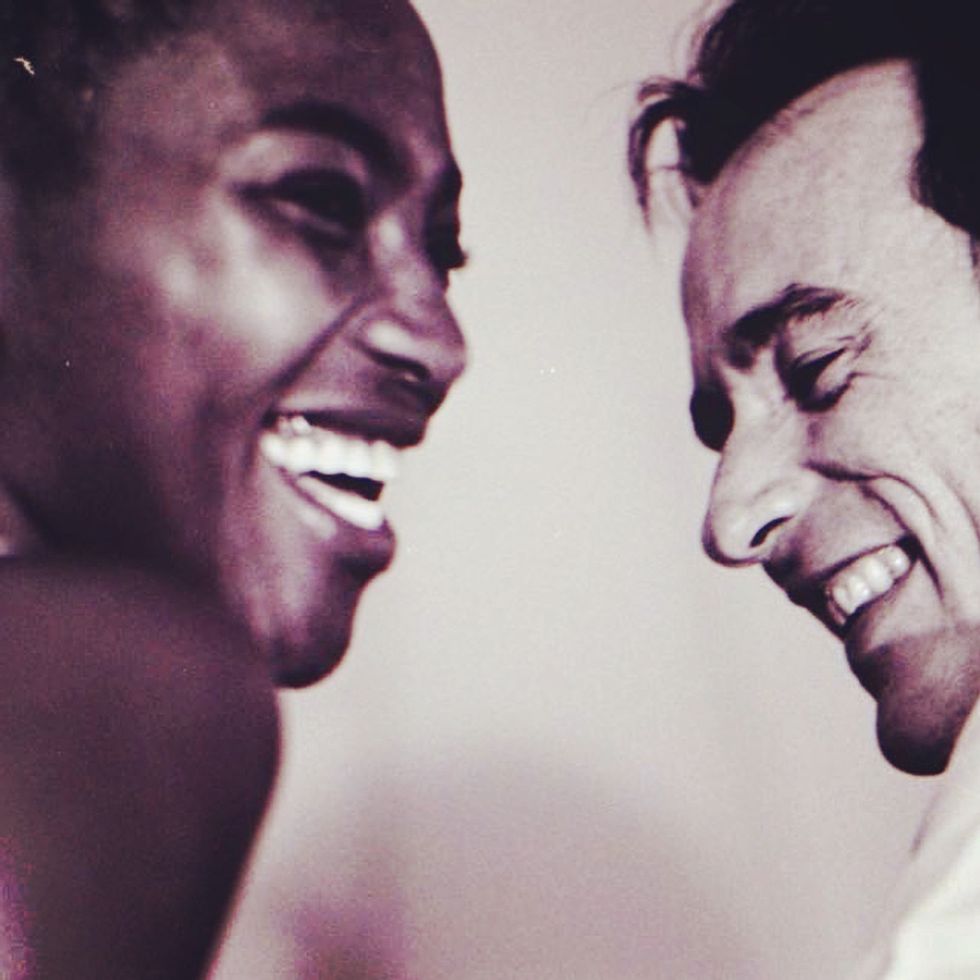 "My beautiful parents in #Kenya circa 1980."—Frederica Boswell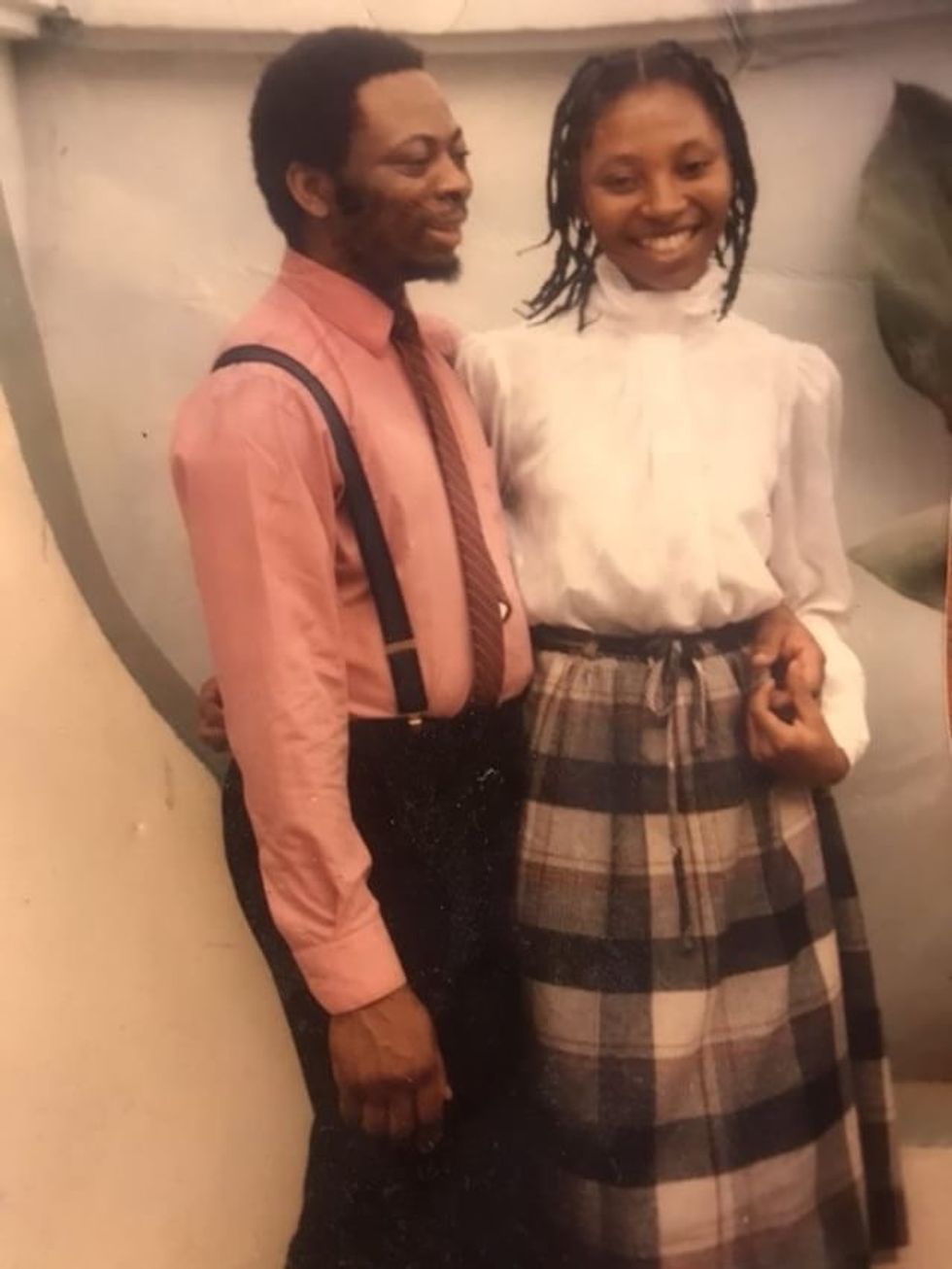 "1984 Owerri, Nigeria. This was my dad's first visit back to Nigeria after moving to the US. Pictured here is my beautiful mommy, Lolo Olaedo Flora Udumukwu. My mom was still in primary school when my dad decided she'd be the one he'd marry. He waited over a decade before making his intentions known and still, she paid him no mind. He wrote her letters everyday she was in secondary school and teachers training college. He once, without a drivers license or any experience behind the wheel, stole his brother's car and drove across the state to see her, only for her to refuse to come out of her bedroom. And he got into an accident along the way! She didn't know he was leaving for America in the following days and still, when he alerted her to this, she refused to give him a kiss goodbye. Fast forward to December 1985, they got married and it was the beginning of a blessed union—and the end of her "shakara."—Lily Ogé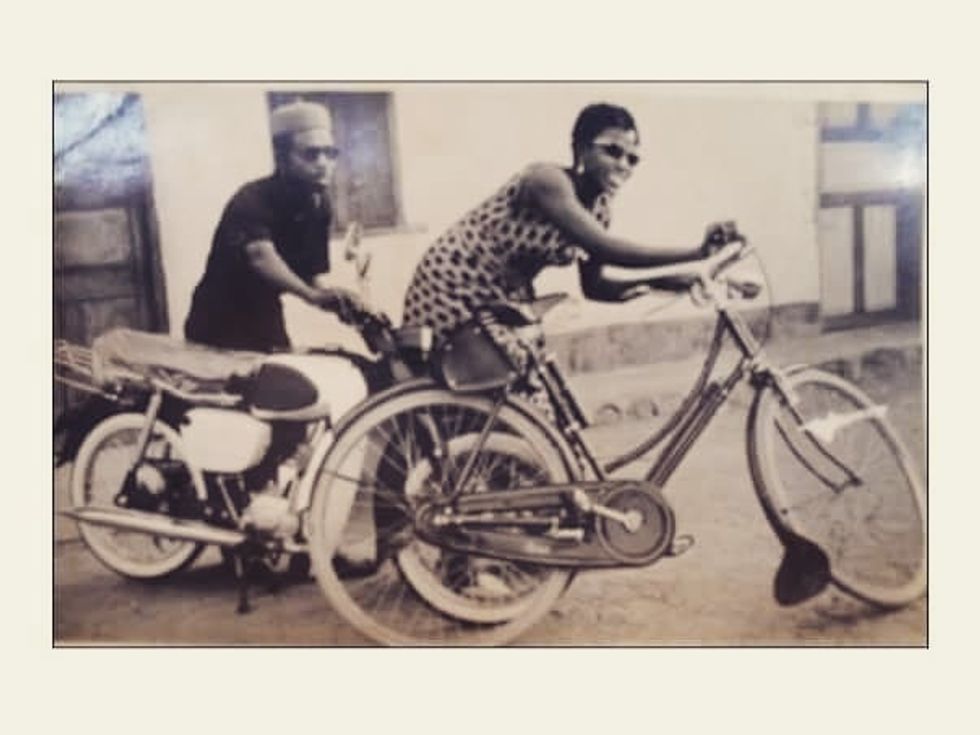 "The Jevs, grandfather and grandmother. My blood, my heart, my soul."—Kim Jev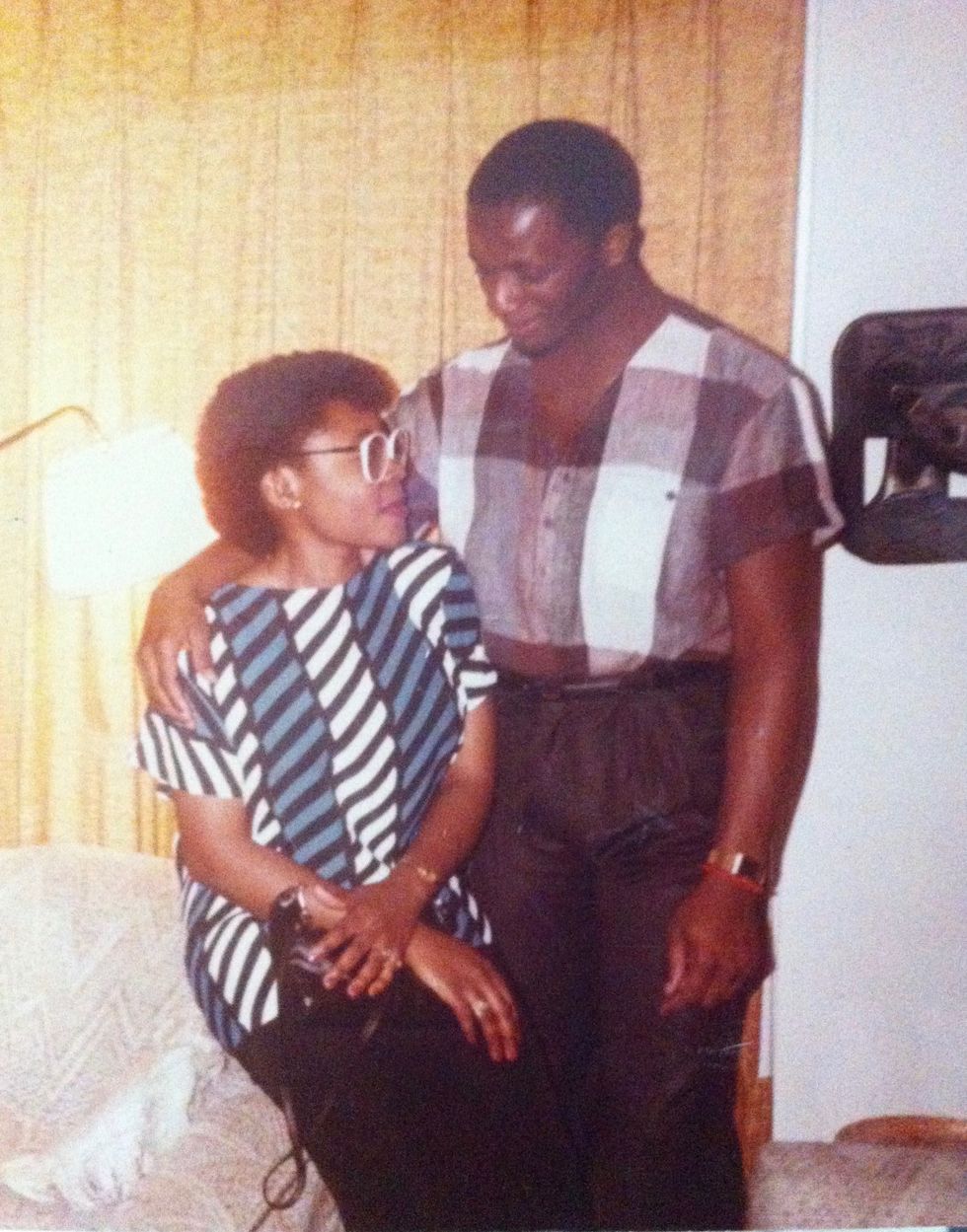 "My parents met in New York in the early 1980s as international students from Nigeria. It always amazes me that they managed to find each other. I'm sure having one another helped them get through a lot of the challenges that come about being a young black person, coming of age in a foreign land. I love this picture of them because it captures, what looks like, a genuine, off-guard moment between them. Plus, I've always admired their penchant for style—I think that comes across very strongly in this picture."—
Damola Durosomo, OkayAfrica Staff Writer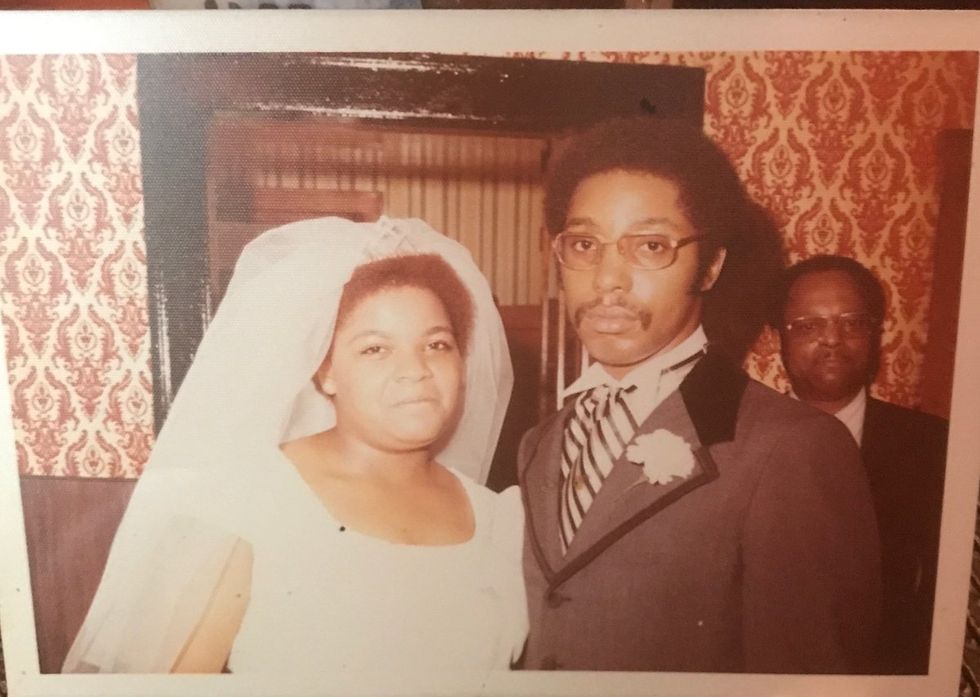 "Married 1972, 45yrs R.I.P. mom." —Cicley McClennon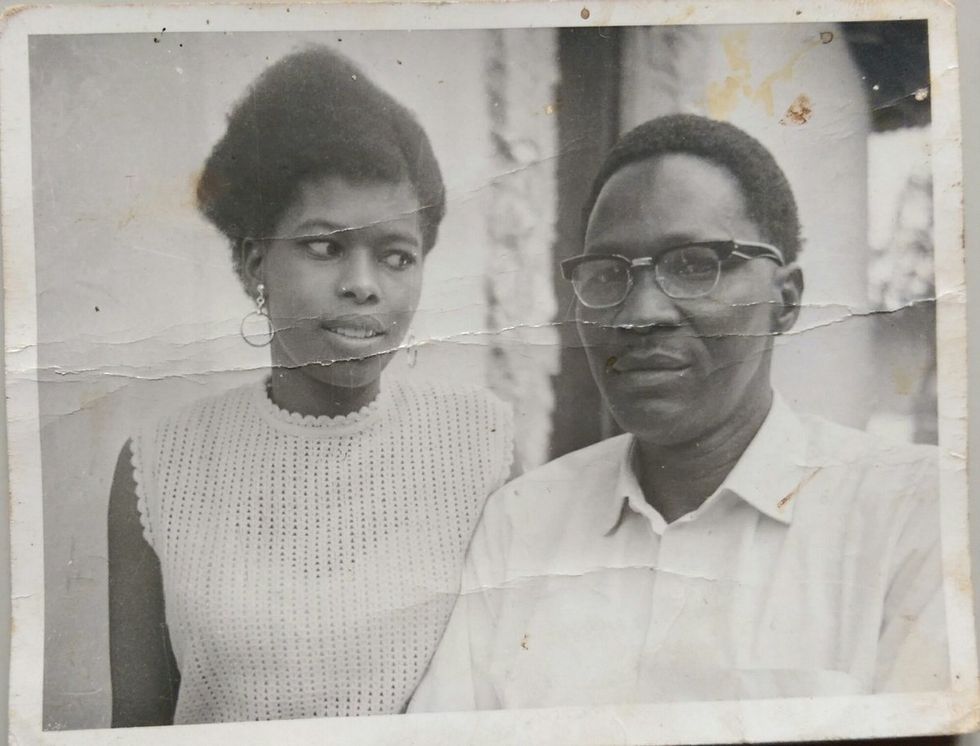 "My parents in the mid 1970's. Dad, father of coal, a veteran who fought for the British during the WWII in East Africa. Mom, mother of pearl, a nurse who managed to keep malaria at bay in our family. Mom, very tough, a family pillar. Dad, assisted us from the background."—Anna. S
Keep reading...
Show less