News
May. 31, 2016 05:42PM EST
Racially fueled drama unfolded at the UN Environment Assemby (UNEA-2) conference in Nairobi, Kenya Friday.
A racially fueled drama unfolded at the UN Environment Assemby (UNEA-2) conference before it concluded in Nairobi, Kenya Friday.
At the gathering, it is alleged that Egypt's Minister of Environment and President of the African Ministerial Conference on the Environment (AMCEN) Khaled Mohamed Fahmy Abdel Aal referred to Sub-Saharan African delegates as "dogs and slaves"—his insult veiled in Arabic—during an address to his delegation,Tuko reports.
The incident arose when a resolution that Egypt and other Arab countries had advocated for was not adopted during the week-long conference that passed 25 resolutions addressing environmental issues such as poaching and air and water pollution, according to Tuko.
But perhaps Abdel Fattah didn't realize that there were some African delegates present who could understand his disses? Or maybe he did, which reveals how much of a racist jerk he really is?
In response, the Chair of the Africa Diplomatic Corps (ADC) technical committee Yvonne Khamati penned a confidential memo addressed to the Dean of the Africa Diplomatic Corps Ambassador Kelebert Nkomani—with Foreign Affairs Cabinet Secretary Amina Mohamed and the Foreign Affairs Principal Secretary Monica Juma also copied—referring to the comments as "undiplomatic, irresponsible, uncivilised and insulting behaviour," according to Tuko.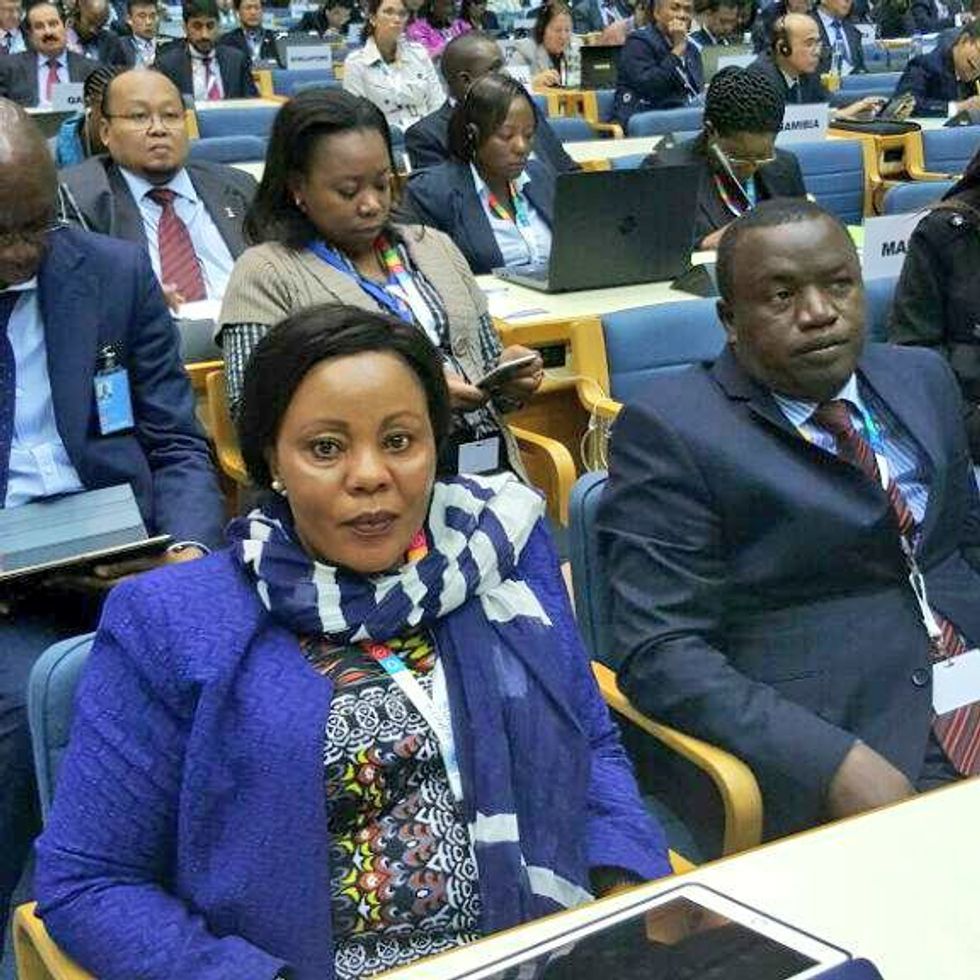 Photo: @dr_mwakima/Twitter
The memo also recommended four conditions be fulfilled before the Arab Republic of Egypt can continue to represent the continent of Africa in any official capacity, KTPress reports:
Egypt must "at the highest level, apologise unreservedly to Africa for the utterances made."

Egypt "should not negotiate or take any leadership position on behalf of Africa."

Fahmy Abdel Aal must resign from his rotating post as president of the African Ministerial Conference on the Environment (AMCEN) immediately.

The incident should be addressed with the Permanent Representative Committee in Addis Ababa, New York, Vienna, Geneva and at the AU Kigali Heads of State Summit scheduled for July 12-13.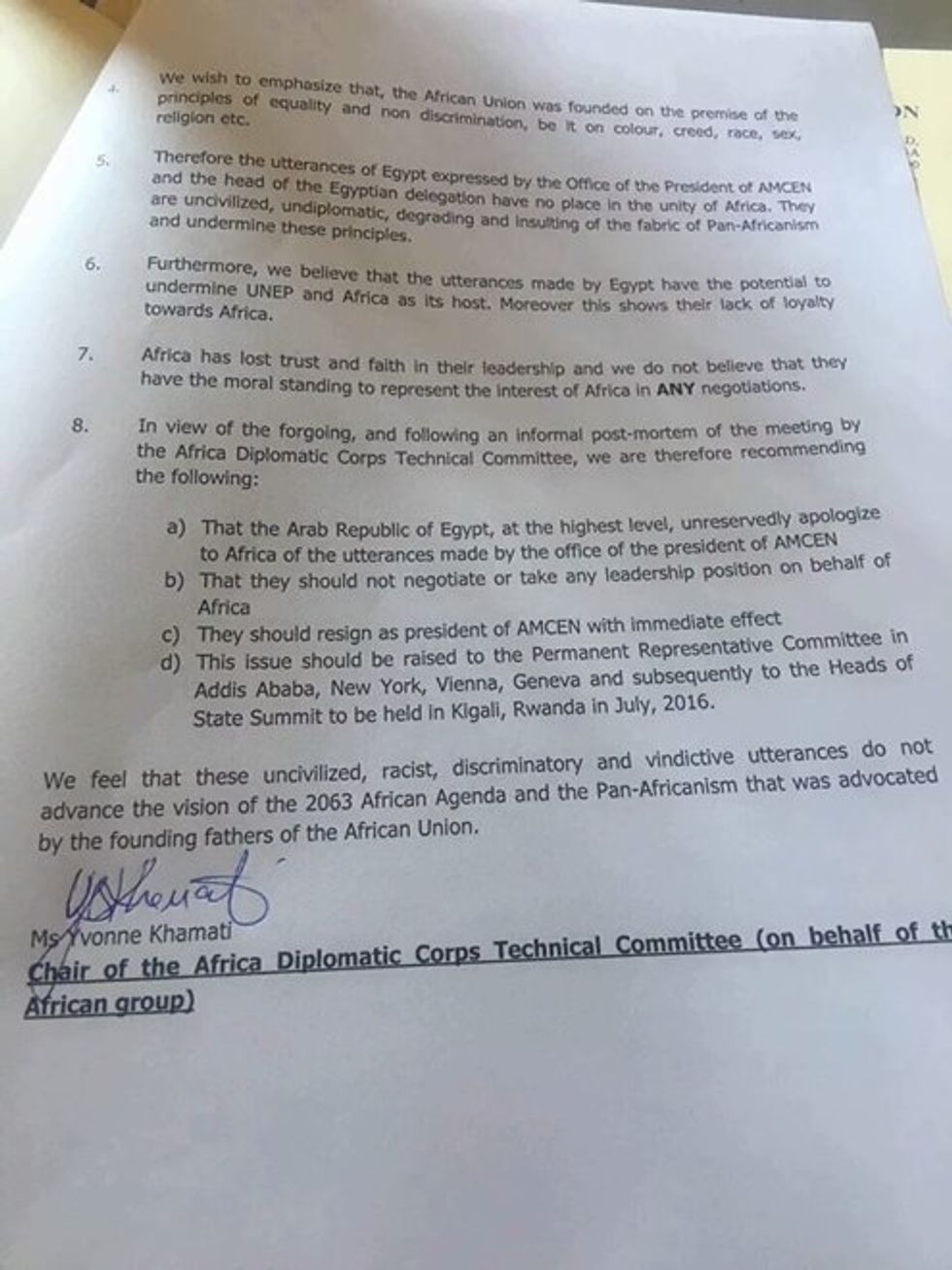 The confidential letter written by the "Africa group" demanding an apology from the Egyptian President
The memo representing the offended Sub-Saharan African diplomats, which didn't directly name Fahmy Abdel Aal, according to KT Press, concluded with:
We feel that these uncivilised, racist, discriminatory and vindictive utterances do not advance the vision of the 2063 African agenda and the Pan-Africanism that was advocated by the founding fathers of the African Union
Khamati, also Kenya's head of Chancery and deputy permanent representative of the Kenya Mission to the United Nations Office, tweeted about the racially charged episode Sunday afternoon:
@egy_a7mad He spoke to his delegation in Arabic in the presence of African delegates. That speak:understand Arabic

— Yvonne Khamati (@YvonneKhamati) May 30, 2016
Once word got out about the drama that unfolded, Foreign Minister Sameh Shukri offered to have the ministry investigate the matter in a statement Tuesday, All Africa reports. But the foreign ministry denounced any question of Egypt's loyalty to the African Union. And an official at the Egyptian foreign ministry defended Fahmy Abdel Aal's remarks, reportedly saying Khamati's requests were "unbalanced and "imprecise," according to All Africa. 
Meanwhile, disturbed Egyptians took to social media to express their apologies with hashtag #SorryAfrica.
Many Egyptians are appalled and trending with hashtag #SorryAfrica https://t.co/6wkt3Xleej

— Mollel (@jmollel) May 31, 2016
So the @MfaEgypt decides to attack @YvonneKhamati as an Individual when the statement is from the African Diplomatic Corp #Patriarchy #Egypt

— African (@ali_naka) May 31, 2016
#SorryAfrica In recent history Egypt's own African identity has been intentionally obliterated by governments giving precedence to Wahabism

— saraab (@sara_ab5) May 31, 2016
We alternate between NE and Africa to demonstrate our highly racist mindsets.#SorryAfrica We are ashamed. https://t.co/Se5hDheqjV

— atiya zaidi (@atiyaz) May 28, 2016
Keep reading...
Show less