Audio
May. 10, 2017 01:47PM EST
The release of Orchestra Baobab's first album in ten years is bittersweet for the legendary Senegalese band.
Ndiouga Dieng, 63,—the legendary Senegalese singer, composer and an original vocalist for Orchestra Baobab, formed in 1970—passed away last October. To honor him, the band has titled their first album in ten years, A Tribute To Ndiouga Dieng.
The album was recorded in London where Dieng received treatment for the illness that would later claim his life. Despite his ill health, the band says in an email statement to OkayAfrica that he attended recording sessions. "From start to finish Ndiouga was with us at the studio in London. Even though he was sick, he still wanted to be with us."
Dieng's son, Alpha, who has been in the band for close to six years will carry on singing his father's songs, prolonging the longevity of a group whose name—"baobab" after the long-life tree—has become a self-fulfilling prophesy.
The majority of the songs on A Tribute… are the work of the band leader Balla Sidibe, but it also includes contributions, during practice or recording sessions, from band members.
Ten songs make up the album and the first, "Foulo," is a big love overture composed by the band, with its lyrics written by Sidibe.
"Fayinkounko" is developed from an old Fula song from Guinea, while "Caravana" works well as a cautionary tale—"beauty cannot stop you dying/success cannot stop you dying."
"Douga" is a favourite, a very old Madingo song from either Mali or Burkina Faso, and a tribute to the courage of warriors. But it is "Woulinewa," a song largely about longing for a loved one, that Sidibe believes "may just become one of Baobab's most loved numbers," before adding that "great songs from the past must not sleep for so long."
Thione Seck joined Orchestra Baobab in 1977 and his song, "Sey," has been re-recorded for this new album. The bass on "Sey" sounds less languid than the original's and the overall production a little tighter.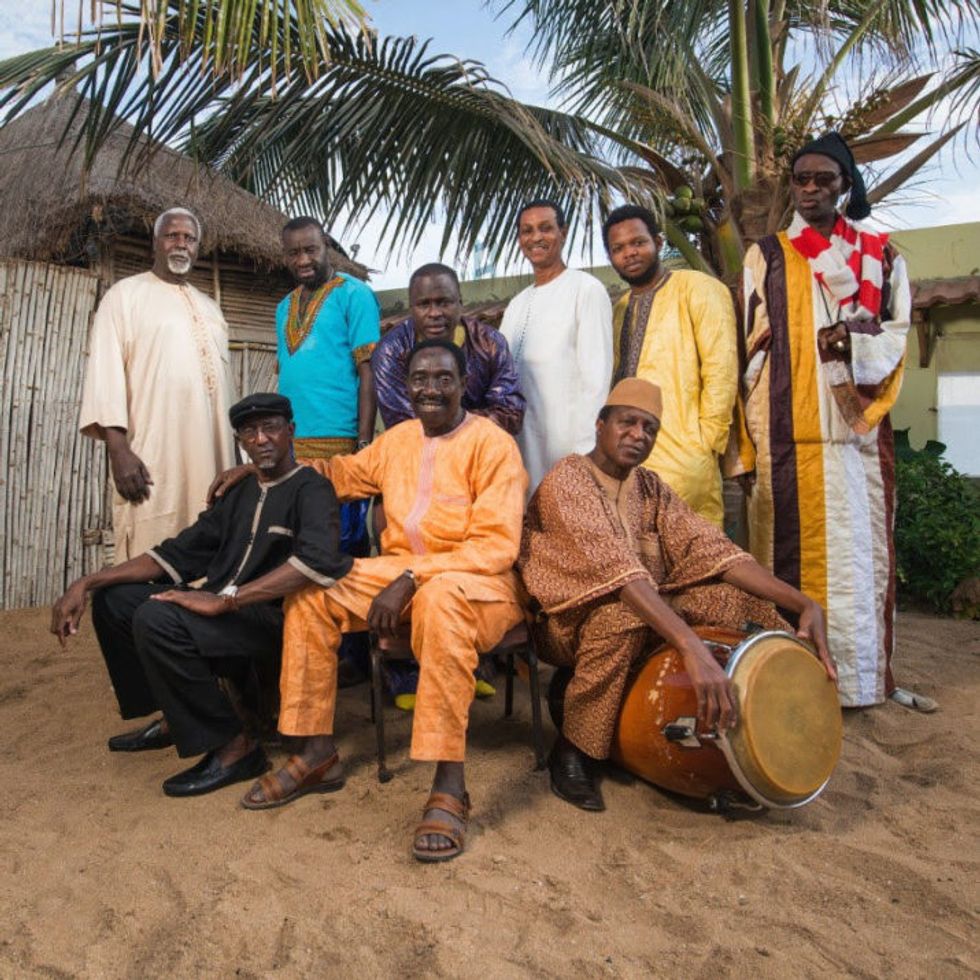 Orchestra Baobab
According to the band, "this could be a result of the many different musical experiences the guitarist, Charles Ndiaye, and Seck have had since the song was first written."
The confluence of different musical traditions, languages, sources of songs and instruments in Orchestra Baobab's music makes for a rich listening experience, but reading the lyrics and knowing some of their histories makes it even richer.
Gems like "a beautiful woman can never pass away" (from "Mariama") and "the shame that I have for my love for you might cause betrayal" (from Magnokouto), even plainer ones like "a good marriage is beyond price," are lost on the many who would understandably not think or bother to dig up lyrics to each song on A Tribute...
Album liner notes are going the way of the compact disks they've long accompanied. Though all the lyrics on A Tribute… are published online, the guess is that only the particularly ardent fan will find and read the lyrics while listening to the album.
I ask the band if publishing the lyrics, as you would a poetry booklet, and making them readily available for fans at their concerts, as you would any merchandise, wouldn't greatly improve a fan's appreciation of their music.
The band agrees to an extent, "artists put a lot of work into their music: writing the lyrics, finding a rhythm that fits perfectly and making it nice to the ear are difficult things to do. We think all this work deserves to be understood by the listeners particularly the story that the song tells. So we agree concerning the importance of the album liner notes that explain the meaning of the album."
Watch our premiere of Orchestra Baobab's music video for "Fayinkounko" above.
Orchestra Baobab UK & EU Tour Dates:
05 May - Het Depot, Leuven, BEL
06 May – Melkweg, Amsterdam, NL
07 May - Lantaren Venster, Rotterdam, NL
11 May - Fabrik, Hamburg, DE
12 May - Gretchen, Berlin, DE
13 May - Jazz Cafe, London, UK
14 May - Jazz Cafe, London, UK
16 May - Cabaret Sauvage, Paris, FR
17 May - Festival Jazzelrault, Chattelerault, FR
19 May - Cosmopolite, Oslo, NOR
Sabo Kpade is an Associate Writer with Spread The Word. His short story Chibok was shortlisted for the London Short Story Prize 2015. His first play, Have Mercy on Liverpool Street was longlisted for the Alfred Fagon Award. He lives in London. You can reach him at sabo.kpade@gmail.com
Keep reading...
Show less