Dubbed Finding Beauty, Thebe Magugu's performance collection marks his first collaboration with sportswear giant Adidas. Over the course of the next two weeks of the US Open, key looks will premiere during matches featuring prominent players, from Dana Mathewson to Dominic Thiem, Jessica Pegula, and Stefanos Tsitsipas. They will compete wearing the South African designer's latest offering, bringing bold colors and vibrant graphics and patterns to the Billie Jean King National Tennis Center.
Magugu's latest win comes as the creativity of African fashion designers has, in recent years, attracted global attention, especially due to the growing e-commerce fashion platforms. Increasingly, international brands have been setting their sights on African artists for fashion inspiration. From Nike partnering with Karabo Poppy to design an Air Force 1 collection, South African fashion label Mantsho collaborating with the Swedish retail giant H&M, Crocs teaming with designer Wanda Lephoto to redesign their shoes, and Nicholas Hlobo being invited by Louis Vuitton to reimagine the Capucines Handbag.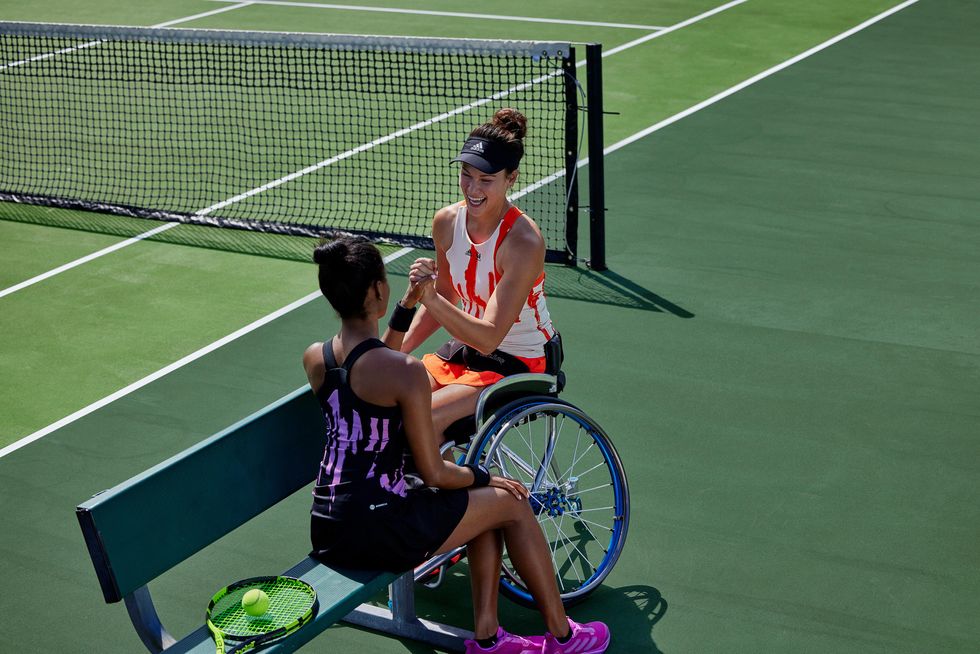 Paralympian Dana Mathewson will be competing while wearing Thebe Magugu.Photo: Adidas
For Magugu, however, the Adidas collab presents a chance to serve up something more than a groundbreaking partnership. The Adidas x Thebe Magugu collection aims to inspire the next generation of tennis players; to shape the future of the game and champion diversity and inclusion in the sport. Commenting on the apparel, the Johannesburg-based Magugu said, "This collection was designed as a celebration of culture, heritage, and inclusivity, and I cannot wait for some of the most inspirational athletes to wear it on the court."

Magugu's excitement is matched by fans of his work who've watched his fast rise to king of the fashion court. OkayAfrica takes a look back at some highlights of the 28-year-old's career of straight sets.
From Vogue Italia to LVMH Prize
Magugu made headlines — and history — when he became the first African to win the prestigious LVMH Prize. But from the very start of his career, he's been attracting the right kind of attention. Hailing from the diamond city of Kimberley, South Africa, Magugu launched his self-titled label after graduating from the LISOF Fashion Design school in Johannesburg with a collection dubbed 'Geology' in 2017. The collection, which showed young women playing uniquely African games in wide open fields dressed in various earth-colored designs, was featured by the top fashion magazine, Vogue Italia.
In 2018, the faux Ostrich coat from Magugu's 'Gender Studies' collection was featured in New York's Fashion Institute of Technology PINK exhibition. Just a year later, the International Fashion Showcase announced him as the overall award winner for curation and fashionoverall award winner for curation and fashion during the London fashion week in February 2019.
Barely seven months after this, Magugu scooped the LVMH (Louis Vuitton Moët Hennessy) prize for young fashion designers with his 'African Studies' collection. To this day, he remains the only African designer to have received this award, which came with $330,000 in funding and a year of mentorship.
Debuting at Paris Fashion Week and courting the stars
In making his international entrance at Paris Fashion Week in 2020, with his collection 'Anthro 1,' Magugu was lauded at a dinner in celebration of the event by French President Emmanuel Macron. Beyond the French acclaim he received, Magugu's success in Paris captured the attention of global artists; actress Issa Rae appeared on HBO's Insecurewearing a safari jacket from his 'African Studies' collection, poet laureate Amanda Gorman was photographed wearing a shirt dress by the designer on the cover of PORTER, and actress Zendaya posed for InStyle Magazines' September issue in shredded denim from his "Anthro 1" collection. Television host Wendy Williams was also spotted wearing his designs while hosting an episode of the Wendy Williams Show.
With perfect timing, Magugu rode this wave by launching his 'Alchemy' collection in March 2021. Informed by South African traditional healers and launched in spectacular style during the digital Paris Fashion Week, the pieces spoke to his desire to marry history with the contemporary. As evidence of his rising significance in not just the fashion but the art world, the Metropolitan Museum of Art in New York acquired his "Girl Seeks Girl" dress to "preserve it as an example of outstanding contemporary design."
Soon, more stars clamored to be seen in Magugu. Rihanna wore his design to announce Fenty Beauty and Fenty Skin arrival in Africa, actress Michaela Coel chose his half-cape wool suit for an Emmy Awards afterparty, Dionne Warwick was draped in his design for a film by Solange Knowles and Saint Heron, while both Thandiwe Newton and Kylie Jenner also wore Magugu's designs from the 'Alchemy' collection.
Entrancing the world of couture
Magugu's spring 2022 'Genealogy' collection, where he posed his models in front of backdrops of old family snapshots, was recently one of the season's standout collections shown in Paris. Shortly after 'Genealogy' was presented, his brand was chosen alongside Giorgio Armani, Saint Laurent, Ralph Lauren, Christian Dior, and Balenciaga to take part in a tribute show to designer Alber Elbaz, who died from Covid in 2021.

Elbaz died shortly after launching a new label called AZ Factory, leaving many in the fashion world wondering what would happen to the company. But AZ invited Magugu to be the first 'amigo' designer for the high fashion label. In April 2022, he unveiled his collection for the label, which is being sold in two drops; the first was released in June and the next will be launched in September.
With all the success he has achieved, it seems Magugu's game is only just beginning. His latest serve, an haute couture designer swap project with Pierpaolo Piccioli, the current designer behind the high-end brand Valentino, will debut in the September issue of American Vogue.

Each score Magugu earns is not just a win for himself. Award-winning fashion stylist and designer Connie Aluoch told OkayAfrica, "As a young brand, Magugu has broken the norm in African Fashion and uses fashion to address historical, political, cultural and social issues. The various projects he has collaborated on, such as Adidas and with Pierpaolo Piccioli of Valentino, are a testament of his creative versatile talent. He is a true inspiration to designers not only on the African continent but the global fashion industry."
From Your Site Articles
Related Articles Around the Web