In OkayAfrica's latest Travel Diary, we meet Cape Verdean-American photographer and artist Antonio Thompson as he reconnects with his homeland for the first time—and his father for the first time in over a decade.

Curiosity inspired my inaugural solo journey to Cape Verde, my father's homeland that I've long wanted to discover. Determined to master Kriolu, the native language comprised of traditional Portuguese and West African dialects, I purchased a one-way ticket, planning only to "get lost" here for a few months. Since arriving here, it's been a colorful, fun, disorienting, and rewarding experience—for a few reasons.
Over 13 years passed since I last saw my father, who moved from the United States to retire in a town just outside of Mindelo, Cape Verde's second-largest city. Because I also didn't grow up with him, I felt a sudden urge to connect and build a relationship while life still afforded us the chance. In the spirit of #adulting and healing, I'm glad I made that decision.
---
In addition, I saw this as an opportunity to devote time to my passion: discovering, capturing, and documenting families and children in a fairly unknown region. Whenever I mentioned Cape Verde to some of my New York City friends and neighbors, "Where is that?" was the most common reply. That's not without reason: I grew up in Boston, home of the largest Cape Verdean expatriate community. Outside of the New England region, its culture is arguably little known.
Lastly, and in the same vein, I wanted to unearth and shed light on the places here that are tucked away and off the beaten path. I've found that working class neighborhoods and streets unexplored by tourists are where one will come across the best food, music, parties, and conversations. With the few phrases I learned in Kriolu, I knew conversing with the local residents in-depth would be a challenge. But I was up for it, and I think I've done pretty well up to this point.
Here are highlights of my adventure so far, with views from the different islands, and images and stories of families and people I've met here in Mindelo.
Photo by Antonio Thompson.
On São Vicente island, many of the residents point to Monte Cara(Face Mountain) because it resembles the side profile of a face. Here, it's viewed as the island's pride and joy, and considered a grand symbol of Mother Nature's artistry.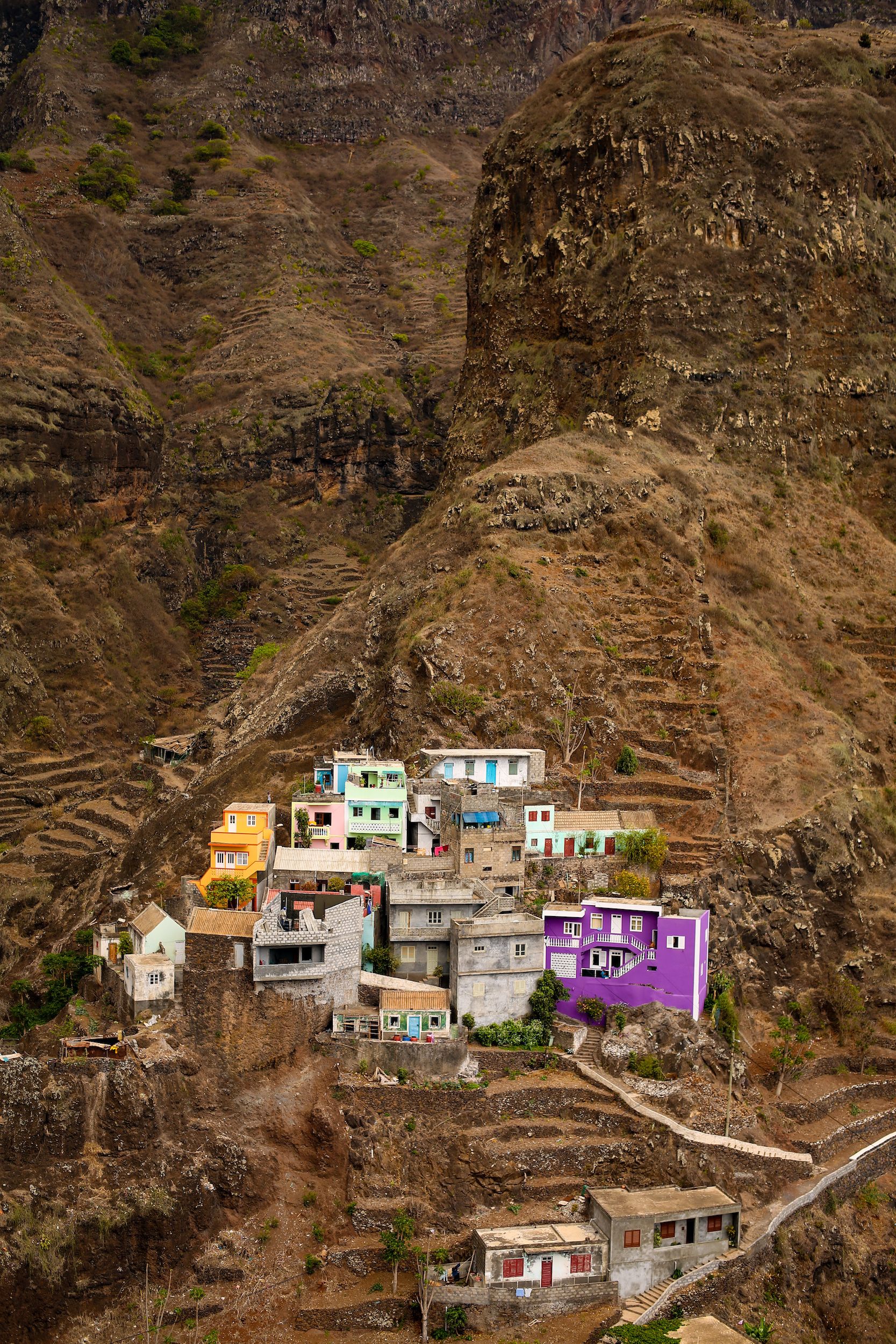 Photo by Antonio Thompson.
The island of Santo Antão is considered a favorite for hiking and nature photography enthusiasts. This is the tiny town of Fontainhas, where colorful homes are constructed atop leveled mountain ridges in a hidden valley. Located about a 1-hour hike from the beach town of Ponta do Sol, it is considered one of the most picturesque villages in the world.
Photo by Antonio Thompson.
I found the mountains and hills of Santiago island to be my favorite. This is the view from Achada Ponciana, a small village that lies just outside of Serra Malagueta National Park. Here, you can see the tiny hamlet of Casa Choca in the foreground, and the town of Tarrafal to the far north.
Photo by Antonio Thompson.
When I arrived in Mindelo, I knew that one of the first neighborhoods to visit was Monte Sossego, a part of town that's off-the-tourist-path. It's the neighborhood that I've since spent the most amount of time in, and for good reason: the people, vibes and spirit here are kind, light-hearted, and welcoming. This image is from my very first trek here, and captures what I've often encountered: children immersed in the games they are playing, who suddenly stop and strike a pose when they spot my camera.
Photo by Antonio Thompson.
In Campinho, another neighborhood in the city, I came across a family sitting in front of their home. They declined to be photographed, but pointed to the youngest girl in the group and told me I could take her picture because "she loves the camera!"
Photo by Antonio Thompson.
While walking the steep hills of the Pedra Rolada neighborhood just before sunset, I photographed this young boy who hit me with a post-futbol game thumbs-up.
Photo by Antonio Thompson.
Strolling for souvenirs, I met Didi, a 40-year-old merchant who makes and sells bracelets on Laginha beach. Born and raised in Salamansa, a small town in the northeast region of São Vicente, he spent his youth and early adulthood as a fisherman. Making the transition into an artist 10 years ago is something he expresses profound gratitude for, and gives praise to "Jah and Jah's love, always."
Photo by Antonio Thompson.
Here in Monte Sossego, I met Neusa, who runs a tiny eatery attached to her home. After I indulged in a hearty plate of fried pastries, she introduced me to her sons Djeison and Gerson, her "pride and joy." I shot this image of the family having a moment together. When she expressed how much she loved it, I came back a few days later with a 5" x 7" print as a gift—easily one of my best moments here so far.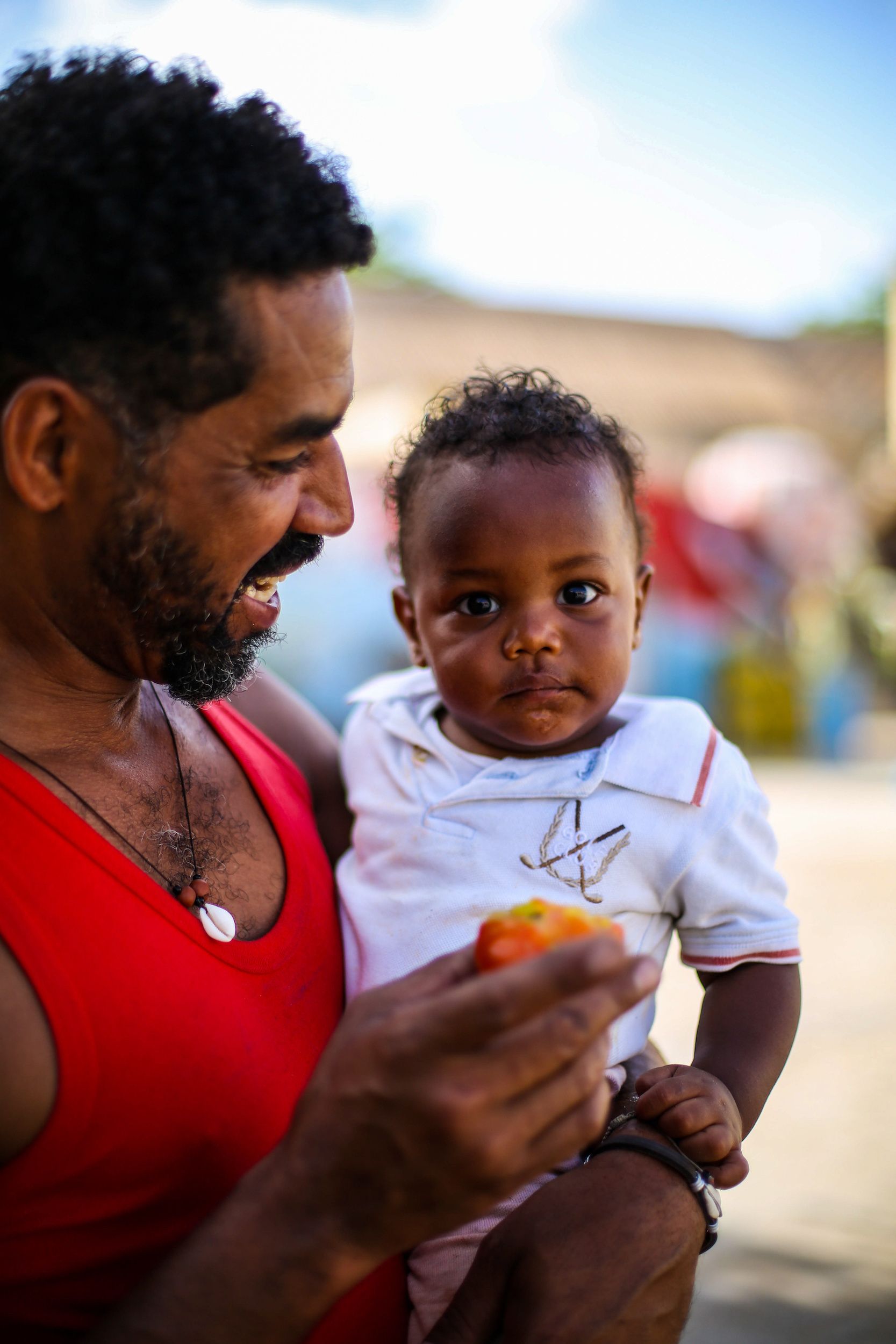 Photo by Antonio Thompson.
In the Pont D'Agua neighborhood, I came across an artist studio where I met Hermes, a painter and jewelry maker. He was working on a chain, and crawling next to him was his energetic 10-month-old Carlos. I imagine it's difficult feeding and tending to an infant while working on jewelry, but here he was, making it look easy and fun.
Photo by Antonio Thompson.
I've observed a particularly strong connection amongst fathers and their young children here. There is often a palpable 'daddy's little boy/daddy's little girl' vibe that is a wonderful sight to witness so often. In Monte Sossego, I met Elton, embracing his son Kelton. When I asked him to describe the best part of being a father, he replied, simply, "he is the love of my life. That is the best part."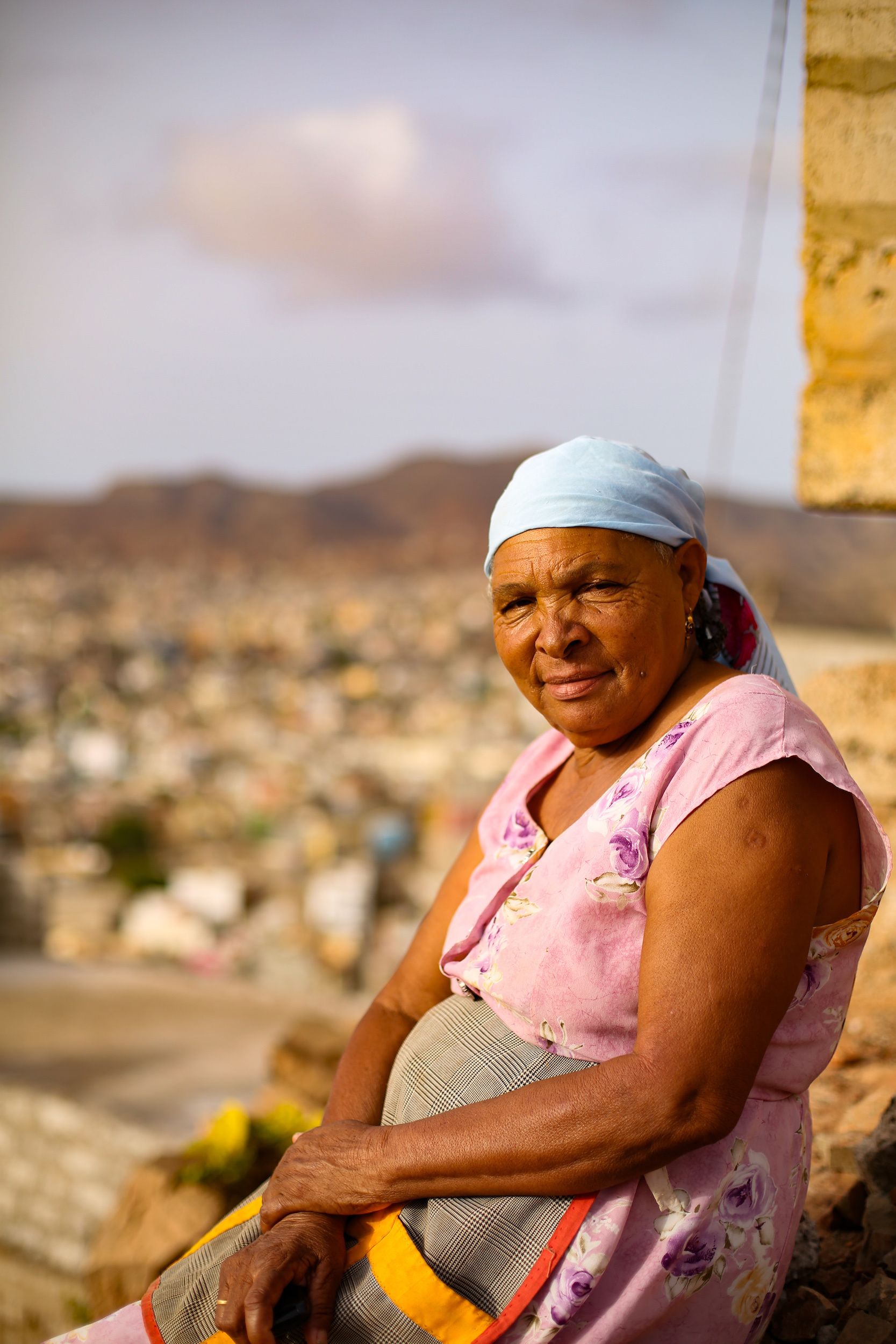 Photo by Antonio Thompson.
This is Juliana—the mother of Elton and grandmother of Kelton, and, from what I witnessed, Superwoman. Just prior to posing for the camera, she was simultaneously looking over a boiling pot, folding shirts fresh off the clothesline, and sweeping debris from in front of their home. This seamless ability to be the multitasking backbone of a household is a skill I've seen in many women here. But to her, it's no big deal. She is simply "a loving woman who looks after my family."
Photo by Antonio Thompson.
I met Kethienne and her 2-year-old son Zion on the beach. When I asked why she named him Zion, she revealed that the circumstances around her pregnancy were similar to that in Lauryn Hill's iconic "To Zion"—young, ambitious woman suddenly faced with an unexpected pregnancy. She's dreamt of being a doctor for as long as she can remember. I took this photo a few days before she embarked on a journey to bring that lifelong dream to fruition: studying medicine in Cuba. Though it's a hard sacrifice being away from her son, she understands it will set an example for him to grow up and do the same for himself. "I never regret choosing to keep him because he is the joy of my world, I love him so much, and I hope he grows up to be proud of me."
Antonio Thompson is a Harlem-based artist and photographer, with a passion for storytelling. His mission is to humanize unseen people and places. Follow him on Instagram: @antonio.thompson.