This weekend, 1-54 Contemporary African Art Fair, the leading art fair devoted to contemporary African art, will debut in Marrakech, Morocco. The announcement of the Fair's expansion to the continent last year has left aficionados of contemporary African art in eager anticipation of this "homecoming"—this author included.
1-54 debuted in London in 2013. Although an expansion to New York followed, a presence on the continent was always part of the long-term vision of the founder Touria El Glaoui. Finally, the time has now arrived.
Here are five reasons why we're looking forward to 1-54 Contemporary African Art Fair Marrakech.
---
1. 1-54 Marrakech delivers a fresh lineup.
This year the ever-evolving art fair will present a mix of 17 galleries from Europe and Africa specializing in contemporary African art. Further diversification of these exhibiting galleries yields more than 60 artists, both emerging and established, from over 20 countries. There are five newcomer galleries to the fair this year, including LouiSimone Guirandou Gallery, from Côte d'Ivoire, and Loft Art Gallery, which is located in Morocco.
Another returning feature of the 1-54 fairs is the "Special Projects" section, which presents exhibitions in unique partnership with the fair. Some highlights include a performance by Elisabeth Efua Sutherland, titled Black Noise. In the performance the artist "explores black as a lament, color and meditation. Using sound, movement, and simple interactivity, Sutherland, together with eight fellow performers, incorporates components of contemporary, modern, and traditional Ghanaian dance, with song and spoken word in English and Twi, an Akan dialect."
Another must-see is The Mahjouba Initiative by artist Eric van Hove. The initiative, which is also a partnership with several African think tanks, is a multi-year artistic and engineer endeavor that aims to conceive an electric moped to be built mainly by craftsmen for the local Moroccan market to achieve a significant percentage of its national consumption via solar energy and its prevalent crafts sector. The first prototype will be on display during 1-54. Much like the host city itself, this year's fair is a consciously executed mix of tradition and nouveau.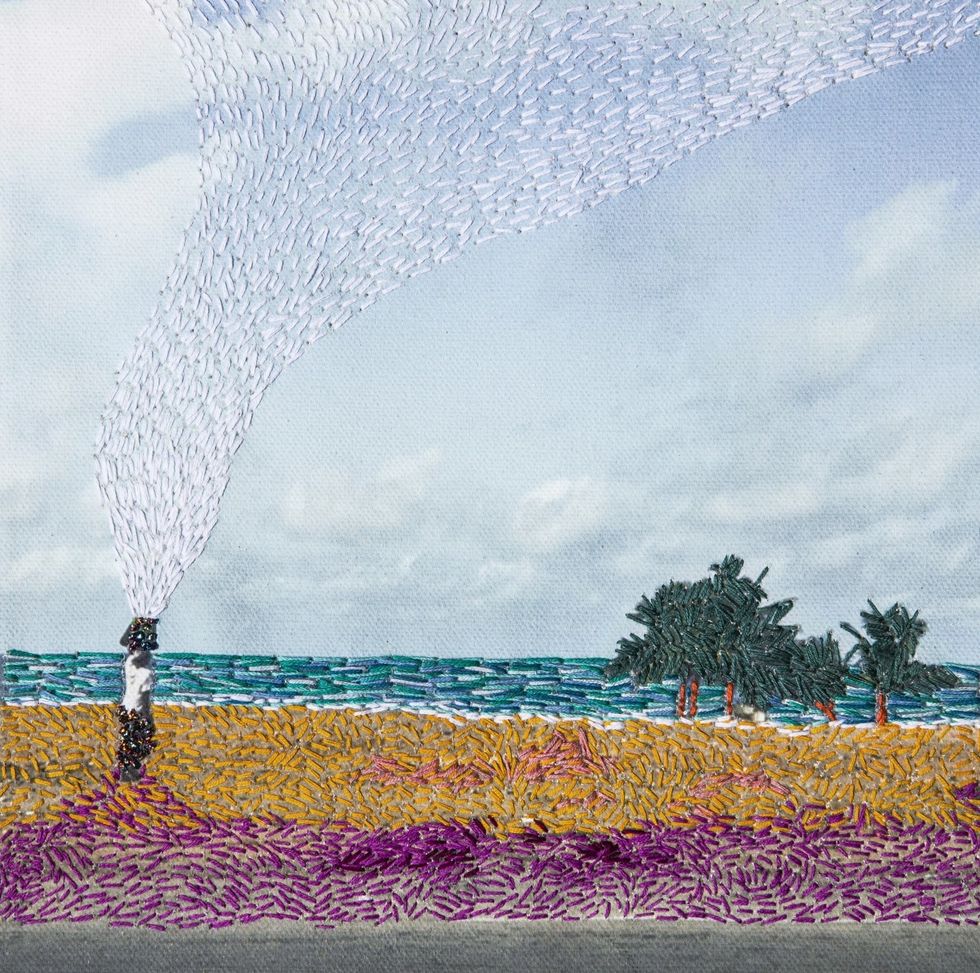 Joana Choumali. "Ca va aller," 2016. Courtesy of Loft Art Gallery.
2. 1-54 Marrakech incorporates the local arts community to create a tailored celebration of African art.
Concurrent to 1-54 will be the opening of Museum of African Contemporary Art Al Maaden (MACAAL). MACAAL will launch with two exhibitions: Africa Is No Island, a group photography show including artists Sammy Baloji and Joanna Choumali, and a semi-permanent showcase of the museum's collection to feature works by Serge Attukwei Clottey, Abdoulaye Konaté, and Chéri Samba. Another simultaneous exhibition to 1-54 will be at the Musée Yves Saint Laurent, which will debut The Sculptural Dresses, an exhibition dedicated to the works of Moroccan couturier Noureddine Amir.
Partnership with local arts organizations is a regular theme of 1-54, as evidenced in its London and New York editions. El Glaoui tells OkayAfrica Marrakech will be a unique experience, stating, "Marrakech has its own rhythm, natural surrounds, culture and societal structures. We are always inspired by our environment and try to draw from it as much as possible. One way in which we do this is by designing the fair in conversation with the venues architectural nuances, including local institutions and galleries, intimate spaces such as artists' studios, and even historical sites."
"This is the first 1-54 edition to be held on the African continent so we hope it will be a celebratory experience for all involved," she concludes.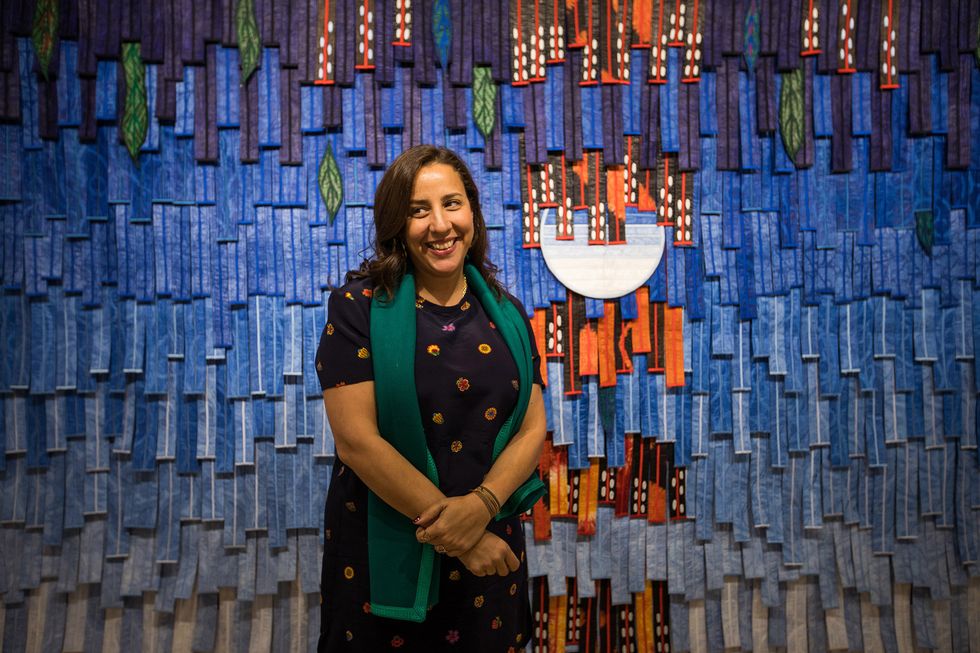 1-54 Founder Touria El Glaoui at 1-54 Marrakech. Photo courtesy of 1-54/SUTTON.
3. 1-54 Marrakech crowns the city as the African continent's newest art hub.
There's no place in the world like Marrakech. The confluence of African, Arabic and European traditions present a city with a nearly endless opportunity for new discoveries. From terracotta-hued streets to the unique harmony of the medina—brimming over with visual, audible and edible delights that tingle your senses—Marrakech was already one of Africa's most enticing cities.
But the presence of 1-54 in this North African hub has a greater significance for art: As its name implies, 1:54 aims to be a presentation of art from the 54 countries of the continent. Whereas for many the term "African art" conjures only arts from sub-Saharan Africa, the north and south are now a united Africa is in this art schema. In transcending geographical boundaries, and establishing an arts locus in Marrakech, 1-54 creates an inclusive discourse on African art (It's also worth noting that in addition to the tandem opening of MACAAL this year, new art events are already planned in the wake of 1-54 Marrakech, notably the Marrakech Biennale which will resume in 2020).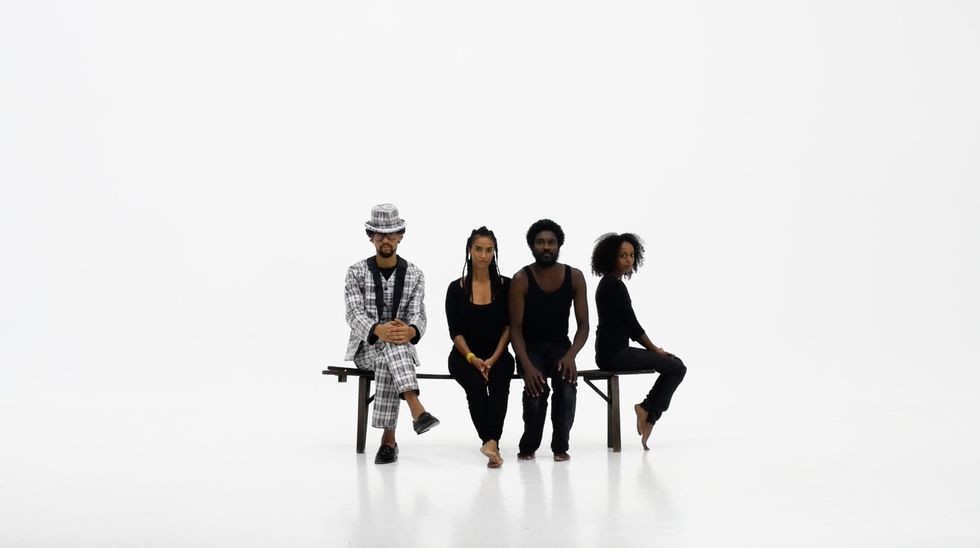 Still from Grada Kilomba's "ILLUSIONS, 2016." Photo courtesy of 1-54/SUTTON.
4. 1-54 Marrakech reminds us to "Always Decolonise!"
Each edition of 1-54 includes 'FORUM'—a series that engages key art world players, through talks, panel discussions, screenings and performances to explore a specified topic related to contemporary African art. This year's theme, "Always Decolonise!", will engage with the notion that decolonization is not a historical event that belongs to the past; decolonization is, in fact, ongoing. The curator of FORUM is Omar Berrada, co-director of Dar al-Ma'mûn, a library and residency center for artists, scholars and translators located in Marrakech.
In a press statement for the fair, Berrada expounded on the theme of this year's FORUM, stating:
"Our world may be post-colonial, yet it has not been decolonised. Colonial powers may have left, but their past presence casts a long shadow, stubbornly occupying our mental, aesthetic and epistemic spaces. Everywhere colonial wounds lie wide open. If decolonisation is another name for freedom, then it can only be unfinished business: a permanent horizon, never reached yet always longed for, as long as human life is structured by relations of race, class and gender domination. In the face of lingering coloniality, decolonisation is not a bygone historical event; it is an everyday task. Always decolonise!"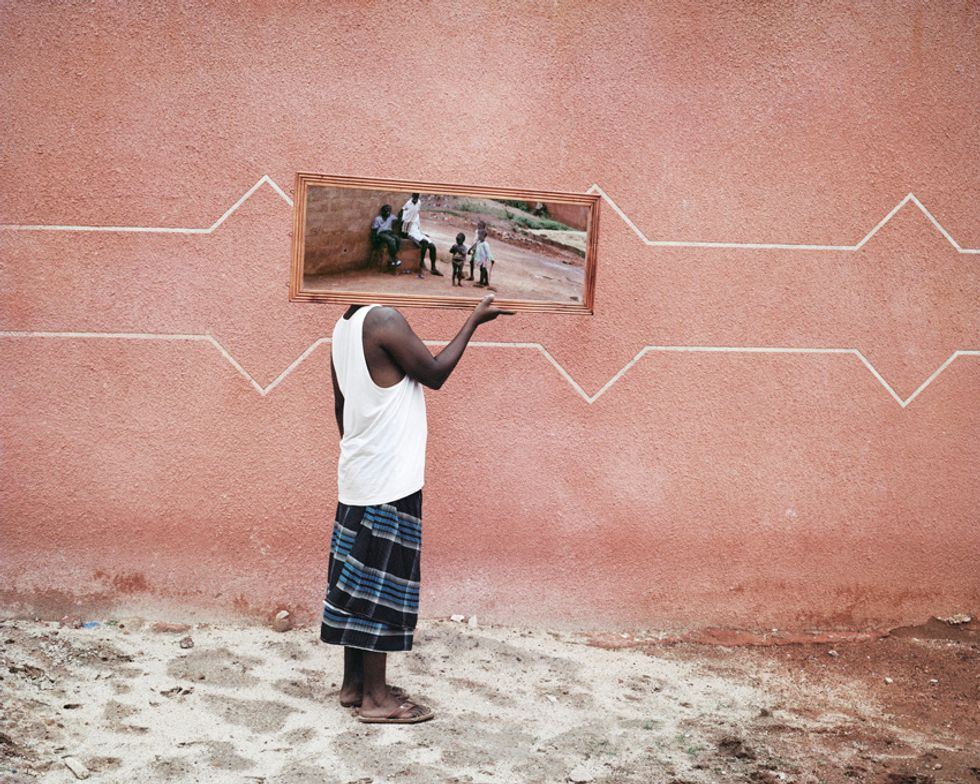 Dawit.L.Petros. "Untitled (Prologue), 2016." Photo courtesy of Tiwani Contemporary.
5. 1-54 Marrakech remains a key indicator of the global interest in African art.
The debut of an African art fair, which was founded in the west, on the African continent not only epitomizes a homecoming but also nods to a shift in the global appreciation of contemporary African art. El Glaoui tells us, "[The new edition on the African continent] is a sign of movement…I believe we are moving past the 'trend phase' into a more stable period focused on sustainability. Globally, institutions and scholars are prioritizing Africa-centered research in an effort to expand the canon. Because of this discourse on artistic and cultural practices of Africa and its diaspora have become more intricate, going beyond just conversations on visibility and clichés. Although there are noticeable shifts, we acknowledge that there is always room for deeper considerations and evolvements."
She credits "systematic changes" in some African countries, particularly in infrastructure and the development of support structures for artists, as well as interest among collectors as some factors that have supported the growth of the fair and enabled 1-54 to arrive at this point. Beyond the excitement of this 'homecoming' 1-54 Marrakech is surely an indicator of the sustainability of African art as a force in the global contemporary art market.
1-54 Contemporary African Art Fair Marrakech will take place on February 24-25 at La Maimouna Hotel. OkayAfrica is reporting live from Marrakech for 1-54. Keep up with us for artist interviews, recap, and more from this dazzling African city.
Nadia Sesay is a Sierra Leonean based in Washington, D.C., traveling the world to indulge in art. She is the Editor of BLANC Modern Africa, a magazine on contemporary art and culture inspired exclusively by Africa and its Diaspora.