What is Lagos without the energy?
In Africa's most populated city, vigor and vibrancy are what cultivate the energy that keeps the city bustling and thriving, despite the efforts of NEPA. That very same energy was definitely present throughout this season's fashion week shows. Afromodernism, theatrical showmanship, and celebrity appearances were some of the themes in many of the presentations, but never in lieu of genuine and raw design talent.
This curated collection of Africa's finest designers managed to keep the audience attention on a rollercoaster ride of discerning moments throughout the ongoing parade of models and garments. To help digest these moments, I've put together my top 10 from the fashion rollercoaster that was Lagos Fashion Week 2018.
Take a look below.
---
TOKYO JAMES' WOMENSWEAR DEBUT
Photo by Kola Oshalusi.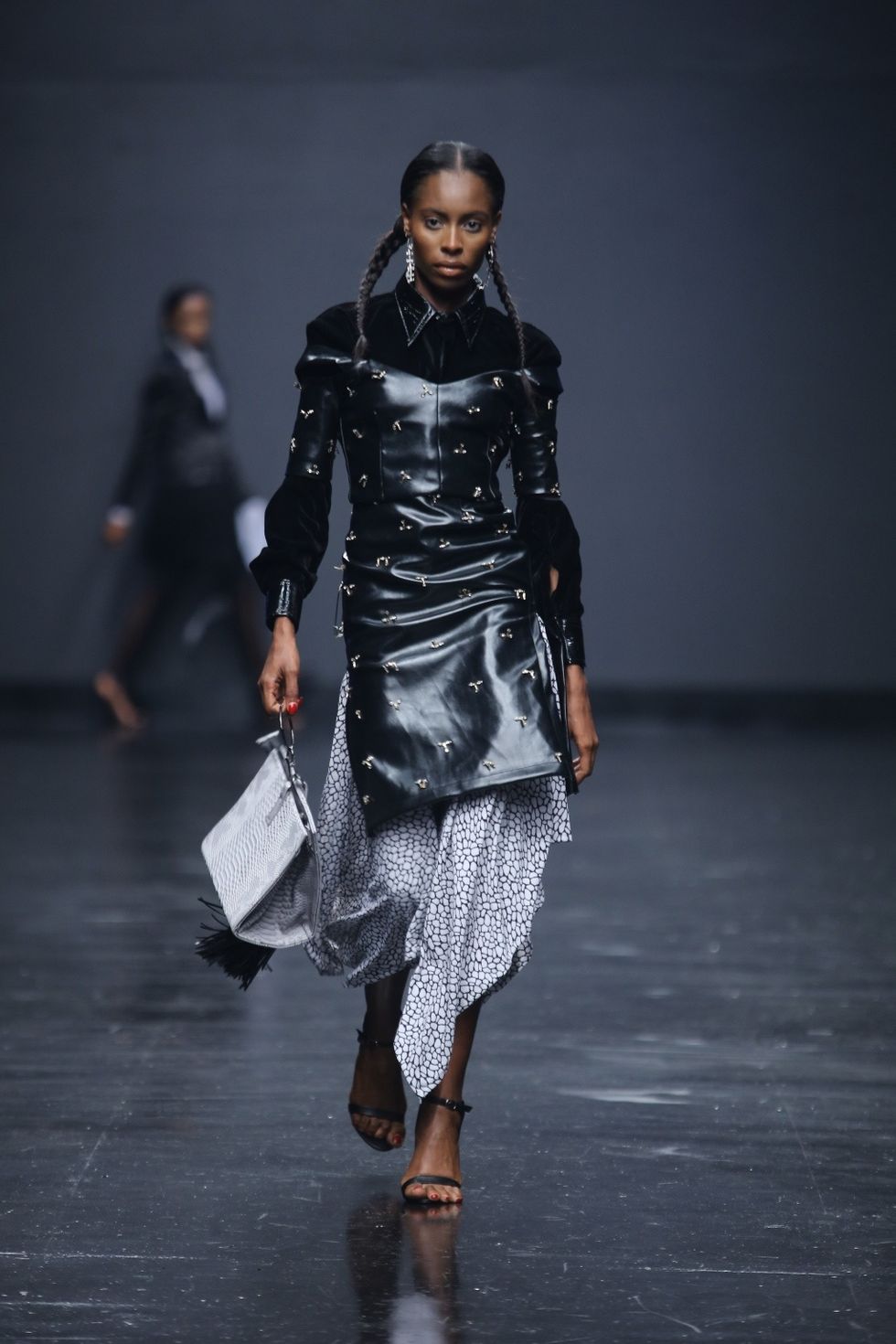 Photo by Kola Oshalusi.
Photo by Kola Oshalusi.
Lagos-based menswear designer Tokyo James took his first step into the realm of womenswear this fashion week with his women's collection debut—and a large step it was. The womenswear looks were jam-packed with embellished leather, masterful layering and exaggerated accessories. James' use of these style elements effectively shaped exactly who the Tokyo James woman is: a woman who is extremely chic and stylish, a bit edgy, absolutely unbothered, and definitely international. The type of woman you've always wanted to be.

EMMY KASBIT: THE YOUNG KING OF MENSWEAR
Photo by Kola Oshalusi.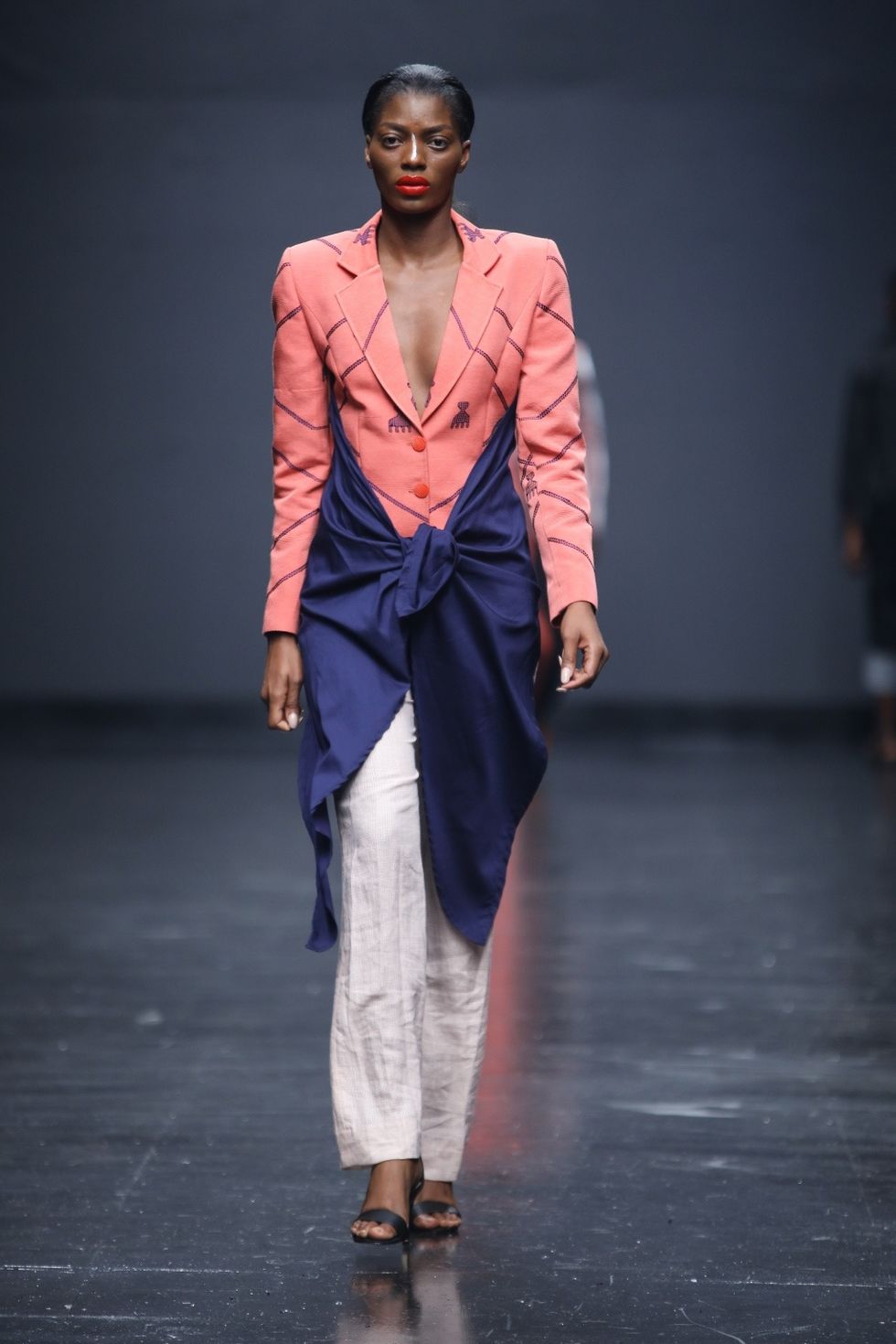 Photo by Kola Oshalusi.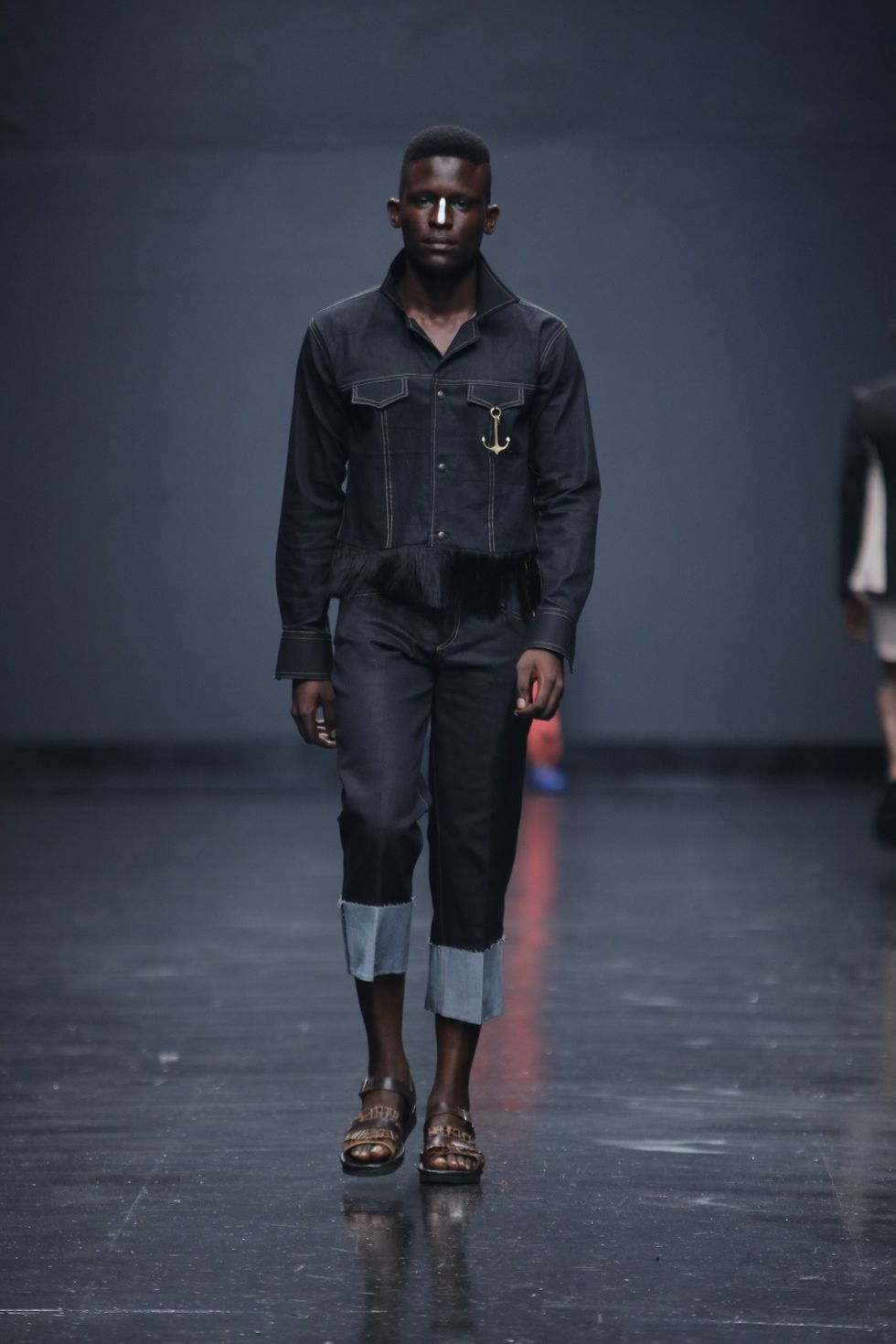 Photo by Kola Oshalusi.
Emmy Kasbit had an astonishingly standout menswear collection. Modern use of the traditional aso oke fabric is a prominent trend in Lagos fashion today—designers are co-opting the age-old fabric, creating and using it in brand new ways. The trend, interestingly enough, hasn't quite cracked the menswear scene, until Emmy Okoro. With this collection, he tastefully twisted the coveted fabric and created the most modern of silhouettes. His SS19 collection, filled with amazing tailoring, great colors and unique cuts, not only attests to his ability to modernize this traditional fabric, but also his mastery over the rules of menswear—mastery enough to break those rules over and over again.

DEOLA SAGOE + CLAN: THE MOTHER-DAUGHTER FASHION EMPIRE
Photo by Kola Oshalusi.
Photo by Kola Oshalusi.
Photo by Kola Oshalusi.
Deola Sagoe is a Lagos fashion legend in her own right, but like any real legend she has poured into a successor to follow in her steps. Even better that someone is her daughter Teni Sagoe. This season Deola and Teni showed their respective collections subsequently in a beautiful mother-daughter fashion moment. While Teni tapped into British high-life fashion with elegant cuts, and extravagant fascinators, her mother took to Nigerian high-life and made it higher—using aso oke with embellishments, laser cutting, and fringe-work in ways never done before. If aso oke is the reigning trend in Lagos, many would say, "Sagoe started it."

SISIANO'S LAGOS ROMANCE
Photo by Kola Oshalusi.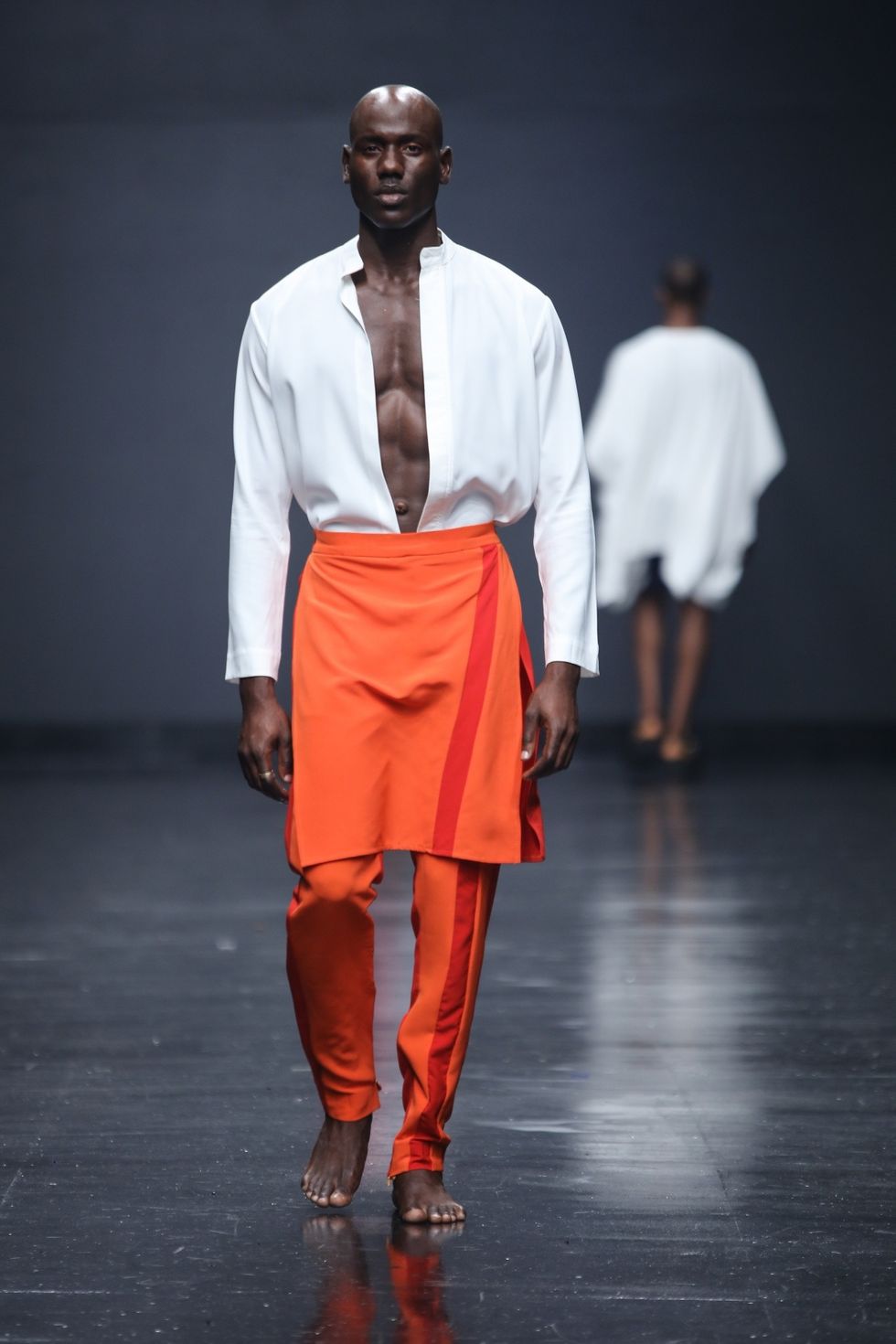 Photo by Kola Oshalusi.
Photo by Kola Oshalusi.
Paolo Sisiano's presentation was one of the most impressive shows yet. As native-trained designer, you won't always hear his name amongst the list of Lagos' popular designers, but with his SS19 showing, he has earned his presence among Lagos' most fashion elite. His collection was an absolutely stunning display of romance, color and pure skill over drapery and fabric movement. It was clear this collection was a portrayal of himself as the garments moved with grace down the runway. The lovely designs were a truly a refreshing palate cleanser amidst other typical Nigerian fashion moments.

MAI ATAFO: SON OF THE SOIL
Photo by Kola Oshalusi.
Photo by Kola Oshalusi.
Photo by Kola Oshalusi.
Mai Atafo is a true son of the soil. You could feel the excitement for Atafo's show permeating the air as his segment got closer. And even with such anticipation, he did not disappoint. Mai's military-inspired collection, serenaded by an uber-talented violinist/model had the crowd beaming in excitement and provided the level of showmanship Lagosians have come to expect of a brand of his stature. The sophisticated take on Nigerian military wear was a true show of his place as a fashion veteran. The only thing that successfully held its own against his amazing collection in the battle for attention, was his beautiful daughter who effectively stole the show when she joined him in his designer finale walk.

STUDIO 189: ACCRA ENERGY
Photo by Kola Oshalusi.
Photo by Kola Oshalusi.
Photo by Kola Oshalusi.
Speaking of beaming and refreshing energy, Studio 189's show was filled with it. Lagosians can often take themselves too seriously, so when Studio 189's models, clad in wildly colorful sustainable designs and sneakers, took to the runway to a makossa track there was a clear shift in energy. You could even spy some of Lagos' all too serious fashion guests fighting their urge to dance in their seats. The CFDA-awarded designer provided a vibrant array of print-heavy designs to accompany their dance-inducing soundtrack, serving the crowd a much-needed pick-me-up, one look at a time.

RICH MNISI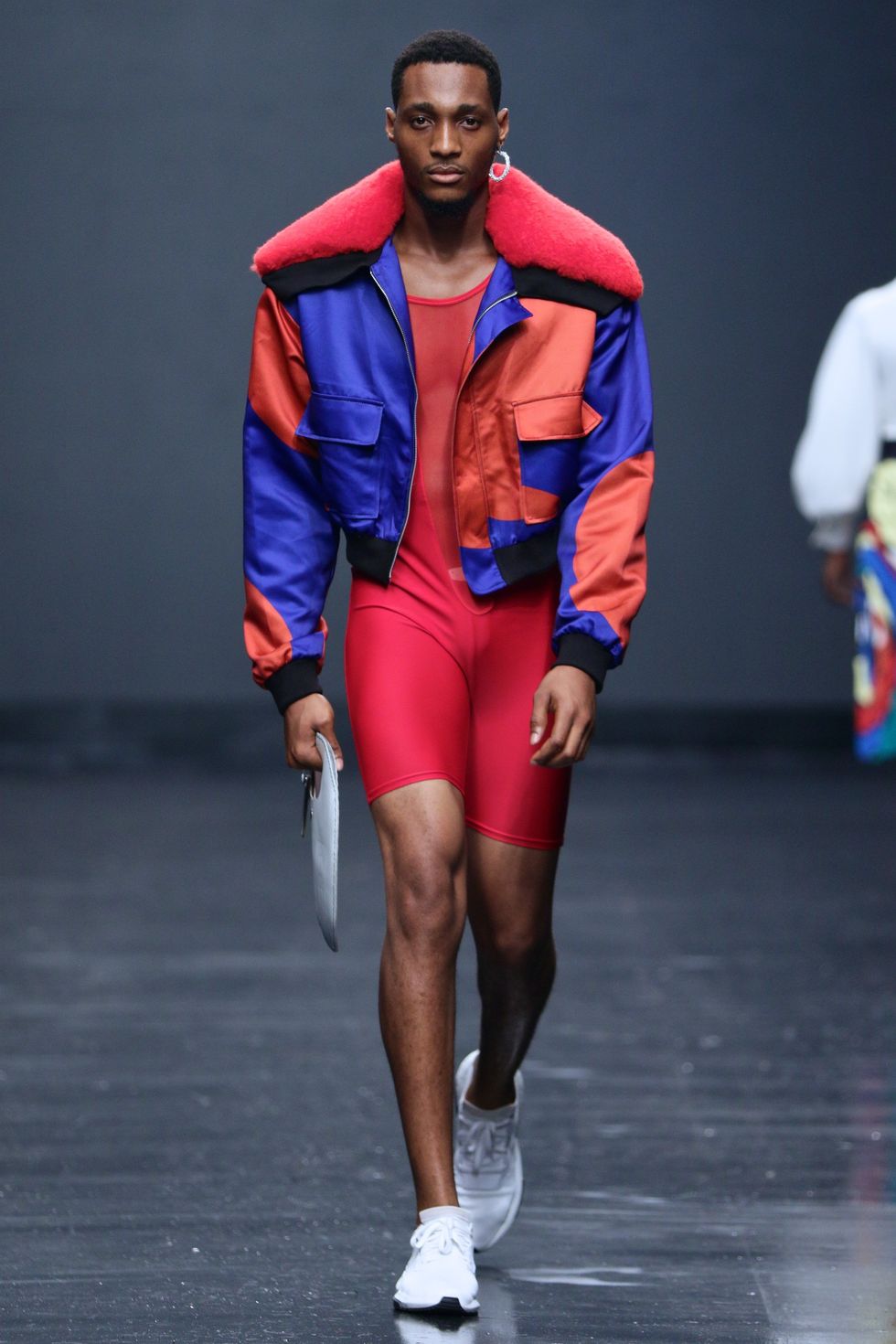 Photo by Simon Deiner.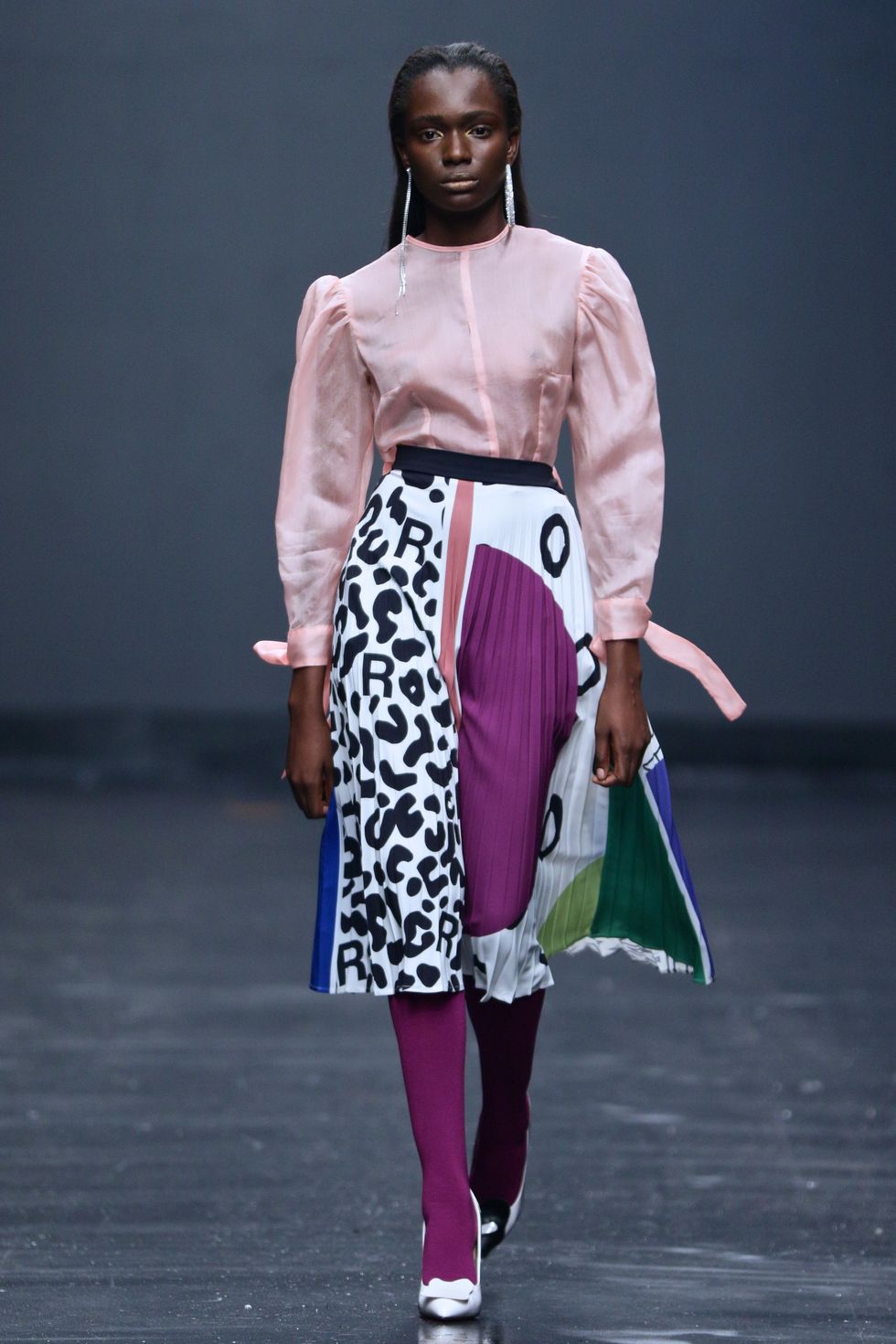 Photo by Simon Deiner.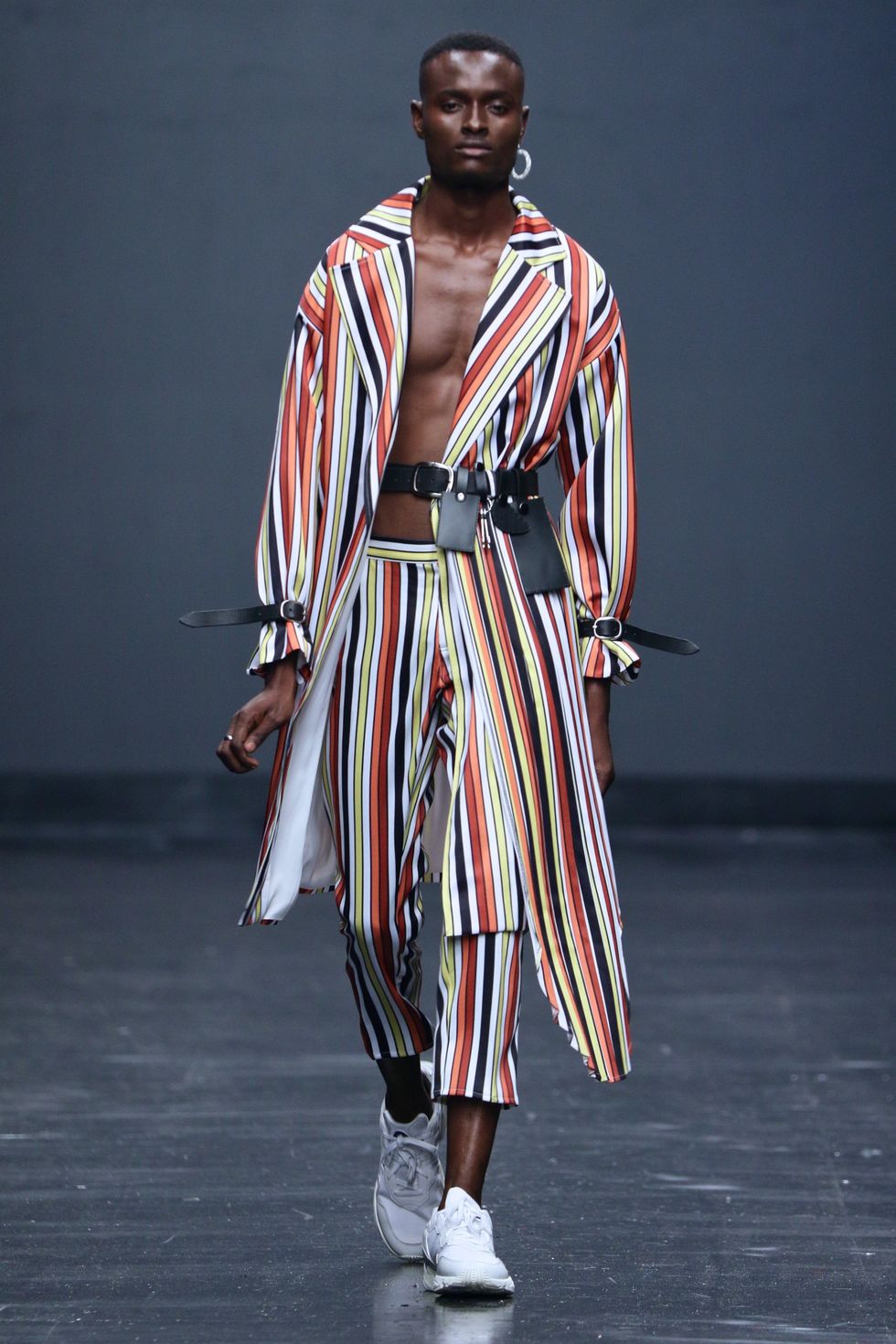 Photo by Simon Deiner.
South African-based, Lagos newcomer Rich Mnisi managed to stand out amongst Lagos' array of veteran designers by tapping into a trend that we're seeing worldwide from top designers like Hedi Slimane, Marc Jacobs, and Moschino—80s glam. You don't often see decade inspired-designs coming out of Africa, which was something that made Mnisi's collection stand apart from those same Lagos vets. Mnisi was able to make this trend all his own—and distinctively African—through his use of pattern and color-play, proving we can only expect to see more and more of him.

THE EVOLUTION OF MAXHOSA BY LADUMA
Photo by Kola Oshalusi.
Photo by Kola Oshalusi.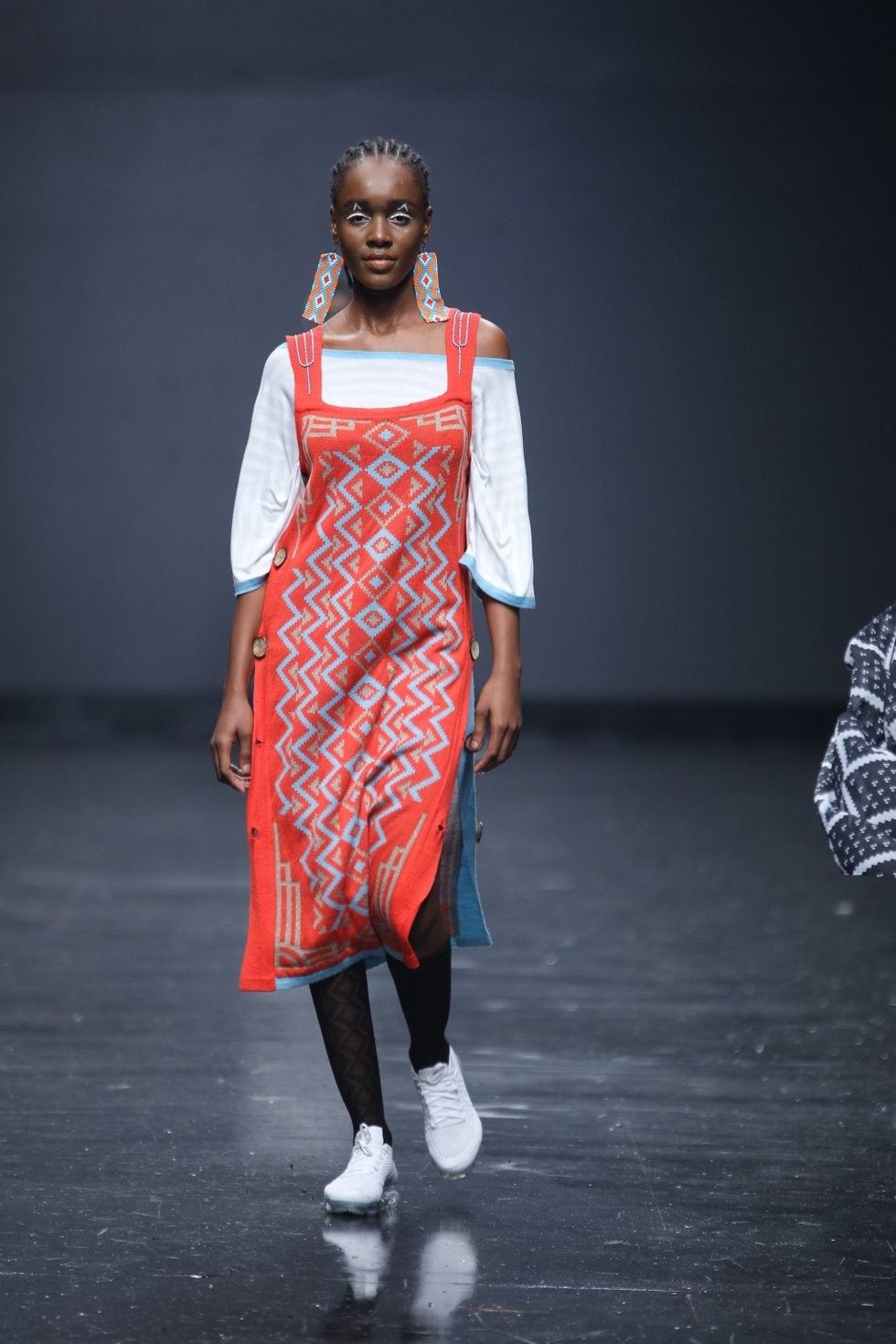 Photo by Kola Oshalusi.
Although only starting in 2011, MAXHOSA by Laduma established itself as a prominent African brand quite early on with its monopoly of African-inspired printed knitwear. With such early and constant recognition for a certain aesthetic, it can be easy to get put into a box, but not MAXHOSA. Laduma Ngxokolo, MaXhosa's head designer, took his signature knitwear to totally new levels with his SS19 collection. From his intricate knit dresses and accessories to the silk printing of his signature knit patterns, Laduma was able to elevate his brand exponentially without sacrificing his aesthetic, a feat worth accolades. This wasn't a year-over-year type of growth, this was MAXHOSA 5 to 10 years in the future.

STREET STYLE: THE FASHION HUSTLE
Photo by Kola Oshalusi.
Photo by Kola Oshalusi.
Photo by Kola Oshalusi.
Not unlike Lagos, some of the best fashion was off the runway. The LFW guests showed up and showed out to the fashion week grounds everyday, hours before the shows even began, to show off their looks and vie for the attention of the street style photographers. Many of the best were young, up-and-coming designers themselves, hoping to share their personal brands through their own sartorial efforts. Like everything else in the city, fashion is a hustle and no holds were barred.

THE MAIN EVENT: ORANGE CULTURE
Photo by Kola Oshalusi.
Photo by Kola Oshalusi.
Photo by Kola Oshalusi.
The only other time that the tension in the air felt suffocatingly tangible were in the moments surrounding Adebayo Oke-Lawal'sOrange Culture presentation. In the moments leading up to his show, it was clear that this was the main event and there was high anticipation for him and the success of his collection. Funny enough, despite the alarming amount of pressure, even until seconds before his show Oke-Lawal kept a surprisingly lighthearted disposition. And as expected of one with such a calm and confident air amidst a cloud of expectations and anxiety, he delivered. His collection, entitled Orange Moon, was not only a display of impeccably eclectic fashion, but a political statement against Nigerian societal ideologies. With it's Handmaid's Tale styled bonnets, Adebayo's Orange Moon was a statement to societal oppression in Nigeria and the persecution that makes many of its citizens feel the need to lead a double life—like night and day, or sun and moon. This type of political statement dressed in strikingly beautiful garments is how Orange Culture lived up to the hype and his well-deserved spot as the finale of Lagos Fashion Week.

Bonus: FALANA at ORANGE CULTURE FINALE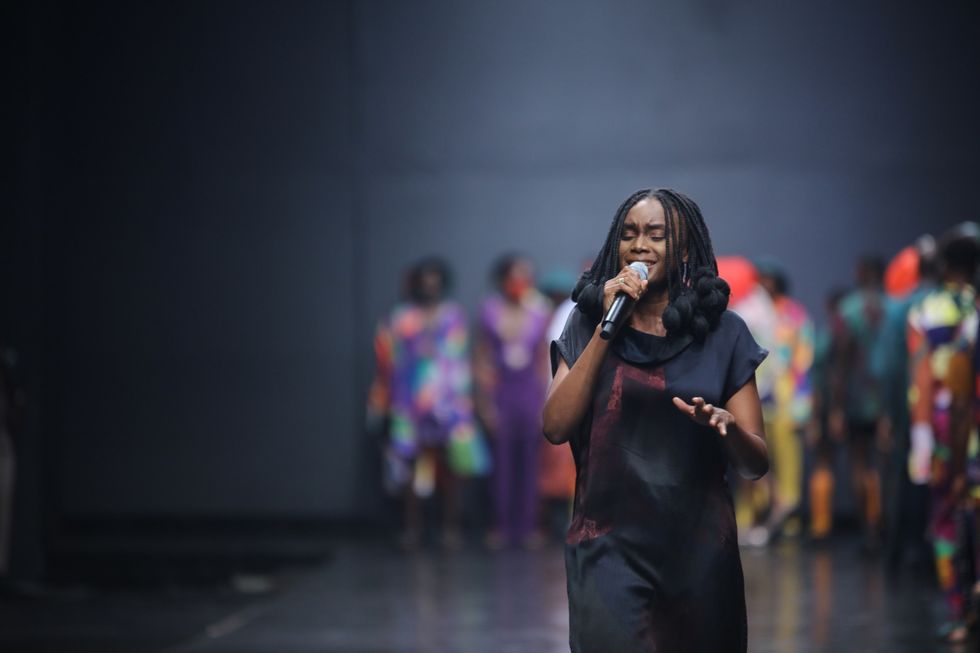 Photo by Kola Oshalusi.
After being shaken up by Orange Culture's collection we were serenading by the angelic voice of one of Lagos' favorite fashion front row-ers, Falana, as she belted an a cappella rendition of her unreleased single, "Repeat," as the models marched out in their final foray. I've heard Falana tracks before, but hearing her in person really solidified her sheer-star power and has me eagerly awaiting her 2019 EP.