Ryan Coogler's third feature "Black Panther" has now made box office history grossing well over $360 million in its opening weekend, making it the fifth highest opening weekend of all time.

---
The overwhelming feeling when watching "Black Panther" may be pride in oneself and in ones origins, but also in the excellent execution of Coogler's pan-African vision.
To further celebrate what is now World Wakanda Week, we've listed out the 10 most remarkable features of the film.
1. The Languages and Accents
Photo by Sabelo Mkhabela.
In the establishing scenes, Nakai (Lupita Nyong'o) is heard speaking perfect Hausa after a scuppered covert mission to save the over 200 girls abducted, in Nigeria, by Boko Haram in 2014. Elsewhere in the film, characters interlace English and IsiXhosa (as well as other African languages) in a way that is true to how it is spoken by many, but is rarely ever pulled off as seamlessly as it's done in the film. Many films fail at this. Many novels fail at this, but the actors do an immense job of bringing to life the languages envisioned by writers Ryan Coogler and Joe Robert Cole.
2. The Water
The myth about black people being afraid of large bodies of water, whether sea or ocean, may have grown out of the Atlantic Slave Trade, but any truth in the psychology would surely be less so for the descendants of Africans who remained on the continent. The fight for the soul and supremacy of Wakanda is carried out, not just in still bodies like seas or oceans, but on the precarious cliffs of a waterfall. Far from the fallacy of psychological hangover, it is in fact a holy ground on which a king is consecrated.
3. The Soundscape
In Black Panther, the choice of music is well-judged and effectively evokes place and feeling. The drumming is majestic and common to the continent's constellation of ethnic groups. American trap is used seamlessly during scene transitions. Shuri (Letitia Wright) is 16 years old and listens to gqom when in her lab, the most vibrant of music genres among the youth of South Africa. In "Black Panther: The Album"Kendrick Lamar ably marshaled over 20 African and African-American artists for 14 tracks that draw from various genres, including electronic, house and trap in a way that matches the scenic composition in Coogler's film.

4. The Casting
Good luck finding a better caliber of actors anywhere in the world. So rich is the assemblage of film and theater actors, that even some small, non-speaking roles are filled with towering talents—most notably Danny Sapani who plays a "Border Tribe Elder"" in the film. Sapani is a respected theatre actor in London who's played the lead in important black productions including "Moon On Rainbow Shawl" (2012), and in Lorraine Hansberry'sLe Blanc(2016) in which he played Tshembe Motoseh, the leader of an African nation faced with civil war and colonial oppression.
5. The Call For Restitution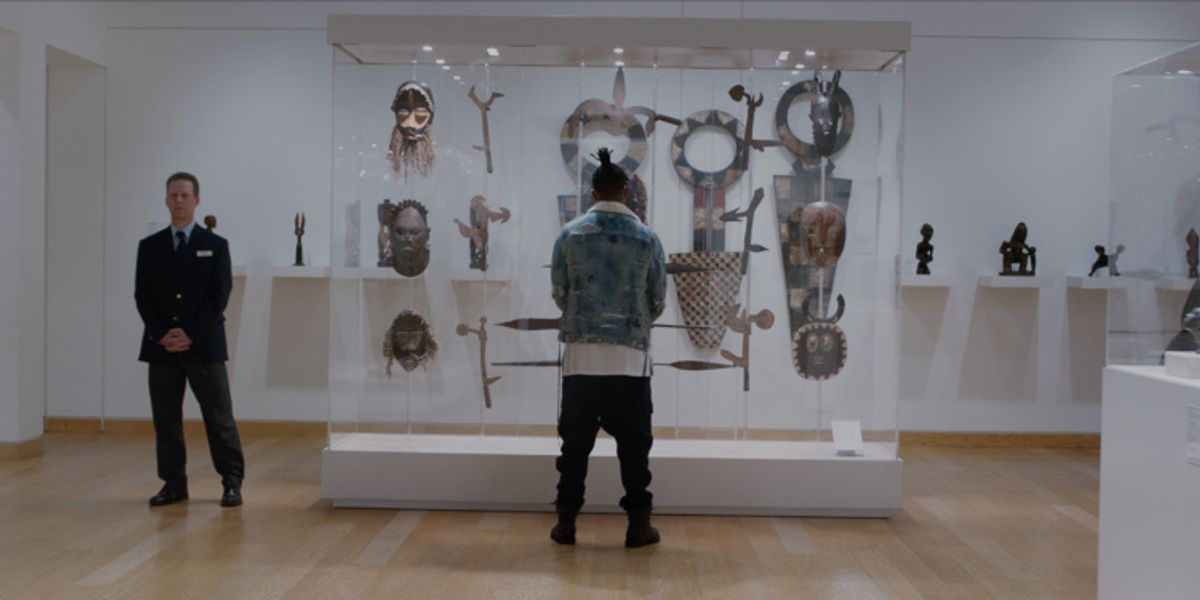 The over 200, 000 African artifacts in the British Museum in London are a collection of stolen and acquired goods, a fact raised in "Black Panther" by Erik Killmonger (Michael B Jordan) when he questioned a gallerist over the displays of Fula, Ashanti and Benin masks.
In April, the Victoria & Albert Museum in London will open an exhibition titled "Treasure From Ethiopia", a collection of treasures including a gold crown belonging to Emperor Tewodros II taken after a British conquest in 1868. Ethiopians, many from the Association For The Return of Maqdala Ethiopian Treasures, have long campaigned for their return.
6. The Accents
Danai Gurira is Zimbabwean, Forest Whitaker revisits the Ugandan accent he learnt for his Oscar-winning role in "The Last King Of Scotland." Lupita Nyongo is (still) Kenyan, while Chadwick Boseman settled for South African. Winston Duke went Nigerian and Michael B. Jordan accent is resolutely African-American.
Daniel Kaluuya is Ugandan and was scarily convincing in 2013 as Mobutu Sese Seko, alongside Chiwetel Ejiofor, in Aime Cesaire's "A Season In The Congo." It's clear that the actors payed close attention during dialect training.
7. The Gender Balance
The choice of 16 year old Shiru (Letitia Wright) as the quartermaster of Wakanada is a brave and sensible one that confounds popular beliefs that women steer from sciences. Her brilliance would confound the brains at Mensa but more realistically, it is reminiscent of the young girls at The African Science Academy, a girls only advance level school for math and science in Ghana founded by Nigerian scientist Tom Ilube.
8. The Visual Design
The film is a sumptuous visual feast of colour, design and symbolism that will require multiple viewings to examine. The visual appeal of the film deepens the viewing experience—and undoubtedly helps with box office returns. What truly amazes is the level of research and feeling put in by Ruth Carter, the film'scostume designer and Hannah Bleacher, theproduction design, which has gone a long way to amplify Coogler's pan-African vision—some of which a very helpful twitter user has illustrated here.
9. The Spirituality & Mythology
Leo Frobenius' feverish dream of white supremacy that is the "African Atlantis" was daft in the early 1900, as is every lie told to justify human subjugation in all forms. The kingdom of Wakanda may have been based on the reclusive terrains of Lesotho in Southern Africa, but the pan-African dream of a workable amalgamation of nation states is powerfully conveyed in the film as something that is not simply possible, but achievable. Screenings at African Union assemblies would make for an interesting viewing experience to say the least.
10. The Director / Writer
Photo by Travis Matthews.
"Fruitvale Station" reimagined the life and death of Oscar Grant at the hands of the police, and so was a naturalist drama faithful to its source. But if we were paying closer attention, two scenes in "Creed" (2015) indicated Coogler's remarkable decision making, and feeling for black politics and super-heroism, in ways that are bold and rarely seen in big studio productions. One is the intimate bedroom scene when Adonis (Michael B Jordan) fixes the long braids of his girlfriend Bianca (Tessa Thompson) in bed. And the second was a scene—tethering on the hyperreal—when a group of bikers escort Adonis, who jogs at full speed. The scene is better seen than explained. All in all, it's clear that Coogler is astute beyond belief.