Where the word "captures" is normally applicable in describing the work of a photographer, one could argue that the exact opposite is true in the case of 100 Women honoree Adama Delphine Fawundu. The multi-disciplinary award-winning visual artist and educator has arguably for the past 25 years freed the subjects of her photos. She has, in fact, produced an archive of authenticity that documents the life and culture of the African diaspora truly and accurately.

Fawundu, who was born in Brooklyn to a father from Sierra Leone and a mother from Equatorial Guinea, has created work that challenges stereotypes and provokes uncomfortable yet necessary conversations about African identity. She has even turned the lens on herself, such as in the case of Deconstructing She–for this series the visual provocateur transformed into myriad representations of blackness and African ethnicity to tackle gender and social constructivism as it concerns the global black community. A testament to her perspicacious eye, Fawundu's work has been contextualized in publications such as The New York Times and Time Magazine while her visual art has lived in the Norton Museum of Art, The Brooklyn Museum and the University of Sao Paulo, to name a few.
More than a decade ago, Fawundu joined forces with her best friend, seasoned documentary photographer Laylah AmatullahBarrayn to birth a book that would preserve and commemorate the work of women photographers of African descent from all over the world. The project would also fill a void–the last of its kind, Viewfinders by Jeanne Moutoussamy-Ashe was published in 1986. Despite the pair taking a creative pause to work on individual projects, the momentum was renewed by way of a grant from the Brooklyn Arts Council and a successful crowdfunding campaign. Their vision and efforts culminated in the launch of the inaugural issue of MFON: Women Photographers of the African Diaspora.
The biannual photography journal, named after Mmekutmfon "Mfon" Essien (1967 – 2001) a Nigerian-American photographer whose visionary work continues to inspire many, includes the visual offerings from 118 photographers and is as compelling as it is inclusive.
Below, Fawundu and Amatullah Barrayn expound on the photo-journal and their journeys.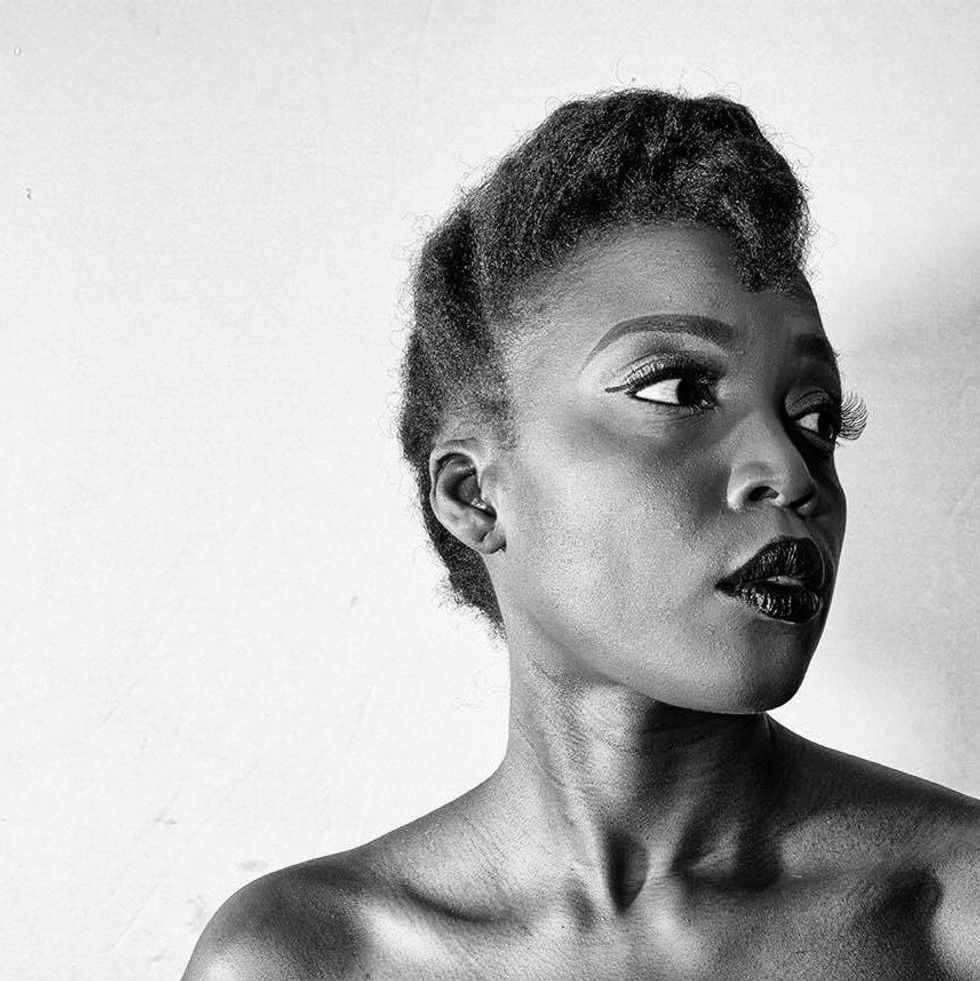 Adama Delphine Fawunduphoto courtesy of Adama Delphine Fawundu
Adama, we know that your work interrogates identity within the African diaspora. Laylah, can you tell us more about your work?
Amatullah Barrayn: I am a documentary portrait photographer. I've been working in this medium for 20 years. I'm self-taught and much of my inspiration comes from my mother who was also a documentarian and archivist.
And up to this point, would you both say are some of your career highlights?
Fawundu: I am so proud to have co-founded MFON. It is getting so much well-deserved attention and inspiring people all over the world. This is a very powerful highlight in my career. I am also a recent New York Foundation for the Arts Fellow in Photography. And I've traveled to more than 20 cities around the world photographing and researching various aspects of our diaspora.
Amatullah Barrayn: I've been fortunate to have created photographic narratives of the lives in black women. I've also been able to learn, record and share stories from the African continent and its diaspora. Of course, last year producing my dream project in MFON. Then there is my work as a contributing photographer with The New York Times.
You both have a breadth of experience in photography. What are your thoughts on photography as it pertains to the African community and African women?
Fawundu: From its inception, the camera has been used as a tool to benefit a very limited and often oppressive Westernize gaze upon us. It is time to use this same tool to share more perspectives of ourselves and the world. This is necessary to make the historical canon more humane and just.
Amatullah Barrayn: Yes. With the enormous amount of images that feature African women in them, I am and will always champion the cause for African women to create these images and balance the narratives. I'm interested in hearing our truths and seeing our perspectives. It may take a lifetime to make up for the years when photography was a tool used in derogatory ways with regards to Africans, diasporic Africans and African women. So I am all for getting those tools in our hands so that we create our own narratives.
Take us back to the inception of MFON photo-journal; what was the inspiration behind the project?
Fawundu: Over 10 years ago Laylah and I sat in my living room reading through several photography anthologies. We realized that at that point, the last time that there was an anthology dedicated to black women was in the 80's [Viewfinders by Jeanne Moutoussamy-Ashe]. We felt that this was a void and decided to do something about it. We didn't immediately produce our idea because of setbacks from publishers. However, during the time between, we both grew as artists and travelled a great deal more. Our worldviews made us understand that it was necessary to produce a book that would be global, one that would bring light to women from the African diaspora.
Adama, in the past you were able to work with Mmekutmfon 'Mfon' Essien, whom you and Laylah named the photo-journal after. Can you tell us a bit about her and her legacy?
Fawundu: Mmekutmfon Essien was a well-versed multi-disciplinary photographer. She shot fashion, fine art, documentary, editorial, and hip-hop events around New York City. She was also global, born in Nigeria, raised in Baltimore while working in Brooklyn. I would bump into her every now and then at hip-hop events back in the 90's. She had a distinct look about her; she was stylish with a low cut and always had her camera. I remember shooting the first Source Awards show with her. We didn't talk much but certainly connected because we were of the few women photographers shooting this historical event. Sad for many of us who were in the community, Mfon discovered that she had breast cancer. However, the true champ that she was, she made a very powerful series after her mastectomy titled, "The Amazons New Clothes." This series was her first museum show at the Brooklyn Museum, titled "Committed to the Image" which I also had work featured in. Unfortunately, Mfon never got to see her works at the museum, she passed away on the eve of the opening. We knew how much Mfon loved photography, and the importance of her work to the history of photography. For this reason, we named the book after her and featured one of her most revered images on the cover.
Her work was and is so important. There are so many like her who produce such great work that unfortunately goes unseen by many.
Amatullah Barrayn: So many brilliant African and African diasporic women photographers who are unpacking and exploring our world through photography. The perspective of the local documentarian is a unique and extremely important one, specifically when it is seen by a woman. We need more of this work, we need more platforms to share work and mostly we need gatekeepers to see the value in this work.
Fawundu: Women of African descent are often photographed but rarely do we really see the world as they see it. For the sake of humanity, and the historical record, it is important to widen the perspectives from which history is told and preserved. Our voices matter and need to be part of the conversation. We deserve a seat at the table.
What advice would you give young photographers and visual artists of African descent who are trying to make their mark right now?
Fawundu: I would say to network across. Reach out to your peers. You and your contemporaries can create powerful things.
Amatullah Barrayn: Don't stop making work. Even when you don't get the grants, the exhibition and publishing opportunities, there are so many platforms that you can use in this day and age to make sure your work is seen. Ask yourself why you are doing this. If it is in your system and you can't shake it, if this is your true calling, then continue to make and share your work by any means necessary. Tell your story.
This article appears as part of OkayAfrica's 100 Women 2018—a project highlighting the impactful work done by African women across the globe. Throughout March, we will be publishing a series of profiles, videos, interviews and feature stories on these inspirational women.