Photos: Tony Gyepi-Garbrah of Gentlemen's Brim
---
Over the weekend, Europe's largest contemporary African art fair made its U.S. debut during Frieze Week in New York. On view for three days at Pioneer Works in Red Hook, 1:54 NY showcased pieces from 16 galleries across Africa, Europe, and the U.S., with work by a total of 68 artists. Below, we take a look at a few of our favorites. For more art from the weekend, see our 1:54 preview.
————————————————————————————————————————————————————————————————————————————
Aboudia
Untitled, 2015
Acrylic and oil stick on canvas
200 x 300 cm
Courtesy of Jack Bell Gallery
London's Jack Bell Gallery brought two paintings by Ivorian artist Aboudia. Born and based in Abidjan, his work is brutal, layered, and heavily influenced by the clashes that followed Côte d'Ivoire's 2010 presidential election. According to gallerist Jack Bell, "his paintings reference street art and vodou and look at social inequalities in downtown Abidjan." Aboudia's works are currently exhibited at the Saatchi Gallery in London, through September 2015.
————————————————————————————————————————————————————————————————————————————
Leonce Raphael Agbodjelou
Untitled (Demoiselles de Porto-Novo series), 2012
C - print
Images size: 150 x 100 cm
Edition of 6 + 2 AP
Courtesy of Jack Bell Gallery
With his ongoing portrait series, Beninese photographer Leonce Raphael Agbodjelou points his lens to the people of Benin's capital city. Born and based in Port-Novo, Agbodjelou was trained by his father, Joseph Moise Agbodjelou, one of Benin's most famous photographers in the late fifties and early sixties.
On view at 1:54, the Demoiselles de Porto-Novo series (itself an extension of Citizens of Porto Novo) takes a closer look at Benin's colonial history by focusing on young female citizens in Porto-Novo. The portraits, like the one above, were shot on location in the old colonial-era house of Agbodjelou's grandfather, a merchant who made a fortune selling lemonade to the French and Portuguese armies. The mansion's interiors were crafted by Afro-Brazilian artisans in 1890. The woman in the photograph above is wearing a local vodou mask. Agbodjelou's works will be exhibited in upcoming exhibitions at the Seattle Art Museum, the Fowler Museum in L.A. and the Brooklyn Museum.
————————————————————————————————————————————————————————————————————————————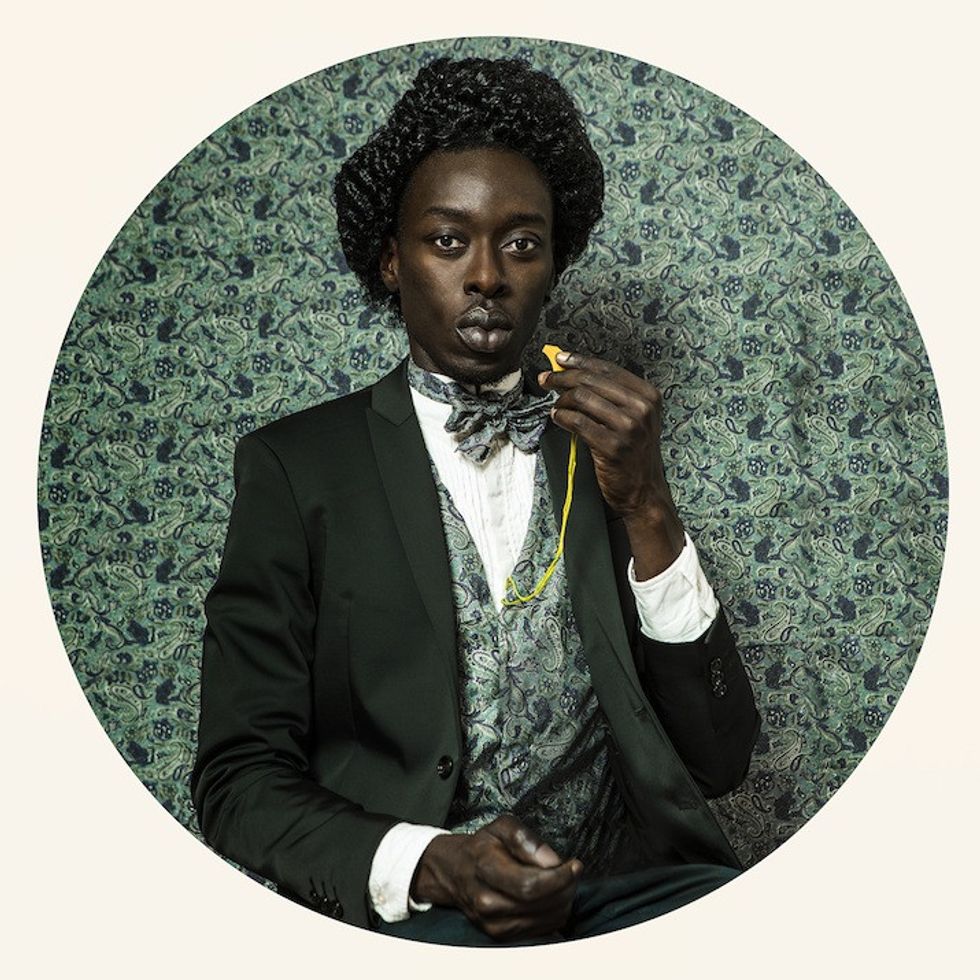 Omar Victor Diop
Frédérick Douglass, 2015.
Pigment inkjet printing on Harman By Hahnemühle paper.
90 x 90 cm / 35.43 x 35.43 in.
Courtesy of Magnin-A
Just a week prior to 1:54, some of us were on hand to see Omar Victor Diop on the silver screen in an episode of Afripedia that premiered during NY African Film Festival. Undoubtedly a force on Dakar's creative landscape, the Senegalese fashion and fine arts photographer is continuing the West African portraiture tradition of the late Malick Sidibé and Seydou Keïta's (whose iconic images also hung at 1:54).
Diop's Diaspora is a whimsical pilgrimage through art history that sees the artist mimic original paintings of notable African men in history while using football equipment as props. According to Diop, the series seeks to explore two major themes of identity and discovery, and was conceived during a four month residency in Malaga, Spain, where he was confronted with the reality of his "otherness." In an artist's statement, Diop also explains a shared paradox between footballers and the original men in his portraits, which he says reference football "to show the duality of living a life of glory and recognition," while facing the challenges of being "other."
————————————————————————————————————————————————————————————————————————————
Lawrence Lemaoana
I didn't join the struggle to be poor, 2015.
Fabric and embroidery.
Courtesy of Afronova Johannesburg
Johannesburg's Afronova brought two of Lawrence Lemaoana's soft sculptural works embroidered with political statements. The textile piece I didn't join the struggle to be poor reinterprets the statement made by former head of communications for the ANC, Smuts Ngonyama, when he was accused of unfair business practices in 2007– a line some have taken to epitomize ANC entitlement.
Lemaoana has said that it was an interest in rugby that sparked his initial work. According to the Johannesburg-born and based artist, "Rugby, as is in the traditions of South Africa, is a predominantly played by 'white males,'" he said. "In the work I use staged, constructed scenes that address ideas of idealism. I create, using Photoshop, collages that speak of a contemporary African masculinity. I attempt to unseat certainty into things that are certain."
————————————————————————————————————————————————————————————————————————————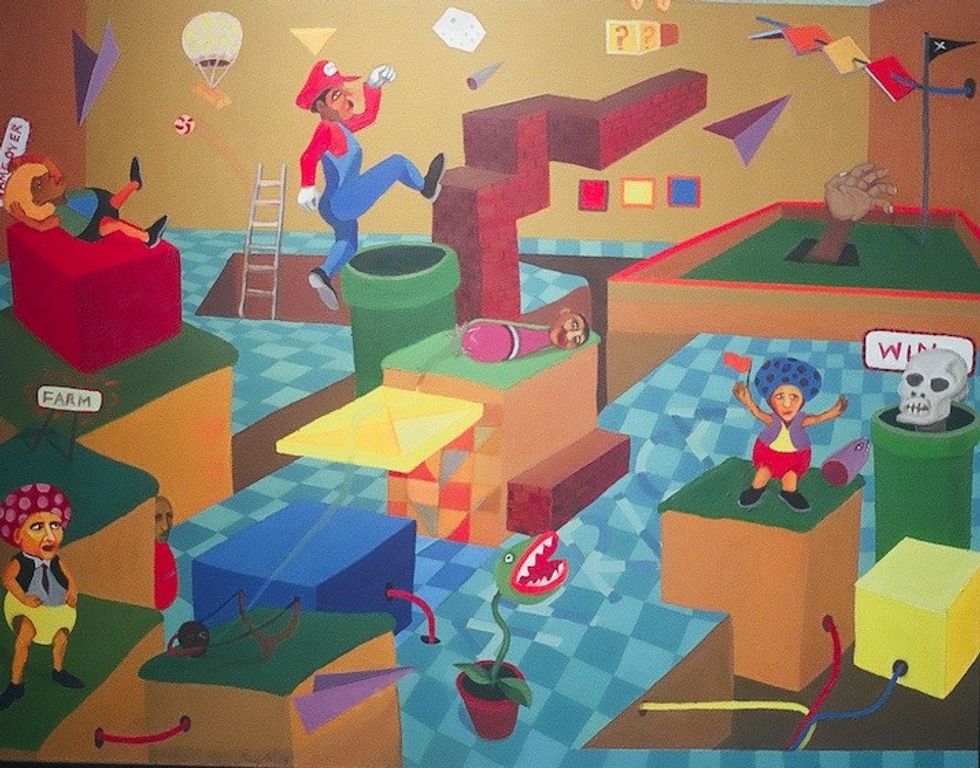 Richard Mudariki
The Land Game, 2015
Acrylic on canvas with controller
101 1/2 × 127 in
256.5 × 322.6 cm
ARTCO Gallery
(Photo: Tony Gyepi-Garbrah of Gentlemen's Brim)
Germany's ARTCO Gallery brought a pair of Richard Mudariki's modernist, social commentary-laden paintings. Speaking on the Zimbabwean artist's issue-driven work, South African art critic Lloyd Pollak once wrote, "it addresses the violation of animal and human rights, corporate greed, gender stereotyping, censorship and rape inter alia. Although such subject matter smacks of shrill, soap-box preachiness, the mise-en-scene proves so visually arresting that any specific political message becomes subsumed in a spectacular Breughelesque pageant of infamy and transgression."