"Before music, it was football for me," says 1Da Banton. Like many youngsters in Nigeria, the popular sport was his hobby of choice, and the Brazilian superstar Ronaldinho was his idol "Music came into the picture after I saw my older brother and his friends make music around the house".
Born in Port Harcourt, 1Da Banton is now one of the most recognisable artists out of Nigeria. His songs have recorded millions of streams and, through his immense talent, he has gotten to collaborate with the biggest artists orbiting the scene. 1DA SHALL NEVER END is the artist's new EP, a collection of feel-good records which consolidates on the solid run he's having. With records like "Call Jehovah" and "Omotola," the 1Da Banton reveals his versatile nature, impressing his signature energy and perspective irrespective of thematic material.
"It's always personal for me because this is my life, I'm just tryna do my thing,"he responds when I suggest his projects are autobiographical in scope. From The Banton EP to Original Vibe Machine and now 1DA SHALL NEVER END, all reference himself in some way. 1Da used to be called Wonder Boy, in allusion to his dribbling skills as a footballer, and he's eagerly translated that prowess in front of the mic. "Show the world how I live my life, that's how I think my music is."
---
The title 1DA SHALL NEVER END was inspired by something that happened while the singer was in the Parisian city of France. "I was just sitting in a Lamborghini, chilling, and people were looking at me," he recounts. "It was time for me to post the picture on my Instagram, I was searching my head for captions and I'm like 'this is so much blessings, so many things have happened in a short period of time. Bro, wonder shall never end.' We are just getting started and we are moving to the next level. That's the idea behind the name of the EP."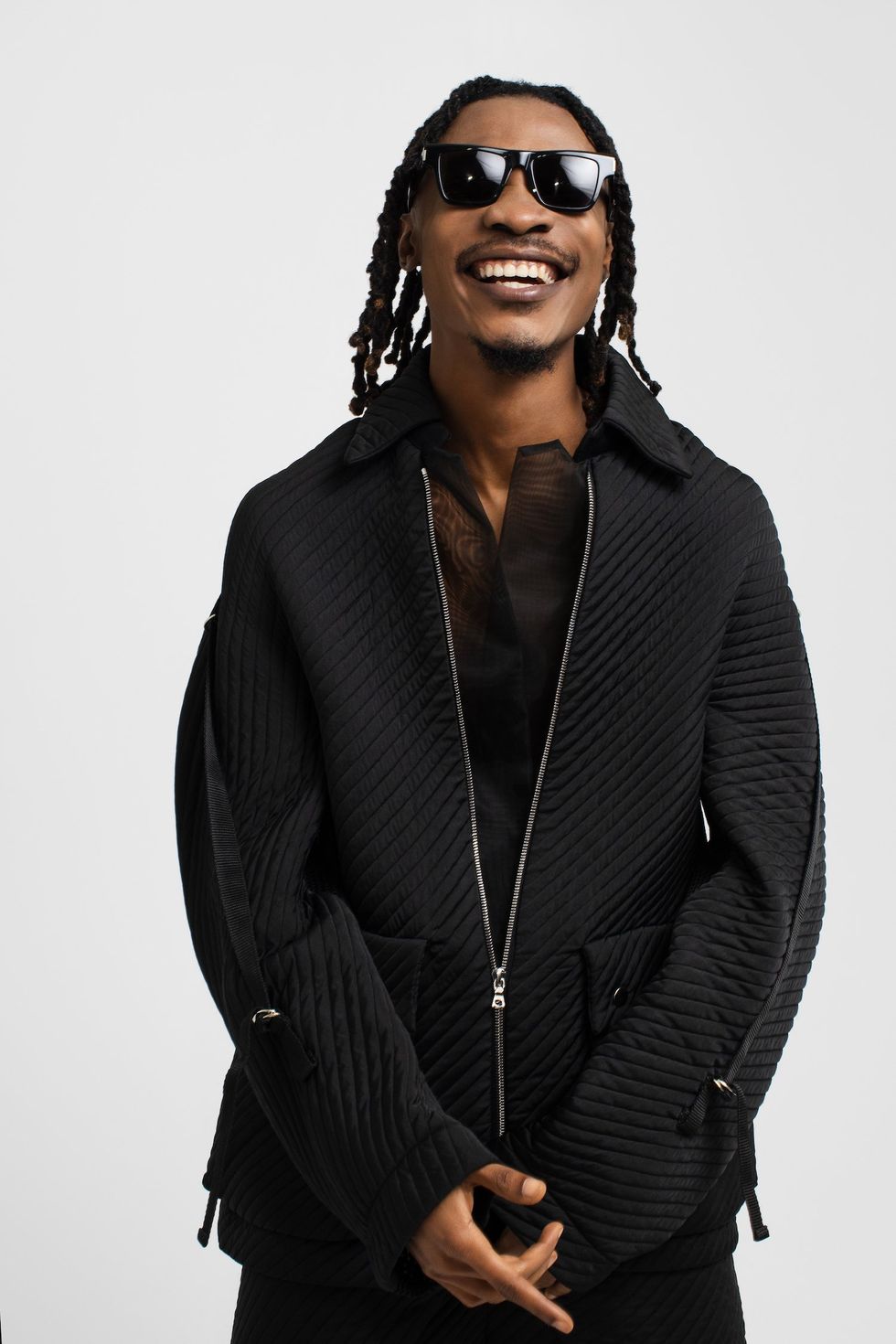 1Da Banton.Photo courtesy of the artist.
He recorded the songs as early as a year ago. "Nibolowa" was made around that period, while "No Love In Lagos" was the last he made for the EP. "Most of them are just songs I made when I was on the road last year," he tells me. "Right now, I'm working on the album for next year; it's having a great shape, it has a really nice name too. I'm really thinking about the title of the album".
1Da Banton came into his own listening to the titans of modern Nigerian music: Mo Hits, P Square, 2Face Idibia, and 9ice. In a period of vibrant cross-cultural relationship, he also got into the likes of 50 Cent, Ja Rule, and Ashanti. "That was the era I started listening to music," he says.
The culturally vibrant Port Harcourt also played a role in shaping his interests. "Growing up in PH City, I feel like that's the one of the most important aspects of my life," he says. "It's a different lifestyle, it's a different reality, the society is really different from what happens in every other part of Nigeria and the world at large. It was rough, it was entertaining, it was everything. I swear, it was just the full package".
He explains further: "Back then when I was growing up, there was an industry for Port Harcourt people," he says. "We had songs that were really big in Port Harcourt that necessarily didn't cut across to the national level or the international level. But we had our industry; they were really churning out good tunes back then; I feel like it helped us; because we have a culture, our Pidgin is different, and our lifestyle is different, so obviously when we make music it's always different".
1Da Banton thus had a lot of forebears, coming from a scene like Port Harcourt's. Among those he names are Kokomiko, M-Kaze, Maxi, Frank Dinero, Timaya, Baba Sempe, and Burna Boy. Liberation Stadium and Agri Stadium were some important cultural hotspots, and carnivals were often held at the former. When 1Da Banton was in senior secondary school, he was emboldened to begin creating music.
After years of making his earliest work in secondary school, he began reaching out to industry stakeholders and met Adasa Cookey, a media veteran who's the CEO of his record label Squareball Entertainment. "He gave me a reply, listened to my music; he liked it and I think that's when he was thinking of signing an artist. It was just perfect timing."
By far the most anticipated album in modern afropop, Davido's Timeless was set-up to be the Nigerian megastar's opus. When it was released, the records "NO COMPETITION" and "NA MONEY" belonged among the important bricks in the album's construction. The former was written by 1Da Banton, while the latter was produced and written by 1Da.
"I just do my job," he says about the collaboration. "He reached out to me, 'Bro, I really want you to work on my album, like produce a song on my album.' We finally linked up in Paris sometime last year, I think it was October, November. I actually wrote both songs and produced one of them. Shoutout to Davido, shoutout to Rugged, he produced 'No Competition.'"
Speaking about "NA MONEY" which features the titanic Angelique Kidjo, 1Da says he wanted to make a song where he didn't use autotune. "I wanted it to be a gyration kind of song. A rich African song that talks about women in a really soft way. I like to tell stories with my music all the time. I was just trying to tell an African story on an African beat."

1Da Banton got into producing so he could perfectly articulate his musical ideas. He played drums in his younger years: brigade drums, congas, and church drums. "I've always had my eyes on it," he says about producing, "But I only started practicing it fully in like 2017—that's when I started learning how to produce properly. In 2019, I started producing my songs by myself".
In some sense you could situate 1Da Banton amidst the DIY-adapting musicians of his era. Like fellow Port Harcourt native Omah Lay, the revelatory Tems, alte savant Odunsi (The Engine), Abuja-based Bloody Civilian and a host of others, Afropop artists are increasingly tapping into the deeper currents of their artistry. 1Da Banton belongs in this conversation, although his biggest song came as a result of communal love, of hands and voices linking to uphold, at its base, a really good song.
"No Wahala" was arguably the song of 2021, carried on the wings of TikTok and launched into the world. In a feature, Tech Cabalreported that as at December '21 the song had soundtracked over 190,000 videos on the social media platform.
"Shoutout to the team," he says, quickly extending the praise. "We put out the album, we did the due diligence, 'No Wahala' was picked as the lead single. Originally, I wasn't really a fan of the song, I can't lie to you cause I make music in so many diverse ways. We were about to put a second video out from 'Original Vibe Machine' which was featuring Zlatan and that was when the whole traction for 'No Wahala' started coming out. We started noticing that 'Oh, this stuff is about to pop oh.' It was a good feeling because it's every creative's dream to see their work being celebrated."
1da Banton - No Wahala (Remix) feat. Kizz Daniel & Tiwa Savagewww.youtube.com
"The movement is really big," says 1Da Banton about the global domination of African music, of which he's undoubtedly a part of. "Shoutout to everybody that has contributed and is still contributing; from back in the days of P Square, 2Face, believe me, everybody's hardwork is a part of the result that we're witnessing today. It's a team effort, because Wizkid cannot be everywhere at the same time; Burna cannot be everywhere at the same time. It's an amazing thing to be part of."
As always, 1Da Banton is advancing the promotional aspects of his career alongside the artistic. "We're just pushing that and letting people know this music exists, while I'm working on my album," he says. "I have a couple other stuff I'm working on; so basically, it's always work. Anytime you see 1Da Banton, there's always something going on behind the curtain."
From Your Site Articles
Related Articles Around the Web