In the opening scene of The Last Tree, we see the young protagonist, Femi (played as a child by Tai Golding), screaming at the top of his lungs while frolicking in the fields of Lincolnshire in the British countryside, in ecstatic happiness. He is a young Nigerian-British boy surrounded by his (white) classmates from a preppy-seeming local school. As the film progresses, Femi's howls turn into a symbolic cry of frustration. His aggravation is born out of the challenge of coming to terms with his own identity in the midst of competing pressures from those who dictate who he should be given the color of his skin and his heritage.

The film, which just premiered at this year's Sundance Film Festival, is directed by Shola Amoo and is one of the four African directors to screen features in the Utah Mountains this past weekend. When it begins, Femi has a seemingly comfortable existence within the warm embrace of his foster mother, Mary (Denise Black). Soon, the idyll is shattered when his birth mother, Yinka (Gbemisola Ikumelo) appears to take her with him, against his desires, to London. Things only worsen for him from there.
---
As a child, Femi is beaten by the devotedly religious Yinka when he acts up and gets in trouble in school. In Femi's teenage years, portrayed by Sam Adewunmi and on which The Last Tree focuses, he continues the ephemeral struggle between his inner instincts and the powerful forces that, as a young man of Nigerian descent, surround him in urban England. Femi is a regular young man, with two close friends and interest in a pretty girl, Tope (Ruthxjiah Bellenea), but trouble soon finds him. A street hustler, Mace (Demmy Ladipo), approaches, hands him a cellphone, and tells him he will be in touch. Not much more is said—but nothing more need be said. Femi's heritage has doomed him in both the eyes of the world and of the audience to a particular fate, regardless of his own desires.
Amoo drew richly from personal experience to tell this tale, one that is all too real for members of the African diaspora the world over. "The film is semi-autobiographical," Amoo says. "I related very much to the concept of being fostered by racially different parents, and then living with your biological mother in a different environment. I was trying to explore what that meant—the concept of identity and culture, and finding oneself when one has to navigate being a part of various different spaces. How does one find identity from that?" Like Femi's mother in the film, Amoo's mother is a Nigerian immigrant in Britain, and his father remains a Nigerian citizen.
The constant feeling of not fitting that emanates from Femi, through the stern gaze of Adewunmi, also comes from the actor's experience. Adewunmi grew up in Camden in an area he described as "not the best" and "with a lot going on, and a lot of people I grew up took certain routes that people would view in a negative light."

"I had a real connection to the story," Adewunmi adds. "I was raised by a single mother myself and had an estranged father, so it was something that I connected with."
In the film, Femi has an innate toughness that permits him to adapt to the obviously hostile environment of a British nation turning inward and the tempting allure of the street dealer. Fitting in is, in other words, infinitely more complicated than simply about the color of one's skin. "Knowing what London is like for a young black man growing up, knowing the sort of things that are very prevalent," Adewunmi says, "I thought the script captured the emotions that you go through when you experience that, what it feels to almost feel abandoned and to then reconcile, and come back to love your roots in the end."
And it is not simply in whether he will take up Mace the street dealer's dubious offer that Femi is torn between what he wants and what others want of him. It is his entire identity that is torn. "It is a very common experience in the diaspora community to experience that separation," Amoo explains. "And it is very common trying to solve that. It changes over time depending on the places you are trying to navigate." The point that Amoo makes so powerfully with the lyrically beautiful and thoughtful The Last Tree is that Femi's very core is being dictated by others to him. It is a terrible form of deprivation of liberty, Amoo and Femi are telling us, to take away an individual's ability to define one's self. "Femi has to have a mask and he does not know what side of it he can be on, that is one of the themes of the film," the director added. "You see one side of Femi and it is just at particular moments you can see the other side. That captures the diaspora experience."
Also poignant in The Last Tree is Femi's eventual catharsis by traveling to Nigeria, where parts of the film were shot. There, he meets with his estranged and very obviously wealthy father. In the streets, he rejoices in the singing of the people and the vibrancy of the culture. But the contrast with the father's opulence is evident and unsettling. "Femi needed to go through this," Adewunmi says, "so that he could understand who he was and be able to choose which parts he wanted for himself—if you don't know yourself, you can't know your future."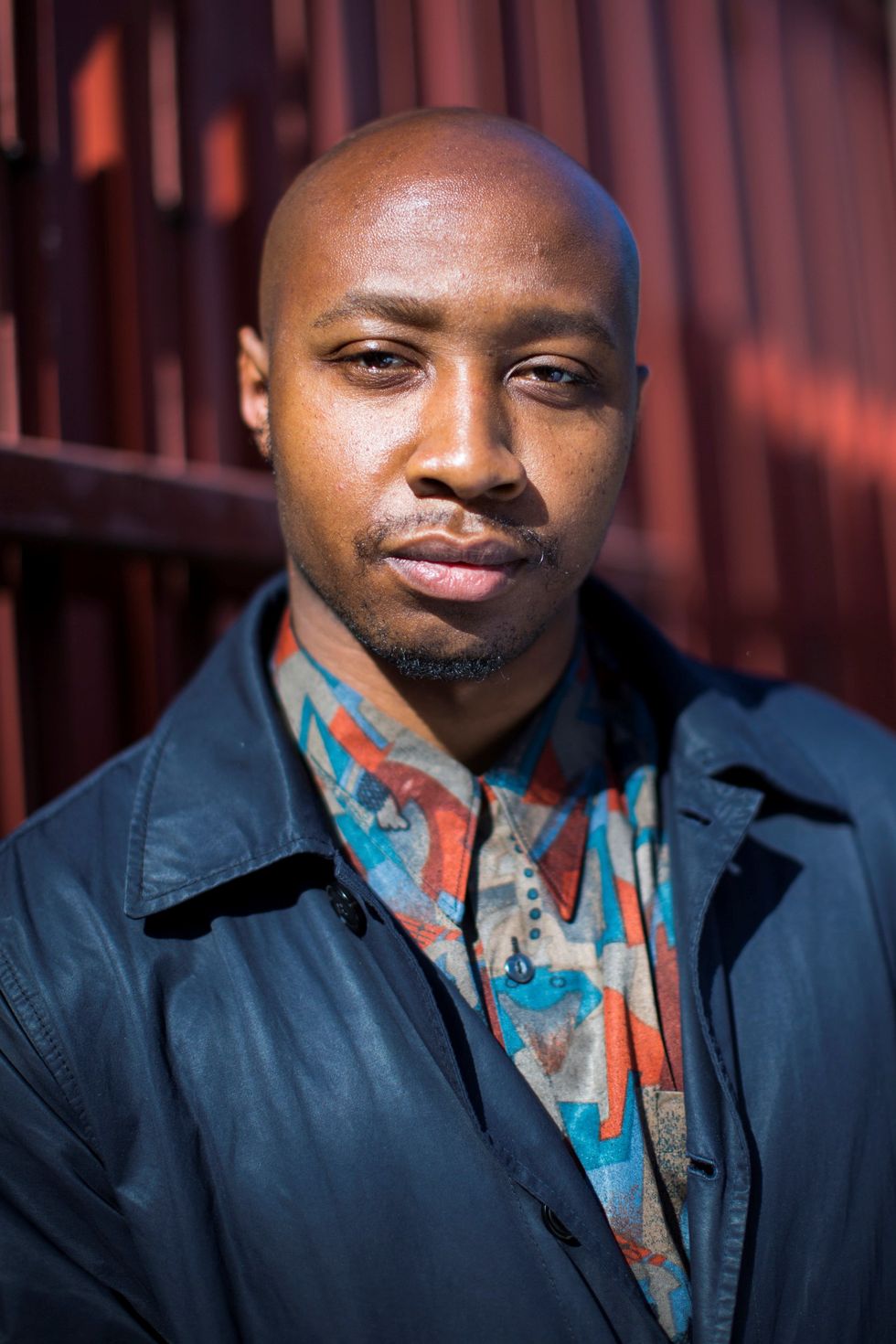 Shola Amoo. Photo courtesy of Sundance.
As it is with Britain, the British-Nigerian relationship with Africa is fraught with complexity. "Being a second generation Nigerian in Europe, your culture is something really important. My mother made sure I grew up with it. I speak my language," Adewunmi adds. "The film was the first I had actually been to Nigeria, though, and I felt that need to be connected to my culture. When you are disconnected from it you are disconnected from yourself. It is something that a lot of second generation people growing up in the West go through."

But as vexing as the challenges of forced assimilation that The Last Tree portrays may be, there is a silver lining. The film exists at the epicenter of the contemporary buzz that surrounds stories coming from Africa and in the diaspora, and the continuously growing desire of these filmmakers to tell these stories in thoughtful and sincere ways. "It has been a great experience showing this film [at Sundance]," Amoo confesses. "I feel there is a shift in storytelling where we can see a more global African perspective, not uniquely Western. Africans as filmmakers have a bigger platform for their work, for their voices and their essence. It is long overdue and I am really excited about this."
Though cinematic portrayals of the British-Nigerian experience are very much in their infancy, there is much to hope for with directors like Amoo. "For me, I could only tell stories that acknowledge the complexity of this dual identity. I am very aware that this is a diasporic picture. But what I want to focus on is that you have to have a connection to that space to truly and fully understand who you are as an individual, and your journey. I really want to show the beauty and the energy of Nigeria as well as the cultural and spiritual connections of the country."
By the time The Last Tree draws to its poignant conclusion, you will be left both with a sense of sadness but also hope. Amoo and Femi fantasize for a better world, for one in which we were all free from the bounds of interpersonal oppression. But there is also a newfound optimism that better moments could be ahead.
The Last Tree was selected as part of the World Cinema Dramatic Competition section for the 2019 Sundance Film Festival.
J. Don Birnam is a New York-based film critic and journalist. He is a member of the New York Film Critics Online, the Gay & Lesbian Entertainment Critics Association, and an inaugural member of the Latino Entertainment Journalists Association. He was born and raised in Mexico. Keep up with him on Twitter and Instagram.