If you stroll through the streets of Paris and its suburbs and stumble across a parade of black women wearing shiny outfits, singing and dancing, consider yourself lucky: you've just come across the Afro-feminist marching band '30 Nuances de Noires' (30 Shades of Black).

The band was created by dancer and choreographer Sandra Sainte Rose Fanchine. Tired of the erasure of black women in the public space and of the negative stereotypes associated with them, Fanchine has brought women (and a few men) together in this project. Professional and amateur singers, dancers and musicians, they have all accepted to embark on this journey and use their talents to launch this much-needed conversation in France.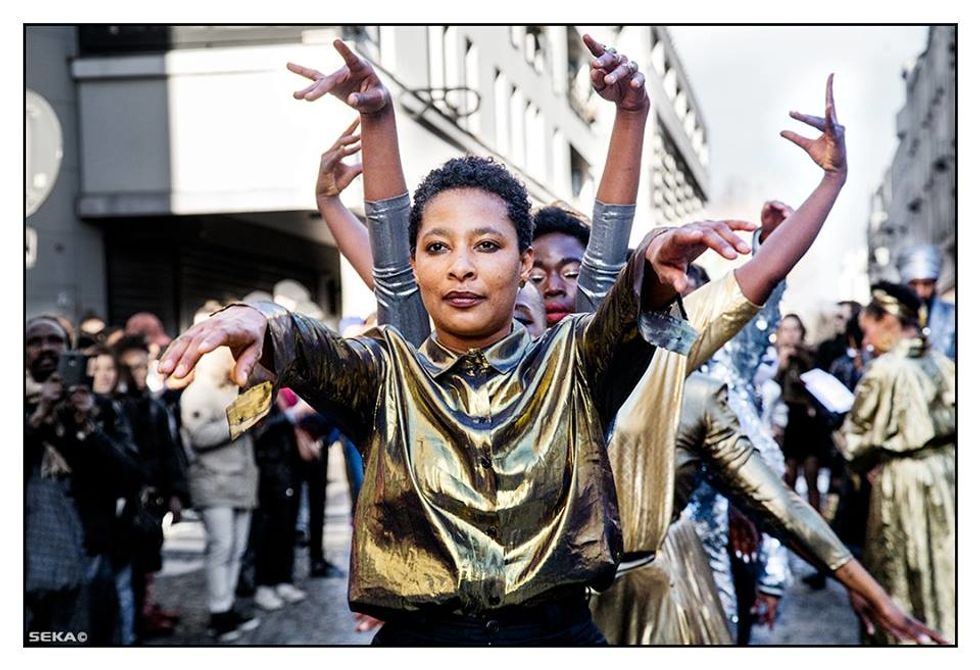 Sandra Rose FanchinePhoto by SEKA photography
The band's musical coordinator, Célia Wa, is a flautist, singer and composer. When Fanchine invited her to take part in the project, she was very enthusiastic to have the opportunity to play alongside other black female musicians and take part in something that portrays black women in a positive light and in a flamboyant way. She was also keen to play alongside other black female musicians and coordinate them, outside, in the public space, where music is accessible to everyone. But it wasn't easy going. "It's hard to find women who play wind instruments" she explains. "But especially black women. So, we decided to incorporate a few black men musicians—men who understand the meaning of the project and support us. They don't try to dominate the space, they wear dresses and headwraps, they really blend into the group."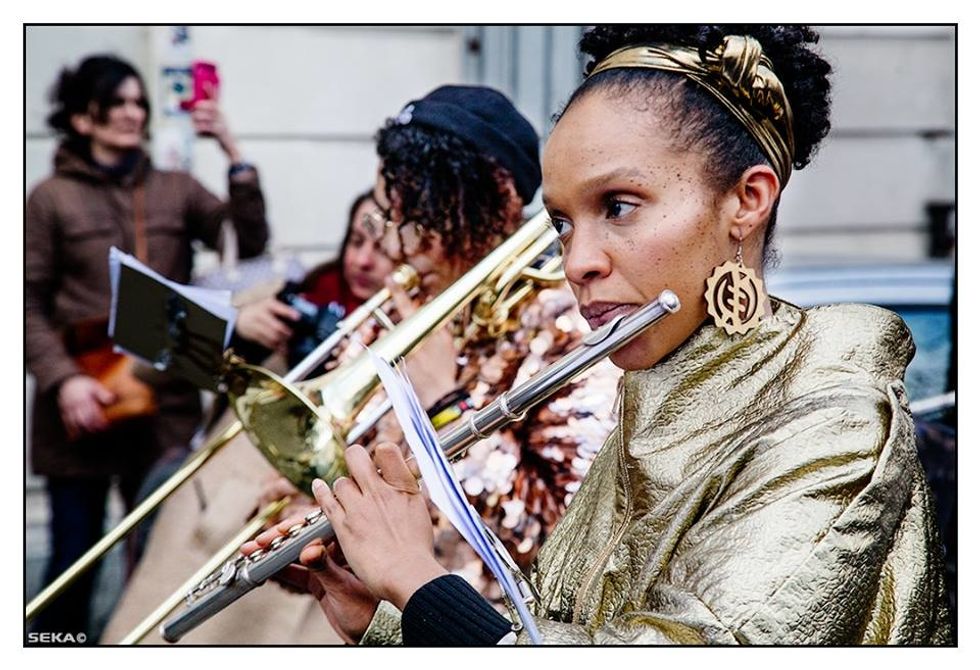 Célia WaPhoto by SEKA photography
Wa hopes the project will encourage many young girls to become professional musicians by showing them that being a fulfilled woman, having a music career and a family life, is possible.
Awori is the singer of the band Kamiawori, and a singer and dancer in the parade. She accepted Fanchine's invitation to join the band because she realized a brass band made of women—especially black women—was something unique that she wanted to be part of. "Throughout history, women had been forbidden to play wind instruments because blowing into those instruments was assimilated to a sexual act", says Kamiawori. "As a result, nowadays, the majority of people playing these instruments are men, so the fact that Sandra was looking for black women only was really appealing to me".
Earlier this year the band had the chance to travel to French Guiana to do a performance with black Guyanese women. This is the kind of future she wants for the project. "I want us to go to places in France where there aren't many black people, as well as to the former French colonies and the French overseas territories," she says. She hopes the project will start conversations everywhere, and empower black women to talk about their issues in their own words and organize their own emancipation.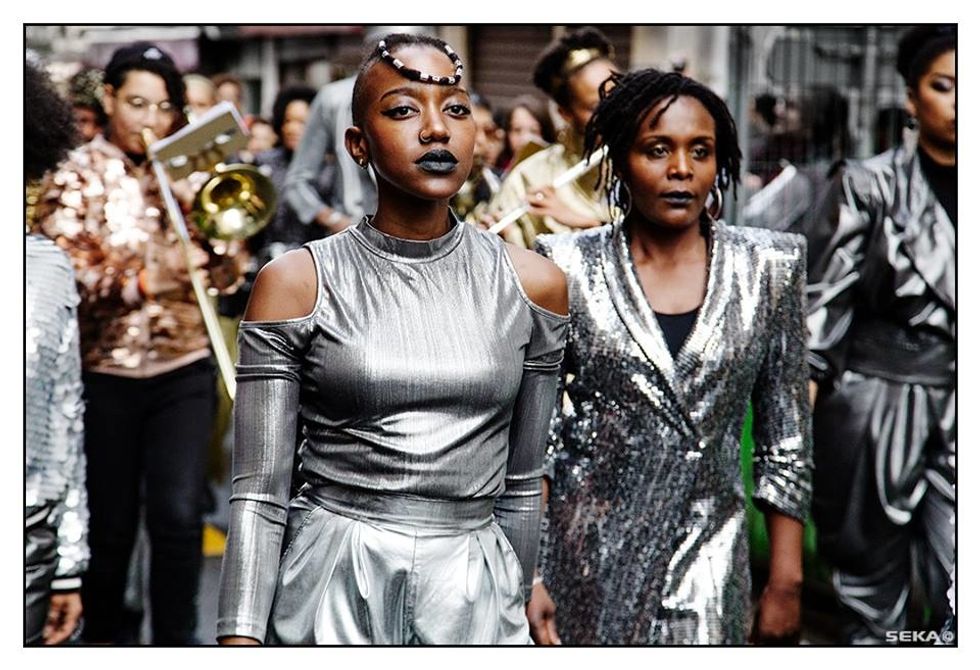 AworiPhoto by SEKA photography
***
Read on for our conversation with Sandra Rose Fanchine. This interview has been edited for length and clarity
Can you tell us about yourself and your background?
I'm 51 years old, I was born in Martinique and grew up in Côte d'Ivoire. I'm a hip-hop dancer and choreographer. I first came to France 22 years ago to study graphic design but along the way, I found hip hop and started dancing out of passion. With my background in graphic design, I knew I was going to be a choreographer eventually, I was convinced I could use hip hop beyond its performance aspect, bringing my visual artist's knowledge to it and using it to promote a narrative. So, when the age of maturity came, I became a choreographer. My first work considered the social construction of femininity, and I then created a piece which dealt with the memory of the black body. 30 Nuances de Noires is my third choreographic work.
Where did the idea of "30 Nuances de Noires" come from?
It came from my professional frustration as a black woman. When I was looking for a job after my studies, my graphic design work was very culturally influenced by my life in Martinique and Côte d'Ivoire. I was proud to show the aesthetics and the colors, to me it was beautiful but it wasn't seen as such, it was seen as something unworthy and my work was always devalued.
I also had to face that devaluation in my personal life. I wanted to partner up with a black man, but I could see that black men didn't value me, didn't give me space and in general chose to have solid relationships with white women. I am light-skinned so I used to pass black men's colorist filters, but this privilege stopped as soon as commitment was mentioned. I looked around me and saw a pattern in the way black men treated black women, in the way people in general treated black women, how we were looked down upon. I wanted to create something about that topic.
Photo by SEKA Photography
Why did you choose that name?

I chose that name to criticize the movie 50 shades of Grey, which from a feminist point of view is a sexist and misogynist movie, that glamorizes violence against women. Moreover, black women, in the global conception related to sexuality and sentiments, are continually eroticized in a very specific way: animalization, exotification and fetishization. I chose to reclaim these stigmas, just as Audre Lorde writes about in the chapter of her book Sister Outsider named "the use of eroticism, and the use of anger: the response of women to racism."
How did the people around you react to this project?
At first, I wanted to do a piece about sexuality, love and the neocolonial aspects of interracial unions but I faced a backlash from people in the cultural institutions and people in the hip hop industry. Whenever I talked about my project I was completely shut down and called a racist.
After all that rejection and denigration, I went back to university and studied gender studies for two years, and around the same time I became an Afro-feminist activist. In the meantime, the project evolved. I used to work at festivals where there were many brass brands and I already wanted to create a marching band with hip hop dancers so I just mixed the two ideas: highlighting black women's issues and creating a marching band.
After equipping myself with the relevant intellectual tools, surrounding myself with other black women and realizing we were all going through the same things, I was capable of demonstrating the systemic nature of what I was talking about and the barriers fell. I was finally in the right place at the right time. I found the artists very easily, the first musicians I met brought other musicians, the first dancers brought other dancers, it all happened very organically.
Photo by SEKA Photography
What type of women were you looking for?
I was looking for women who were strong enough to embody and address those issues unapologetically. They had to be capable of dancing on the streets with an attitude that says "I am standing up straight, I am black, I am glowing, I am shining and you will look at me and ask yourself how you really see me because I am not all those stereotypes you believe I am." Naturally, it first attracted feminists, women who were already aware of those issues. The women who later joined us and weren't aware of those issues are now more conscious and politicized.
What are the musical and aesthetic inspirations behind the project?
I really wanted visuals inspired by the aesthetics of the 70s and 80s because the dances present in the parade—locking and waacking—emerged at that time. For the musical aspect, I looked for songs that talked about black women and their issues: sorority, colorism, equality and resilience.
Photo by SEKA Photography
How do you see the project evolving in the future?
I want to do a world tour, I want us to dance with Beyoncé and Solange, I want to take this message of empowerment everywhere there are black women who need to exist, shine, go outside and assert their presence in the public space. Because of harassment, sexism and prejudice, it's still pretty complicated for women to simply exist. I consider myself lucky because I can see that the band does what I wanted it to do: it really empowers black women and seeing that happening gives me a lot of strength to take it further.