The Nigerian Law School in Lagos, Nigeria, was transformed into a buzzing enclave of substantial conversation, intentional encouragement, and unbeatable energy.
The third Tony Elumelu Foundation Entrepreneurship Forum was the most inclusive gathering of African experts in business, entrepreneurship and policy, where all 54 African countries were represented with more than 1,300 attendees. These entrepreneurs and thought leaders are innovators across a diverse array of sectors like agriculture, technology, healthcare, fashion and energy/power generation.
---
Since 2015, the forum was born out of TEF's $100 million commitment to identify, train, mentor and fund 10,000 entrepreneurs in 10 years through the TEF Entrepreneurship Programme.
During founder Tony O. Elumelu's keynote speech, he emphasized that Africa's young innovators will be the heartbeat of Africa's private sector-led and entrepreneurially driven development.
"Only they will create the millions of jobs Africa needs," he says. "The Forum has brought together Africa's most important developmental force, her young entrepreneurs who will become catalysts for Africa's economic liberation."
The forum was a jam packed two days that of panel discussions, masterclasses and networking opportunities that centered on the theme of training and mentoring.
Professor Yemi Osinbajo, Nigeria's Vice President, addressed the entrepreneurs to close out the forum.
"This generation of young people will do the exceptional," he says. "You are the reason Africa will work. The length and breadth of display of talent have shown that there is indeed hope."
Below are five things we took away from the forum.
Photo courtesy of TEF.
The 2017 cohort of TEF Entrepreneurs represent 52 African countries in diverse sectors.
A third of the TEF Entrepreneurs represent the agriculture sector, with 11 percent in ICT and 9 percent in manufacturing. As the continent's population continues to grow at a rapid pace, the young innovators in these sectors are sure to provide solutions to have Africa reach its fullest potential.
Elumelu's "Africapitalism" philosophy is a "for us, by us" theory that encourages African solutions to African challenges.
This theory was revisited at the forum during the panel, "Africapitalism 360" during the first day of the forum. It asserts that Africa's private sector can and must play a leading role in the continent's development. For panelist Kola Karim of Shoreline Energy, African entrepreneurs shouldn't lose sight of their passion and with capital and doing good, they're sure to reap success.
Angie Nwandu of The Shade Room.Photo courtesy of TEF.
Angie Nwandu of The Shade Room is an inspiration.
The next panel on day 1 featured Angie Nwandu, CEO of The Shade Room, where she touched on branding and marketing. In between many applauses, she dropped much needed gems on knowing the importance of organic growth, listening to your audience (and employees) and staying consistent.
These young trailblazers are ready to work—and their energy is indescribable.
Need we say more? Leaving the forum each day after learning the work of the TEF entrepreneurs and the impact they've made thus far makes you want to step your game up. We look forward to seeing their progress after they complete the programme.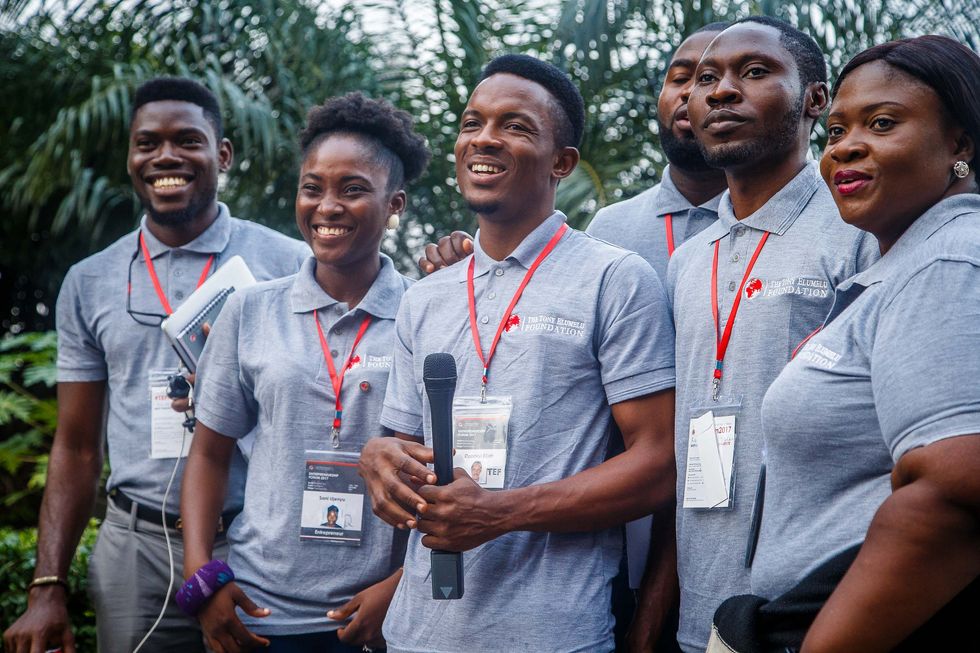 Photo courtesy of TEF.
TEF plans to take the entrepreneurship programme up a notch by partnering with the UNDP and the AFD.
The United Nations Development Programme (UNDP) and French bilateral development bank, Agence Française De Développement (AFD) announced their partnership with the foundation to scale the program to support a larger number of entrepreneurs and to offer expertise to support provision of funding for the SMEs and startups.
According to Parminder Vir, CEO of the Tony Elumelu Foundation, this partnership will divert proof of concept the programme established over the past three years and will reach beyond the 1,000 African entrepreneurs they have impacted.
Revisit the TEF Entreprenurship Forum via their livestream videos. Keep up with the Tony Elumelu Foundation on their website, Twitter and Facebook.