The month of April has a plethora of exciting events for South Africans. From the fashion runway, entrancing spaces of art galleries to the exhilarating arenas of music festivals, this month promises to bring the heat, and in some cases, quite literally.
Take a look at 8 cultural events you can't afford to miss below.
Sam Smith: The Thrill Of It All Tour
For all the Sam Smith fans, get ready because the multiple Grammy award-winning soul singer is heading to South Africa for a concert that will go down as one for the books. You'll be singing along to hit songs like "Too Good at Goodbyes", "Pray" and other surprise performances that Smith has in store.
Concerts will take place in Johannesburg at the Ticketpro Dome on 13th-14th April and in Cape Town at the Grand Arena on 16th-17th April. Purchase tickets here.
A Black Aesthetic
This exhibition, which was declared a National Cultural Treasure in 1998, will showcase Black South African modernist artists between 1970 and 1990. It will be the largest showcase of South African artists since the country became a democracy. Revered artists such as Gerard Sekoto, George Pemba and Gladys Mgudlandlu. An exploration of life under colonialism and Apartheid and how that plays out in life today.
Currently on and will run till 18 April at the Standard Bank Gallery in Johannesburg. The event is open to the public.
AfrikaBurn Festival
AfrikaBurn 2014
AfrikaBurn is the South African version of the Burning Man festival in the United States. The event, which is in its 12th year, involves the creation of temporary artworks in the Tankwa Karoo—a semi-desert region in South Africa. Nearing the end of AfrikaBurn, some of the artworks are set alight and burned. Described as a freeing and transcendental experience, this one is certainly for the curious among us. The theme of this year's festival is "ephemerality".
The event will run from 29th April - 05 May. Tickets can be purchased here.
AFI Cape Town Fashion Week
Designers from all over the African continent will be showcasing exciting collections of colorful and cosmopolitan looks on the runway. Fashion lovers will have a chance to mingle with some of the heavyweights in the industry. The event fuses fashion, music, art and photography.
The event will run from 9th-13th April in Cape Town at the International Convention Center. Tickets to be purchased here.
Afro-Soul Unplugged
Vusi Nova
R&B and Afro-soul artist Vusi Nova and Ntsika Ngxanga of the popular acapella trio, The Soil, as well as the Baobab Sisters will be delivering a one-time, unique performance that will take attendees on a musical voyage of self-exploration.

The event will run on 12th April at Joburg Theater. Tickets to be purchased
here
.
​Back To The City Festival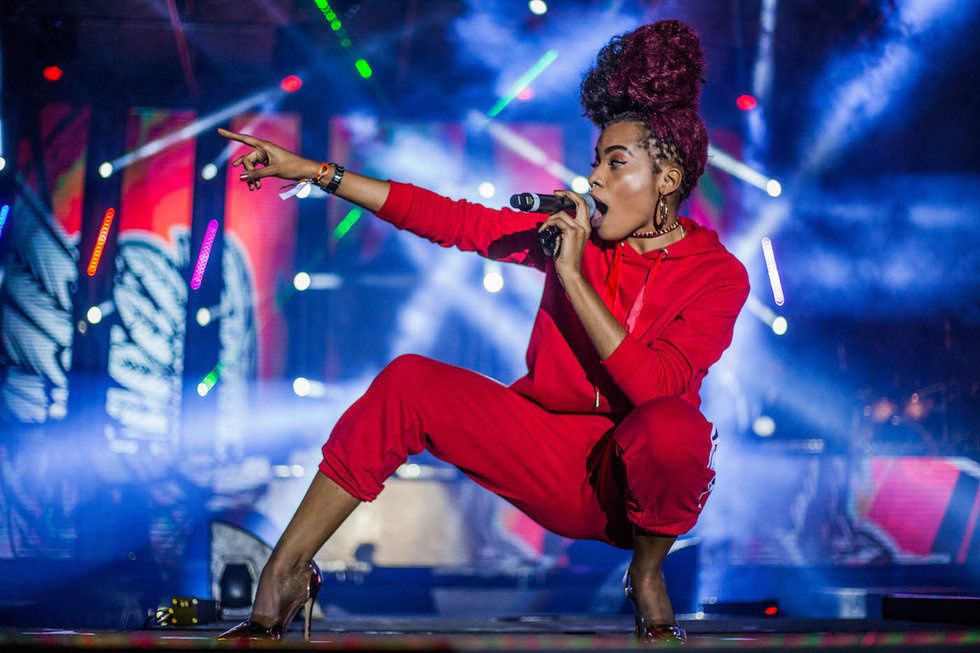 Rouge at 2017 Back to the City
Photo by Sabelo Mkhabela
Described as South Africa's biggest hip-hop gathering, Back to the City promises to deliver the hottest lineup of the most talented mainstream and underground hip-hop African and US artists. Joining South African greats Riky Rick, Cassper Nyovest and Stogie T (among numerous others) are US artists Eric Sermon, Parrish Smith and EPMD as part of the lineup. Celebrate Freedom Day with live performances, street fashion, art installations and even skateboarding.

The event will happen on 27th April at Mary Fitzgerald Square in Johannesburg. Purchase tickets here.
​Shades of the Mirror
Described as "a story of experience, truth, and of daring to live for a better life", Lagos-born painter Solomon Omogboye will be bringing an exhibition that promises to have viewers introspecting and asking themselves about the relationship they've built with themselves. With a variety of stylistic techniques and modes of expression, Omogboye breathes color and canvas to life.

The event will run from 6th April 2019 - 2nd May at Art in the Yard in Cape Town and is open to the public.
​Megacy Over Everything
AKA
Photo by Sabelo Mkhabela
Catch AKA, the Supa Mega, on his three-city tour targeted especially at the youth who he feels make up an important part of his fan-base, "the Megacy". Catch the last leg of the rapper's tour featuring artists such A-Reece who will be joined by Balenciaga Banks and other local artists that will be announced soon.

The event will take place on 13th April at the Mall of Africa in Johannesburg. Purchase tickets
here
.