This year, African visual artists have done their due diligence to carve their own path leading to creative autonomy, authentic storytelling and straight up greatness.
From photography and film, to even mixed-media art, the following have produced stand-out work that deserve their due accolades.
Feast your eyes on our nine favorite African visual artists of 2018 below.
---
Photo by Antoinette Isama.
South Africa's Athi Patra Ruga has taken on the task to be our generation's folklorist through his work. The tales he creates through sculpture, performance and tapestries are a critique of post-apartheid South Africa as well as the traumas that have come as a result of his country's colonial history. Most notably the work he presented at this year's Armory Show, The Beatification of Feral Benga, pays tribute to the Senegalese dancer and model of the Harlem Renaissance, Francois "Feral" Benga. According to the series' press release, Ruga puts forth questions of memory, identity and embodied knowledge by venerating Benga to the future queer archive of African modernism.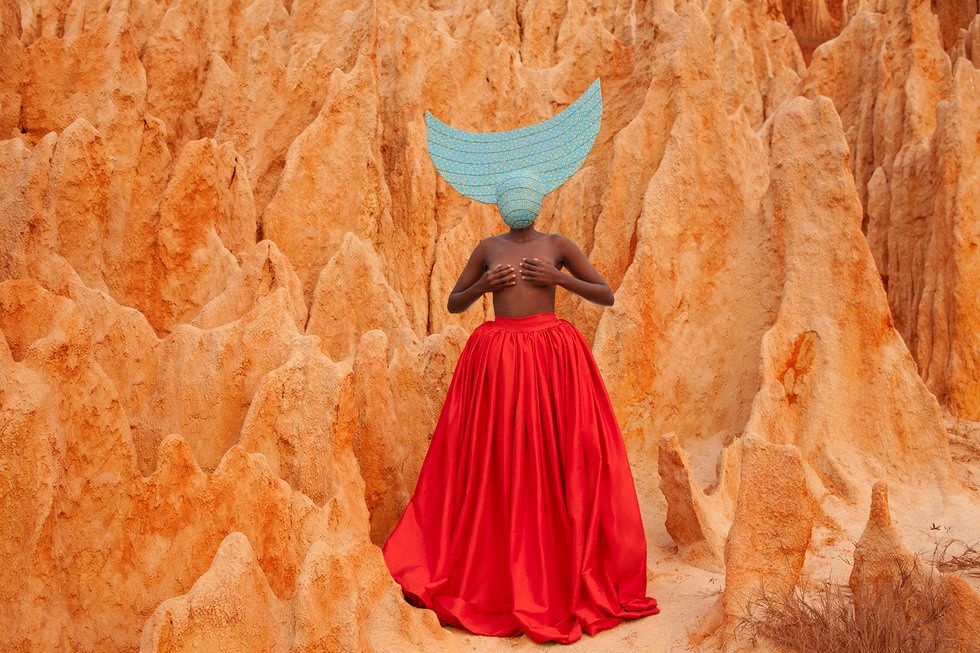 'Fortia (7), 2017 by Keyezua. Image courtesy of Steven Kasher Gallery.
Keyezua is the Angolan-Dutch artist whose work is simply striking. Her work was well-received in the art fair circuit this year, where she presented at Refraction: New Photography of Africa and Its Diaspora at Steven Kasher Gallery, Nataal: New African Photography III and more. Keyezua's most recent series, Fortia, is inspired by the loss of her father (who passed from diabetes and was an amputee) and the need to reimagine physical disability.
It was great to see Nigerian stylist and art director Daniel Obasi flex his film-directing muscles this year. From An Alien In Town to his most recent short film Udara, Obasi has been able to make the analysis of his Nigerian culture—more specifically his Igbo culture—malleable and avant garde.
By Fatoumata Diabaté, courtesy of Nataal.
Mali's own Fatoumata Diabaté's stunning black-and-white photographs are well-worth getting lost in. Studio Photo de al Rue, her travelling street installation, pays homage to the legendary photographers who have come before her, like Malick Sidibé, Samuel Fosso and even Seydou Keïta—who captured her parents in a portrait. She seeks to revive the vanguards' techniques and the feeling that come with immortalizing life's memories.
Josef Adamu is another visual storyteller whose work this year definitely speaks to the power of collaboration. The Nigerian-Canadian founder and director of Sunday School broke this internet in September with The Hair Appointment, a photo series he curated to demonstrate the beauty of black hairstyling as a process, a way of life and an overall experience that pulls from nostalgia for a lot of us.
Still from We Live in Silence (2017). Photo courtesy of Kudzanai Chiurai.
More and more young African artists are using visual art to take the grip colonialism still has on Africa's various social and political systems to task. Zimbabwe's Kudzanai Chiurai is the contemporary artist and activist whose series We Live in Silence adds to the discourse. The mixed media series imagines what a true post-colonial African society looks like, including placing women at the forefront of the liberation.
Nigerian-British filmmaker Jenn Nkiru left us speechless with her experimental film, Rebirth Is Necessary, this year. The filmmaker calls the project, "black magic in motion" and we couldn't agree more. Nkiru continued to produce strong projects over the course of 2018 including running second unit direction for Beyoncé and Jay-Z's APESHIT music video, as well as directing Neneh Cherry's music video for "Kong" and Kamasi Washington's music video for "Hub-Tones."
Photo by Louis Philippe de Gagoue, courtesy of the artist.
Louis Philippe de Gagoue is the Cameroonian-Ivorian multi-hyphenate whose vibrant aesthetic crosses cultural bounds while staying true to his African roots. Although he took up photography just 2 years ago, his eye is quirky, yet unmatched. He remains inspired by human interaction, travel, history and culture.
Photo by Stephanie Nnamani, courtesy of the artist.
Teff Theory (aka Stephanie Nnamani), is the Nigerian visual artist and silent move-maker whose deliberate study and use of color will constantly draw you in. Her images draw from her experiences being a first-generation immigrant and the challenges she has faced reveling in black womanhood.