Netflix was so spot on when it suggested the show Chewing Gum to me, that I could almost kiss the app icon for knowing me so well. I enjoy shows that have a quirky, unique edge, an inclusive cast, an under-explored storyline and some kind of awkward humor or dynamic drama. Chewing Gum is all of these things and more: a humanization of living in an estate/the projects, a candid exploration of female sexuality and a hilarious examination of growing up in a West African-Christian home, interracial dating and sibling rivalry, told by the wonderfully weird Tracey.
---
Myself, and other Chewing Gummers, fell in love with the series because we haven't seen a woman like Tracey on television before. She is a stunning, dark-skinned woman with a peculiar but relatable personality. In her, our most adorable and awkward desires come to life, sometimes successfully and other times disastrously, but all the while, endearing. Black women, especially darker skinned ones, are rarely seen in such dynamic, stereotype-bending roles, but thankfully that is changing. As a Ghanaian-American woman, I am ecstatic about this change, and feel especially connected to this show.
Chewing Gum is right on time, existing in the same sphere as shows like Insecure and How to Get Away with Murder—all series that put black women at the center of the stage in thoughtful and interesting ways. In Vogue magazine, Michaela Coel, the British-Ghanaian creator and star of the show, expressed her thoughts on being an actress of color: "I didn't have a 'me' growing up, and that's been challenging," she says. "Some people are trying to swim upstream. I'm swimming upstream but the water is mud - it's harder. I don't know if it's changing—I hope it is—I just know that I'm here and now others like me can see a route in. They might not know the way in, but they know that it's there." Nicely put, Ms. Coel.
With only six precious episodes in season one, Chewing Gummers were left wondering what happened to our beloved characters. Thankfully, season two returned Thursday—for those with the British channel E4—which means the rest of us won't have to wait that much longer to continue watching. We do, however, have a brief but funny trailer to chew on before we can watch full episodes. Here's what I've grasped so far from the 40 second clip.
Tracey is experimenting with her personal style
Before pressing play on the trailer, you'll notice that Tracey is rocking a deep winged eye that extends to her temple. I'm all about a person expressing themselves with makeup, but I'm curious about this over-arching eyeliner. Knowing Tracey, there's an interesting logic behind the style.
She's also rocking a cute set of jumbo twists, which adds to the refreshed, homecoming vibe she's exuding in the beginning of the trailer. We enter Chewing Gum season two under the impression that Tracey is still trying new things. But dang, that eye liner though...
Candice doesn't seem happy to see Tracey
Last season ended with Tracey's mom kicking her out of the house, Tracey living with and then getting kicked out by her best friend Candice, and Tracey and newly homeless Connor walking off into the sunset in their underwear. Now, Tracey's back at the estate, but Candice isn't enthused. I wonder if she's still salty about Tracey being a poor roommate, or if Tracey neglected to stay in touch while she was away, and Candice was worried about her. Either way, I hope they work it out this season, because their friendship is one of the most entertaining aspects of the show.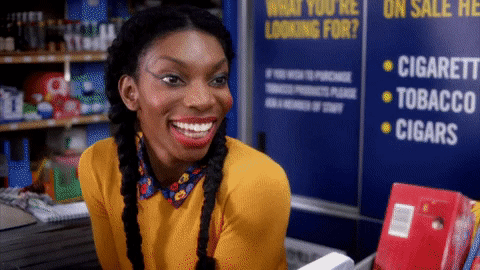 Connor has a new boo
Tracey broke up with Connor, but that doesn't mean she won't feel some type of way about his new girlfriend. I predict Tracey tries to sabotage their relationship and win him back. In true Tracey fashion, she tells Connor she has a new boo as well, but of course he doesn't buy it.
Tracey lives in the convenience store
There's a clip of Tracey getting ready to sleep in the convenience store where she works, using sheets of paper towels as a blanket. She tells us she's "just starting her shift really early," but we know what's up. And actually...a convenience store isn't a bad place to kick it for a couple of days. There's food, a bathroom and toothpaste. I always admired Tracey for her resourcefulness.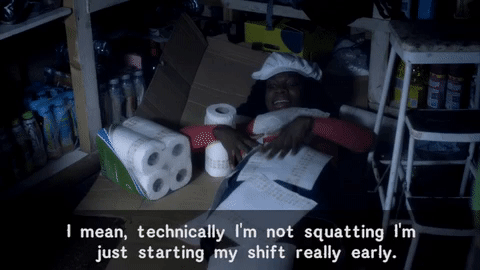 We may be seeing more of Ola
Tracey asks Ola for a favor and in exchange she'll "shave his bum crack again." That has to be my fave line of the trailer.
The fact that Ola has more speaking lines in this trailer leads me to believe that he'll have a greater significance in the show. I enjoyed the few scenes with Ola last season and I look forward to learning more about this character. And, apart from Ronald, Tracey's terrible ex, Ola is the only other queer character in the show. Having more representation of all kinds of identities is what will make television more inclusive and enjoyable.
Tracey is at some sort of gathering with women in lingerie and ribbons...
Towards the end of the trailer, you'll notice that Tracey is stuck in some sort of ribbon contraption. I'll be honest—I have no idea what's happening in that clip. At first I thought she's in a sexy aerial dance class, but I may be completely wrong.
Tracey performs African dance for Connor
I have no words for that image.
Tracey runs out of Connor's (place?) in her underwear
He calls after her, but she keeps running, like a true gangsta. Much of Tracey's comedy comes from her body language—facial expressions, dancing, everyday movements. Her partial nudity is definitely a part of that equation, and I'm interested in how she'll continue to use it as a comedic instrument this season.
*
What are your predictions for this season based on the trailer? I get the sense our expectations may not be as extraordinary as Coel's vivid and delightfully disturbing imagination. An imagination that I'm excited to say exists in the world of television. But unlike actual chewing gum, I doubt her creativity will go stale or lose flavor.