With it's emphasis on unapologetically interrupting the status quo and championing all things striking, artistic and unconventional, A Nasty Boy is the rare and severely necessary publication shaking up Nigeria's conservative media landscape.
---
It only makes sense that a platform like A Nasty Boy would honor the many artists, writers, musicians, photographers and more who embody its mission. For their inaugural Creative Class of 2018 list, the magazine celebrates the creatives in our space who are questioning cultural norms and producing innovative and forward-thinking forms of expression in the process.
We've linked up with the publication to share some of the profiles from their list. Below is a selection of some of this year's honorees, be sure to check out the full list via A Nasty Boy's website.
For more on the magazine, check out our conversation with its creator, Ricard Akuson from last month.
These profiles were originally published on ANastyBoy.com.
Daniel Obasi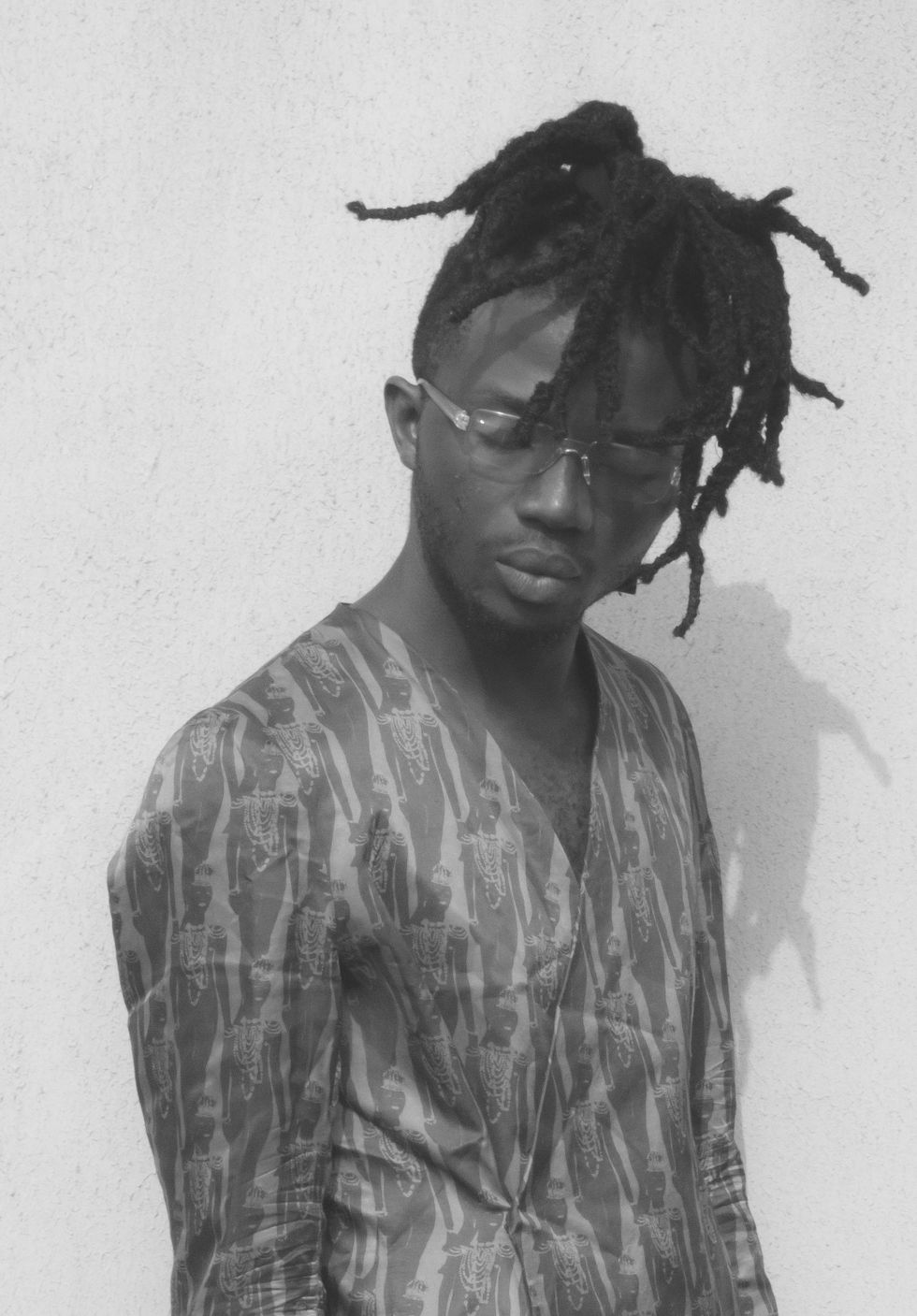 Image courtesy of A Nasty Boy magazine.
Stylist and Photographer, Daniel Obasi, is leading a pack of young Nigerian creatives who are pushing for conversations around gender norms and sexuality. Obasi's projects have attracted the likes of WeTransfer and their editorial platform, It Works, i-D, Hunger Magazine and OkayAfrica, amongst many others.

Obasi continues to curate content for platforms like Osengwa, Oxosi and VSCO, while producing critically acclaimed film projects such as Embers of Bloom and Illegal. His work has been featured in an exhibition with Osengwa at the White Cloud Gallery, Washington DC.
Ruth Ossai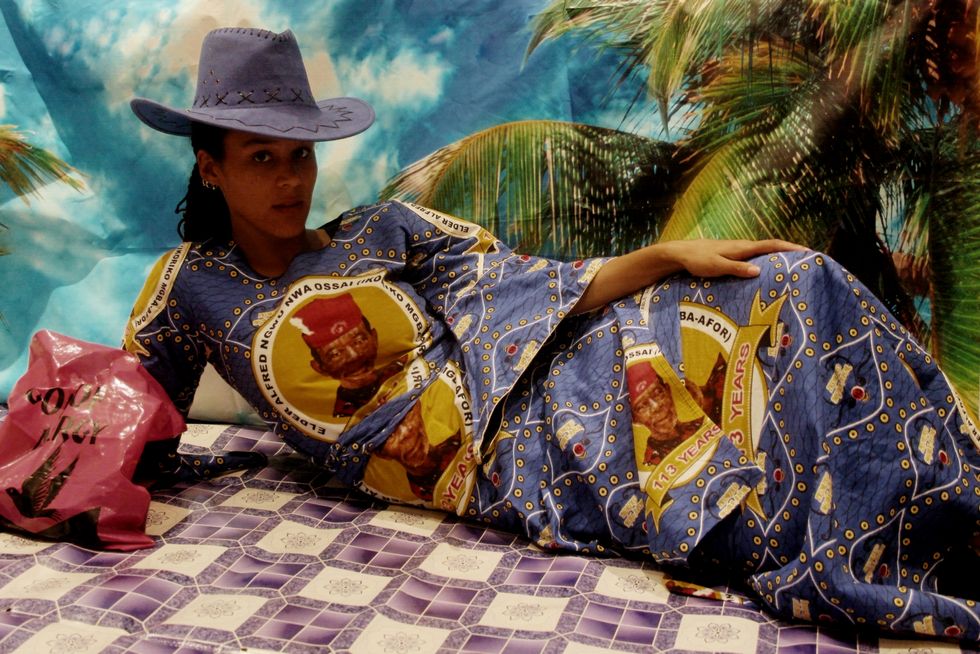 Image courtesy of A Nasty Boy magazine.
Ruth Ossai's style of photography has no rival. It's not your everyday glamour photography. It is sincere and very representative of her people and of where she comes from.
Her Eastern Nigerian upbringing is the predominant influence in her work, which celebrates and questions the standard of beauty, while empowering and representing Nigerians. It is for this reason that Ruth was tapped for the Kenzo Summer '17 Campaign project in collaboration with director Akinola Davies.
Amongst many other things, the standout feature about Ruth's work is her commitment to the celebration of beauty in her Nigerian heritage.
"I'm really infatuated by the way in which photography can tell stories, capture and empower black identity and culture," she explains. "Especially Nigerian identity, which is so beautiful, effortless and powerful. This is something I have been surrounded by and capturing all my life. My photography is not a response to anything particular but I am a strong advocate of photographers who are embedded in the context in which ideas are produced, participating in the contextualising of their images. It becomes very problematic when Nigerians — and other Africans — cannot tell their own stories. It becomes too often incomplete, inaccurate and stereotyped. This narrative has needed changing for too long now. My work is also honestly partly a reflection of myself. I love and never stop thinking about West Africa, whether I'm home or away."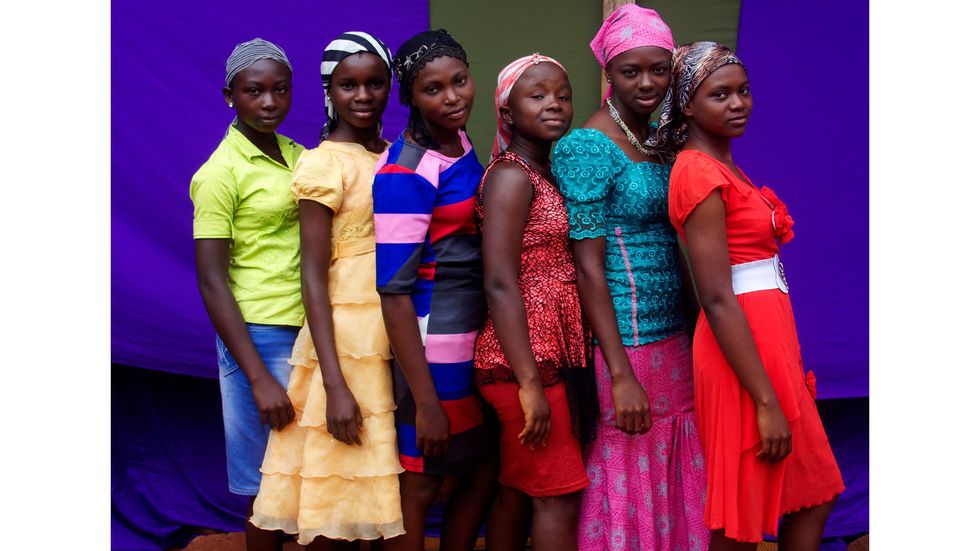 Photo by Ruth Ossai.
Dipo Doherty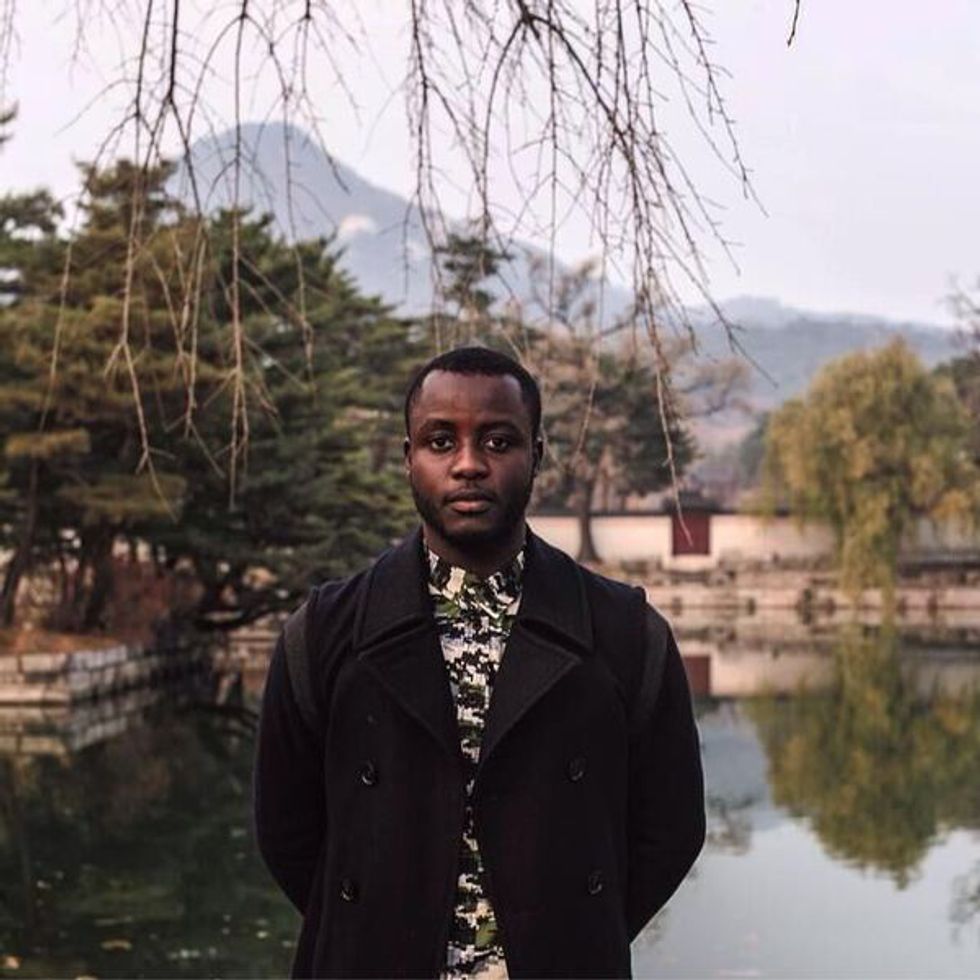 Image courtesy of A Nasty Boy Magazine.
Dipo Doherty, is a Vendor Experience Officer (Analytics and Information) at Jumia Nigeria, who divides his time between his very demanding job and a promising career as an artist. During his first solo exhibition, Nike Davies-Okundaye (respected Nigerian Artist) dubbed Doherty the 'African Picasso.' Dipo is a painter whose work explores the language of spatial geometry, with a focus on the depiction of the self and the human form, giving expression to emotional, cultural and scientific energies.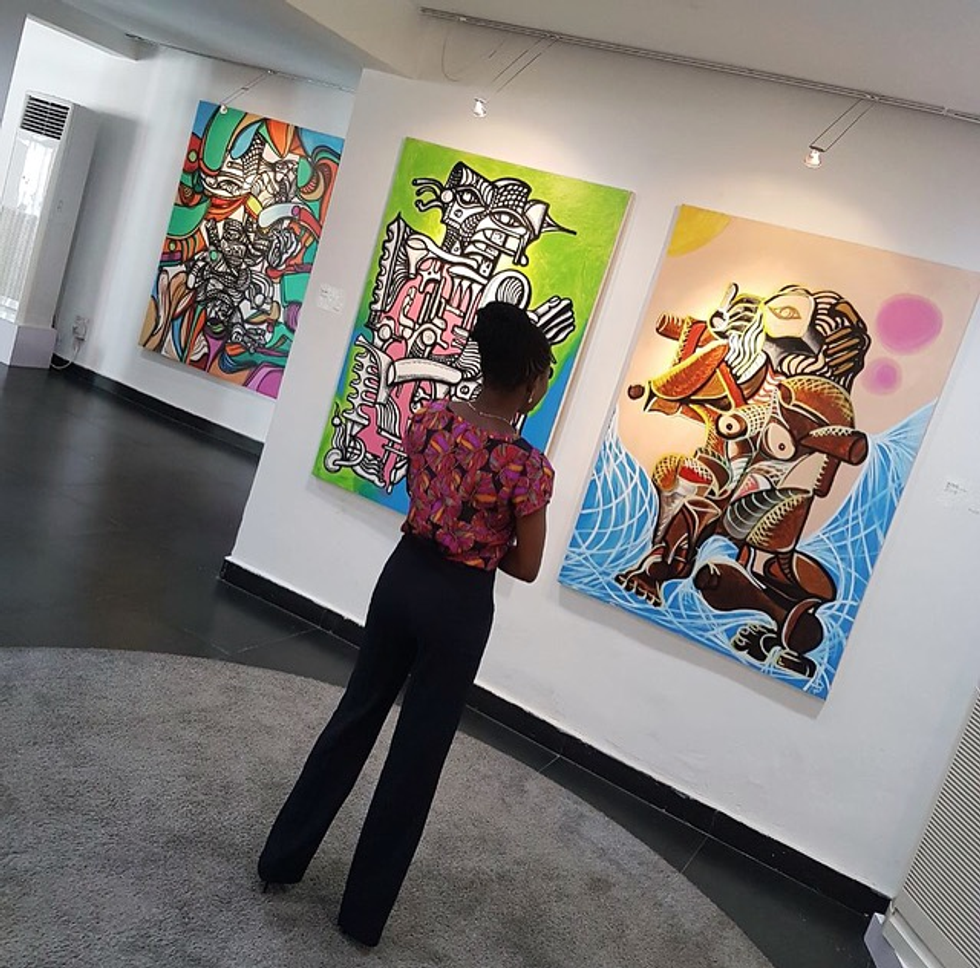 Doherty's artwork.
Joy Matashi
Image courtesy of A Nasty Boy magazine.
For many women, their hair is a vital part of their identity. Joy Matashi, the trained architect, designer and self-described "braider/hair chid," has turned what started out as an experiment, into a career that has blossomed into something much bigger than she imagined. Through documenting the process of hair-braiding on her Tumblr and Instagram pages, Matashi has gotten the opportunity to collaborate with artists, photographers and magazines. Speaking about her future plans with us, she says; "In future, I would love to create a space giving honor to black hair and beauty inspired by my work with @blackgirlslovepink and hair."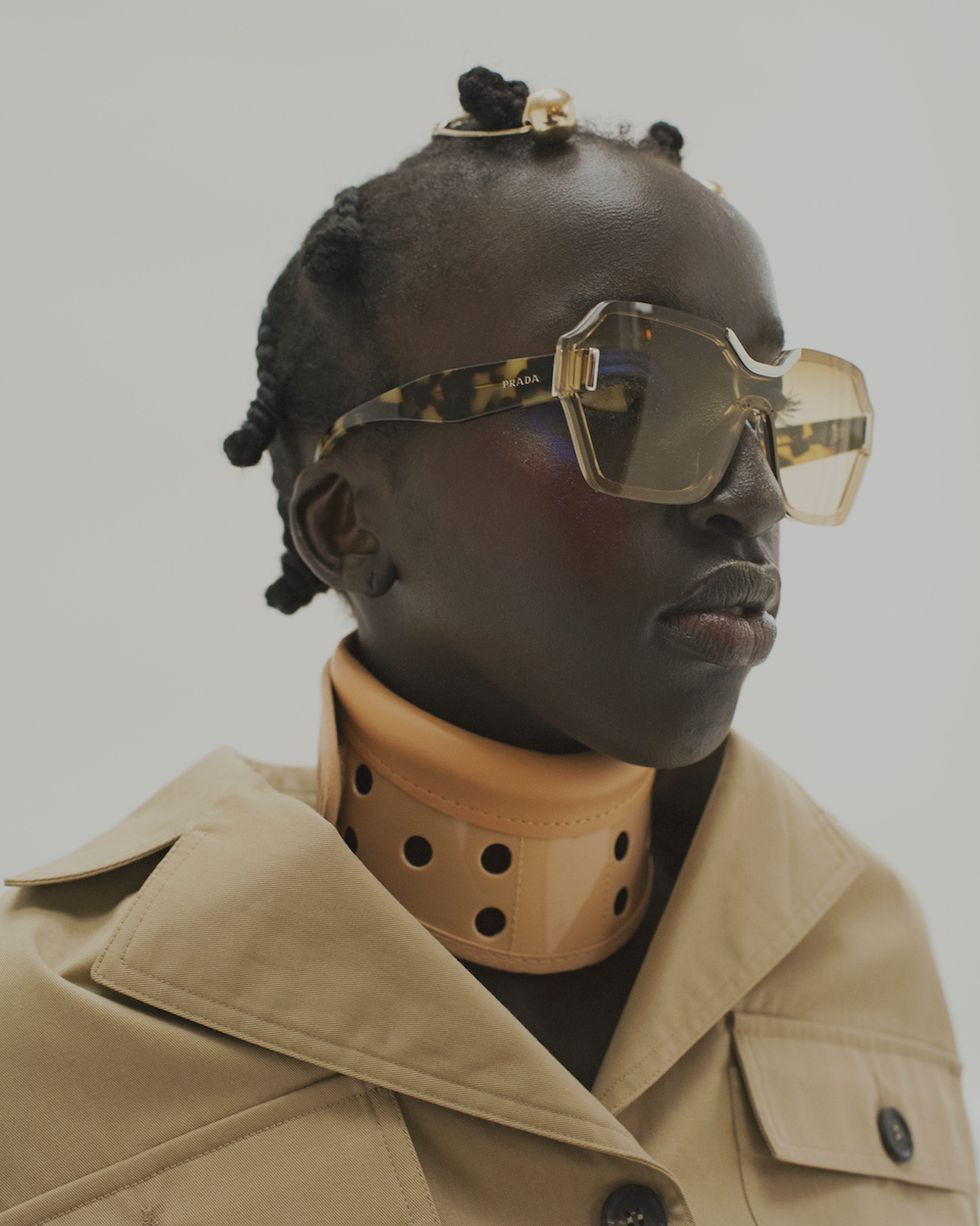 Hair by Joy Matashi.
Papa Oppong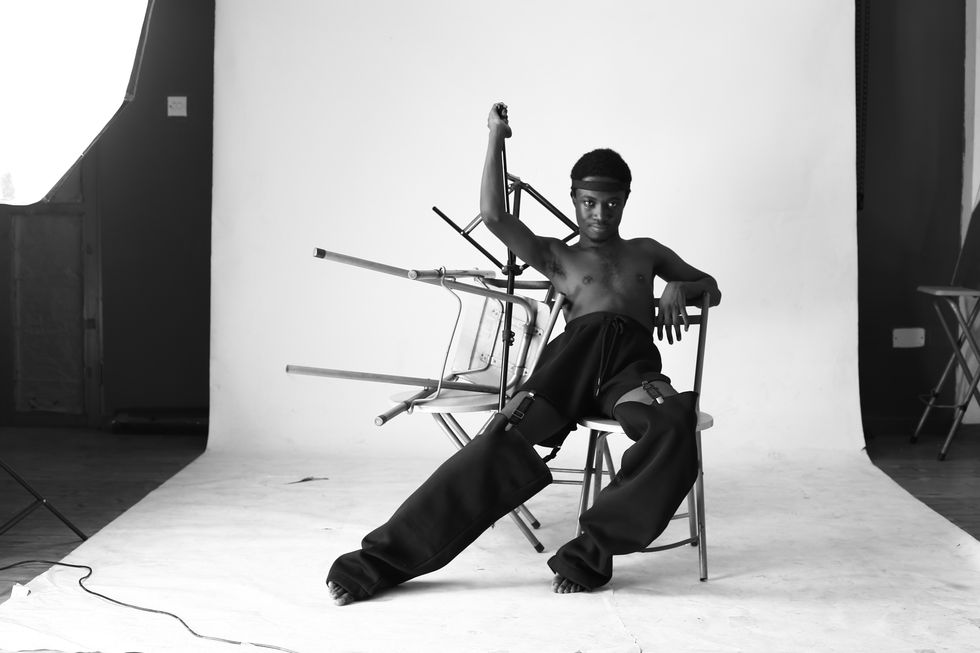 Image courtesy of A Nasty Boy magazine.
Papa Oppong, also known as Papa Oppong Bediako or Papa Oppong, lives fashion and design, and he has since he was little. His inexplicable defiance of male heteronormative behaviour at the time, sparked an array of questions and raised eyebrows but still, he persisted.
The 25-year-old Ghanaian man is consistent in his quest for visibility and exposure within the arts scene. His recognition from CNN African Voices and Forbes – marking Papa Oppong as 1 of 15 young Africans rebranding the continent alongside other major contributors like Nigeria's Davido and Wizkid – sets the stage for what Papa Oppong can achieve with the right tools.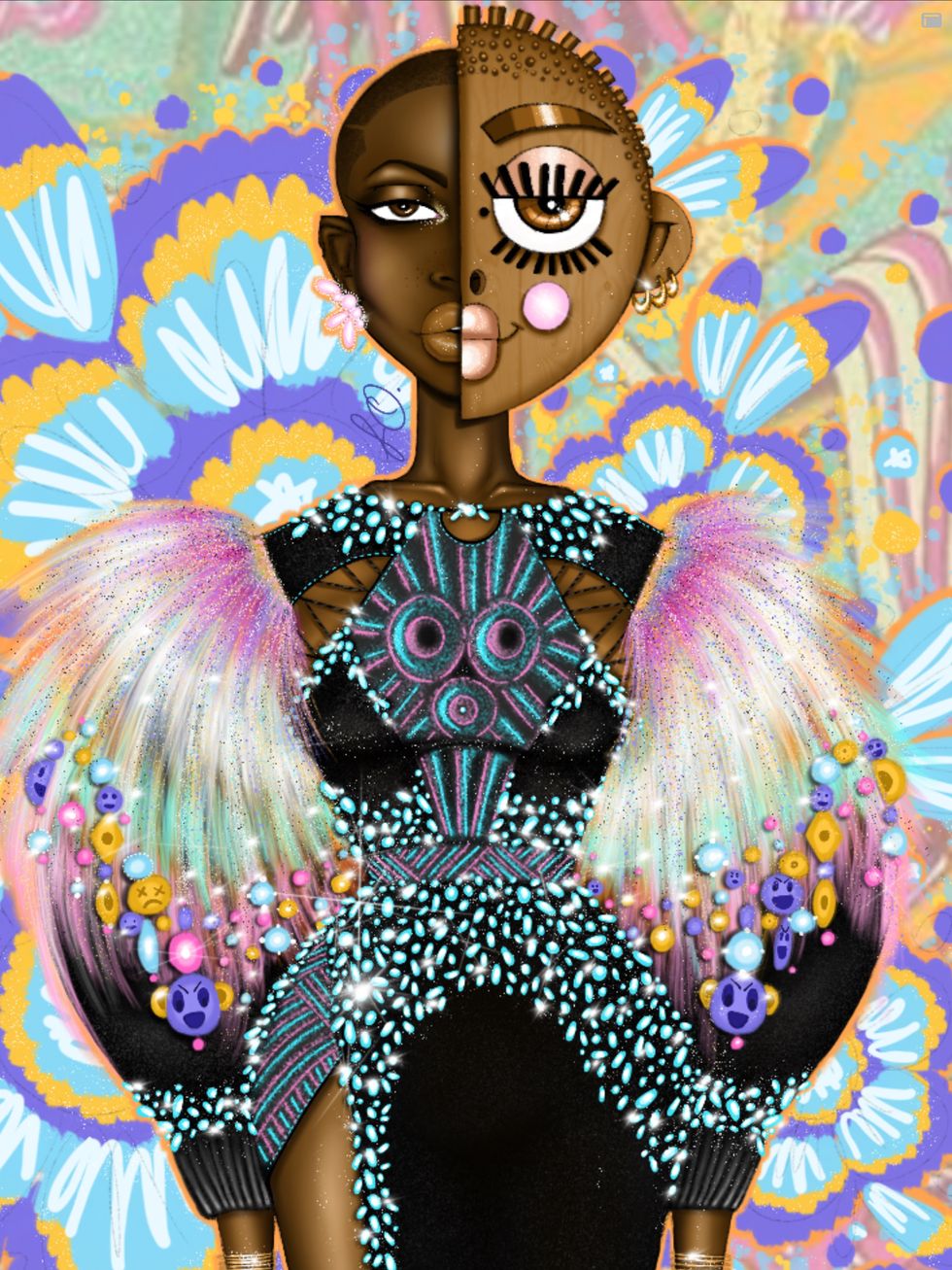 Artwork by Papa Oppong.
Yagazie Emezi
Image courtesy of A Nasty Boy magazine.
Yagazie Emezi is not your typical documentary photographer. She does not travel through marginalised communities looking to capture lack or deprivation, she does something quite the opposite. Yagazie's photography captures the beauty and cultural nuances of the many countries she moves through. In Liberia, for instance, she carried out a photo project for Refinery29 about body image, photographing young women on a beach as they shared their experiences with self-confidence. Similarly, international fashion magazine, Vogue, published her photo project on 'The Beauties of West Point,' a slum settlement in Monrovia, Liberia.
Emezi's photography comes from a place of appreciation and understanding and it has become a medium through which the world understands and recognizes the dynamism of women and beauty.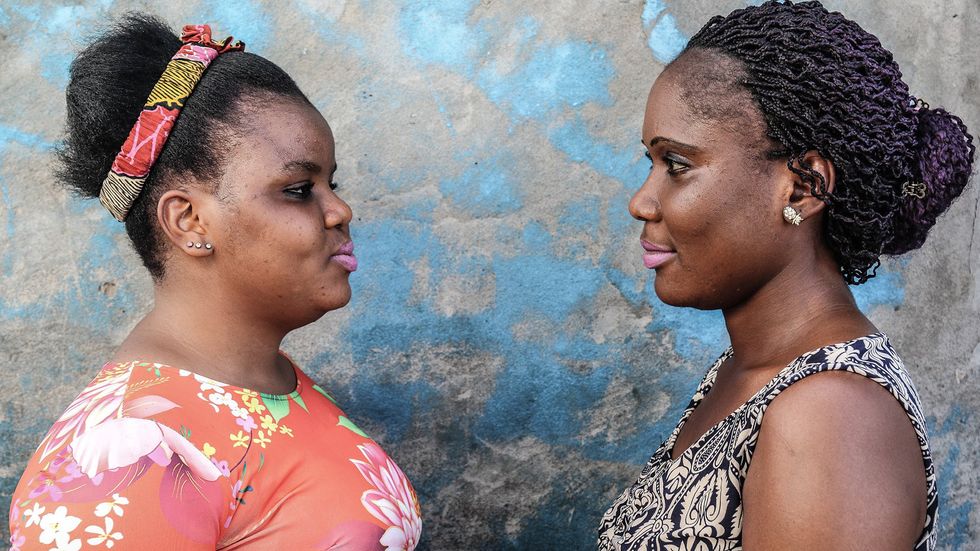 Photo by Yagazie Emezie
Dennis Osadebe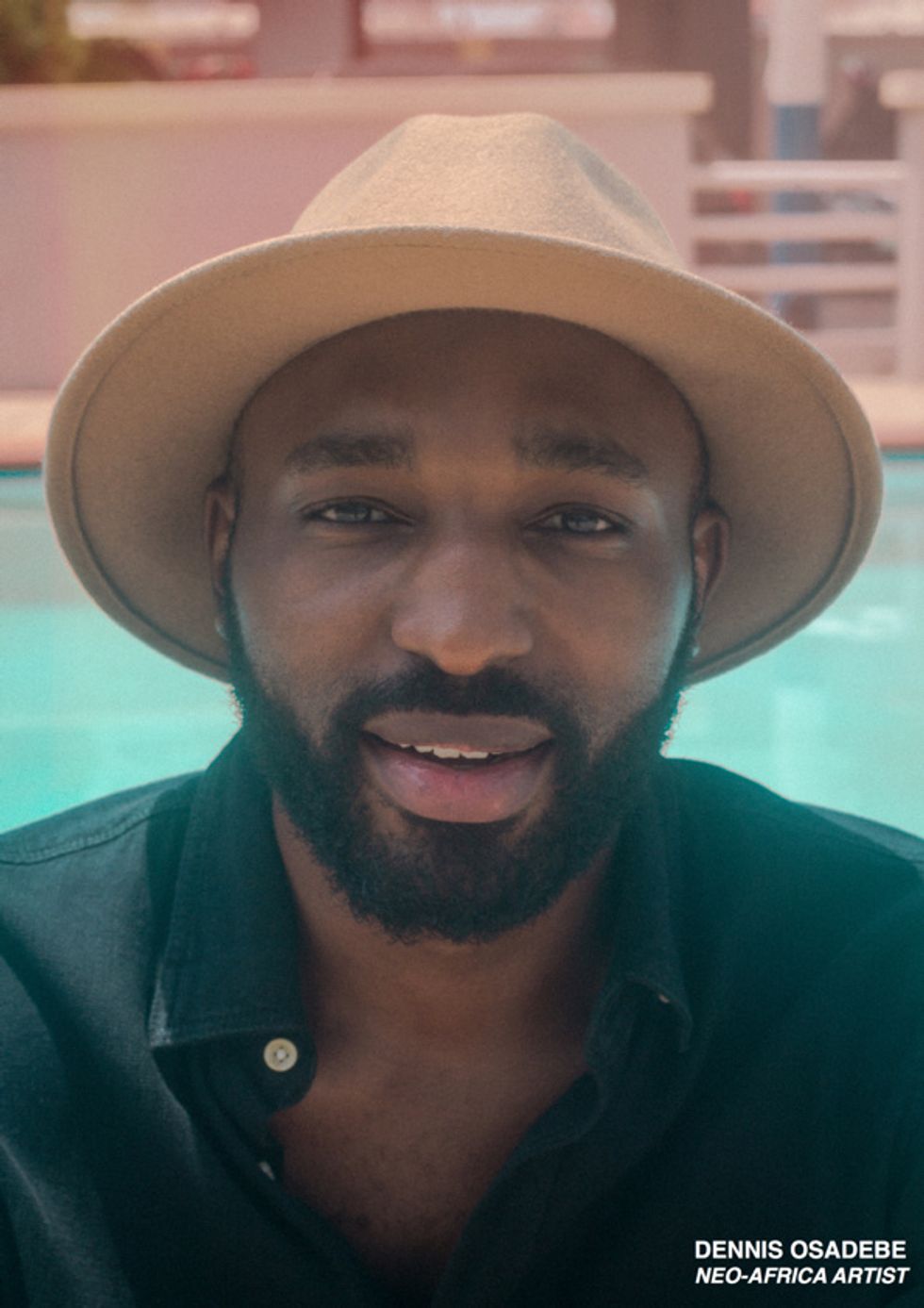 Image courtesy of A Nasty Boy magazine.
Nigeria's 26-year-old Dennis Osadebe is a mixed media artist best known for his vibrant post-pop style. Osadebe uses a unique blend of digital processes to create canvasses which are subsequently layered with acrylic paint. With his characteristic use of flattened planes and bold colours, the artist creates what he refers to as a "neo" visual style; one that is "modern, bright, expressive and provocative."
Through his work, Osadebe challenges notions of the African identity, while conveying personal truths and experiences. He was recently invited to the notable Noa Noa Art Residency Program in Bali, Indonesia, created to host international artists from all over the world.
Read our interview with Osadebe, here.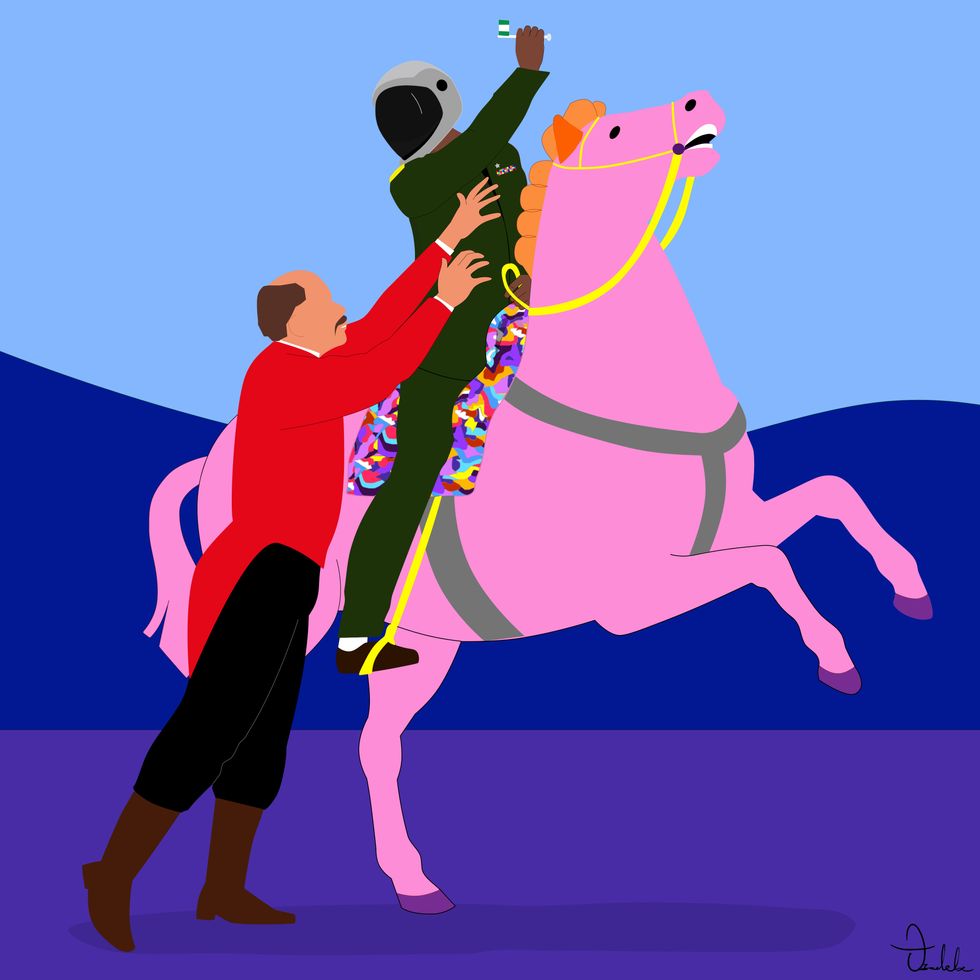 Rise by Dennis Osadebe
Amarachi Nwosu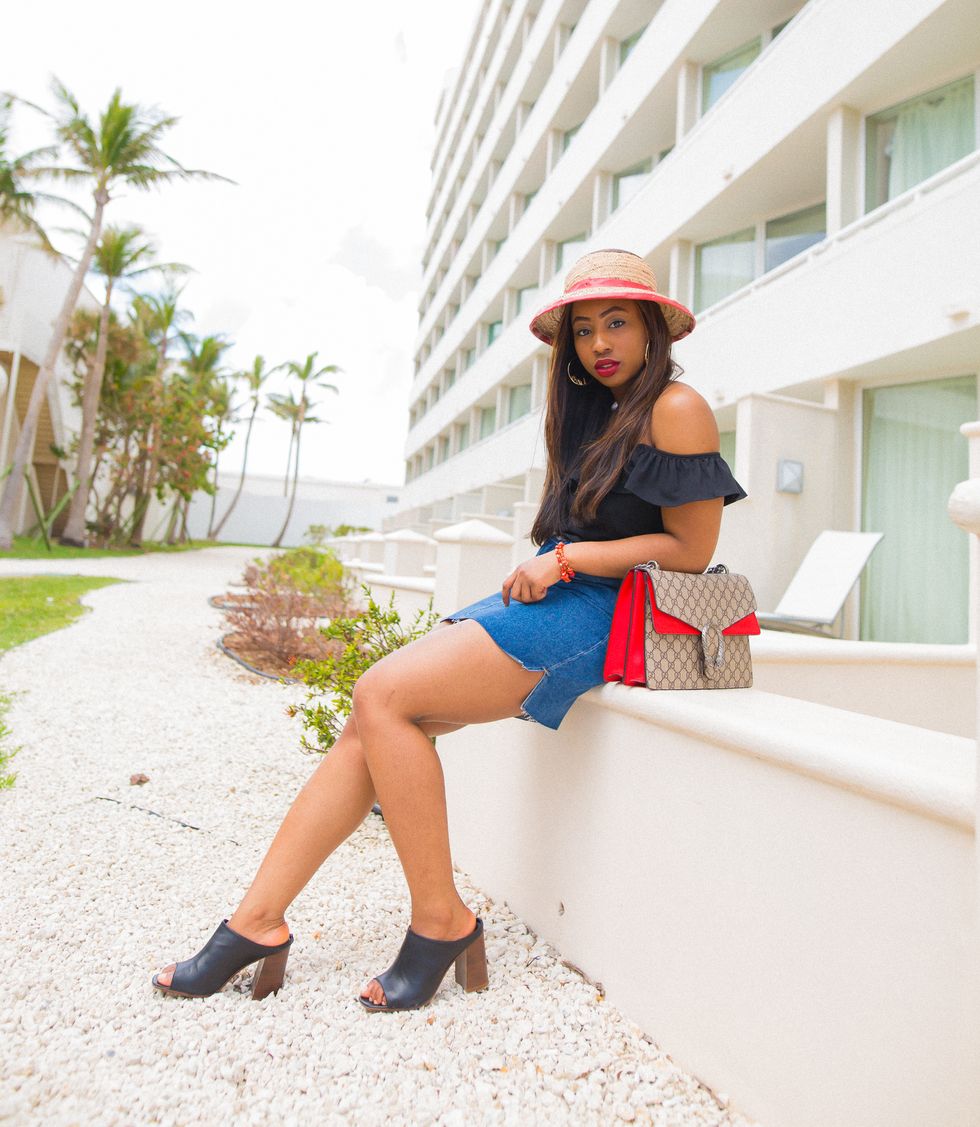 Image courtesy of A Nasty Boy magazine.
Amarachi Nwosu is a Nigerian-American self-taught photographer, filmmaker and writer with a professional background in International Communications. Her work has appeared on global platforms including Highsnobiety, CNN Africa, VICE Japan and OkayAfrica.
Nwosu's passion for all things Nigerian has led the multi-hyphenate talent to work with culture-defining brands such as WAFFLESNCREAM, positioning the brand within her international media networks. On the other hand, her humanitarian efforts have led her to work on projects with London-based women's rights group, Equality Now. Along with other accolades, Amarachi Nwosu is also an ambassador for D&AD in New York as well as Princeton University's race relations.
Amarachi is also an OkayAfrica contributor, check out some of her work here.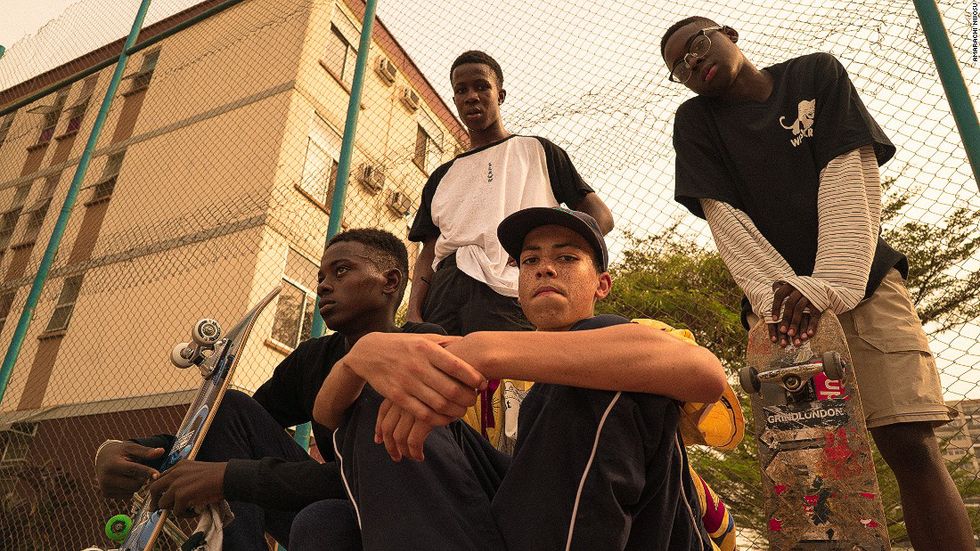 Photo by Amarachi Nwosu.
Jacque Njeri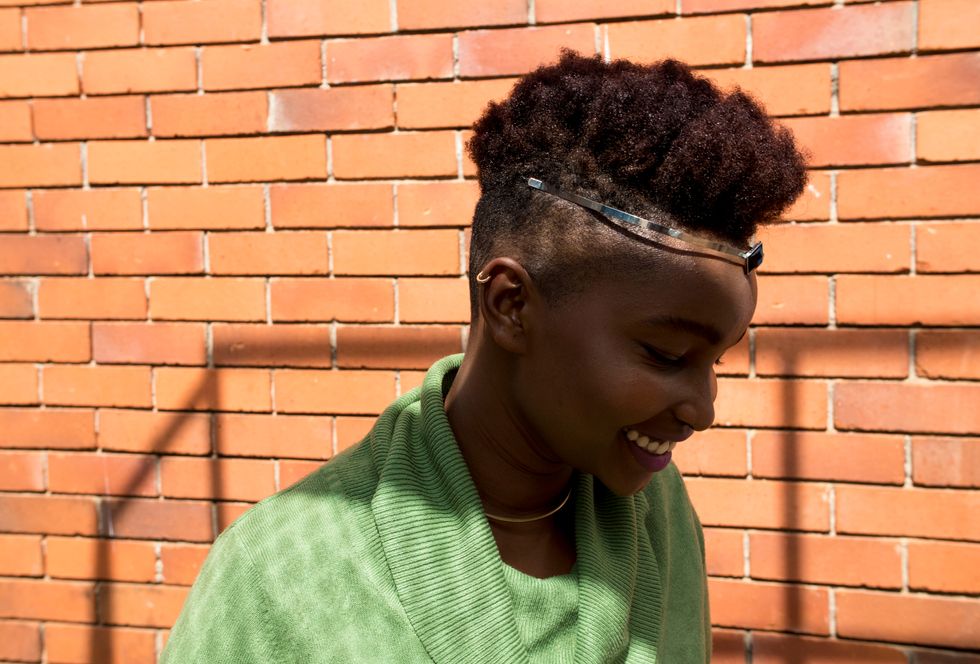 Image courtesy of A Nasty Boy magazine.
Jacque Njeri is the artist and art director responsible for the highly acclaimed photo series where the Maasai tribe was sent into space. The empowering series also featured women and children, in a way, making a statement that such visions are not a preserve for men only.
Njeri is a graduate of University of Nairobi where she studied Art & Design. Speaking of her future plans, she reveals that she aspires "to keep creating pieces that address different aspects of our society with an aim to educate & challenge conformist norms. While doing this, I wish to build an audience that is more critical to art as opposed to mere aesthetics. It would be a great pleasure to inspire more women into the craft. Lastly, I hope to do a Masters Degree in African Studies soon to get a more informed perspective towards Africa; the core subject of my work."
For more on Njeri, revisit our interview with the young artists, where she discusses her unique artistic vision.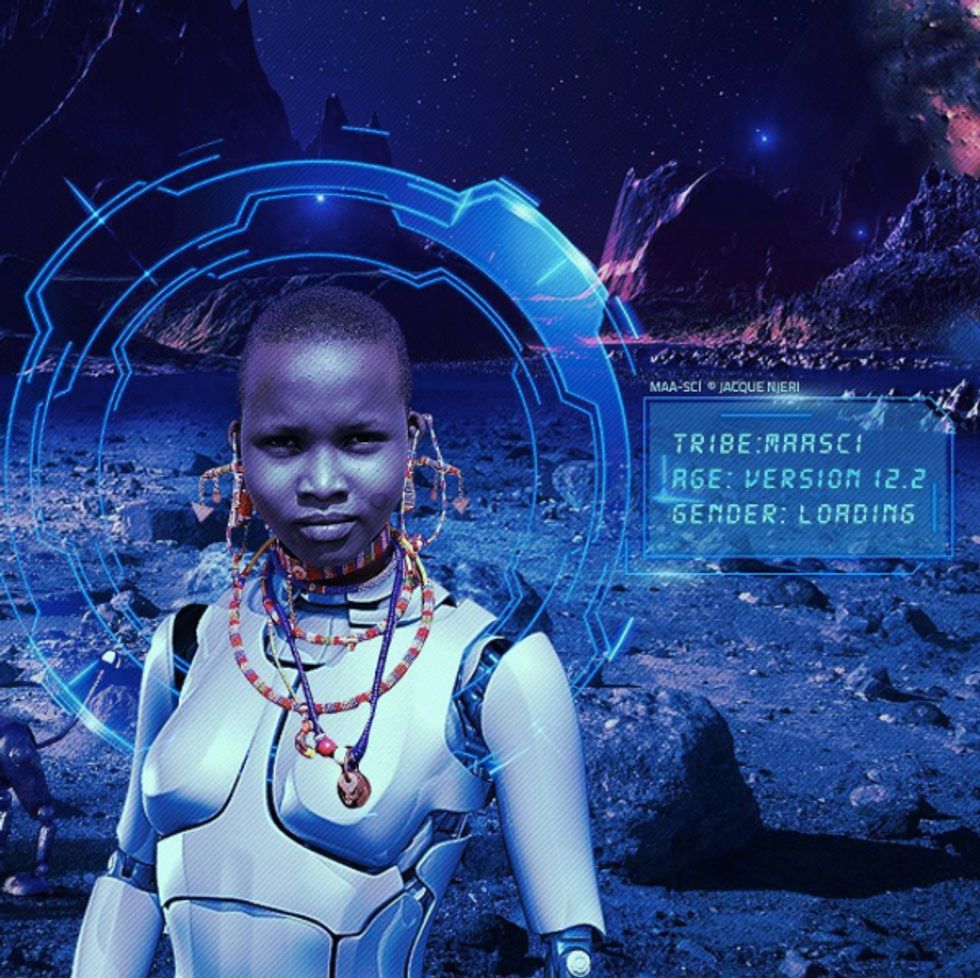 Maasci by Jacque Njeri
Dafe Oboro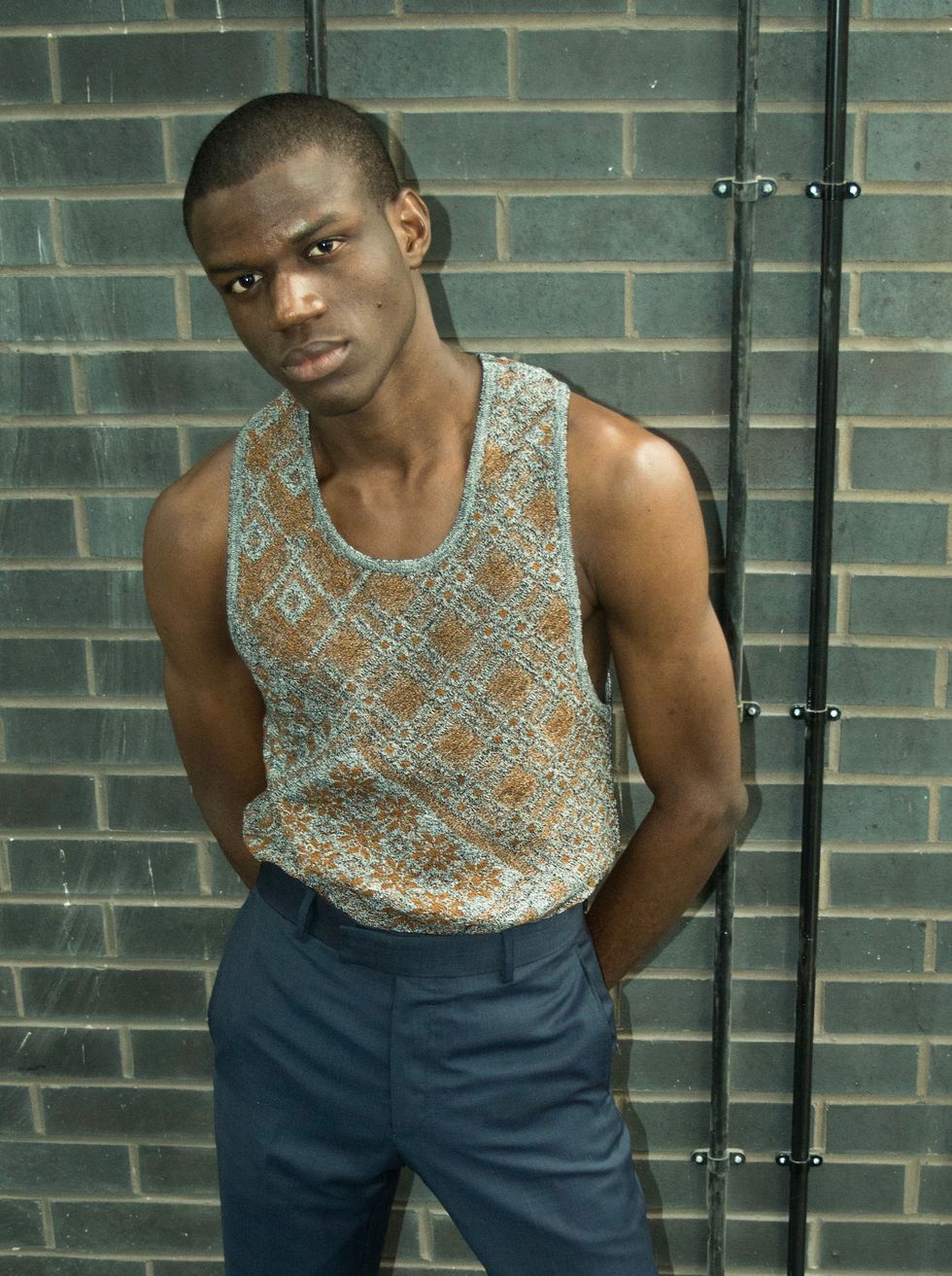 Image courtesy of A Nasty Boy magazine.
Dafe Oboro is a 22-year-old Nigerian Documentary and Photo Journalist with a unique aesthetic which he utilises in capturing the everyday lives of Lagosians, and the accompanying social injustices in the city, through film.
For instance, between 2015 and 2016, Oboro spent 7 months producing a thought-provoking documentary on the human cost of slum demolitions across Africa, with a focus on Nigeria. In 2016, his documentary, Slum Dwellers: Not Dead, Not Living, was named the runner-up video at the Amnesty Media Awards UK, under the Student Documentary category. In that same year, Dafe's short film won the award for best documentary at the Nottingham Micro Film Festival.
Check out the full list here.