For the past three years, we've been following the developments behind Malika—the pre-colonial superhero queen coming out of Roye Okupe's YouNeek Universe. After the two-part comic books surrounding her story have been published, Okupe's YouNeek Studios is set to encompass the saga through a long-awaited animated pilot.
Nollywood's very own Adesua Etomi is also set to voice Malika in the animation—Okupe tells OkayAfrica in an exclusive interview.
Revisit the synopsis of Malika: Warrior Queen below:
Growing up as a prodigy, Malika inherited the crown from her father in the most unusual of circumstances, splitting the kingdom of Azzaz in half. After years of civil war, Malika was able to unite all of Azzaz, expanding it into one of the largest empires in all of West Africa. But expansion would not come without its costs. Enemies begin to rise within her council, and Azzaz grabbed the attention of one of the most feared superpowers the world has ever known: the Ming Dynasty. As Malika fights to win the clandestine war within the walls of her empire, she must now turn her attentions to an indomitable and treacherous foe with plans to vanquish her entire people.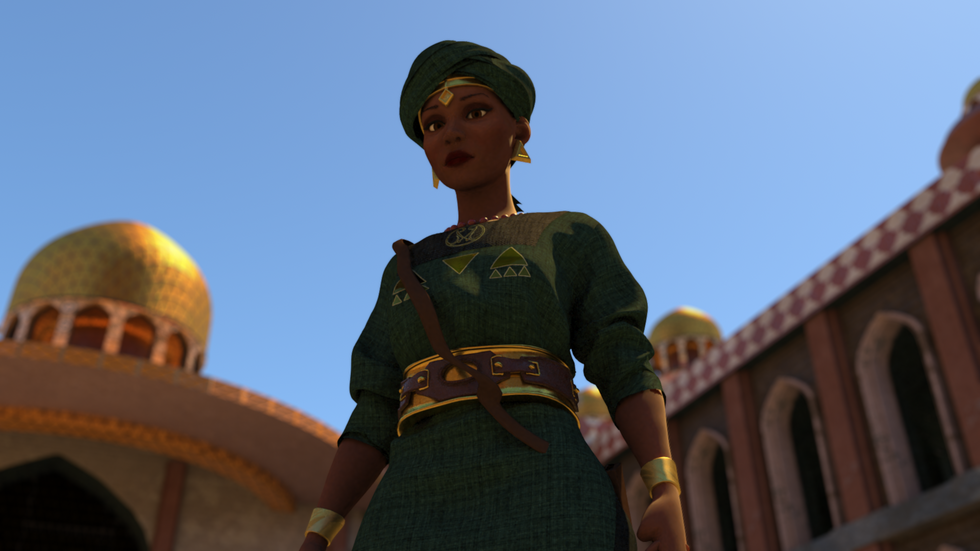 Still courtesy of YouNeek Studios.
The animated pilot, executive produced by Niyi Akinmolayan of Anthill Studios, has been developed into a short that runs just under 15 minutes featuring three scenes. There are five speaking roles featuring Etomi, Femi Branch, from the old guard of Nollywood who voices Chief Dogbari, Deyemi Okanlowon, who you've seen in Nigerian TV series and films voicing the WindMaker and King Bass, Blossom Chukwujekwu as Abdul and Sambassa Nzeribe voicing General Ras.

YouNeek Studios has been building out a universe of superhero and fantasy characters—YouNeek Youniverse—that's inspired by African history, culture and mythology. Over the last 3 to 4 years, the hub has been able to do so through 10 books consisting of six graphic novels, three on-shot comics and one art book. Everything in the YouNeek Youniverse is connected and has roots in the continent—and we'll soon see it all come to life once again in the animated pilot.
We caught up with Okupe, who wrote, directed and produced the pilot, for a proper catch-up on the growth of YouNeek Studios, tapping Adesua Etomi to take on the lead role and more.
Read our conversation below.
---
This interview has been edited and condensed for length and clarity.
Malika Animated Pilot - First 60 Seconds!youtu.be
Antoinette Isama for OkayAfrica: Can you give us a bit of background as to what inspired you to develop YouNeek Studios?

Roye Okupe: I was born and raised in Lagos, Nigeria. I moved to the United States 2002. So I've been here for about 17 years now, but obviously I still go back home. I try to go almost every year. Growing up there weren't a lot of fantasy and superhero characters that featured stories inspired by characters that were born and raised in Nigeria or just even characters based on African history, culture and mythology. And that's something that always fascinated me and something that I always have wanted to see. I mean, don't get me wrong, I still love everything I saw like Batman, Superman, Justice League, Transformers and Ninja Turtle—I grew up on all those things.
It wasn't until I got to the United States in 2002 that I started to think, "Maybe if anyone wasn't really going to do it, I was going to take a chance to do it." And then that's kind of like where the golden age of superhero movies began with the X-Men movies and the Batman movies, Spiderman with Tobey Maguire. It eventually became an explosion of the superhero genre—at least in the theatrical sense. And it was really then that I started to think, "Okay, I need to find a way to get myself involved."
At what point did you begin to take the leap to get YouNeek Studios going and delve into animation?
In 2012, I decided to spend $30,000 that I raised thanks to friends, family and saving to create an animated pilot based on my first story. Back then, it was EXO: The Legend of Wale Williams and I shopped it around for 2 to 3 years. This was before Wakanda Forever and the Black Panther craze—so nobody paid attention to it.
I was really early to the game of trying to create African fantasy and African superhero stories, at least in the animated form for a mainstream audience. Back then, people just didn't know what to do with stuff like that. So I took a step back and decided to start a comic book and graphic novel publishing company, YouNeek Studios, in 2015 because that was the only thing that I knew that I would be able to do on my own. And comic books are a lot less expensive to produce, so I started publishing comics on a yearly basis.
When I published the first issue of Malika:Warrior Queen in 2016, it went to another level because as much as EXO is great (it's a superhero story set in a futuristic Lagos, Nigeria), Malika is really the one that really goes into the roots of African history and mythology. It literally became the flagship character over night because a lot of people gravitated towards it. Here's this strong, black, African character who is the ruler of a kingdom that also deals with a lot of issues that are personal to me and you; that are relatable. But at the same time, it's heightened because she's the queen of an empire that's expanding and threatened. She's under the threat of invasion by foreign culture and she has to decide how to fight a war both inside and outside.
So when I saw that, I decided to start to take a little bit of a step forward into animation again, because I hadn't done it since 2012. I wanted to take time to build a fan base for YouNeek Studios.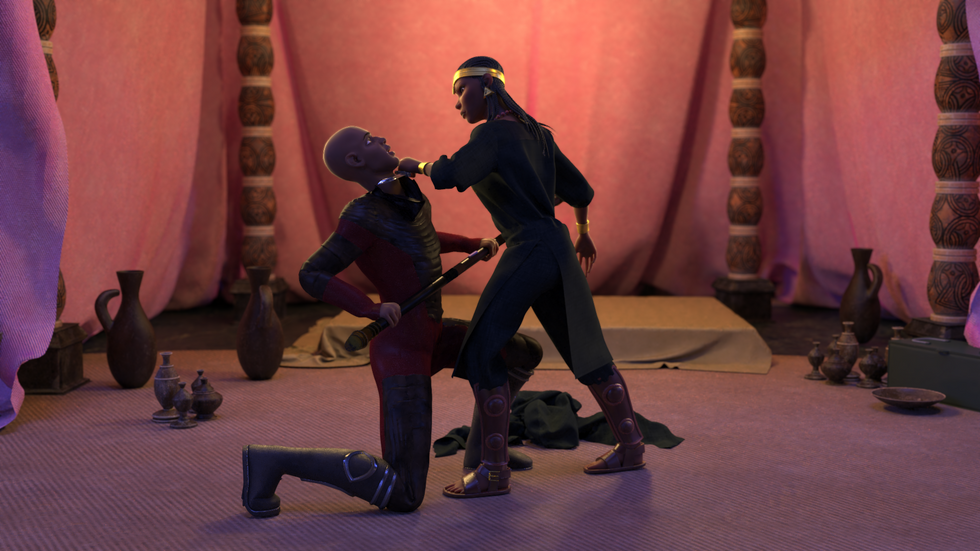 Still courtesy of YouNeek Studios.
What were the next steps you took after cultivating increased interest in Malika?

After a successful Kickstarter campaign, I was able to commission Nigeria-based Anthill Studios—I try to make a point to work with people that work on either the comics or the animation who are based in Africa or of African descent. That's something that we really take pride on because we want to showcase African talent to the world. Anthill has been working on the pilot ever since.
Niyi Akinmolayan, who is an executive producer on this animated short, has been amazing. He's made so many sacrifices just to make sure that this is done the right way. I would add that the animators at Anthill are one of the best, if not the best, in Nigeria.
So the idea is once the pilot is done, hopefully by the end of this month, we're to start going to film festivals and start shopping this around to producers. Hopefully with the wave of things like Black Panther and some of the recent announcements of Children Of Blood And Bone being directed by Rick Famuyiwa, we're hoping that we're in the right spot now to be able to get more attention than we did in 2012, when we first launched out to do it.
At what point did Nollywood's own Adesua Etomi get involved to be the voice of Malika?
I have to give credit again to Niyi, who's also the director of the highest grossing movie in Lagos—The Wedding Party Two. He's someone who is really, really integrated into Nollywood—one of the hottest, if one of the best directors in Nollywood right now. He's been a huge supporter of me personally and also YouNeek Studios for a very long time, which is why when I knew that he had started an animated studio, he was the person that I really wanted to work with first. So we discussed about who we would like to bring to this, and Adesua was the first person I had on my mind to voice it. Not only is she a huge star, she's super talented. After the both of us went through the proper channels to present the idea to her, she basically said it would be a dream for her to do it. It was in October when she came on board after the right terms were established.
A lot of credit also goes to the material because she was able to see some of the stuff we've done with Malika and the track record we've built with the graphic novels. And I can't wait for people to actually hear her performance because it's just so amazing what she's done with the character in this short pilot. It's an amazing 14 minutes.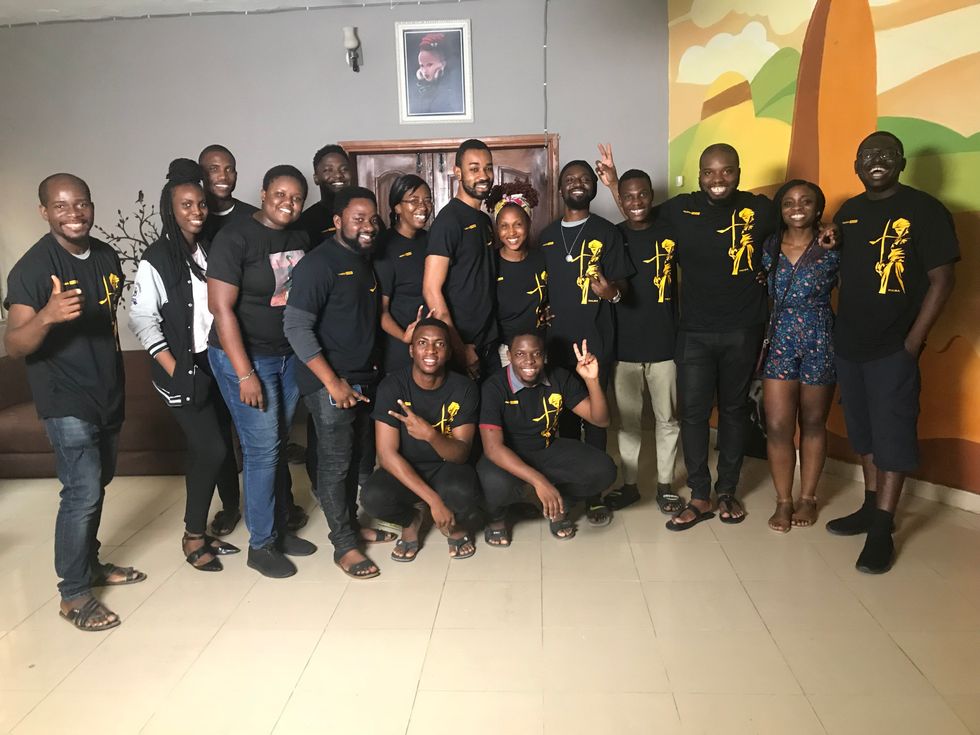 Roye Okupe and the Anthill Studios team. Photo courtesy of YouNeek Studios.
Still courtesy of YouNeek Studios.
I've noticed an increased number of creatives behind the scenes in Nollywood are taking risks with the kind of stories they're telling—where being experimental can yield new sub genres and pushing what Nollywood could be an in industry. How do you forsee YouNeek Studios contributing to that?

What I envision and what I would love is to be able to come in on the animation end of things. A lot of times when you talk about animation in Africa and Nigeria specifically, it's talked about something separate from Nollywood. And that's not the narrative that I want us to drive. I think there's a lot of room for collaboration—which we've done with this Malika short—and that's what I hope it can represent is bridging of the gap between Nollywood and the very little, but fast growing, animation industry in Lagos, Nigeria. And even the comic book industry as well since the Malika animation is based on a comic book. If you look at the relationship between Nollywood and the comic book industry here in the US, it's massive.
And that's really what I'm trying to do—and at least I hope that YouNeek Studios and all the other studios in Nigeria and Africa as a whole—that we can start to begin to bridge this gap between acquisition and trying to tell our stories through Nollywood as much as we're doing it through Hollywood. And it's really great to see stories like Black Panther and Children Of Blood And Bone being adapted as well. It's awesome. I think there's also room for Nollywood to begin to start to do some things with adaptation from comic books and working with the animation industry. And again, that's really what I hope this animated short can show—we can actually come together and do something excellent.
***
Visit YouNeek Studios' Kickstarter campaign here to learn how you can get a hold of the animation pilot for 'Malika: Fallen Queen'—at the moment, it's the only way to grab the short.