We were at the 19th annual BET Awards this past Sunday to check out the ceremonies and chat up the international artists walking the blue carpet.

BET is the world's biggest platform for Black music and it has officially gone global. If you've never been, there's a feeling of organized chaos in the air that makes you feel like you're a part of something big. Artists from Africa and the diaspora have come a long way at the award show—once relegated to a non-televised role, the "Best International Act" award is now part of the 3-hour televised main ceremony for the second year.
This year the nominees contained many of OkayAfrica's favorites, including this year's winner, Burna Boy—whose award was accepted by his mom, with a message of connectedness to the continent: "Remember you were Africans before you became anything else."
READ: The Internet Doesn't Know Mama Burna At All
Held at the Microsoft Theater in downtown Los Angeles, the BET Awards hosted over 30 artists from the African continent. We caught up with many of them on the blue carpet including AKA, DJ Cuppy, Mr Eazi, Nomzamo Mbatha and Monalonga Shozi just to name a few. Under the June heat, African performers, presenters and nominees came to show out.
One of the big themes of the night was honoring slain Eritrean-American hip hop star Nipsey Hussle's life and legacy.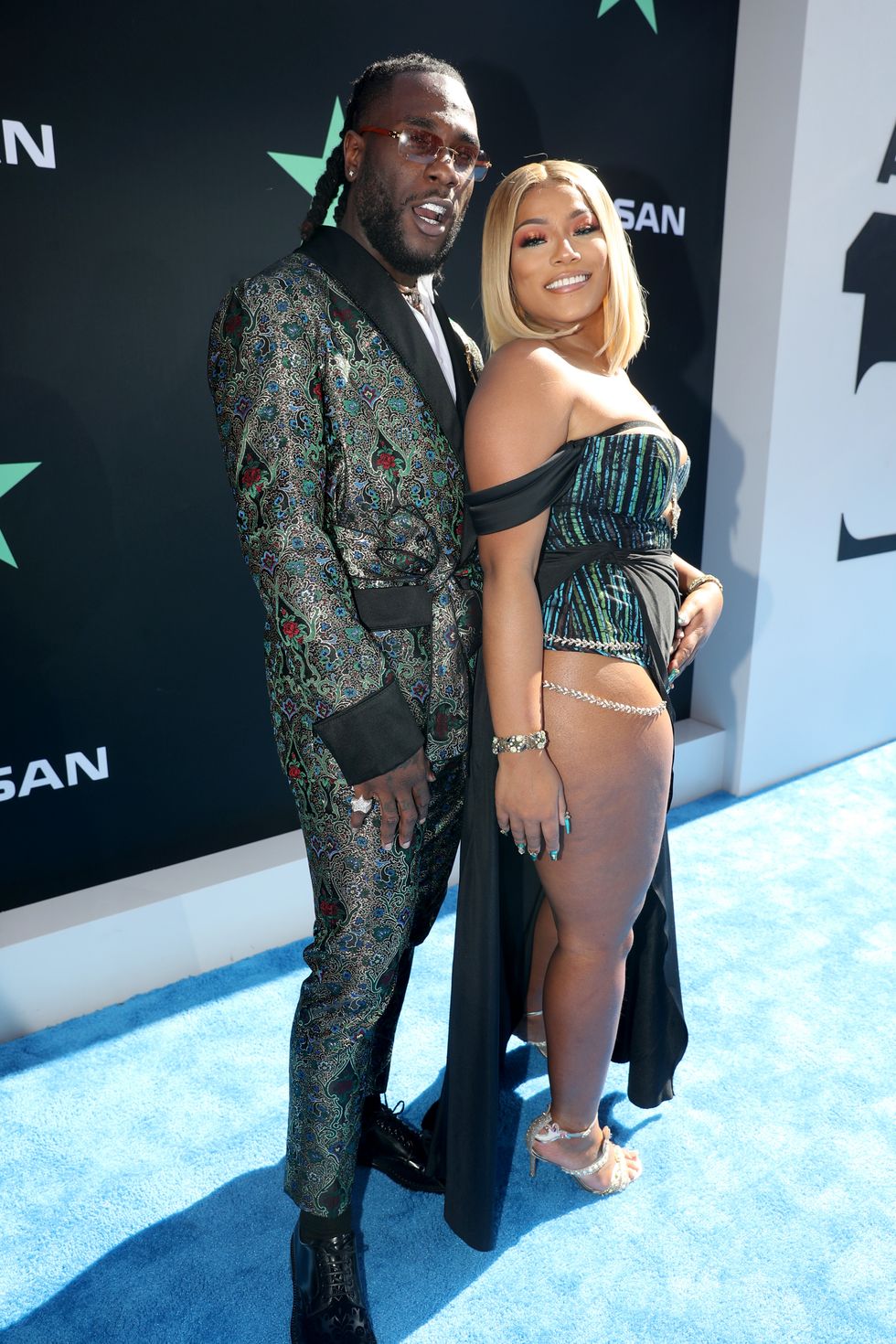 Burna Boy and Stefflon Don at the 2019 BET Awards.Photo by Getty Images for BET.
When we asked him about it on the blue carpet, Burna Boy—dressed in an elegant Dolce and Gabbana two piece ensemble in emerald green and golden overtones—says:

"You never stop wanting to hear the work of black artists do you? After Nipsey's death, it was both an inspiration and a wake up call. This is the time to spread positivity and love because you never know man, you could be gone tomorrow. He left behind a great legacy and we're just going to carry it forward."
"Nipsey's death was really felt all over Africa," South African personality Mbatha tells us. Dressed in an original full floor length A-line dress made by South African designer Loin Cloth & Ashes, she remembers, "It wasn't just that he was an African, which he was, but he showed us that we still have flames in our community that we hope will never burn out. Thank God that flames like Nelson Mandela lived for as long as it has, because each generation picked up that flame and was able to believe we can make it out and when we do make it out, we can fight to make other people's lives better."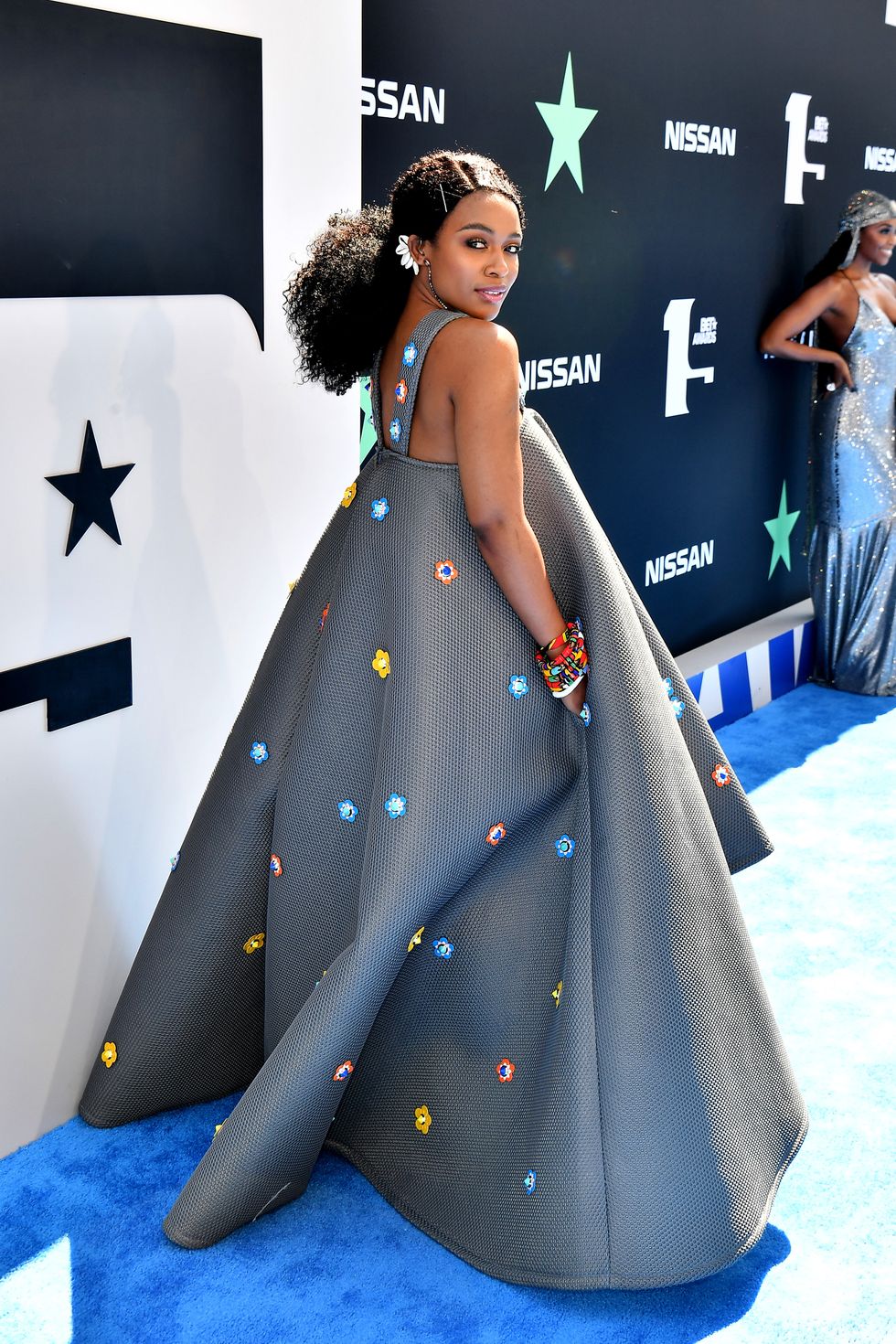 Nomzamo Mbatha at the 2019 BET Awards 2019.Photo by Getty Images for BET.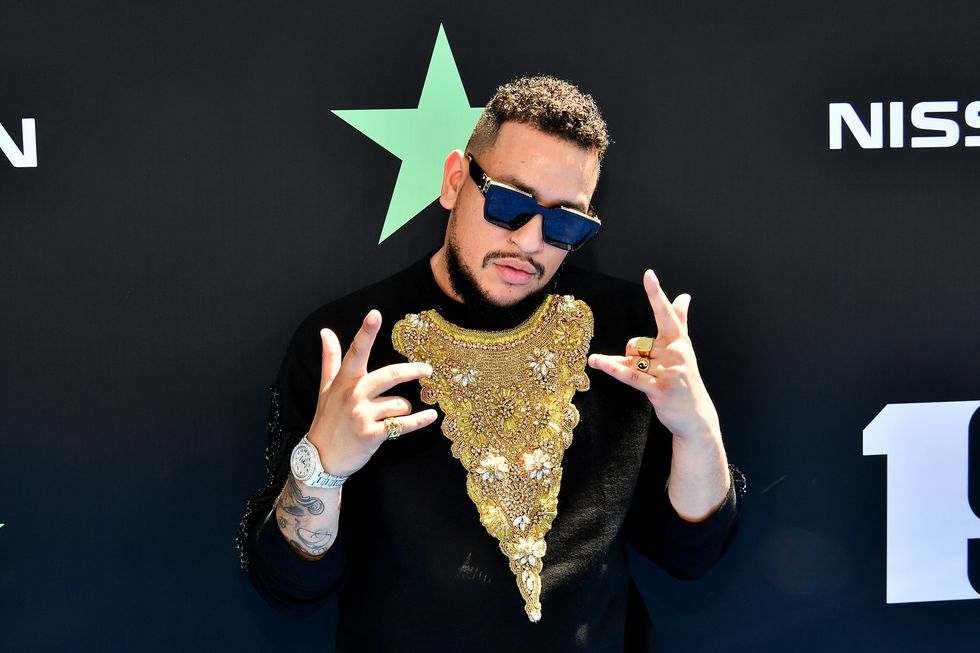 AKA at the 2019 BET Awards.Photo by Getty Images for BET.
South African rap superstar AKA tells us just before the opening to the ceremony, "With me coming from South Africa, BET is all about black excellence and of course Black excellence is all about Africa. Everybody is on a wave right now recognizing the importance of African culture and the importance of where it comes from. Africa is the source of Black excellence."

The Nigerian Afro-fusion star Mr Eazi, another Best International Act nominee also met up with us outside. "As long as music is being made by Black people, African people will never stop being brilliant," he told us. "Most of the people from Africa that come to the BET Awards, about a good 60 percent come from Nigeria. I feel like this needs to be a Nigerian awards show. Maybe next year we'll just buy it up and make it a Nigerian show."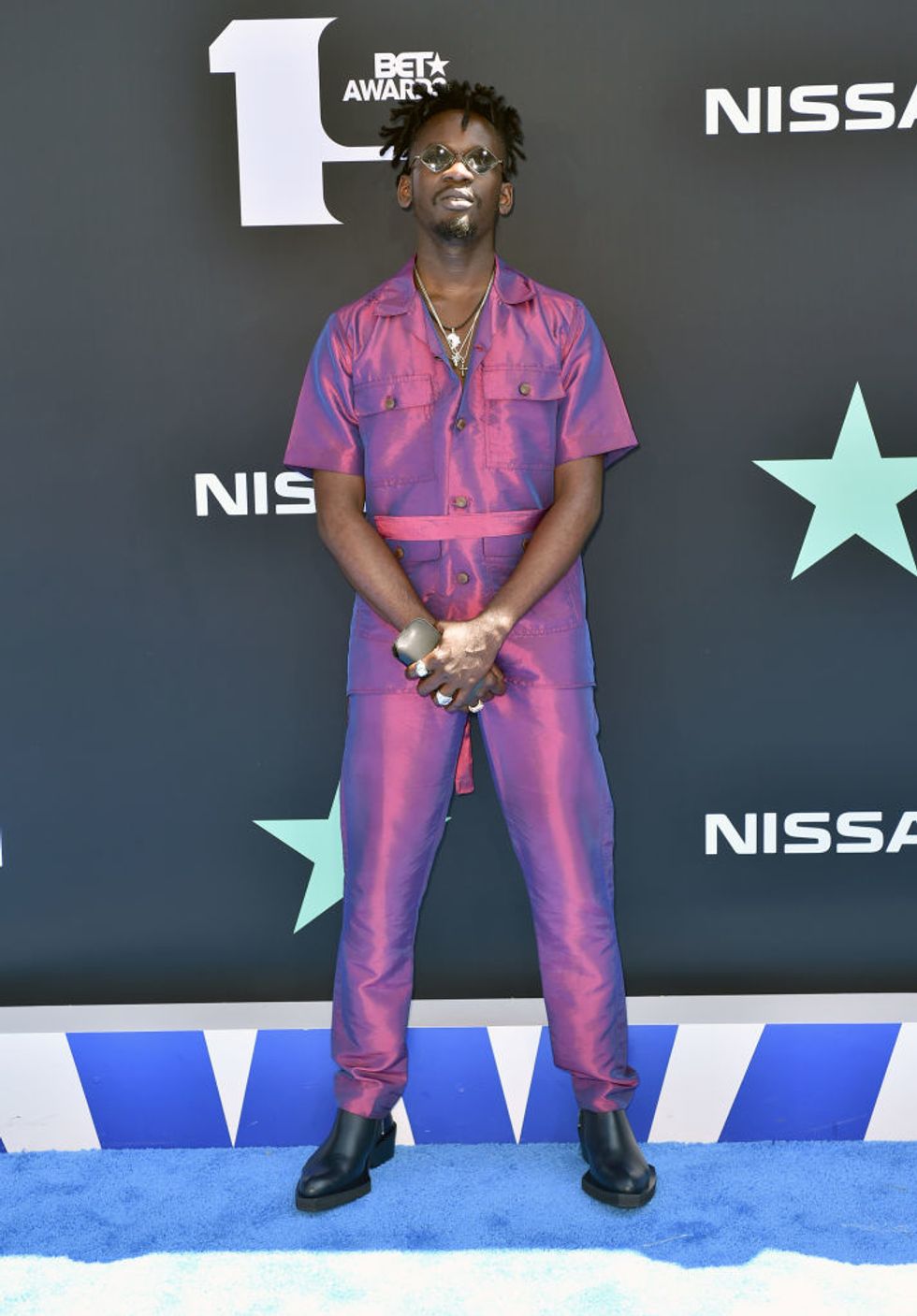 Mr Eazi at the 2019 BET Awards.Photo by Getty Images for BET.
DJ Cuppy at the 2019 BET Awards. Photo by Getty Images for BET.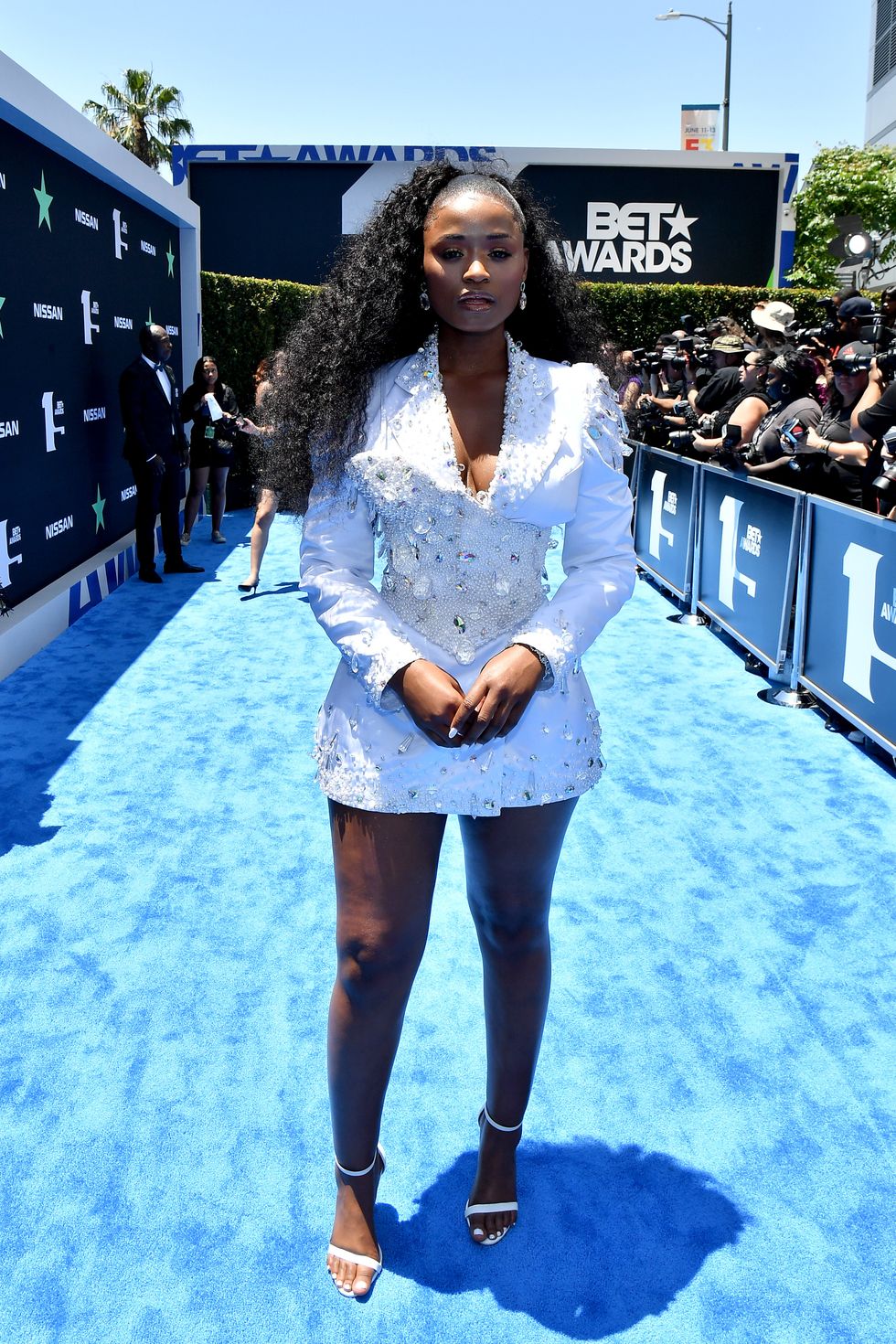 Nomalanga Shozi at the 2019 BET Awards.Photo by Getty Images for BET
Another big Nigerian name, DJ Cuppy, acted as a blue carpet host. "When I travel around the world," she says, "I feel like people are more invested in their roots. People are more engaged with where they come from and where they families come from and they're interested in learning about other cultures like never before."

"I'm all about taking Africa to the world but it think its just as important to bring the world back to Africa," Cuppy continues. "It's important that we're stressing connecting and do what we can to keep a strong community and making sure people know that we're all in this together."
TV personality and actress, Nomalanga Shozi tells us, "You have to recognize yourself as who you are. Honor yourself first then you can project that to the world. I think it's very important for us to honor ourselves and the BET Awards does that is such a grand fashion every year."
In the BET International section of the blue carpet, Nigeria-native Alex Okosi, the head of BET International shared a final thought on the important of awards shows. "It's a platform to elevate our people," he says. "Being able to showcase to the world our true power which is the power of Black culture is as important now then ever before."