Ever since she was a child, Arlette Rhusimane Bashizi wanted to be a journalist. But, as she grew up, the 22-year-old photographer felt her desire to move into the visual world grow stronger. "For me, I wanted to tap into this passion that was born in me as a way to communicate and inform without having to write long texts. That's how I got into photography," Bashizi tells OkayAfrica, clearly eager to share her experience.
Right from the start, Bashizi was more than determined and motivated to give life to her dreams, but she had to face many obstacles and oppositions on her way. Her passion did not meet with the approval of those around her. "When I started, I didn't have anyone's support, I was alone, people told me it wasn't a woman's job, my family also told me it was a waste of time. And when I decided to leave the job I was doing to focus on my photography career, everyone told me it was unwise to leave a job for photography. But it's still one of the best decisions of my life," she says.
Drawing a sense of empowerment internally, Bashizi consciously chose to ignore all the discouraging messages she received on a daily basis. According to her, all this talk had the opposite effect of what her family and friends expected. "I started learning on my own at the age of 18. I used to watch photo tutorials for hours without stopping," she recalls.
In Goma, where she lives, Bashizi was able to perfect her skills thanks to the CAMME center and its 'Lens on Life' program. "I learned some basics there," she says, before indicating that right after, she benefited from a scholarship with the "Canon Student" program of Visa pour l'image and then from the "VII Academy". However, she assures that even today, she never stops learning from other great photographers. "I think I'm evolving day by day. I wouldn't say I'm at the top yet, but I'm not where I started and I'm proud of my journey so far," she says."
That journey has included an artistic residency by Africalia Belgium in 2020, and being awarded the 'Women's Photojournalism Award Agenda 2063' from African Women in Media. The young photographer, who has already collaborated with no less than ten Congolese photographers on different projects, also participated in the project Congo in Conversation, and worked with the initiator of this project, Finbarr Oreilly, who is also the winner of the Fondation Carmignac Prize 11 edition.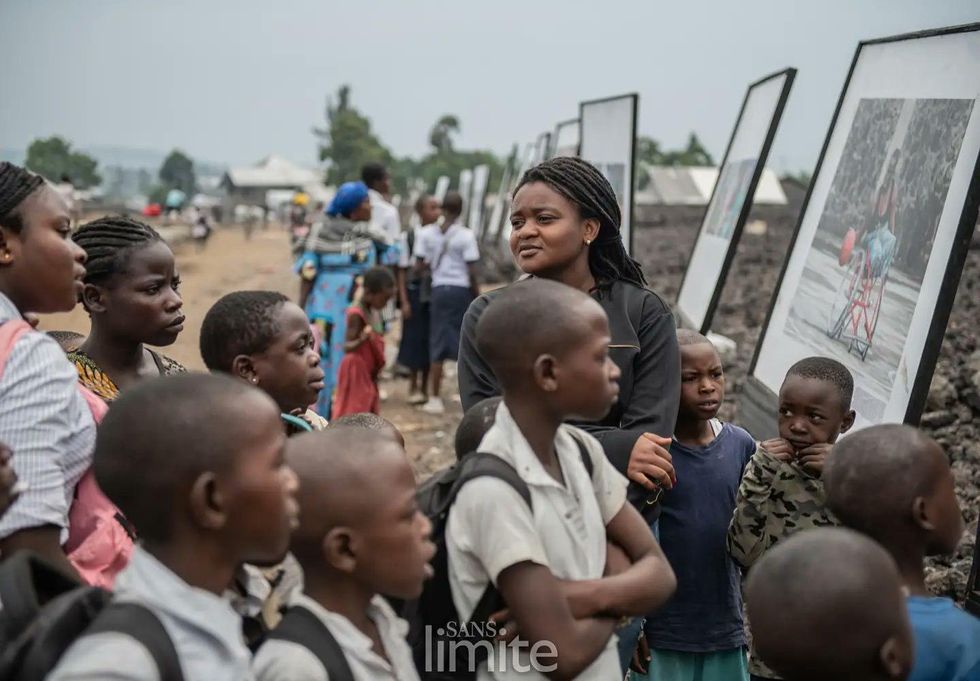 Arlette showing her work to youngsters, as part of her 'No Limits' exhibition. Photo: Arlette Bashizi
Going back to the essence of her work, Bashizi explains that her photography mainly documents the life of her community, with a focus on women, youth and children. She uses her camera to praise their efforts, and also to denounce the injustices that are often suffered by these three categories of populations that interest her most.

In addition, the Democratic Republic of Congo as a whole is not left out of the subjects explored by the young photographer. But, she specifies that her approach is not only to show the problems encountered by her country. Bashizi hopes that, through her work, the world will discover the successes and the achievements, which are, unfortunately, often hidden for various reasons.
She also recognizes that the environment in which she lives is not always favorable, but this should not be an excuse to put aside the efforts that are made to show the better side of Congolese life. "There are murders, violence and other abuses. But the world needs to understand that, beyond that, there are strong young women who are trying to build their future despite the difficulties," says Bashizi. "So through my camera, I try to bring to light these stories that are often not covered. I think that not everything in life is rosy, but it all depends on the angle and the perspective from which you choose to see and document the stories."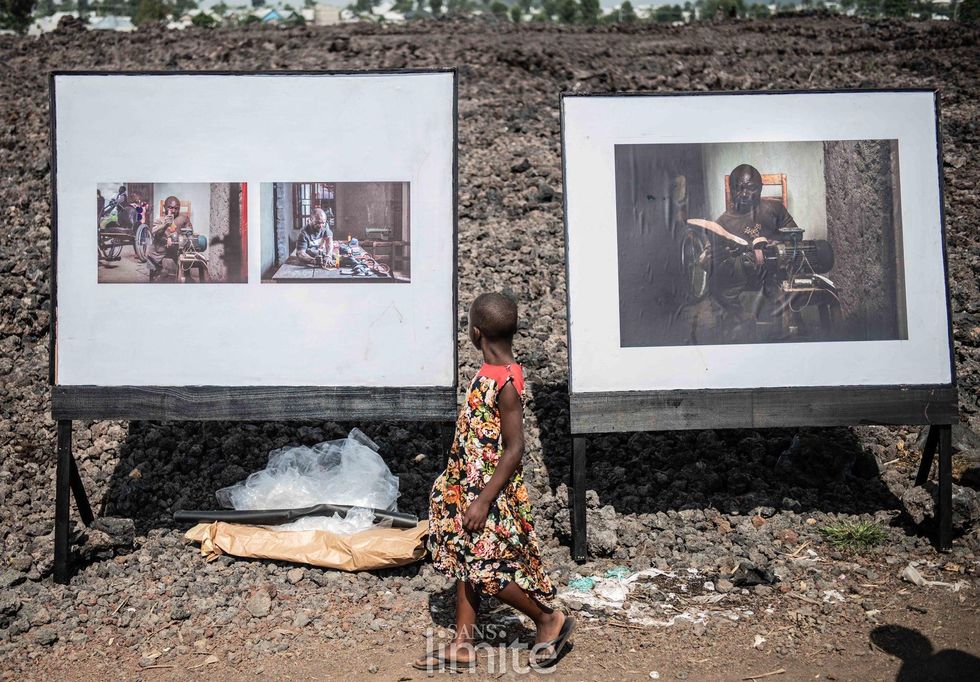 Arlette Bashizi's 'No Limits' exhibition is part of her desire to show a different side to the DRC and encourage people to look further than what they think they know about its people. Photo: Arlette Bashizi
Bashizi's most recent body of work, a series called Reconstruction, highlighting Congolese women, in particular, and African women, in general, and was recently exhibited in London. She worked on the collaborative project, No Limits, with another photographer from Goma, Moses Sawasawa. It documents the lives of disabled people and aims to show the public that their capabilities outweigh what they aren't able to do. "The stereotypes and prejudices that we have about people with disabilities have no reason to exist," she says. "Just like able-bodied people, disabled people are able to work for the development of the DRC."
Although the profession of photographer is not given a lot of respect in the Congo, Bashizi, believes there is hope, especially for the field of photojournalism because there are several young photographers who have emerged and evolved in the same, self-started, way. She also plans to one day open a photography learning center that can facilitate the learning of other young people who aspire to do it, particularly women like herself. Although it may not be easy for women to be accepted and understood in the societies in which they live, she believes they must find a way to take up the challenge and show what they can do. Bashizi encourages all those who want to start to do so, not because they are women but rather "because they really want to make a career and progress". But Bashizi isn't unaware of the true effort it takes, and what being a good photographer really entails. "It takes courage and determination," she says.