It's a significant moment in time for Foster Sakyiamah's career. Presented by ADA\ Contemporary Art Gallery and curated by Ghanaian contemporary artist Joseph Awuah-Darko, 'Lines Through Time' features new paintings from the artist that have been inspired by works from notable artists, including Johannes Vermeer and Paul Gauguin. But it's also the first time the artist is showing a solo exhibition in the city he has called home for nearly 36 years.
---
One of the major works in the collection is "Akosua As Desire," which is influenced by Gauguin's 1892 painting "The Seed of the Areoi." It shows a Ghanaian lady whose Black body is painted in red skin seated in the nude and holding what looks like a mango while sitting on a table covered with cloth to convey independence, a sense of nurturing, and femininity.
A second painting that also received the Sakyiamah spin is Vermeer's 1665 painting "Girl with a Pearl Earring." He tells OkayAfrica that the paintings were created to "discuss and celebrate women" through his gaze, in what he calls "empowering objectification." He continues: "It was important [for] me to have a connection to every painting. I wanted to convey emotions within the viewer through vibrant color and through my ability to achieve a certain essence through the work and choice of color."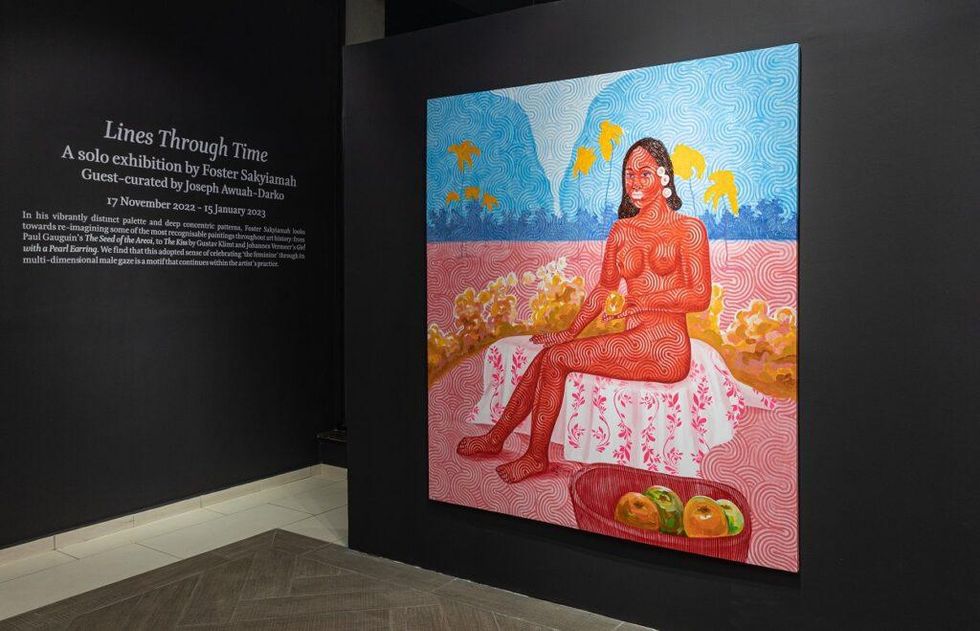 Photo: Foster Sakyiamah / ADA \ Contemporary Art Gallery
Sakyiamah's paintings are recognized for their portrayals of the people and culture of Ghana, and for their vibrant color palettes and curved linear patterns. This stems from his fascination with the work of both Ghanaian photographer James Barnor and the late Malian photographer Malick Sidibe, who is known for dressing his subjects in patterned clothes and posing them in studio portraits against patterned floors and backdrops.
Sakyiamah was raised by a father who grew up sketching and was an artisan; a sprayer and a welder. As a result of that background, he developed an interest in the art world and gained some practical experience in the process from his father.
He subsequently decided to study Visual Arts and Graphic Design at the famous Ghanatta College of Art and Design. There he became mates with portrait artist Emmanuel Taku, and was introduced to the work of Ghanaian painters like Ablade Glover.
In the early 2000s and well into the early 2010s, he opened a shop called 'Sakyiamah Art' at Shiashie, a suburb of Accra, where he operated and sold his pieces on the street. During that period, his wife served as his muse and "would occasionally" pose for him. "When I started working in a kiosk, it was really a matter of survival, living hand to mouth," recalls Sakyiamah.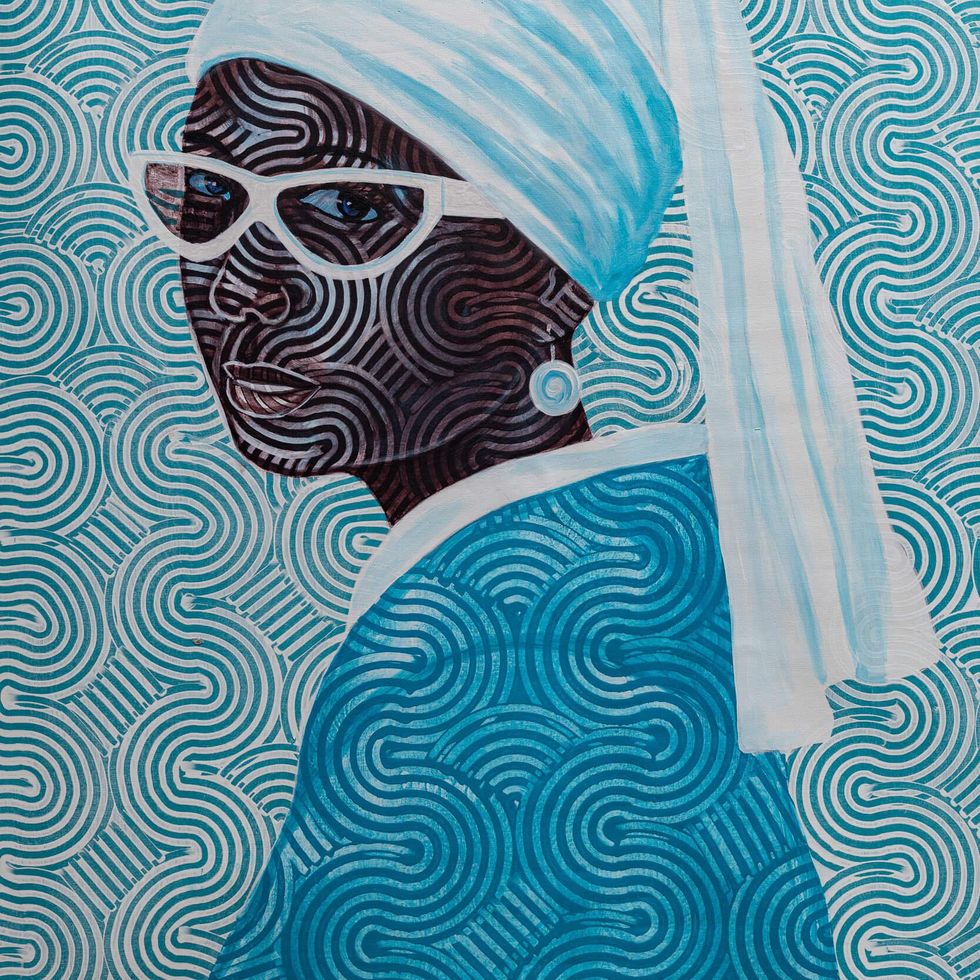 Photo: Foster Sakyiamah / ADA \ Contemporary Art Gallery
A 2020 Instagram connection with Awuah-Darko, the founder and director of the Noldor Artist Residency and the president of the Institute Museum of Ghana, fast-tracked his path to becoming a known artist. It was followed up with a studio visit in late 2020by members of the selection committee of the institutional artist residency and fellowship program, securing Sakyiamah the coveted position as an artist-in-residence in 2021.
Since then, his life has changed from an experienced but ignored artist to an emerging contemporary artist whose work has been shown around the world this year in solo and group exhibitions in the United States, Spain, Lithuania, South Korea, Italy, and the United Kingdom.
His paintings can also be found in institutional and private collections of Sir David Adjaye (New York, London, and Accra), Up Next Art Museum (Puerto Rico), Se Tinat Collection (Spain), Minitti Seoul Collection (South Korea), and other private collectors in New York, Brussels, Korea, and Madrid.
This past October, a painting by Sakyiamah was featured in Naomi Campbell's EMERGE Initiative in partnership with Qatar Creates. The show also featured works by Amoako Boafo and African-American portrait painter Kehinde Wiley – pointing to the growing reach of the Ghanaian artist.
"It feels good to see the transition of artists who were [largely overlooked] but are now being celebrated in institutional and private collections in the Americas, in Europe, in Asia. It's inspiring to see that," says Awuah-Darko, of Noldor's role in nurturing and supporting local talents like Sakyiamah. "And it's a full circle moment when you realize that [Noldor] is an authentically Ghanaian institution based in Ghana that is supporting Ghanaian artists to reach these heights."
Sakyiamah isn't the only practicing artist in his family. His younger sister, Elizabeth Sekyiamah, is also quite famous in her own right, and an award-winning one at that. She is the inaugural recipient of the Judith-Ellen Prize, an annual prize dedicated to supporting emerging women artists within Africa and the Diaspora. According to Awuah-Darko, Sakyiamah has a "mentor-mentee" relationship with Elizabeth, who taught herself how to paint through an apprenticeship with her brother starting during the COVID-19 lockdowns.
With his latest exhibition, Sakyiamah emphasizes empowerment, femininity, Afropolitan opulence, and Black joy. "It is quite a full circle moment in the scheme of my career trajectory," he says, about staging his debut solo exhibition in the city he has called home for nearly 36 years. "I am deeply grateful to have had this experience to have my work enjoyed, celebrated, and embraced in my hometown, in my country of origin, with deep pride and conviction."
"Lines Through Time" will be on view until January 15, 2023, at the ADA\ Contemporary Art Gallery.