When it debuted at the V&A Museum in July last year, the Africa Fashion exhibition drew applause for being a landmark show. The first in-depth celebration of African creatives in the museum's history, it brought together the past, present and future of the continent's fashion designers and artists — with over 180 pieces from 20 countries. Now, the exhibition gains more life and new ambition, as it makes its North American debut at the Brooklyn Museum.
One of the very first institutions to present African art to American audiences, the Brooklyn Museum marked the 100th anniversary of the first African art exhibition staged there in April this year. It's only fitting that it now plays host to Africa Fashion. Curators Ernestine White-Mifetu and Annissa Malvoisin have put their spin on the V&A's concept, sticking with the original themes of the exhibition, but drawing on its new location to infuse the show with added insights.
"We were very excited to bring this to Brooklyn, which we think is one of the perfect places to bring it," Malvoisin tells OkayAfrica. "We're also so excited to be the first North American venue to showcase this really amazing survey." Given Brooklyn's dynamic population and vibrant diaspora communities, the curators jumped at the chance to share more about familiar fashion names from the continent, and to provide greater context for well-loved brands. "A lot of designers that are part of the show have been celebrated and appreciated globally, and North American audiences, having bought a Christie Brown, or a Lisa Folawiyo, perhaps for a special occasion, now get to see the kind of full beauty of the actual garments; to get a better sense of who these designers are, in a physical space," adds White-Mifetu.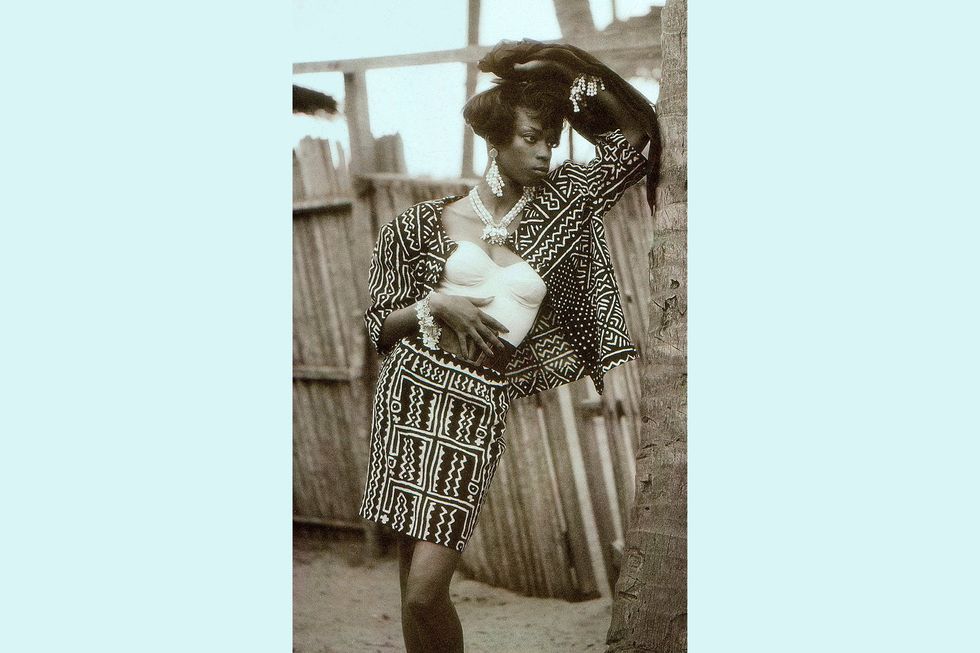 Design by Chris Seydou.Photo courtesy © Nabil Zorkot.
It's a monumental task to present a sweeping survey, such as the one Africa Fashion aims to be. With an entire continent of talent, how do you choose who to include?

"It's a difficult way to engage with the creativity of an entire continent in one exhibition. You can't flaw the [V&A] curators for trying," says White-Mifetu. "But what we really wanted to do was try to find who else we could include in this narrative." A key part of that, she says, is addressed by drawing on the diaspora. "In a number of areas within the exhibition, whether it's through fashion, visual arts, or music, we chose to incorporate and insert those voices and narratives that spoke to the collaboration and participation with the continent in various ways," she says.
Building on the themes of 'Africa Fashion'
White-Mifetu and Malvoisin were guided by the themes of the original show, which begins with Ghana's independence, the first African country to gain autonomy. The Cultural Renaissance section explores the radical changes this time period of the '50s, '60s, and early '70s brought about. Through fashion, photography, books, and items like protest posters, vintage magazine covers, and iconic album cover art, visitors get a sense of the context within which the exhibition is rooted.
"There was this new energy and new life into what was possible, post-independence," says White-Mifetu. "It was also an opportunity for creatives to be critical of what was taking place." With music being such an important part of expressing new ideas of self and identity, artists like Fela Anikulapo Kuti and Miriam Makeba are given prominent space in the exhibition. Garments that Fela wore, as well as images by his album cover designer, Lemi, are on display, along with iconic images of Makeba on Drum Magazine. "The music and the iconography of the covers were extremely important in many people's histories of the time," says White-Mifetu.
The Vanguard section presents a selection of the first generation of African designers to gain global attention, including works by Kofi Ansah (Ghana), Naima Bennis (Morocco), Shade Thomas-Fahm (Nigeria), Chris Seydou (Mali), and Alphadi (Niger), dating from the mid to late twentieth century, are shown together for the first time in the United States alongside a dynamic installation of fashion photography from the period.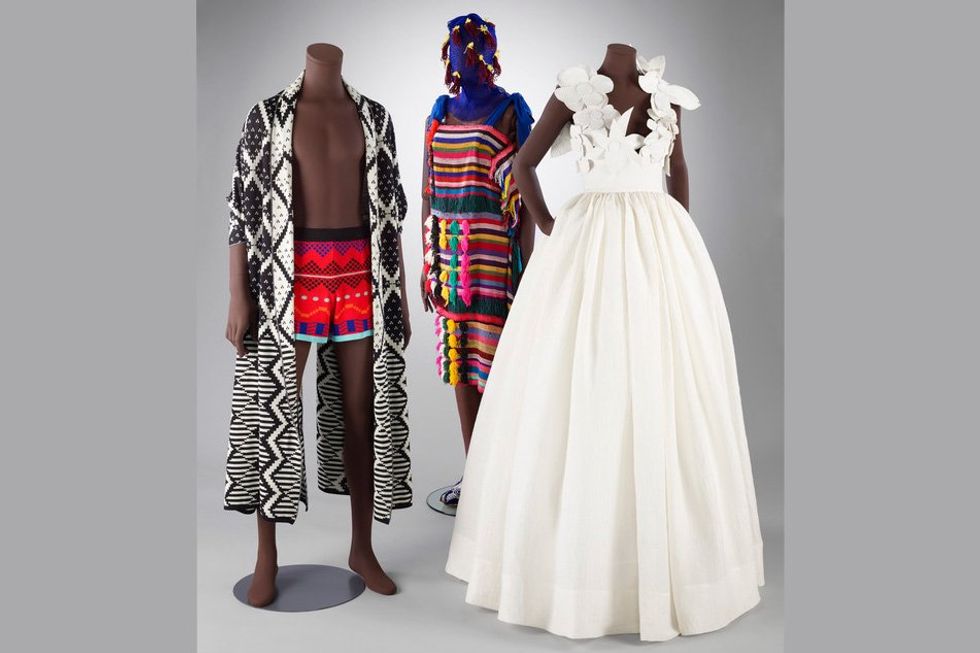 Designs by Maxhosa Africa, IAMISIGO, and Imane Ayissi.Photo © Victoria and Albert Museum, London.
The section Cutting Edge brings together a newer generation of designers, and illustrates how their creations are informed by their cultural heritage, from the likes of South Africa's Thebe Magugu to Nigeria's Adebayo Oke-Lawal and his Orange Culture label.

More music, more textiles
The curators also looked for opportunities where they could incorporate additions to the exhibition from collections that exist at the Brooklyn Museum. As Malvoisin says:
"Very clear parallels and moments where we could amplify our collection, where these designers are already doing so, just by using their cultural heritage." For example, in the Politics and Poetics of Cloth section, which shows the ways in which the making and wearing of Indigenous cloth became a strategic political act, textiles that were only mentioned in the London exhibition are actually seen in the Brooklyn one. Visitors will see textiles from the Museum's Arts of Africa collection alongside a display of wax prints, commemorative cloth, àdìrẹ, kente cloth, and bògòlanfini.
"This [presented] a great opportunity to include our textile collection as an important component in that conversation, says White-Mifetu, "where we engage with the nuances of these very highly political moments of the African continent engaging with itself, and finding a sense of identity through this kind of very chaotic and tumultuous series of moments in history." It's here where visitors will see how cloth became an important component in articulating political standpoints, and the nuance of traditional fabric selection. One high-profile example of this is the commemorative cloth that heralded the presidency of the late Nelson Mandela.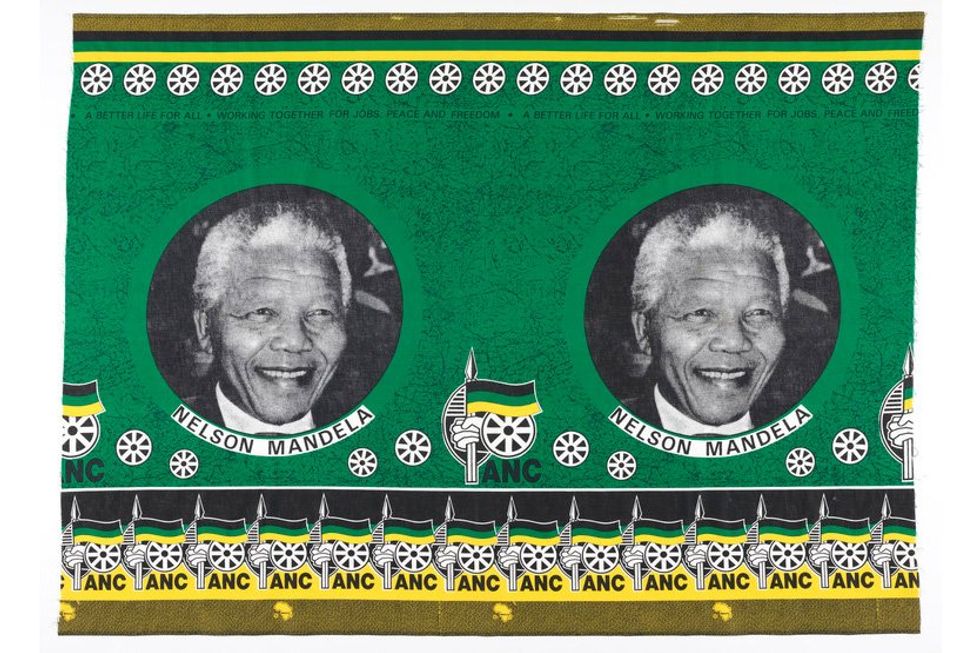 African National Congress (ANC) Nelson Mandela commemorative cloth, SouthAfrica, 1991.Photo:©Victoria and Albert Museum, London.
Music, too, is amplified at the Brooklyn Museum's iteration of Africa Fashion, across the spectrum. So while the journey from Afrobeat to Afrobeats is illustrated through playlists that accompany the images of style and fashion, there are also other music genres highlighted–including those from Algeria, Morocco and Egypt. "Music is interlocked with fashion and also fashion is interlocked with visual art, with literature, with culture, with everything," says Malvoisin. "They're all kind of interconnecting, interlocked, intersectional. We also wanted to highlight North Africa, because it's so very often disassociated from the rest of Africa."

Localizing the exhibition
"We thought it also was very important to localize the exhibition in North America and in New York, and specifically Brooklyn, so that also influenced how and what we chose to include and expand upon that from the original show," says Malvoisin. This meant including visual artists like Marilyn Nance, who was at FESTAC '77, as well as designers who are Brooklyn-based and inspired by the spaces that hold cultural significance for them.
Residents have also been invited to directly engage with the exhibition by sharing their own individual and family portraits that showcase styles from Africa's independence years, again making the diasporic community an integral part of the show. "We chose stories and images that gave a nice kind of scope of the varied histories of the African continent," says White-Mifetu. "There are some really beautiful images, some are worn and weathered because that's what happens with your pictures. We chose to include those and not just have pristine images, but really present a gamut of the lived experiences of the local communities that are here."
A host of panels, events and parties will keep the momentum going for the duration of the exhibition's run, making sure Brooklynites, and visitors from further afield, are a vibrant part of it all.