---
*Loza Maléombho Autumn/ Winter 2012
Designer Loza Maléombho stands out by her talent, innovation and approach. The artistry and daringness of her pieces enhances the attractiveness of her designs. Inspired by the Akan tribes of Ghana and the Baoulé tribe in Côte d'Ivoire, she stresses an African heritage associated to a modern vision— creating a unique aesthetic. The garments feature a rich wealth of prints, colors and details, bringing brand new shapes for an innovative vision of couture. Last year, the fruits of her endeavor and creativitygained  the interests of the international press. A growth brand, her company stands out for its commitment to the social and economic empowerment of women in Côte d'Ivoire.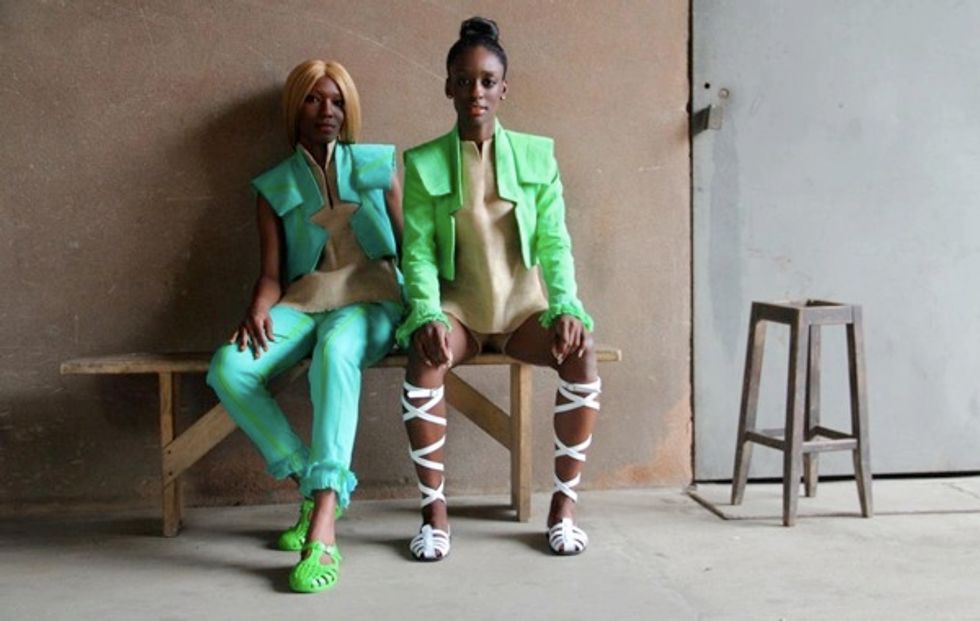 *Loza Maléombho Spring/ Summer 2013
"I decided to produce in Côte d'Ivoire in order to have control and flexibility over my production and because I realize we do have valuable resources to trade on an international level. I had also hoped to provide jobs and fair living wages to post-war Ivorian women, thus showcasing Côte d'Ivoire's artistry with positive and lasting social and economic changes," stated Loza Maléombho to Fashionista.com.
Her new collection differs considerably from the previous one where her inspirations was the Touareg people of northern Africa mixed with West African patterns and textiles. Once again, success has smiled on the designer. Maléombho presents a collection that takes geometric shapes in bright colors and reinterprets them using handwoven fabrics.We had the opportunity to interview the designer.
*Loza Maléombho Spring/ Summer 2013
Who is Loza Maléombho? Where are you from?
I was born in Brazil and grew up between Côte d'Ivoire and United states. I graduated with a bachelor of fine arts in Animation at the University of The Arts of Philadelphia and later moved to New York to pursue a career in Fashion.
How did you start creating? When did you start considering fashion?
I've been drawing since I was six so I guess that counts for when I started creating, but I only started to consider fashion as a career after graduating from college.
Did you study fashion? If yes, where? What do think about the school and the reality?
I didnt. I studied Animation and was convinced I would moved to LA and work for Disney but after graduating I felt the need to do something of my own and bring my knowledge back to Africa.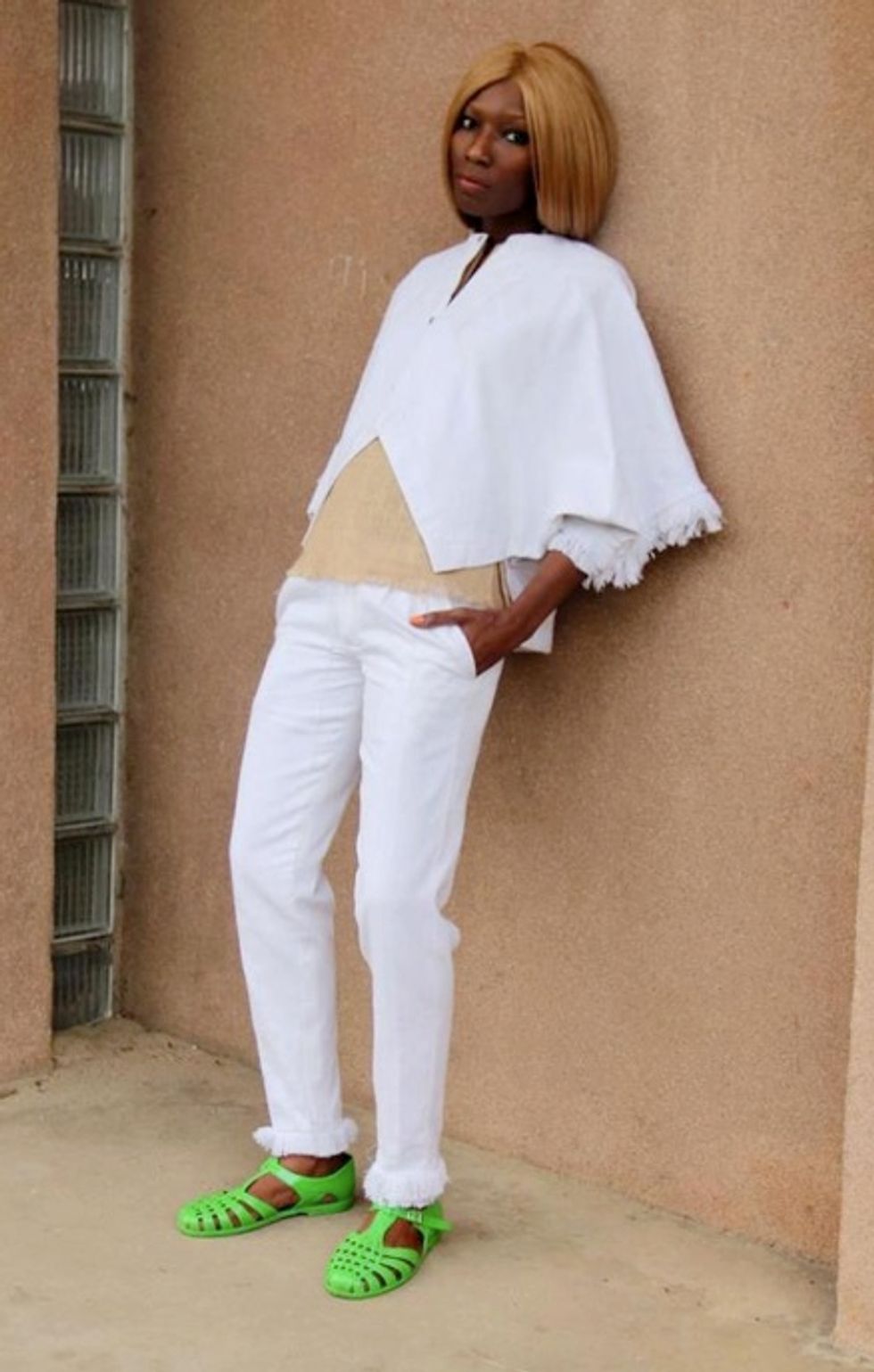 *Loza Maléombho Spring/ Summer 2013
Where do you seek your inspiration? How do you maintain your inspiration?
I seek inspiration in culture. That might seem broad but inspiration in itself is a broad concept. What is a color, a shape, an object, a word, a dance, a fashion, a tradition, a feeling? What do they represent in each culture and how can they influence the work that I am doing? I think the best way to be inspired is to absorb everything, forget yourself in the habits of another culture and absorb. Then maybe you get a "ah ah" moment, an idea or simply a gut feeling and your focus is more keen. That's when I decide to isolate, lead onto that intuition and have work to be done.
What materials are you using? Where do you get these materials?
I work with Wax and Kente and Baoulé cloth for now, which are hand woven cotton from Ghana and Côte d'Ivoire.
How does the conception happen?
Sometimes I find the fabric first then think of a design. Other times I have the idea for a design and find the fabric afterwards... or I only have an idea for the color palette and build on it. It's always a different process
When was the label launched?
2009
*Loza Maléombho Autumn/ Winter 2012
What is your signature?
The structured jacket/ The statement jacket
What makes a good look?
Confidence and personality. I believe a good look has nothing to do with what you are wearing but everything to do with how you are carrying it.
What's your most favorite thing about yourself?
I love the fact that I never divorced my childhood. I still drink chocolate milk for breakfast. I can't stand coffee or vegetables. Give me a good video game and I can be hooked for hours straight. I played with barbie dolls until I was 16, I only stopped because my friends were laughing at me. But trust me if I had a barbie collection I would be back at it! That kid is very much alive and I always fear that if I grew up my "creative power" will go away.
*Loza Maléombho Spring/ Summer 2013
Would you buy one of Loza Maleombho pieces if you weren't the designer? Why?
I would. It's original and it stands for something.
There's a lot of emerging artists who are really creative, do you think that you are bringing something new?
I am building a brand which aims to redefine the label "Made in Africa" with a positive social and economic impact in Côte d'Ivoire (empower women by hiring women at the workshop). I am also building a brand which celebrates culture and tradition in modernity, but in a way that isn't possible without a multi-perspective. I have lived in different environments and I adapted to different cultures, those experiences have define who I am and manifest throughout the collections I create. I think there is a market of people who don't identify to only one culture and who relates to that multi-culturalism.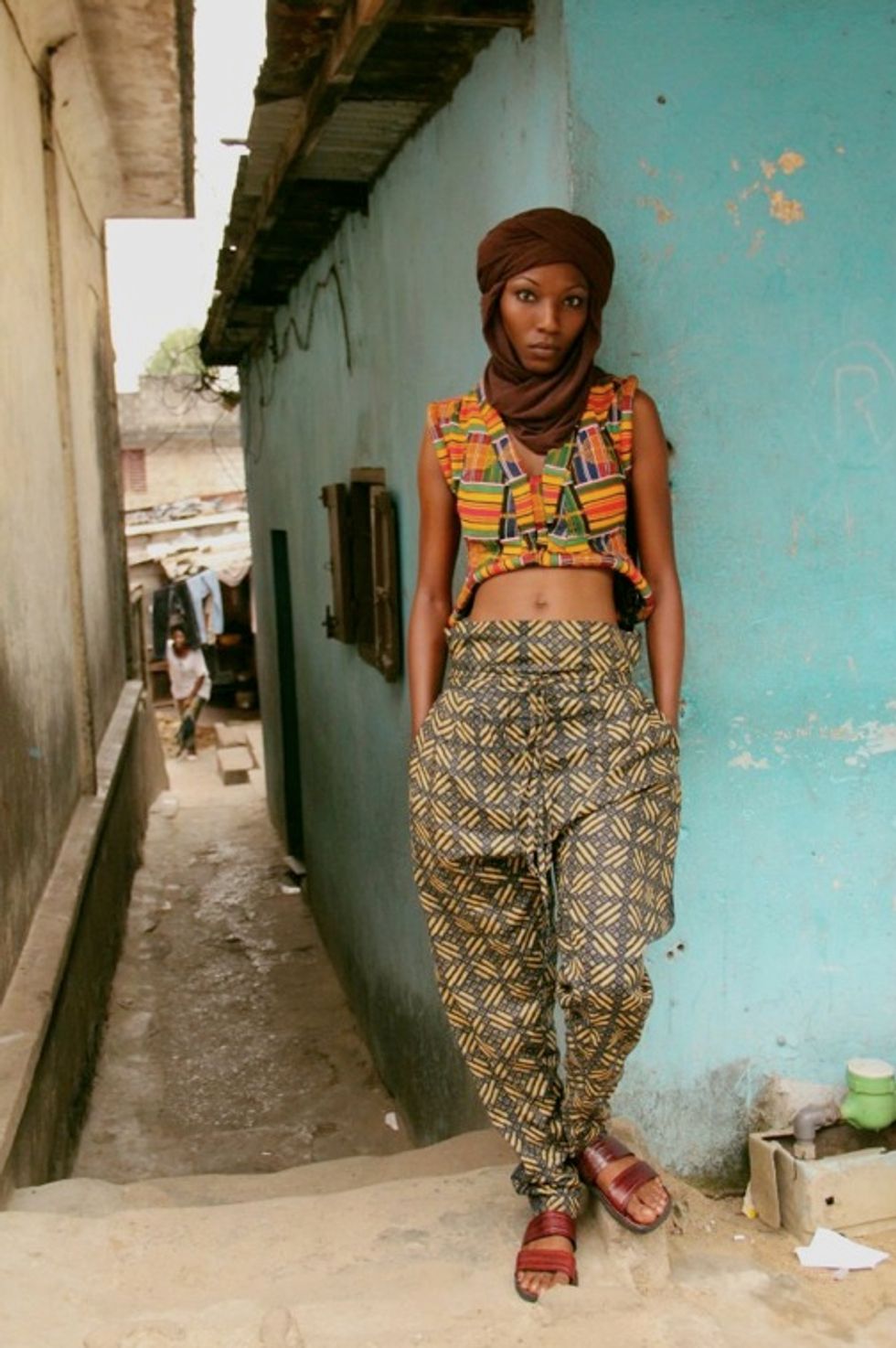 *Loza Maléombho Autumn/ Winter 2012
About the previous collection, why the touareg headwrap? Was it political? Do you realize that it could open introduce fashion to a different market?
No, it was purely inspirational. The conception happened before the recent events in Mali. So, it is definitely not a political statement. And yes, it has worked in my favor as I have noticed a demand in countries like Iran and Afghanistan.
What is your last collection? Could you describe it to us and tell us what was different from the previous one?
This Spring 2013 was inspired by different ethnic groups in Côte d'Ivoire. It' s a merging between traditional ceremonial attire and modern day/ futuristic. I chose to play with stripes and geometric shapes. Frills trimming on the sleeves and pants, cut out jackets and dresses, green everywhere. This collection makes a statement with color, whereas the previous collection made a statement with structure.
What is your favorite piece and why?
My favorite is the Yacouba top (baby blue V neck long sleeve cut out top) It's easy to wear with jeans for urban/casual or with the matching pants for casual/dress up. Its all about comfort.
*Loza Maléombho Spring/ Summer 2013
If you weren't designing, what would you do?
I would probably travel the world (starting with Africa) with a Vista camera, and document with art photography every ethnic group, every folklore culture possible.
Today, we have the emergence of many African fashion weeks in many countries. This evolution is the proof of the existence of African fashion, should African designers be present in regular fashion weeks? Is there any discrimination?
I think the creative Africa is growing faster than its consumer market and that's where the danger lies. Yes there are more and more African Fashion Weeks and it's exciting to be able to show so many talents, but if the consumer doesn't follow it will kill the business. I am also afraid that we might be experiencing "too many choices kill the choice" in a sense that it's getting saturated with creative and the consumer looses interest or loyalty.
*Loza Maléombho Spring/ Summer 2013
What do you think of African fashion and its evolution?
I think it needs to be canalized. There are so many African fashion weeks everywhere. It can get confusing for buyers. Surely they will not go to all of them, so if we could condense all into one it will make buying and selling much easier.
What are your hopes for African fashion?
I honestly think it will remain a trend on the international market but that the key resides in the diaspora, or the African market's itself as buying power climbs up with growing economies and stable politics.
What's next? Do you have any other event planned?
We are preparing fall 2013 and will show in March next year.
Describe Loza Maleombho in one word.
Multi-culture.