Rukky Ladoja is having what she describes as a typical Monday. She's been called into her workshop for an emergency because her suppliers brought in the wrong materials. Rather than panic and wonder what to do, she immediately starts figuring out how to use the materials she's been given in new pieces. ''One thing I am big on is no waste,' she tells OkayAfrica, when she shares the kind of day-to-day issues that come up for her as the designer behind Dye Lab. Ladoja founded the design brand during the COVID-19 pandemic and, guided by a zero-waste policy, it's now become one of the most popular fashion brands in Nigeria today.
While Dye Lab has been branded a sustainable brand by many, Ladoja notes she is more comfortable calling herself "socially responsible," as she didn't set out to create a sustainable brand; she wanted to create a practical one. A brand that, instead of sourcing materials from international markets or using practices foreign to her environment, adapts local resources, styles, and skills across the entire design process. The result is practical kimono pieces that require little to no adjustment per customer, created in a way that ensures every part of the design process takes advantage of the resources — human and physical — around her with very little to no waste allowed.
The response to this? Phenomenal. Today, Dye Lab is fast turning into a household name in Lagos where it has inspired several copycats as the brand has turned into one of the best sellers of Industrie Africa — an e-commerce website with a focus on African designers. Days before Ladoja and I talk, Dye Lab had just finished a six-week pop-up store at the Anya Hindmarch store in the United Kingdom, and their year is just getting started.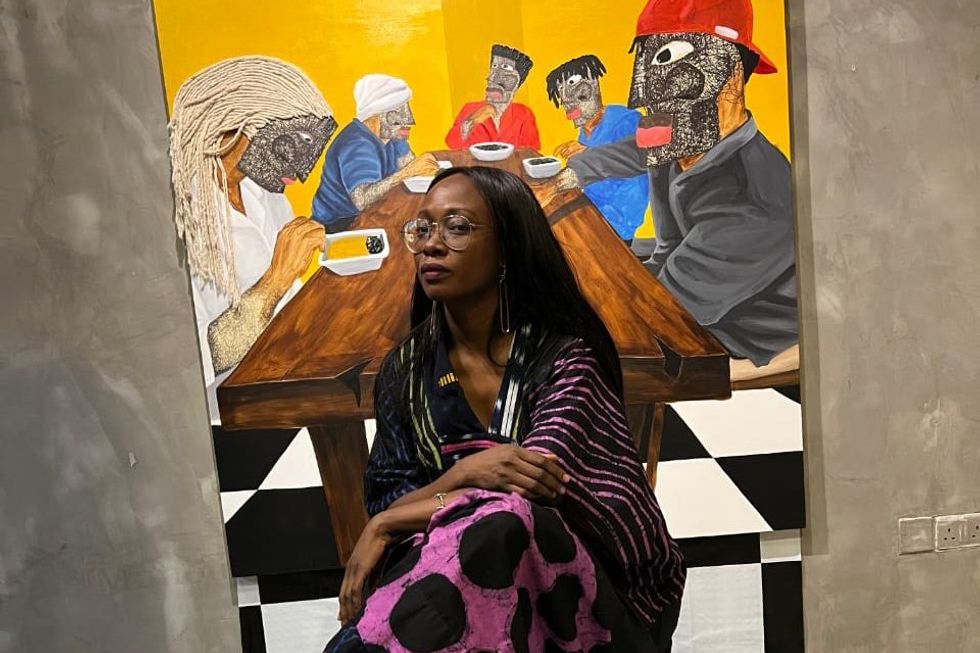 Designer Rukky Ladoja is all about running a socially responsible fashion brand.Photo courtesy Stephen Tayo.
''The response has been great," says Ladoja. "It's been an onslaught of demand, from clients, from friends, from international orders." The brand recently started stocking on Industrie Africa, and Ladoja was told to expect 10 to 12 orders a month — that's kind of what their highest sellers get. "They just sent us a report that we had gotten over 60 orders in a month," she says. "It's always like a surprise, every time we get those numbers." It's the same feeling she gets when a brand like Anya Hindmarch approaches the label. "Before they approached us, we had been talking about what kind of brands we wanted to emulate globally and they were put at the top of that list. And so to get a call saying, 'Hey, I would love to collaborate,' it was sort of surreal to us.''

From a young age, Ladoja has always been interested in fashion, design, and the process of design in particular. ''I was more interested in putting things together, not necessarily the style element of it, but the construction, the process of it.'' Her favorite designers — the likes of Miuccia Prada, Vivienne Westwood, John Galliano, and Alexander McQueen — are all designers who focus on intelligent fashion, and the purpose behind every design choice they make. These influences are what interested Ladoja in fashion when she was in university.
She started a brand in the late 2000s, observing how many of her peers shopped, noting that at the time, online shopping wasn't as readily available as it is today and that many Nigerians didn't trust the few online stores that did exist mostly. For many, shopping meant sellers had to come into their places of work or buyers had to rush to stores after work. ''I recognised how people were shopping,'' Ladoja says. ''And it was always someone bringing a suitcase into the office and everyone going through it, or running down to the market to see what they could buy." It made Ladoja think: people should be able to shop in nicer environments than this. That was the start of Grey Projects, a high-end retail brand in the vein of Zara that stocked ready-to-wear fashion pieces created with Africans in mind.
But in 2019, a decade after launching the brand, Ladoja had to shut down Grey Projects. Sourcing supplies in Nigeria was difficult and even when she would get the supplies, finished products would often sit in warehouses, going to waste. She learned that working with local tailors to recreate her designs, which were often foreign to them, was a Herculean task that only led to more surplus items. Closing the business left her not wanting to be involved in fashion ever again. ''I just felt like I had just been scarred too much," she says, "and there was too much trauma there.''

Instead, Ladoja turned her focus to consulting, working behind the scenes for brands like Lagos Fashion Week. Then the COVID-19 pandemic happened and the world stopped for a second; as did Ladoja's consulting work. She needed to find another source of income. ''The resources I had were my tailors, access to fabric, fabric markets, and suppliers,' she says.'
Yet Ladoja was resistant to the idea of launching a brand. Instead, she searched for a retailer to house and sell what she had created, agbada kaftans that took inspiration from traditional Yoruba styles and dyeing processes. ''Unfortunately, at that point, none of the retailers wanted to buy it, which was a shame,' she says. Ladoja then took to teasing the product herself, wearing it on Zoom meetings and around friends, who started saying, 'Oh, I want to buy it.'
The interest grew organically, so much so that Dye Lab soon had a strong enough customer base and a distinct enough style for Ladoja to launch the brand. Armed with the lessons from Grey Projects, she took the leap. This time around, Ladoja sought to do everything differently. She rearranged the structure of her brand, and focused on making sure everything in the production process was accessible and easy. ''I broke down everything that I didn't like about Grey [Projects], and used that to create Dye Lab," she says. "The garments we made with Grey were my designs, but they were very complicated for my tailors. So I decided 'm not going to do that. I'm going to create styles and use styles that are familiar to my tailors. That way everybody can feel comfortable.''
Taking the lessons learnt from Grey Projects to Dye Lab seeped into every part of Ladoja's new brand, right down to the approach to fashion week. For the 2022 Lagos Fashion Week, where other brands were showcasing their designs on the runway, Dye Lab chose to invite select guests and press for a special exhibition where they got to see the garment-making process of the brand, educating them on the history of the fabric, techniques and the people behind it all. ''With Grey Projects, I was importing Westernized ideas of fashion into a space that just did not connect with,'' Ladoja says. ''With Dye Lab, I said, let me go back; let me work with what is here; let me respond to what the people around me want, what works.''

Now, Ladoja is focusing on expanding the world of Dye Lab. She reminds me that Dye Lab is first a 'design brand' and not just a fashion brand, which means there are limitless options when it comes to expanding. "I'm quite impatient to innovate and do more, or bring out all the ideas in my head," says Ladoja. "However, just the garment production has taken such a toll, especially as we are trying to keep up with the demand." Ladoja's vision is to take the ideology and the conceptualization process from fashion to lifestyle products, furniture, stationery and everyday objects.