In November, Gabrielle Union was at a Clicks store in South Africa to launch her haircare line and beauty range, Flawless. The American actress had been touring African countries, choosing local labels for her outfits. At this stop, she wore a mottled blue batik mullet dress with a back cutout from Talensi, a Ghanaian sustainable brand.
Talensi's journey to this point goes back many years. Under a different name as Diva Delicious a decade ago, creative director Sandi Owusu-Yaw started by making fortune cookie-shaped woven bags that became widely popular. While still working as a nurse, Owusu-Yaw took opportunities in styling for Ghanaian movies, TV shows, and adverts. It was a side hustle that prepared her for the bigger stakes that would come with entering the fashion world.
"I slipped in, if you ask me," Owusu-Yaw says, describing how she got into fashion. She has a science background, but designing has been a constant part of her life. "I have always used fashion as a creative outlet. It has been a highly fulfilling space for my creative mind and adventurous spirit and that's why Talensi is such a blessing to me."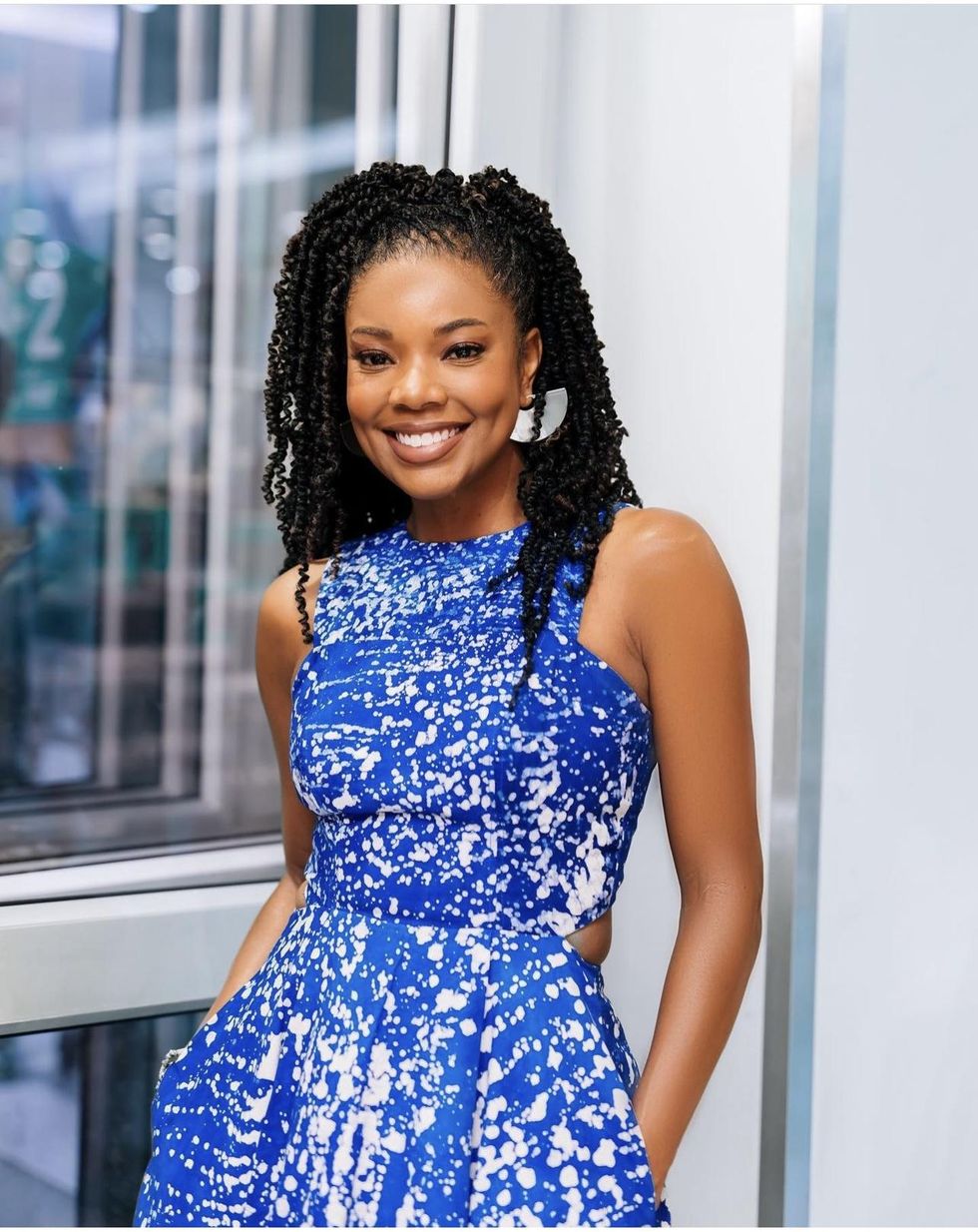 Sandi Owusu-Yaw wants to see more high-profile people, like Gabrielle Union, in Talensi pieces.
Photo: KPaparazzi
In her eyes, the rebrand from Diva Delicious to Talensi was necessary. "We had matured to a new audience and we wanted something native but still fresh. Talensi is the rebirth of our vision," she says.
This brand's contemporary awareness takes form in its chic, playful tailoring that flatters the female body. Tiered skirts, knotted pants, maxi dresses, metallic eyelets skirts, and double breasted blazers with brass buttons inspired by tribal masks come in vibrant colors.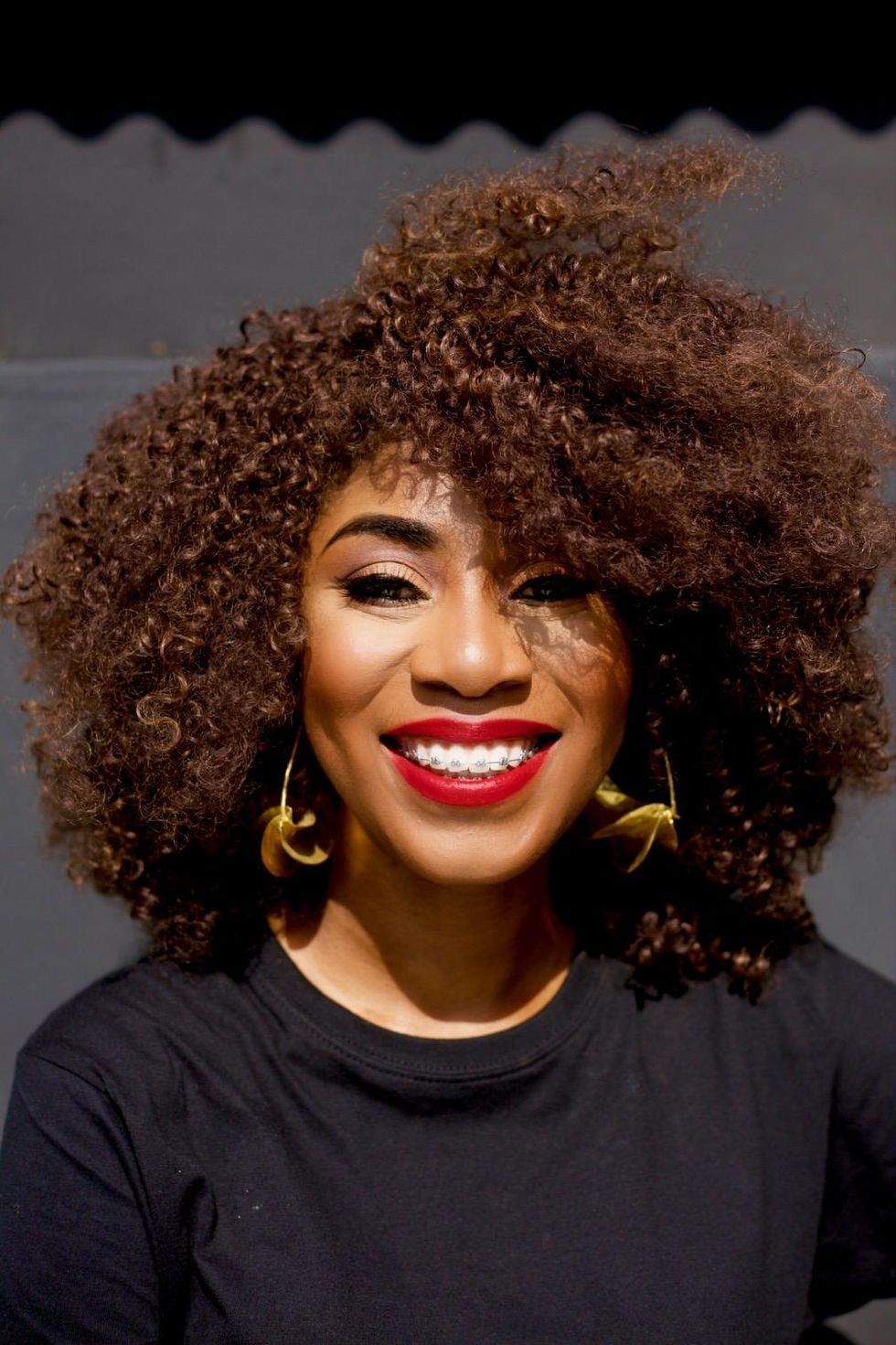 Talensi creative director Sandi Owusu-Yaw has a science and nursing background, but designing has been a constant part of her life.
Photo: @vineimagery
All pieces are handmade in Ghana, with as much ethical consideration as possible. Batik has remained the brand's core staple, bringing in a flair of artisanal craftsmanship in its design process. This way, it stays connected with local communities while empowering their livelihoods.
Even before the rebrand, Owusu-Yaw always preferred handmade raw materials sourced from her local community. "Judging from the fact that a good percentage of African textiles are imported and not necessarily made in the continent, I became drawn to the tie-dye and batik production," she says. "The colors in the process had a way of inspiring what piece I want to make or pattern I want to cut."
Production of the clothes starts with a visual representation through curated design sketches. Then a toile or initial mockup is created, which allows for corrections and adjustments, and it's further developed into the final product.
"We make limited quantities in the beginning to test the market and depending on the response, we can go ahead to mass produce or have limited editions," says Owusu-Yaw.
This underscores Talensi as a slow fashion brand, operating on a minimum to zero waste policy. But the brand hasn't been without challenges. As the African fashion industry continues to make huge strides and draw global attention, retail infrastructure and shipping services are becoming an important bridge between local businesses and overseas customers.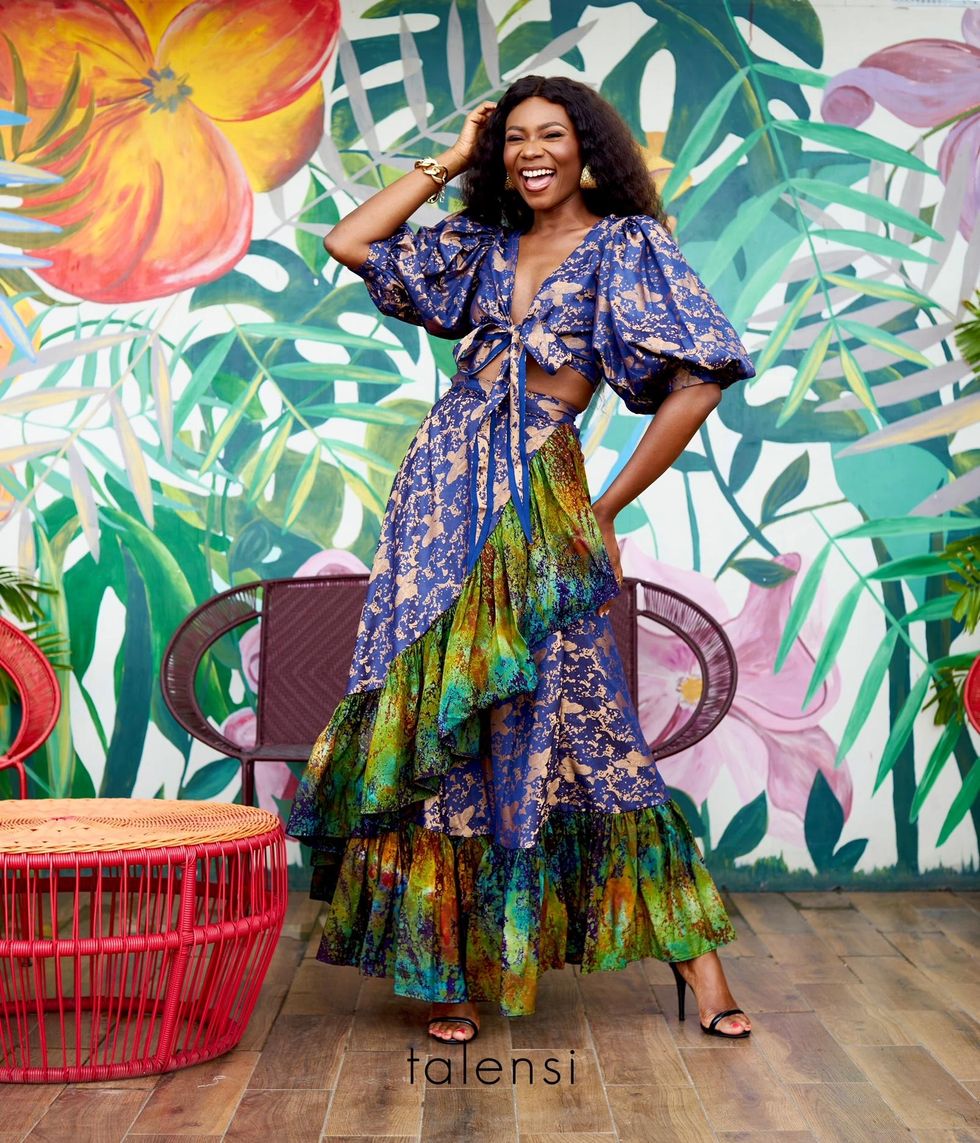 Sandi Owusu-Yaw describes the Talensi woman as someone who isn't afraid to take "small risks every day with fashion."
Photo: Talensi/Sandi Owusu-Yaw
While there's a growing presence of e-commerce marketplaces on the continent, not all share the same objective. For some, the business model skews towards fast fashion, and brands like Talensi can't keep up. "Consumers of fast fashion are used to getting items unrealistically fast," says Owusu-Yaw. "Shipping is the main challenge we have since all our items are made here in Ghana, and a majority of our customers are in North America and Europe."
For now, Talensi items can be ordered from their primary website as a direct-to-consumer approach. Alternatively, their brick-and-mortar store is situated in the most popular commercial neighborhood at No. 20, Koi Street, Osu, Accra. Talensi also retails at Etsy, with efforts in the pipeline to stock products on Wolf and Badger soon.
"I love them all," says Owusu-Yaw, on what she considers as her favorite Talensi piece. "However, right at this moment, I love how our batik silk pants set looks on every woman that buys it. It works well as leisurewear but you can definitely dress it up. I live in them, basically."
The creative director recalls that it took persistence to see Gabrielle Union wear Talensi, messaging her stylist until it happened. Union is only a drop in the vast number of international celebrities that have been seen wearing African brands at high-profile events. But Owusu-Yaw wants to see more high-profile people in Talensi pieces. "All of them. Ava DuVernay, Rihanna, Tracee Ellis Ross, Tiwa Savage, Marsai Martin, Issa Rae," she says.
Owusu-Yaw describes the Talensi woman as someone who isn't afraid to take "small risks every day with fashion." And dressing women has helped her become more like this, too. "I didn't know what the world had in store for me but I knew the woman I wanted to be - independent, strong but vulnerable. And writing each chapter of my free spirited life. So I thought if I could inspire a woman to dare to be who she wanted to be, then she could be it while confidently showing up for her[self]…of course in a Talensi outfit."
Owusu-Yaw aims for Talensi to transcend from a clothing line into a lifestyle brand. That way, she - and her fashion label - would get to touch different aspects of people's lives.