Now on its fifth year, theGidi Culture Festivalis at its peak.
Gidi Culture was started in response to the demand from young audiences in Nigeria for affordable access to live entertainment. Though still relatively young, the festival has become a special hub for the meeting of established African acts with a rising generation of promising young musicians.
This year proved to be its biggest yet, as the line-up featured star performances from Wizkid, 2Face, Brymo, Adekunle Gold, Maleek Berry, DJ Spinall and a special appearance by Tiwa Savage, along with live sets from the new school of Nigerian and African music like Odunsi, Tay Iwar, Lady Donli and many others.
We talked to Chin Okeke, co-founder of Gidi Culture Festival, to pick his brain about the hard work and magic behind the success of his festival.
---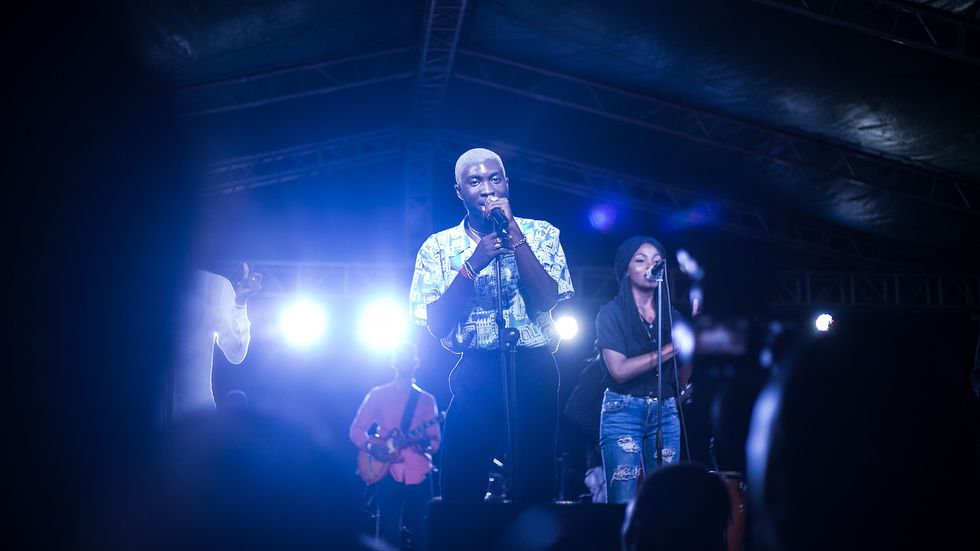 Odunsi at Gidi Fest 2018. Photo: Tej/Gidi Fest.
How did the idea to start Gidi Culture come about?
I think it was at a time where I was transitioning from management and consulting for brands to building other brands and platforms and wanting to build something that had a larger and positive impact on the rest of the industry.
The idea behind the movement was to create a safe space for the youth that would enable and empower them, as well as channel their energy into something positive.
More than a festival, there's also a movement around it which has evolved into the Gidi Tribe—which represents young Africans who refuse to take no for an answer and are determined to succeed with whatever they're given. It's an energy and attitude. The Gidi Tribe identity only became very clear at the end of last year.
"The idea behind the movement was to create a safe space for the youth that would enable and empower them."
The lightbulb moment for me in terms of the festival, was going to Sundays at The Shrine then Elegushi beach. The beach the dichotomy was everything you don't expect from Lagos. There were no social boundaries and all walks of of life had a good time in the same place—upper, middle, working class, it didn't matter. I wanted to amplify that.
When you start a festival you have an idea of what you want it to be. What it becomes is something different and not down to you. You can curate and mold it but it's determined by the people who attend it and share a common interest.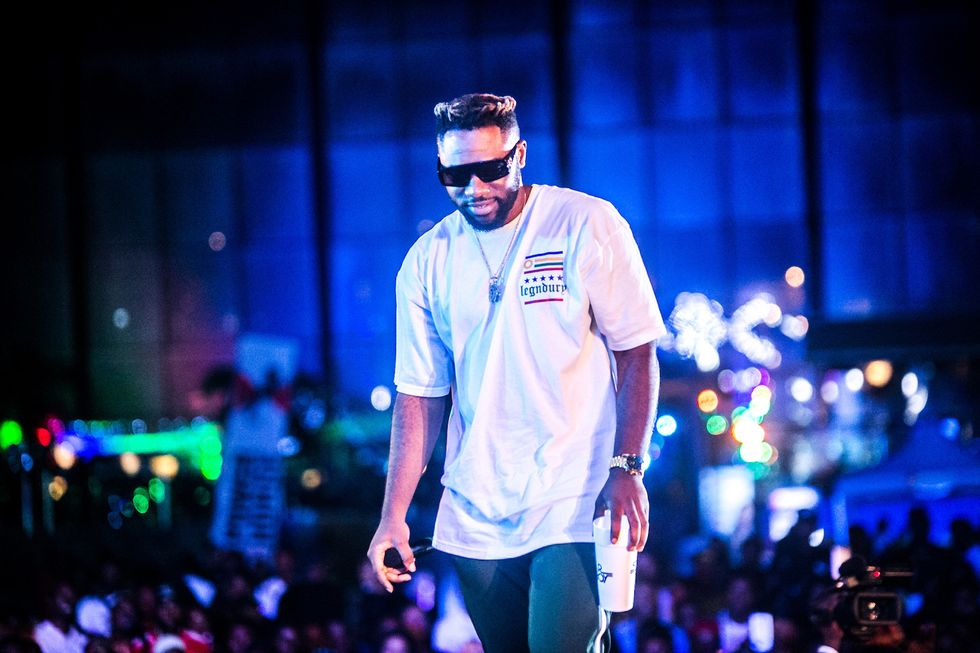 Mut4y. Photo: Tej for Gidi Fest.
Were there other African festivals that inspired you?
Yeah, the major inspiration was Lekki Sound Splash, one of the last people to headline it was Fela actually, ironically enough. That used to be huge on the beach in Lekki. Before we started Gidi Culture, I traveled to Coachella, Wireless, Ultra, seeing what they're about.
There were many different ideas of what kind of festival we wanted to be. I think we even registered a name "Made in Africa." In the end, we decided to position ourselves around the current movement.
There's a couple of festival that we produced for partners like Palm Wine Music and Nativeland. It was interesting to have three festivals which all speak to different audiences. Obviously there's overlaps but they're all so different in themselves in terms of representation and who they're for.
On the continent there's Lake of Stars, but to be honest, I don't think there's a festival that truly represents the movement that is "now." A lot of the other festivals are quite specific to their region but nothing for the new African music movement. From the people we've had from Vanessa Mdee to K.O to Efya to Sauti Sol.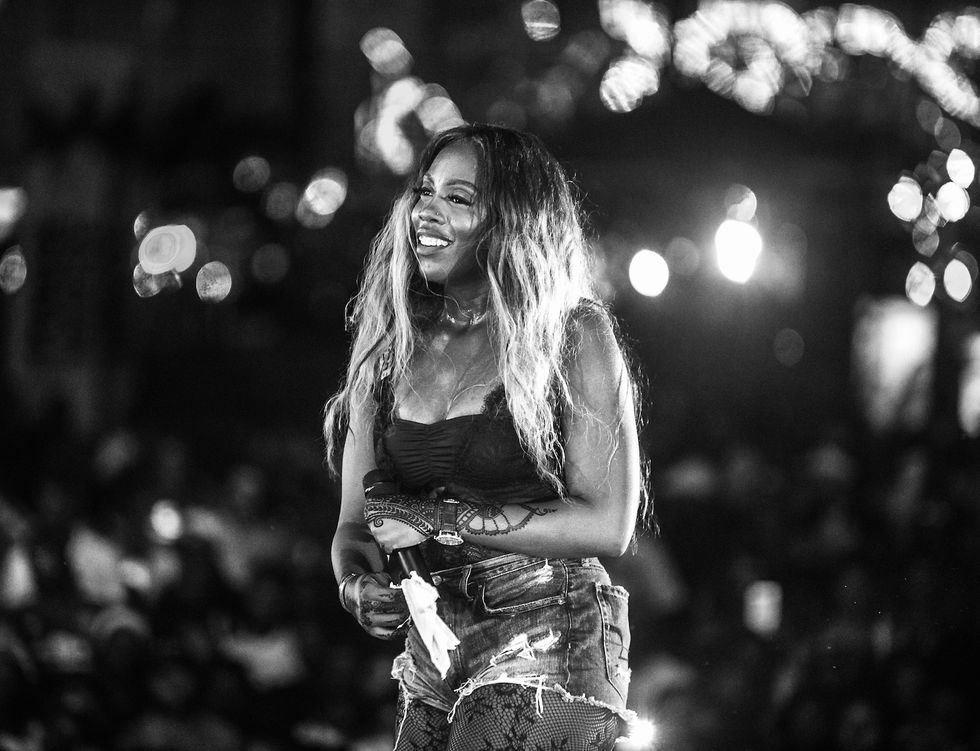 Tiwa Savage at Gidi Fest 2018.
Gidi Culture is a relatively young festival, having started in 2014, how have you grown and improved each year?
This is the fifth year. In terms of growth there's a couple of things we look at. Doubled in ticket sales each year. Last year we quadrupled in ticket sales—that had a lot to do with our pricing. In terms of numbers we're still growing.
The talent and even the stage itself has grown. I think the way it's set up now, the way it looks, is gonna stay. We're looking at heightening the experience for the music fan.
This year we also introduced a second stage (Next Generation stage), we gave them their own stage. It was for the millennials and the next generation of fans.
"When you start a festival you have an idea of what you want it to be. What it becomes is something different and not down to you."
The line-up this year was the biggest yet with Wizkid, 2Baba, Adekunle Gold, Brymo and a surprise by Tiwa Savage, and others. How do you work to choose and secure your acts?
There's a number of things that go into it and a number of people who work on it, it's something that I enjoy. Let's start with the next generation. We've now got a team of graduates whose responsibility to curate that next generation. They introduced me to what's being called the Soundcloud generation: Tay Iwar, Maka, Lady Donli and others.
With the main stage there are a number of factors. What comes before popularity is the entertainment factor. Not every act can perform live. Not everyone has to perform with a band, some are better with a DJ. and then some acts they want the band. Entertainment factor is number one, then popularity is second and availability is third, in that order.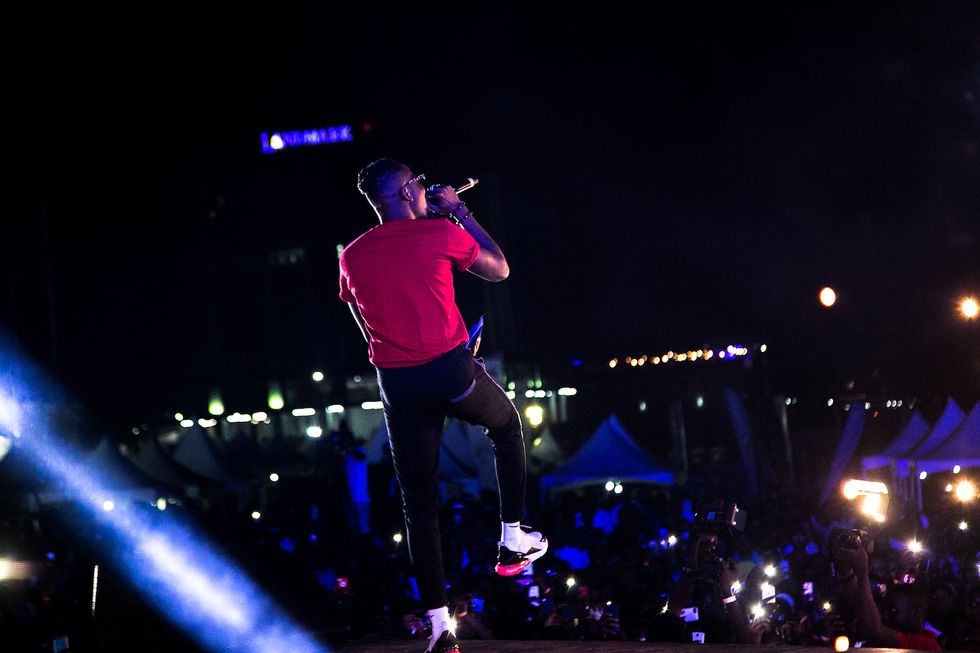 Ycee at Gidi Fest 2018. Photo: Tej/Gidi Fest.
I want something for everybody. I don't mess with the idea of Afrobeats, or, putting all african music under one box. This year you had your Brymo and Adekunle, your Ycee and your SDC, your 2Baba and your Wizkid. We had two DJs—it flowed, it was a journey. I always consult Leslie Kazumba from Channel O, Pulse NG editor-in-chief Osagie Olange,Bizzle Osikoya, and obviously my partner Teme (Oriteme Banigo) and the young team.
What's the crowd usually like?
The most exciting festival on the continent have always very much had an African fan base. While we have that, because of social media, the Gidi Tribe's gone global. It's truly a beautiful thing for people to fly in from all over the place to come to Gidi Fest.
My motivation at first was that I wanted to change the way the world saw us. Then I wanted to change the way we see ourselves. We had a strong Nigerian lineup this year and it's ironic that the time we decided to do that we had guests from NY, LA, Chicago, Kuala Lumpur, Taipei, Berlin, Riyadh, and other places.
"My motivation at first was that I wanted to change the way the world saw us. Then I wanted to change the way we see ourselves."
It's funny I felt like it was my wedding because all my friends from all over the world came. These are people I didn't ask to come, they just came. I think that's the beginning of something quite large.
There's a large population of people that come in and fly in for it. We hope that there will be more and more people who come from all over the globe.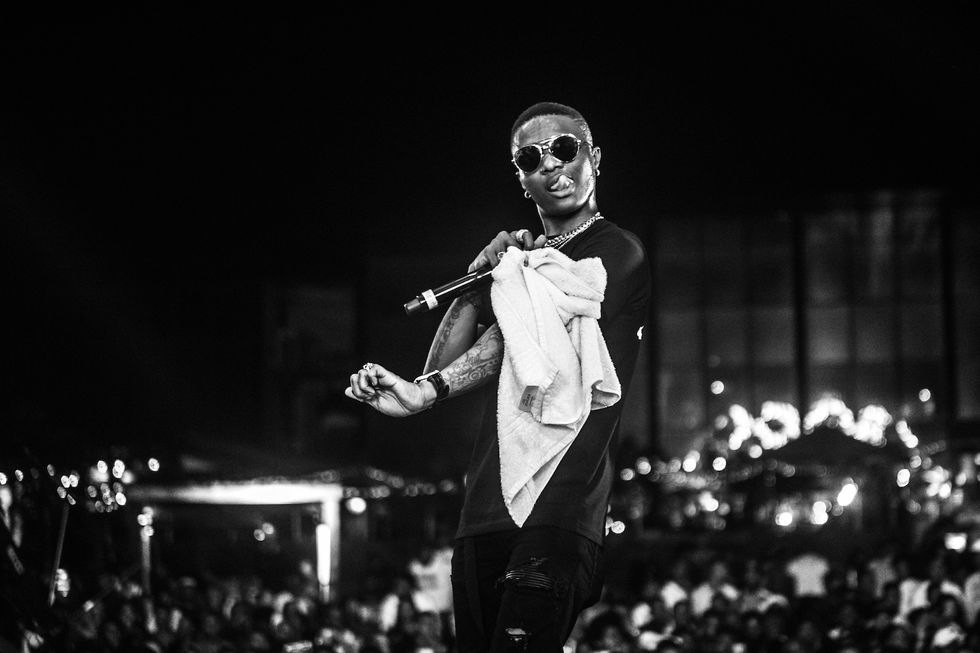 Wizkid. Photo: Tej/Gidi Fest.
What are the biggest challenges you've faced over the years with organizing Gidi Culture?
This year we had a bit of technical glitch. People were really patient with us. What happened was the configuration on the soundboard literally switched before we were about to start, so we had to reconfigure everything and it took us an hour to make it work. It meant that we were pushed back and some people were upset.
I'd like to apologize to everybody for the delay and thank everyone for the patience.
Challenges are about accepting them, and now we can do better, it just means we're learning. We started the festival five years ago from zero. And the fact is that we moved venues. The main goal is to tighten it and make it a seamless experience. Once we get it right, it's easier to keep it growing.
Photo: Tej/Gidi Fest.
What have been some of your favorite performances over the years?

I don't always get to watch them but this year it was the DJs. DJ Aye is someone I'm very excited about, he's an artist. The way he creates music on the stage and his set is a journey. It was such an interesting comparison to DJ Spinall who came on with 20 minutes of hard-hits just before Tiwa Savage. It was electrifying and, like I said it got late, but at that point nobody cared.
Over the years, Burna Boy was a good one. Diplo was good. Tiwa Savage two years ago, it was the first time she performed since her baby and she came with a full troop of dancers. It was so good that she was trending on twitter a few hours after that.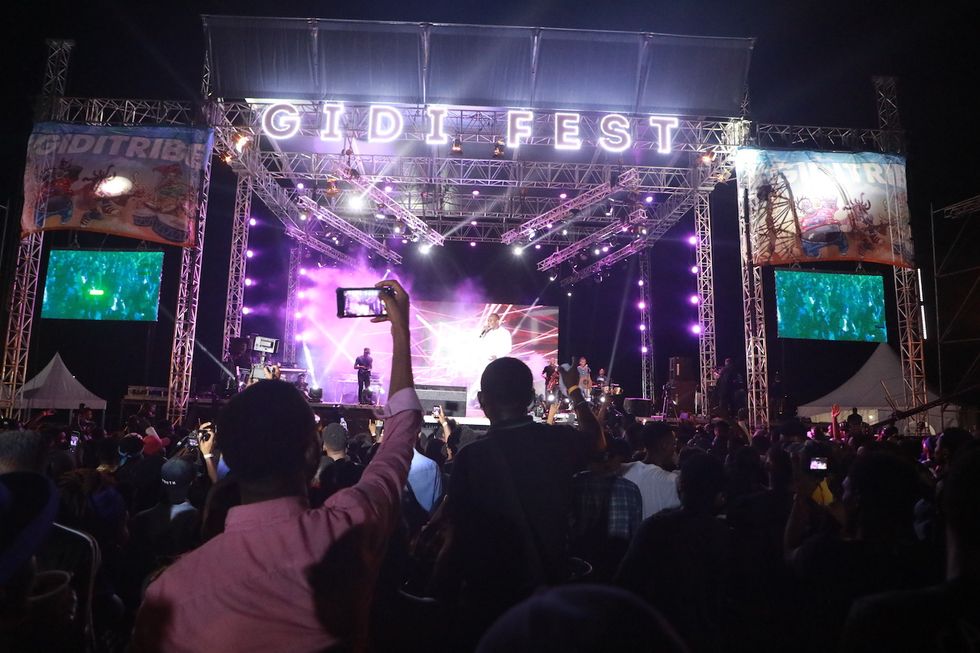 Photo: Gidi Fest.