In 2018, Ema Edosio-Deelen earned critical acclaim with her debut film, Kasala. The comedy, which centers on four young men who go on a joyride with a borrowed car and get into all kinds of trouble when they crash it, found receptive audiences wherever it screened, at film festivals around the world, before eventually finding a home on Netflix.
---
Four years later, Edosio-Deelen, who studied digital filmmaking at the New York Film Academy, is captivating festival audiences again, this time with her second feature, Otiti. The titular character is a seamstress who tries to reconnect with a sick father who abandoned her as a child, while also juggling a business that demands more attention and an uncertain love life.
Like Kasala, Otiti has travelled across the world, screening in France, the USA and other countries. It made its African premiere at the African International Film Festival (AFRIFF) in November, and is scheduled to screen in New Zealand in December.
Edosio-Deelen, who's already working on her next film, spoke to OkayAfrica about making Otiti and explained some of her directorial choices.
Responses have been edited for length and clarity.
The reception for Kasala was so great, did you feel any pressure in making Otiti?
I think for every first filmmaker, especially one whose first film travelled around the world, there's always that pressure. I stumbled into a world where I know that I can make a film with my voice and have an audience. There was a bit of pressure in it, but it was just like, 'What can I make right now with what I have and what story do I want to tell?' And for me, it's been a journey of me building my voice while I wait for that massive $1 million project.
Where did the idea for Otiti come from?
Part of the film is based on my true life story. I was going through something in my life at that point. My dad had a stroke and there was this conflict clash between cultures, and I kept asking myself questions. And this is the result of all that questioning.
You enjoy telling stories about everyday people with your films, is this something peculiar to you?
I come from a documentary background and I meet a lot of people. Most times, I meet strong, dynamic characters, and I ask why films haven't been made about them and their fascinating lives. So for me, my films are a homage to the characters I see on my long walks on the streets.
Safe to say we'll be seeing more dynamic characters?
Definitely. My next film is called TheReincarnated Pathway to Life, and it's about two mad men roaming the streets of Lagos.
What was the timeline of working on Otiti?
So I started working on Otiti in January 2020, and then I shot in May 2021. It took about three months for post-production and now, it's ready to be seen. The pandemic slowed things down, but we went straight to production afterwards. I've built the skills and for me, it's easy to mobilize and get things done when everything's available.
You directed and also edited the film. Is that a passion of yours?
No, I don't like editing. I do it because I don't have the budget to hire. For Kasala, I shot, edited, directed and produced. This time around, I had a little more so I hired a line producer and a cinematographer. I hope that in the future when there's a budget, I don't have to do all this. I can focus on just being a director or a writer-director. But in the meantime, I still have to create with what I have and build up a body of work. And that's where I am. It's getting easier, it's getting better, but that's where I am right now.
What has the reception for the film been like?
All four cinema halls at AFRIFF were packed and people were sitting on the floor. There was this particular guy who just kept crying because he saw his family in the film. The reception in Nigeria has been exciting but it's a different look when it goes to a film festival outside the continent. I think people react to my films differently. For the foreign audience, they are fascinated by the world but Nigerians understand the nuances. Nonetheless, most people have said they felt a way they never felt before. That's something that I'm very happy about as a filmmaker
Earlier in the year at a separate film screening, you spoke about the need to create a community of film enthusiasts and people who work in film. How's that going?
Very well. I'm humbled that people admire the work that I do. One thing that I've noticed is that there's a big void in Nollywood. As a filmmaker, it feels like the only thing you can make in Nollywood is blockbusters or comedy. There is a place for blockbusters and also a place for other films. I would like to make films that are more impactful and in doing so encourage other to do the same. I started releasing some videos out there and in time, I will start organizing workshops and conversations hopefully with the likes of Abba Makama and CJ Obasi. So it's one step at a time.
You are also known to work with a lot of new faces. You did the same with Kasala and now, Otiti, why?
There are so many young talents that need a chance. You see the boys in Kasala and Otiti, imagine how many are out there. I've seen the power and authenticity of an unknown actor, and there's no going back for me. I also think that we've built a structure where actors perform to get their next role. It's not really about the craft, the nuances. And I don't blame them. It's the Nollywood churning up content system. How can I be more relevant to get on the next project? Not thinking through the nuances of what is before you and how can I do justice to it?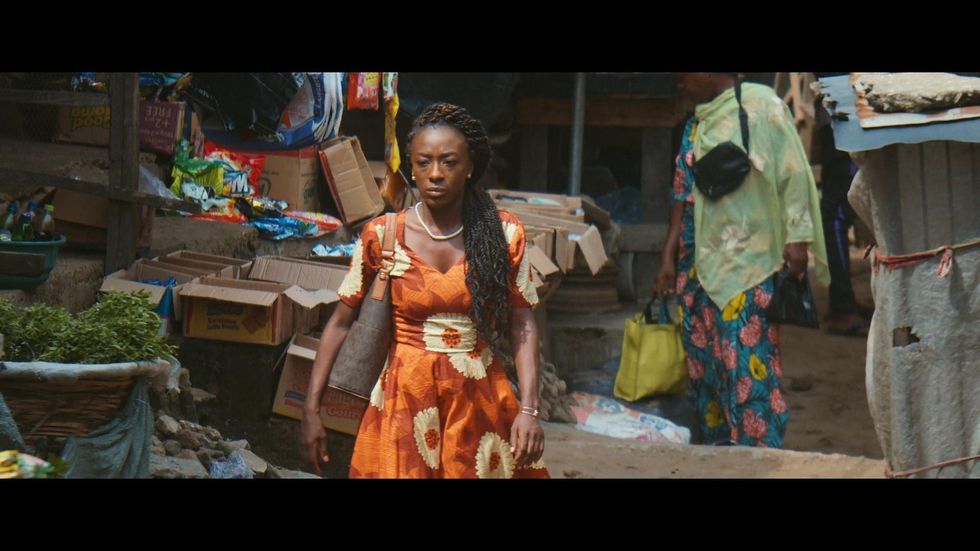 A still from the film, 'Otiti,' which Ema Edosio-Deleen started working on in January 2020.
Photo: Ema Edosio-Deleen
How do you think this can be solved?
I think it is okay for you to make a living. I understand that working in Nollywood can be hard so while we make a living, we should also be conscious of the kind of work we put out there. I was privileged to make films for some of the biggest production companies in Nigeria. The pay was great and I learnt how to work efficiently but I kept creating projects in my voice. That was how Kasala was birthed. So, as actors and filmmakers, earn a living but don't forget the craft. Take time out to work on passion projects honing your skills and building a body of work that shows your creativity and talent.
Most of the films in this year's AFRIFF selection touch on social issues and see some are raised in Otiti. Was that important for you?
Not really. With my films, I ask where I am now in society. How am I affected by things and what do I see and then I try to interpret them? So I don't make films to say, oh, answer this. My films are just a reflection of what I see, what I feel, and what I want to talk about. Filmmaking for me is having a conversation with the world. In having that conversation, we hold a mirror where we see ourselves. So instead of me approaching stories as a sprinkling of social issues, I question them through my films.
For people who missed out on the screening at AFRIFF, where can they find it?
It was picked up by Gravel Road Distribution Group, who I also worked with on Kasala. It'll end up on a video-on-demand platform soon.
Do you have any hopes for this film?
I hope it opens up the doors for a lot of young people to be able to make truthful stories. And to that young person who wants to tell a story, who feels trapped, like if this young girl from Ojo can make this make films that can travel round the world, you can as well.