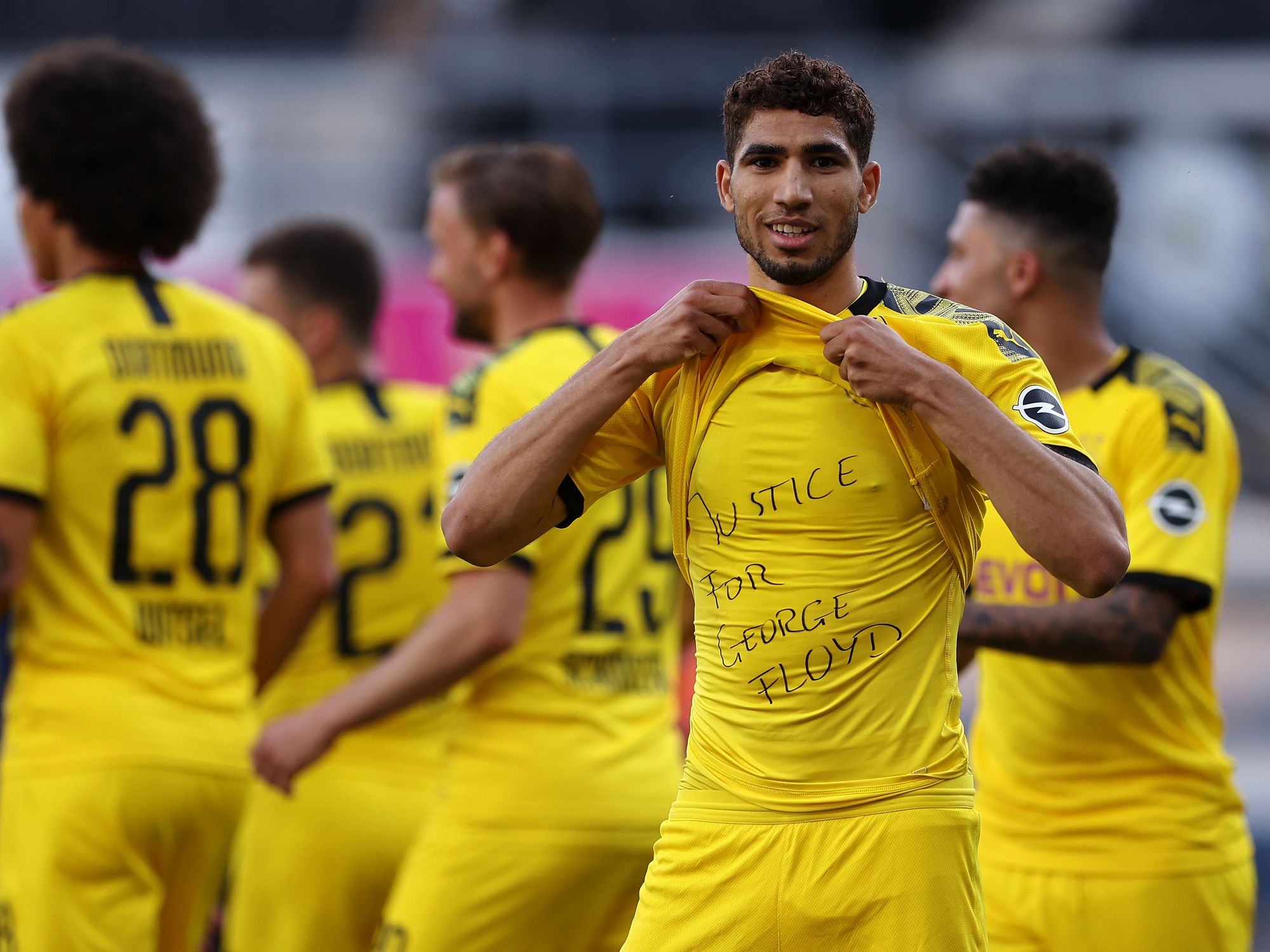 (Photo by Lars Baron/Getty Images)
Several international footballers are using their platforms to express support for the fight against racism in the US and beyond.
The recent murder of George Floyd, another unarmed Black man, has sparked great outrage and protest within the streets of the US and cities across the world. With professional sports slowly making their way back onto our screens, many famous faces in football have shown solidarity to those fighting for the cause.

Manchester United Midfielder Paul Pogba expressed his sadness on a recent Instagram post. The player wrote "Sadness for George and for all Black people who suffer from racism every day! Whether in football, at work, at school, anywhere!" This comes after Pogba himself has experienced explicit racism during his professional career. In 2019, he and Man United striker Marcus Rashford fell victim to harsh racial abuse over social media. Using the hashtag "#NoToRacismWeAllOne", the football star's plea brought power and support to the thousands protesting across the world.
---
Similarly, Moroccan defender Achra Hakimi showed his support during Borussia Dortmund's recent win against Paderborn, with a shirt that had the words "Justice for George Floyd" written across it:

While celebrating his first hat trick in his professional career, Borussia Dortmund midfielder Jadon Sancho also took the opportunity to show his support for the fight for freedom in a similar fashion:

During one of their team practices, Liverpool Football Club players, including Egypt's Mo Salah and Senegal's Sadio Mane, took a knee to show support and to emphasize strength in numbers and coming together. Mane, who has been outspoken about the racism faced by Black players, shared the image on Instagram, writing "Unity is strength #BlackLivesMatter."
South African women's football captain Janine Van Wyk echoed the words of Bernice King and asked, "When will people of this world treat others equally regardless of race or gender? #BlackLives Matter #AllLivesMatterWhenBlackLivesMatter"

Nigerian player Anthony Ujah highlighted how common the murders of unarmed Black men seem to be when he simply edited "George Floyd" onto a t-shirt he wore in 2014 to protest the police killing of Eric Garner.
Although the officer in question, Derek Chauvin, was recently arrested and charged, the protests continue to fight for and defend the lives of Black and African American individuals across the world.