Whether in Europe, South America, or Asia, the nature of the global footballing ecosystem means that African footballers or players of African heritage play a key role in furthering the narrative of the beautiful game.
The World Cup held in Qatar mid-season of the 2022/2023 season proved as much with players like Breel Embolo, Sofyan Amrabat, and many others coming to global attention off their performances at the Mundial before finishing their domestic seasons in strong form.
With the new footballing season a couple of days away across major leagues, football fans are licking their lips at the potential for new stories, uncharted courses, and fresh narratives to come in the 2023/2024 season.
There are rebuilds to perfect; slumps to be gotten out from; trophies to battle for; and African players are assured to be involved at all levels of the game. With that said, OkayAfrica has decided to compile a list of African players who are being tipped for big performances in the 2023/24 season.
André Onana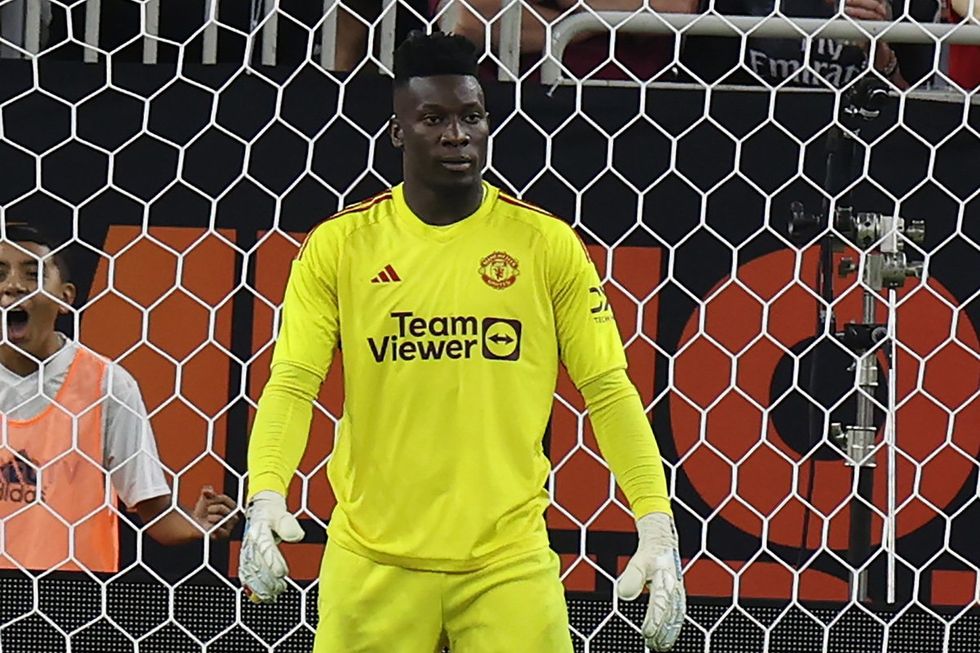 Andre Onana of Manchester United reacts to conceding a goal during the pre-season friendly match between Manchester United and Real Madrid at NRG Stadium on July 26, 2023 in Houston, Texas.
Photo by Matthew Peters/Manchester United via Getty Images.
With Manchester United manager, Erik Ten Hag, deciding against renewing the contract of long-term goalkeeper David De Gea, the Mancunian club decided that Onana would be the club's new main goalkeeper and the spotlight doesn't get brighter than at Old Trafford.
At the Theatre of Dreams, André Onana will be thrown into the mix fairly quickly with the expected goal of furthering Ten Hag's evolution. Arriving at a club that has seen its cross-city rivals dominate the English footballing landscape over the last decade, every kick and decision by Onana will be scrutinized and analysed but many are expecting the Cameroonian goalkeeper to pass the test with flying colours.
Victor Osimhen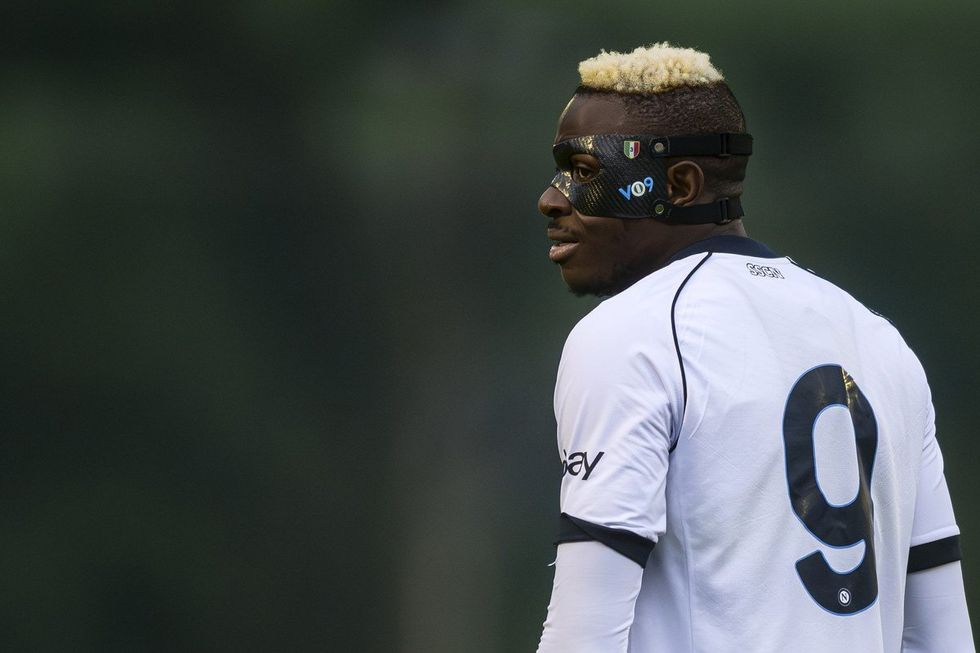 Victor Osimhen of SSC Napoli looks on during the pre-season friendly football match between SSC Napoli and SPAL.
Photo by Nicolò Campo/LightRocket via Getty Images.
Last season, Victor Osimhen had a fairytale campaign, firing his club Napoli to their first Serie A title in 33 years. He also became the first African player to win the Capocannoniere award for highest goalscorer in the league thanks to a healthy return of 26 goals from 32 league appearances.
After a holiday partly spent engaging in pick-up football back home in Lagos, Osimhen faces the huge task of helping Napoli defend their title after such an audacious win last season.
With a new manager, Rudi Garcia, in the dugout at the Diego Armando Maradona Stadium, the star might have to adapt to a new tactical role in Naples. But the expectation is that he keeps up his prolific scoring rate and definitively cements his place as one of the game's world-class forwards.
The €180m set for Osimhen by Napoli owner, Aurelio De Laurantiis, is proof of the striker's high standing in the game and a similarly impressive showing in the forthcoming season might lead to a transfer to one of the true giants of European football.
Sofyan Amrabat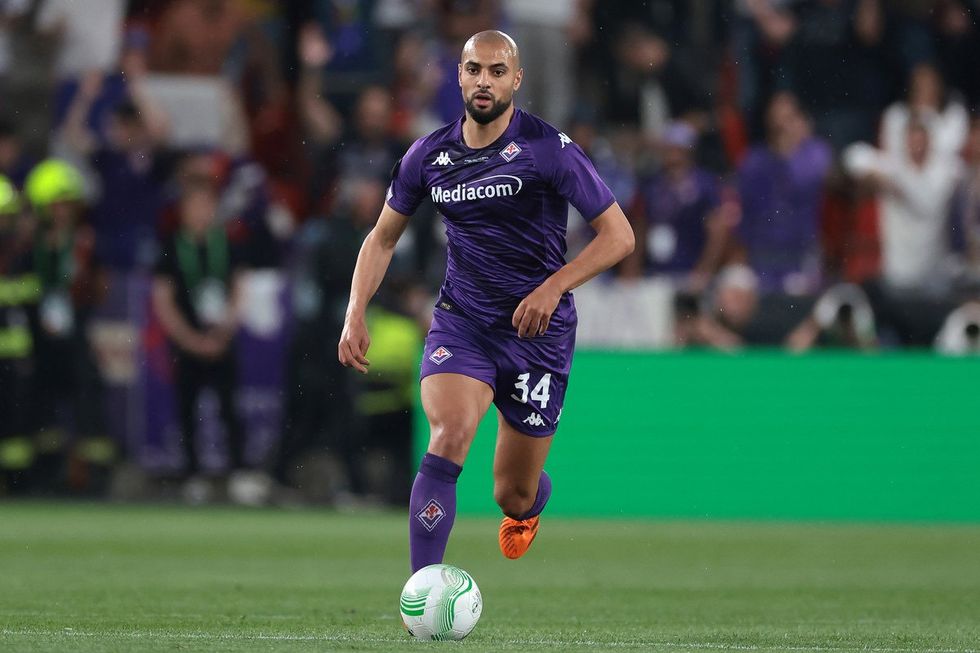 Sofyan Amrabat of ACF Fiorentina controls the ball during the UEFA Europa Conference League 2022/23 final match between ACF Fiorentina and West Ham United FC at Eden Arena on June 07, 2023 in Prague, Czech Republic.
Photo by Jonathan Moscrop/Getty Images.
Very few footballers did as much to bolster their reputation as Sofyan Amrabat did playing in the heat of Qatar during the 2022 FIFA World Cup. The very heartbeat of the Moroccan team that shocked the world and reached the semi-final of the competition before crashing out to France, Amrabat is a modern midfielder who is adept at playing as a 6 or 8 depending on tactical necessity.
However, the biggest attraction of the 26-year-old is how he never gets over-awed by the occasion. Currently, he plays for Fiorentina in the Italian Serie A, who he helped to the final of the UEFA Conference League last season but discussions over Amrabat's future have been non-stop over the summer with many clubs linked to a move.
Speculation persists that he could be on his way to joining his ex-manager, Erik Ten Hag, at Manchester United but whether he makes the move to Old Trafford or not, the Moroccan midfielder will be on many radars throughout the season.
Azzedine Ounahi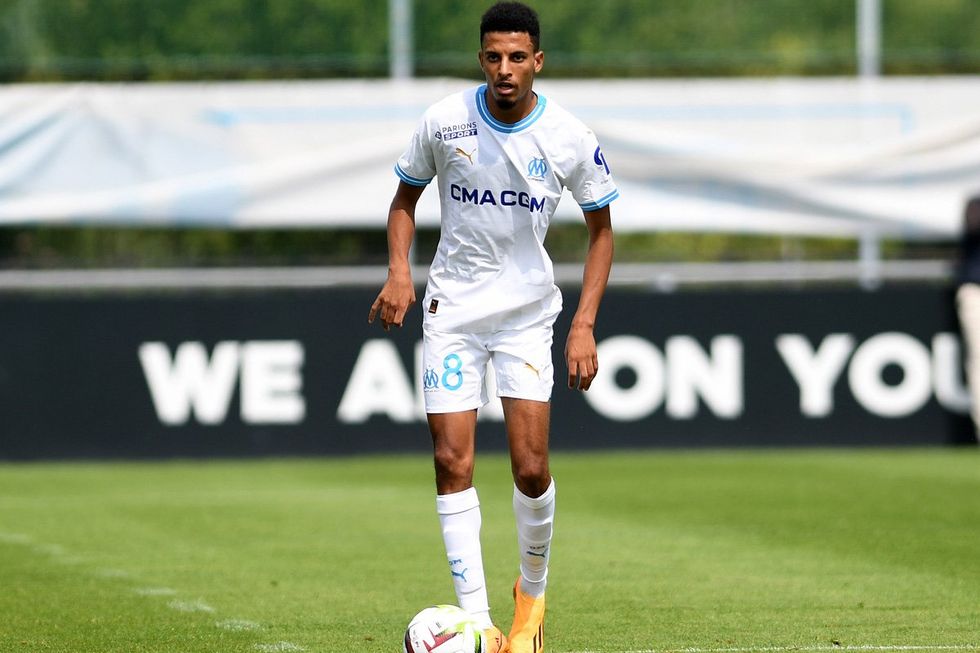 Azzedine Ounahi of Olympique Marseille controls the ball during the Pre-Season Friendly match between Olympique Marseille and KAS Eupen on July 22, 2023 in Harsewinkel, Germany.
Photo by Ralf Treese/DeFodi Images via Getty Images.
Another star from Morocco's historic World Cup run, no one quite surprised neutrals and onlookers as Azzedine Ounahi did with former Spain manager Luis Enrique confessing that he was surprised by the 23-year-old's performance in Spain's round of 16 loss to Morocco.
Combining silky technical ability with a fiercely combative style, Ounahi is a perfect fit for the modern game and, following the World Cup, he signed for Olympique Marseilles from fellow French club, Angers.
However, an injury sustained in March brought his season to an end prematurely with reports indicating that he would be back on the pitch in time for the commencement of the French Ligue 1.
Many are already eagerly anticipating the return of the little magician, who is sure to light up stadiums across France during the season. He's also potentially expected to lead Morocco to glory at the 2023 Africa Cup Of Nations to be held in Ivory Coast, from 13th of January to the 11th of February, 2024.
Mohammed Kudus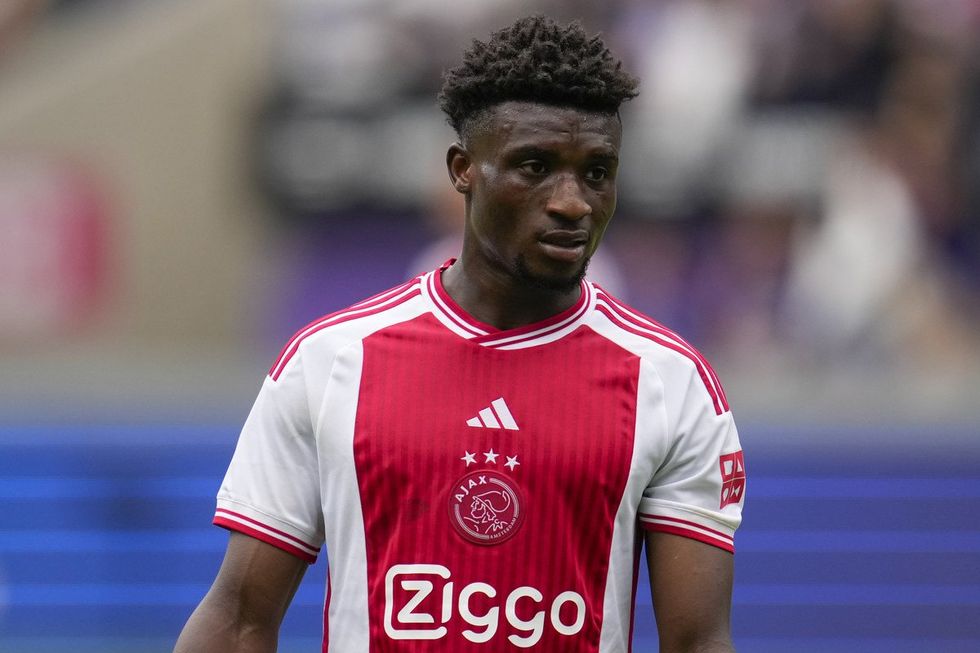 Mohammed Kudus of Ajax looks on during the Pre-season friendly match between RSC Anderlecht and Ajax at Lotto Park on July 22, 2023 in Brussel, Belgium.
Photo by Patrick Goosen/BSR Agency/Getty Images.
The emblem of a new generation of Ghanaian talents who are poised to lead the West African nation to the pinnacle of African football once again, Mohammed Kudus had a breakthrough season playing for Ajax last season.
Playing in a variety of positions for the Amsterdam club, who went through a rough patch in the 2022/23 season, Mohammed Kudus was one of the only few players who emerged with any credit for his attitude, determination, and output across the season.
With 18 goals from 42 appearances and a knack for turning up on the biggest occasions, Kudus is one of the most promising African talents playing football in the world right now. Currently, reports are circulating that London clubs, Chelsea and Arsenal, are vying for his signature ahead of the new season.
Wherever he ends up when the new season kicks off, Kudus will have the spotlight firmly on him with expectations at an all-time high for the 22-year-old footballer.
Mohamed Salah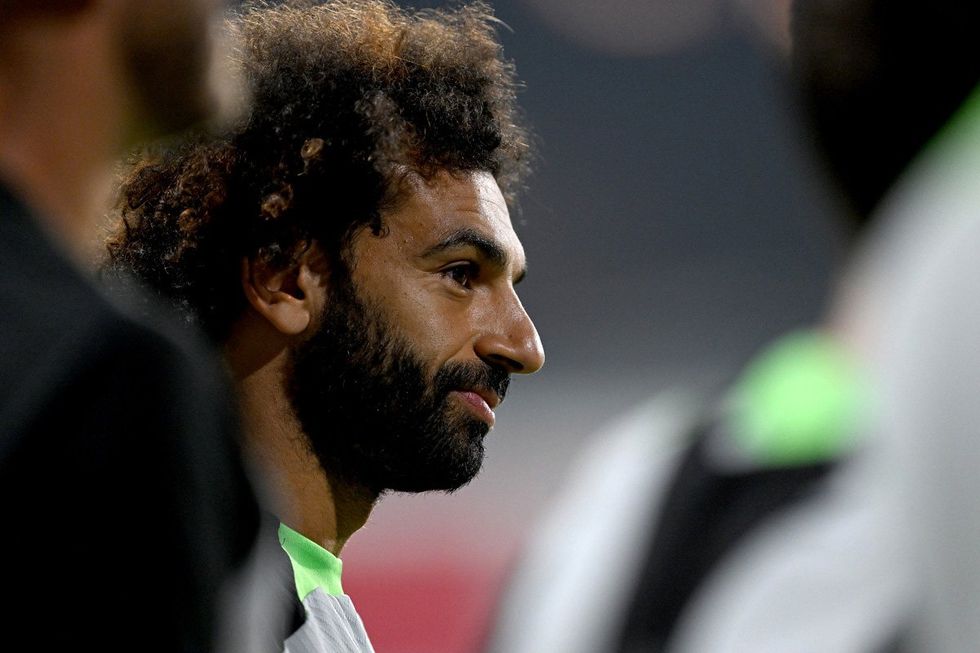 Mohamed Salah of Liverpool during a training session on July 28, 2023 in Singapore.
Photo by Andrew Powell/Liverpool FC via Getty Images.
With another magnificent personal showing across the span of last season, there cannot be any argument about Mohamed Salah's standing in the game. However, last season was a disappointment on the collective front for his Liverpool side who ended up trophyless and missed out on a Champions League spot after finishing 5th in the league. Headline results like the 7-0 thrashing of eternal rivals, Manchester United, papered over some cracks but doubts still persist.
The 2023/24 season will present an opportunity for Liverpool and the Egyptian King to get back to their frightening best and, potentially, mount a title charge after a squad refresh that has seen new names come in.
Salah will still undoubtedly be Liverpool's marquee player and the hope of the club's fans and faithful will hang on the 31-year-old being at his devastating best in front of goal.
Ousmane Diomande
There are few young defenders as highly rated as Ousmane Diomade anywhere in the world. Born in Abidjan in 2003, the 19-year-old Sporting CP defender plays the game with a wisdom far beyond his age and is already being regarded as one of the best young defenders of his generation despite having less than 50 professional games under his belt.
Diomande started the 2023 season at the Danish club, Midtjylland, before joining Liga Portugal 2 club, Mafra, on loan. His impressive performances at Mafra led to his loan being cut short mid-way through the season to allow a permanent move to Portuguese giants, Sporting CP, who promptly inserted a €80m release clause in his contract.
More of Diomande's powerful defending and excellent ball-playing abilities will be on display in the next season as he becomes more prominent on the European football scene.
Edmond Tapsoba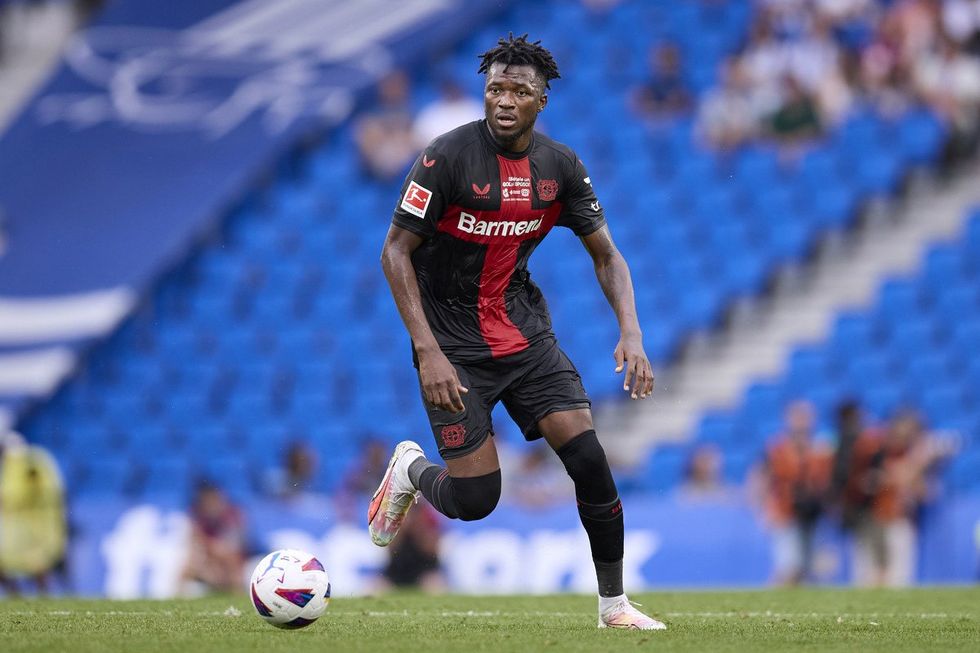 Edmond Tapsoba of Bayer 04 Leverkusen in action during the pre-season friendly match between Real Sociedad and Bayer 04 Leverkusen at Estadio Anoeta on July 29, 2023 in San Sebastian, Spain.
Photo by Ion Alcoba/Quality Sport Images/Getty Images.
Very few footballers have had the journeyman route to the top that Edmond Tapsoba has had. He might only be 24-years-old but the Burkinabe has already played for five clubs and what cannot be ignored is Tapsoba's uncanny ability to read the game and organize a defence.
Last season, he was a lynchpin for German club, Bayer Leverkusen, managed by midfield legend, Xabi Alonso, as they reached the Europa League semi-finals.
This season will be a big year for the rangy defender who is linked with a move to London club, Tottenham, who are expected to pay over £45m for the star who has earned comparisons to ex-Bayern Munich defender, Jerome Boateng, for his playing style.
Regardless of whether he completes the move to Tottenham or stays with Bayer Leverkusen, his team will look to him for defensive stability and organization as he continues to build his profile.
Gift Orban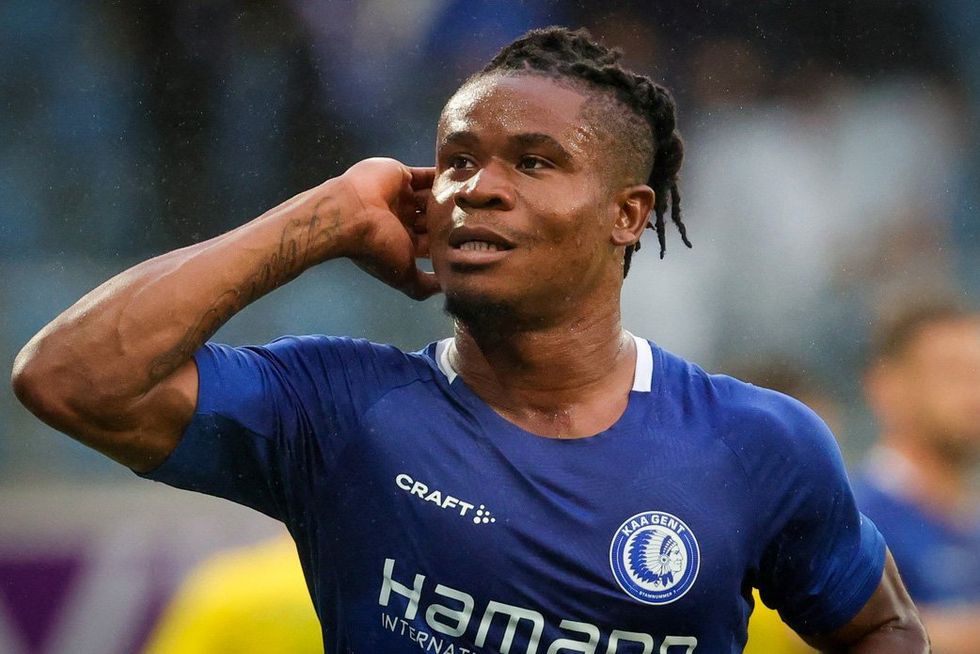 Gent's Gift Emmanuel Orban celebrates after scoring during a first leg game between Belgian soccer team KAA Gent and Slovakian club MSK Zilina, in the second qualifying round of the UEFA Europa Conference League competition, on Thursday 27 July 2023 in Gent.
Photo by VIRGINIE LEFOUR/BELGA MAG/AFP via Getty Images.
Nigerian striker Gift Orban always seems to put the ball in the back of the net. The 21-year-old announced himself to Europe with a series of stellar performances for Gent after joining the club from Stabæk in January 2023.
He quickly started repaying the club's investment in him, scoring a brace on his debut against Westerlo on February 11, 2023. Orban made history on March 15, 2023, when he scored a three minute and 25 seconds hattrick against İstanbul Başakşehir in the UEFA Europa Conference League, setting a new record for the fastest hattrick in UEFA competitions.
The 2023/24 season represents a chance for Orban to keep up his prodigious scoring rate and secure a move to a bigger club in the future. He's already shown signs of being up for the challenge after scoring a brace against South African club, Mamelodi Sundowns, during a friendly game held last Friday.
Nicolas Jackson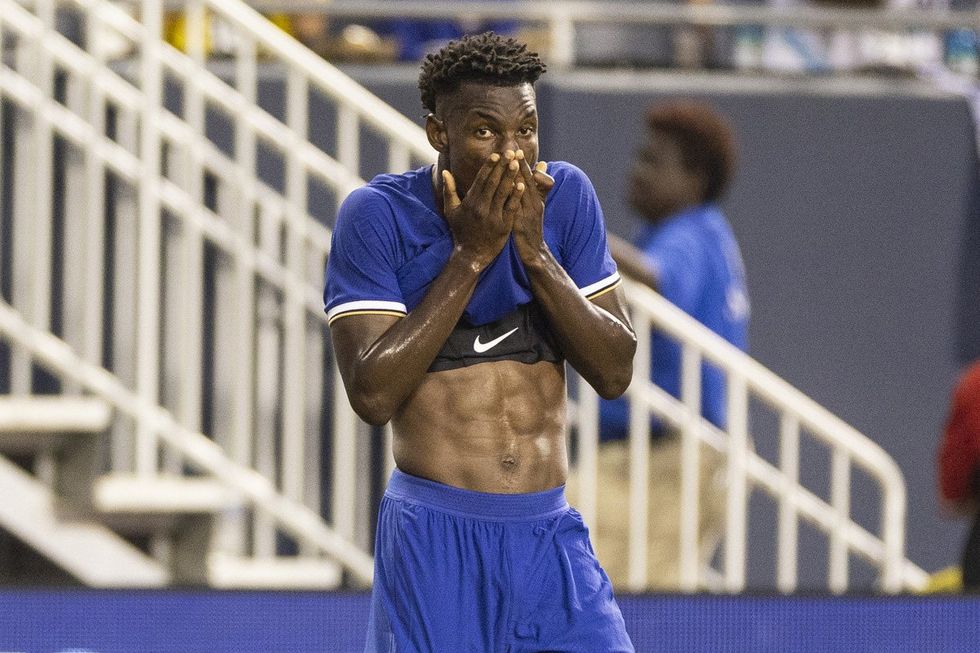 Nicolas Jackson of Chelsea FC looks dejected during the pre-season friendly match between Chelsea FC and Borussia Dortmund at Soldier Field on August 2, 2023 in Chicago, Illinois.
Photo by Marco Steinbrenner/DeFodi Images via Getty Images.
Born in The Gambia but representing Senegal, Nicolas Jackson exploded to fame during the 2022/2023 season when he helped Villareal to fifth position on the log. Jackson's 13 league goals also came in crucial moments of the season with braces against Celta de Vigo, Athletic Bilbao and Cádiz.
His high-flying performances in 2022/2023 have helped win him a move to a Chelsea team that is clearly in transition and in need of the attacking impetus that many fans would hope that Jackson provides from the first day.
There are already signs that Jackson is building up an understanding with his new teammates having recorded one goal and two assists during two pre-season games so far.