There is much to adore about Tsitsi Mapepa's debut novel, Ndima Ndima. There's Nyeredzi, the headstrong young girl with a vivid imagination who readers follow over the course of a decade as she grows up in a burgeoning suburb of Harare. There's her mother Zuva, a steadfast role model whose words both calm and inspire those she meets. And there's Zimbabwe itself, from its rich red soil to its Msasa trees, lovingly described by Mapepa with every stroke of her pen.
Ndima Ndima is told through vignettes revolving around the Taha family. The novel alternates between Zuva's perspective and that of Nyeredzi, who is her youngest child, as it details their relationship not just with each other, but with Zimbabwe itself – its culture, its past and its future.
At the core of the book is Nyeredzi's yearning to know more about her ancestors, something the Zimbabwe-born author herself learned more about during the course of writing it. "I grew up Christian, so I wasn't really exposed to the kinds of things that Nyeredzi is exposed to," she tells OkayAfrica, over Zoom from Auckland, in New Zealand, where she lives. "Writing this book sort of closes that gap between me and my ancestors; where you feel like you're reaching out to a part of yourself that you haven't been able to reach before."
Mapepa wrote the novel during the lockdown of 2020, when she was completing her Master's in Creative Writing at the University of Auckland. While juggling home-schooling her three children and her studies, she carved out time in the wee hours of the morning to write. Last month, she was awarded a residency at her alma mater's inaugural Writers' Room where she'll be able to develop more of her ideas at a much more acceptable time of day.
Mapepa spoke to OkayAfrica about her writing process and making up words for her novel.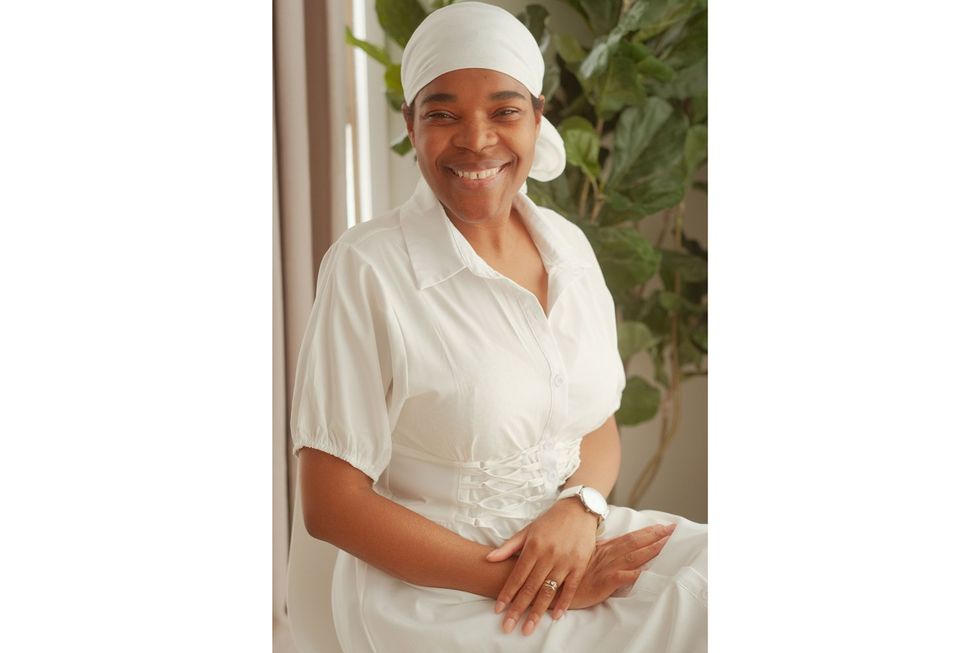 Tsitsi Mapepa, author of the novel 'Ndima Ndima.' Photo courtesy Ian Barney.
The interview has been edited for length and clarity.
OkayAfrica: This is your debut novel – how long had it been in your mind to write?
Tsitsi Mapepa: Since I was young, I've been the kind of girl who observes things from afar. [In the book], each story is like somebody trying to tell a story of a thing that they may have witnessed, or maybe things that they have just created. But most of it comes from the things that I used to observe when I was young. Way back, just before I started school, I told my mom that I wanted to be a writer. This was after I had heard Tsitsi Dangarembga on the radio – my mom used to call me, and say, 'Come listen to Tsitsi Dangarembga on the radio.' One day, I told her that I wanted to be a writer. But then when I was in primary [school], I forgot about it. I was thinking of becoming a pilot, or becoming a nurse or a designer, all these other things.
And then when I was in high school, my writing came back. That's when I started writing poetry and short stories. I tried to write a novel, which I never finished. But this is how it went. So most of the stories that you see in the book, they are the stories that I've been wanting to tell since way back.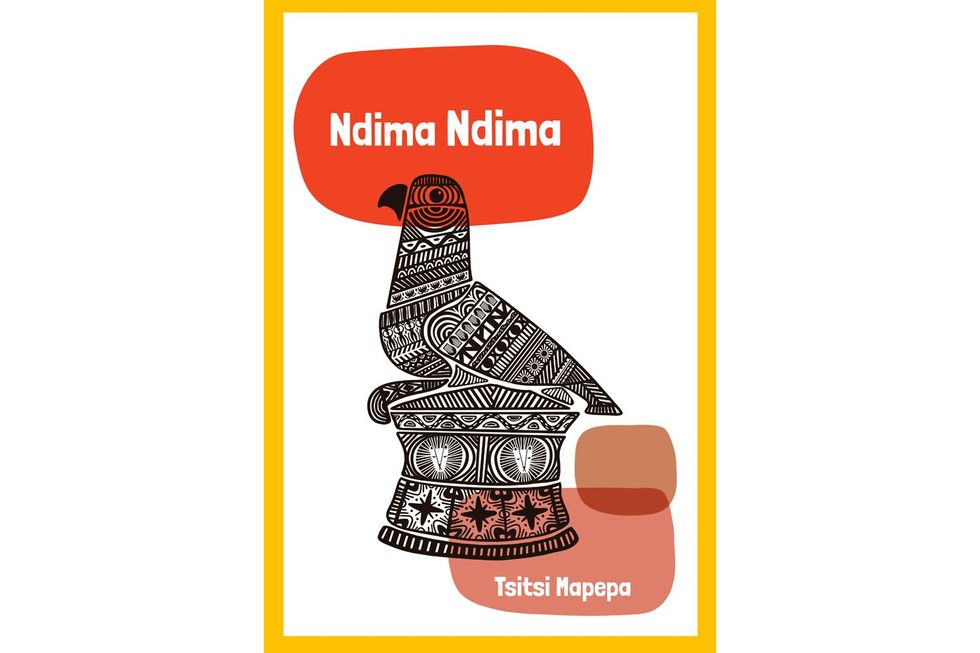 The cover of 'Ndima Ndima' by Tsitsi Mapepa. The yellow border was added for visual clarity. Photo courtesy Catalyst Press.
The way that you do it, it's almost like vignettes that come together to tell the whole story – what was your process like writing Ndima Ndima?

I don't write things in order, honestly speaking. I was jumping here and there. If I thought of something I wanted to write about, like womanhood, then I'd jump straight away to write about that. But I definitely made sure that it linked to something from the previous stories, like [the chapter titled] "The Return" was linked to [the chapter titled] "The Call of Ancestors." So I was trying to make these things link, and make sure the reader won't get lost while reading it.
It's beautiful to see the relationship between Zuva and her daughter Nyeredzi develop – is this based on a personal relationship or is it observational, from a relationship you've seen?
I would like to say yes and no. These stories have been taken from my life, yes, but also, at the same time, most of the things in this book, I've created them. But when it comes to the characters, I took them from the people I respect; people who are very close to me. I wanted to show the relationship that I have with them, and remember them and keep them in my heart forever through the words I write on the page.
In writing Ndima Ndima, it's like you create a tribute to not just Zimbabwe but to being a Zimbabwean outside of the country, living away from your home country.
I'm always homesick. Honestly speaking, I'm always homesick. The landscape here [in New Zealand] is different to the one of Zimbabwe. So I was trying to put down an image that is unknown to some of my readers, and trying to relive the moments that I had when I was growing up. Writing this was like me reaching out to something that is missing inside my soul. It was so fulfilling when I was writing about the landscape of Zimbabwe. I did invent things, like the suburbs, but it's very close to the real Zimbabwe.
The book starts in the early '90s, dips back into the Second Chimurenga War in the '60s, and ends in the mid-2000s – had you intended from the start to cover this time period and inject some history into the story?
I know the '90s very well, better than any other time, because I grew up during that time, and so I wanted to put things that I am familiar with in the book. I'm writing fiction, but it's realistic fiction. So when it comes to the '60s, I had to do research about that. I've always been fascinated about that time, and I had the idea at the last minute to use the viewpoint of a woman [who is a soldier in the war]. I had to come out of my comfort zone to write this. I remember my lecturer was like, 'Write something unique, something that people have never heard.' And this is what I thought about doing, when I was looking at what other people were writing in my class. I'm really happy with how it turned out.
The title, which is the name of the dance that Nyeredzi does, Ndima Ndima, is made up?
Ndima Ndima is one of the words I made up. It's a rain dance I created in one of my chapters titled "The Call of Ancestors." The dance becomes the core of many things in the novel. It reconnects my characters with their ancestors, resurrecting their forgotten beliefs and identity. Overall, the two words together do not have a meaning in my language [Shona].
What do you enjoy about writing?
When I'm writing I weigh a lot of things and think of a better way to communicate with the world. My aim is mainly to change how people perceive things worldwide. We are not always on the same page, and I know it takes time for people to accept change or even change. My words only ask the reader's empathy and understanding, with the hope that one day we'll view things the same way and be kind to one another.